Voices of Experience


An Interview with Cynthia Rosen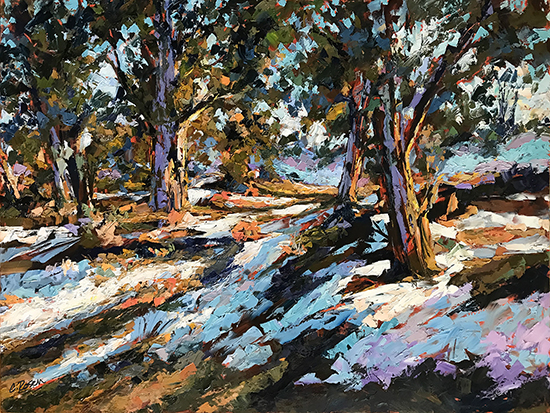 Of Sun and Snow 36 x 48" Oil

"I love beautiful scenes and paintings,

and there are painters that surely do that beautifully,

but for me—I want something different."

Cynthia Rosen combines her background in non-representational art with her passion for the landscape to create large, vital works filled with color and movement. Her tool of choice is the painting knife. It allows her to transfer thick paint strokes that vibrate against each other heightening the dynamism of her images. Rosen wrote to us about the evolution of her work and the future painting she aspires to.

Your life has been devoted to art in one form or another from a very young age. Did you have family or teachers that encouraged you when you were growing up?

I had an uncle who was an illustrator for a manufacturer and a Sunday painter. He gave me my first painting set when I was perhaps in my young teens. I also won an arts award in 8th grade which gave me some well-needed confidence and really provided some direction. After that I believe that I delved into art in order to find something of my own and which afforded me a private personal space which was truly mine.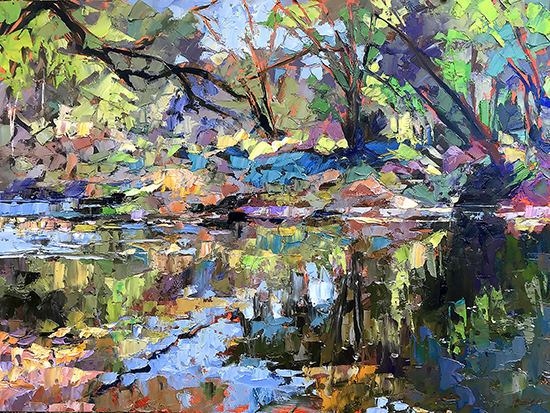 As the River Runs 18 x 24" Oil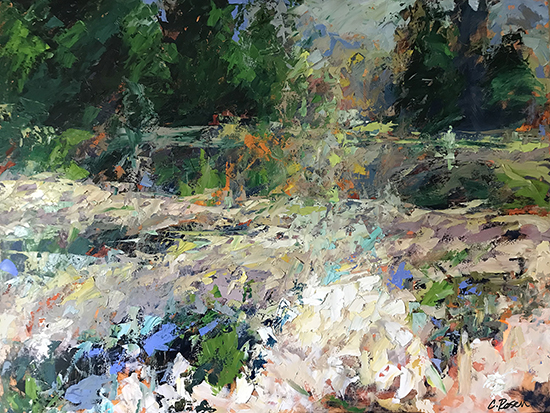 Morning Mist 36 x 48" Oil

Did you have a mentor or teacher who was particularly influential to your work when you embarked on a formal education in art?

Yes, unbeknownst to a drawing instructor at the Boston Museum School, Bill Flynn had the greatest influence on my work. As I worked full-time starting my second year in school, pursuing my art in the evenings and weekends, I did not have a particular mentor or individual with whom I worked. I did a lot of self-teaching due to my personal motivation, but Bill really taught me how to interpret what I saw into shapes. My school was geared to the New York art scene and after a year of super realistic drawing I quickly turned to non-objective mixed media works.
Has oil always been your primary medium or do you work in multiple mediums?

Actually I began to explore oils after my college years when I was already showing mixed-media works using sprays, pastels and stained fabrics through galleries in NYC, NY and Philadelphia, PA. I pursued oils only for a few years until more recently when I began to work with them almost exclusively. That came about because I started to paint with acrylics in Arizona only to find they dried too quickly. Then I turned to oils full time. I like watercolors as well. Now that some places are letting you varnish them instead of putting them under glass, I will once again pick up some watercolors and I am sure I will return to doing some mixed media. There is a lot to look forward to!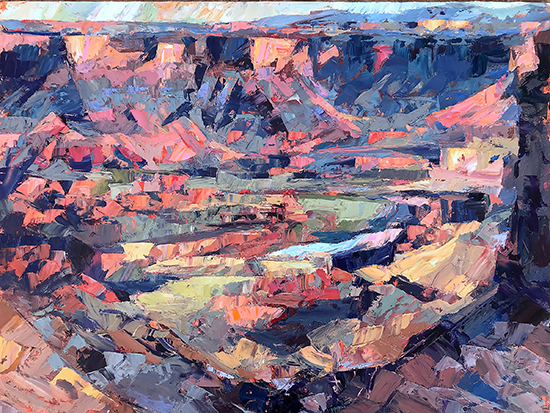 Canyon Overlook 18 x 24" Oil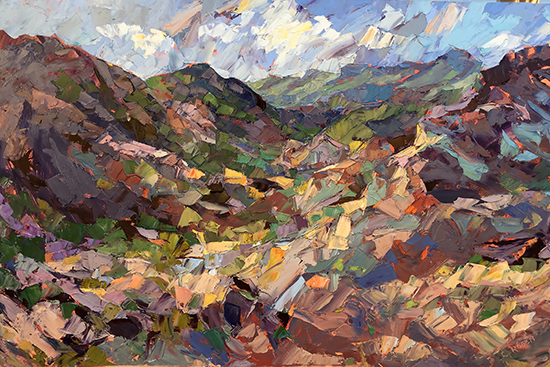 Path to the Canyon 24 x 36" Oil

Would you tell us about your materials and processes?

I am primarily a palette knife painter and find that Ampersand Gessobord is perfect for working with the knife as a surface. The Gamblin products are as well, in regards to paint consistency. My preference for size is plain and simply large. I do paint small because of guidelines articulated at plein air events, but on my own, I prefer to work 24 x 36" or 30 x 48" plein air. I just recently designed a plein air easel which will allow me to paint on a wide range of sizes and am in the process of designing a carrying device for large boards.

In the studio my sizes are growing as we speak. I really learned to paint doing theater backdrops with a roller and large brush so "large" is in my vocabulary. Before I turned to oils, I did murals using acrylics.

In terms of colors, my standard colors are: Prussian Blue, Dioxazine Purple, Cobalt Blue, Alizarin Permanent, Cadmium Red Medium, Cadmium Orange, Cadmium Yellow Medium and either Cadmium Yellow Light or Hansa Yellow. I also use both Titanium White and Zinc White. Extra fun colors which I occasionally indulge in are Radiant Teal, particularly for spring greens; Radiant Blue, a great short cut color; and Transparent Orange which is a lot of fun. Magenta is pretty cool as well and if I don't have Prussian Blue, I will readily substitute Thalo Blue, which makes fabulous greens when mixed with light yellow.

Since I am a knife painter and have been now for about 4 years, I have begun to miss drawing, so have bought some oil sticks with which to incorporate more drawing into my works.

I love the inspiration gained being outside painting, be it the birds singing, the light, a breeze, whatever. The only thing I don't like is that at times people choose to stand near you to see what you are doing and then proceed to have really loud conversations about nothing related. But with that said, usually I love it when people want to watch and/or ask questions—that is the teacher part of me who loves to share and teach. I almost always stain my board with anything from an Orange to Alizarin, whether I am in the studio or plein air. I do not like to work on a white surface. With some of my mixed-media pieces, I would use the darkest raw linen I could find (with rabbit skin glue as a primer) or a mid-value pastel paper. I then use the Dioxazine Purple or Prussian Blue to sketch in my composition.

What does working with painting knives provide for your work that you don't find in working with brushes alone?

I picked up the knife to learn about color. I used to joke that I am so obsessed with color to make up for a beige conservative life. My earlier works were far more monochromatic. I love the clean colors I get with the knife. The application allows for fairly thick paint so the paint molecules are bouncing against like color. With the brush the paint color is bouncing against the color which is behind it.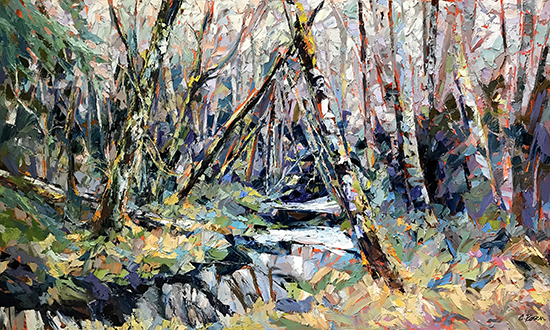 A Place of Poetry 26 x 60" Oil

With the landscape as an important source of inspiration in your current work, do you find the landscapes around you that you are most familiar with to be most stimulating, or are you more inspired by unfamiliar new landscapes?

When we were taught to write, we were taught to write that which is familiar. With painting, if you paint that which is familiar, there is a likelihood that your painting will be more successful. But I tend to use my opportunities to travel in order to stretch myself and paint the unfamiliar. Until I participated in the Annapolis Plein Air Festival, boats were intimidating and very unfamiliar, so I focused on boats that first year. (There are not many boats in southern Vermont or in Arizona where I spent almost half of my year.) Many of the plein air painters who participate in events will try to get to the area a few days ahead of the event to become familiar with the lay of the land. It helps to better understand the light and thus colors as well as the structure/composition options.

I do have the opportunity to travel but have been content to paint in the USA, since our country is so diverse and provides amazing opportunities. I have been asked to do workshops abroad and may start to do so.
Has teaching also been an important part of your life and career?

I love to teach. I have taught all ages. When I was in my young 20s I started a not-for-profit organization which set up art programs in halfway houses, jails, alternative schools and a mental health facility. Since then I have taught everything from elementary (for a few years) through high school, college-aged students, adults and seniors, in a wide range of settings.

I love to teach and share information. For me, helping people find their personal strengths and further a wider range of skills starting from those strong points is a joy. And I do teach workshops and enjoy doing so.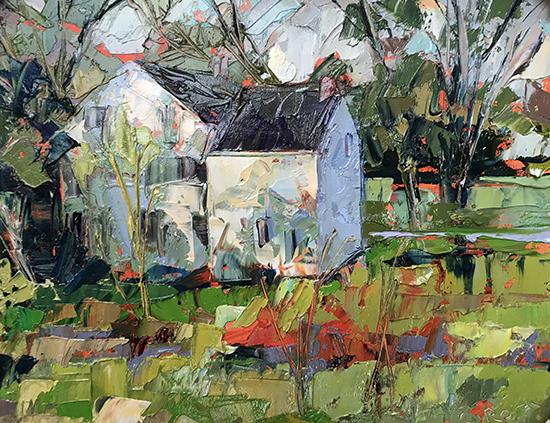 Morning Light 8 x 10" Oil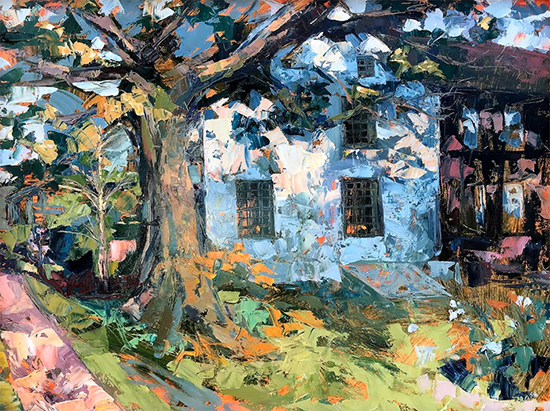 Marshallton Inn at Sunset 18 x 24" Oil

Is it possible to put into words the process that you went through in order to find your unique voice?

Others actually see my work as being more unique than I do, which I attribute to the plein air community believing that painting what you see is the end-all goal. I love beautiful scenes and paintings and there are painters that surely do that beautifully, but for me—I want something different. Some of that comes from my exposure to the New York art scene, understanding and having an appreciation of the 20th century art movements. Some of it connects in my mind to having spent so much time on the road, driving to and from work during my art college years and seeing the world go by fast. We live in an ever-changing world and seeing the world go by began to become incorporated into my work. I began to be fascinated with movement, so movement became a current in my work. I also love sounds and music, so I tell people my paintings are not about a particular story—I do not have a central focus, but rather correlate my images to music. I want my images to show a symphony, the whole symphony. I want the movement of the highs and lows, I want rests, and rhythm, but I want it in a single image. This is something I am still working to achieve.

What are your goals for the future in your art?

Eventually, I want to do art with greater relevance to society. While I am not after representing a beautiful scene, I appreciate the same scene that others appreciate. I just want to present in a different way. I do want to create beautiful images because life is difficult and the anti-aesthetic movement has not helped people appreciate beauty,
which is important in life. If we don't reach for ideals, then we end up living baser lives. So while I want to interpret what I see in a different way, I want to also make it more beautiful. So I have mountains yet to climb in my own work.
Additionally, I want to create work of greater import, but I have not figured out how yet. I am not looking to throw images of starving children in peoples' faces, but eventually want to create images that help people realize something that helps society. Including more figurative work in my portfolio, which will require studying and gaining more figurative skills will definitely be part of my study in order to do that. I have not figured what these works will look like, but, I will work towards that end.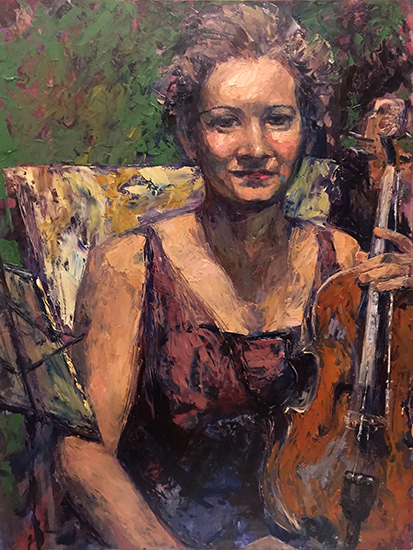 Before the Concert 24 x 18" Oil

What words of encouragement or piece of advice would you give a beginning artist?

In all honesty, I would suggest to a beginning artist to get the basic skills down. Even if you want to paint abstractly, there is a vocabulary you need to fully understand before you can begin to master it. Issues related to space, shape, line, color, form and value, etc is all important to understand. It is alright to be a "Sunday painter" and just paint for
the pleasure derived, as it is also alright to use art for therapeutic reasons, but you want to be honest where you want to go with your art. If you really want to be an artist, there is a lot involved and that begins with learning basic skills. It is like walking before running. Then you need to be patient with yourself and know that we use the phrase "miles traveled" to explain that the more you work at it and practice and the more paintings you produce, the better you will get. Different people learn in different ways. How do you learn? What do you need to do in order to learn? I am best creating my own structure—others learn best when a structure is provided. Take workshops or learn through experimentation, but identify how you learn and what you want to achieve. And take workshops that fit with your learning style. Ask around. There will be steps you need to take to get there, and others can help you get there.

Finally, know that perhaps 1 out of 10 paintings you will really like. Perhaps 3 out of 10 you will think are adequate. The other 7 you will likely, if using a critical eye, think are not great at all. That is normal. It does not mean that someone else won't like the work, but in your own heart of hearts, you will know that it does not make the grade, do what you wanted it to do. Don't get discouraged. Just keep climbing the rock pile, so to speak.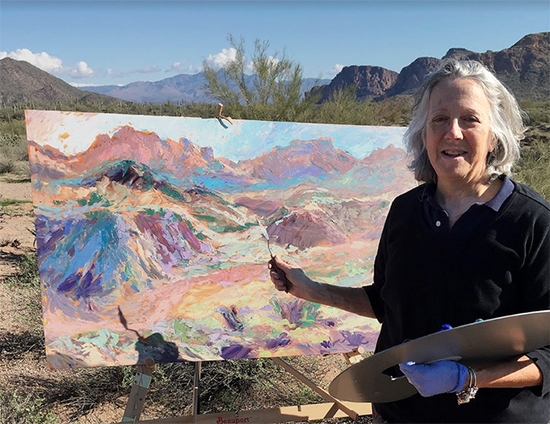 To see more of Cynthia Rosen's work,
go to: https://cynthiarosenartist.com
All artwork copyright Cynthia Rosen

Cynthia Rosen has been featured in Plein Air Magazine, Southwest Art Magazine, The Outdoor Painter (online) and American Art Collector. She was invited to make an instructional video which was released through Streamline Art Videos and will be on the faculty of the 2019 Plein Air Convention.