Casein

An Overlooked Medium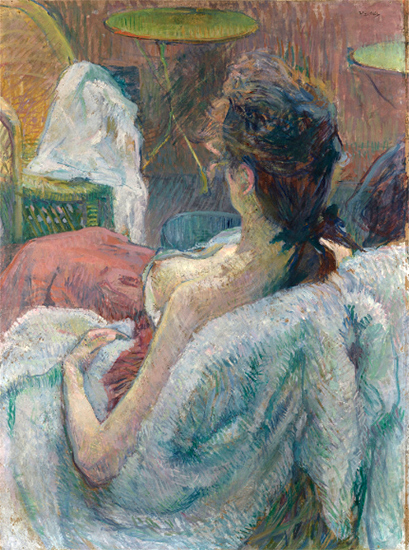 The Model Resting Casein/Tempera
1889 Henri de Toulouse Lautrec

We have recently been re-exploring our casein paints, wanting to understand more clearly the basics of this lesser-used water-based pigment often referred to as "milk paint".

Casein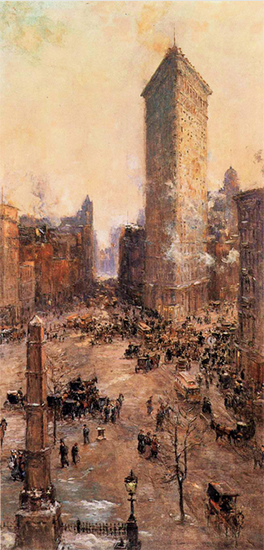 Flatiron Building ca. 1908 Casein Colin Campbell Cooper



Beethoven Frieze - The Hostile Powers 1902
Casein, Stucco and Gold Leaf on Mortar Gustav Klimt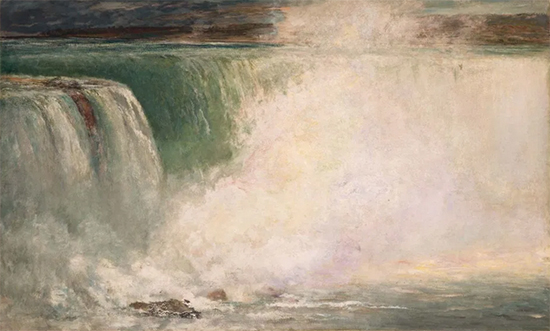 Niagara Falls 1879 Casein William Morris Hunt

Casein is an ancient type of milk-based, water-soluble, opaque paint which has been found in prehistoric cave paintings. Archaeology Magazine has reported that researchers in the Sibudu Cave in South Africa have discovered residue on a stone tool that contains powdered ochre mixed with milk to create paint. The tool dates to 49,000 years ago. Ochre paints have been discovered dating from 125,000 years ago, but this discovery is the first to find milk proteins mixed with the powdered ochre. Casein was commonly used during the age of Pharaohs in Egypt and can be found on ancient Egyptian and Chinese artifacts. Its original primary function was as an adhesive, but when combined with powdered pigments, it became an important, commonly used paint.

Known for its lustrous surface and vibrant colors, modern formulations of casein emulsion have the advantage of being resistant to water when they completely cure (unlike gouache or tempera). This fact, along with the speed of application and even consistency has made casein very attractive to commercial artists, sign painters and illustrators. Casein commercial house paints were developed and introduced to the market in the early 1900s. Ramon Shiva created a casein paint for artists in 1933, which is now sold through Jack Richeson and Co. Today, casein is being re-considered as a green alternative to other commercially available house paints. Casein became less used with the advent of acrylic paints in the 1950s.

Casein is visually similar to oil paint and is sometimes used for underpainting. Some advise using an isolating varnish layer between casein and oil to keep the oil from sinking down into the casein. When applied thinly, casein can also be used as an underpainting for pastels. John likes to use this technique and finds that applying thin layers of rich casein color at the block-in stage, allows for thinner pastel layers in the finish.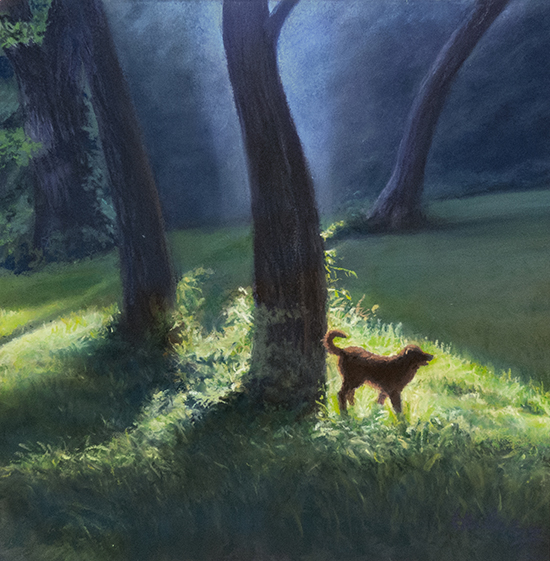 July 22nd Casein and Pastel John Hulsey

Casein can be thinned with water for washes or used straight from the tube for thicker, more opaque impasto passages. Adding a bit of white with water brightens the transparency of colors. Extra emulsion can be used as a paint medium to change the sheen from flat to eggshell. Casein can even be buffed to a satiny sheen when thoroughly dry, which takes about two weeks for thick paintings. As with watercolor or gouache, it can be used on paper or any surface that accepts water-based paint, but, because dry casein is brittle, it is best to paint on a surface which is rigid. It can also be varnished, but varnish will deepen the colors.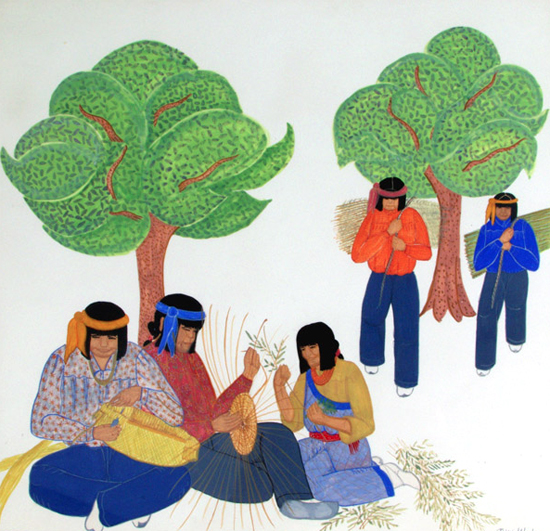 Basketmaking Casein 1940 Pablita Velarde
(This is one in a series of more than 70 casein paintings of New Mexican Native American life
created by Santa Clara Pueblo artist, Pablita Velarde for the Bandelier National Monument.)

Brushes may be difficult to completely clean after using casein. Even though it washes up with water, any paint residue not cleaned out of the brush will harden. Casein paint can be used with watercolor, acrylic and gouache. It can be corrected with a damp cloth or, if dry, with a weak mixture of ammonia and water. The ability to correct, or change is a major difference from gouache. Color shifting occurs as the pigments dry, so doing test swatches is advised.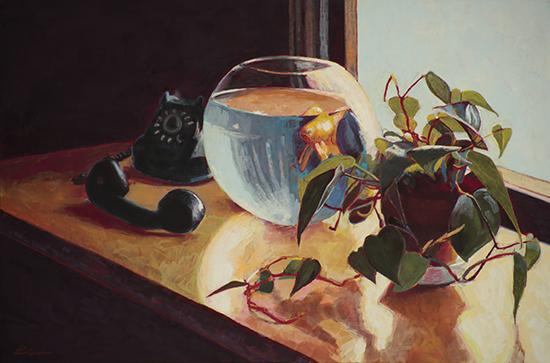 Anticipation Casein Mary Nagel Klein

One contemporary artist using casein paints is Mary Nagel Klein. She has also published a book about the medium. See our interview with her here - Voice of Experience: Mary Nagel Klein.

Another artist working extensively in casein today is James Gurney. See an interview here. Search his blog for "casein" to find out valuable information on painting with casein.

Jack Richeson and Co., Inc. is the primary supplier of casein paints for artists today with the Shiva brand. Their website has a comprehensive FAQ page with information on casein paints. Click here to see the contemporary virtual casein exhibition sponsored by Richeson in 2020.