Botanical Art
and the
Amazing Marianne North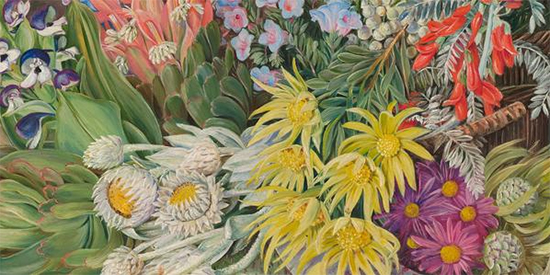 A Medley of Flowers from Table Mountain, Cape of Good Hope (detail) Marianne North

"I am a very wild bird, and like liberty."
Before the invention of photography, botanical illustration was the only way to visually record scientifically accurate plant specimens. The artists who devoted themselves to this field had to be technically proficient in their medium as well as highly educated in horticulture. They also had to either have access to specimens to work from, or, the ability to travel to the locations of the plant species they were illustrating. Scientists, pharmacists and gardeners depended on these illustrations for plant identification and classification. In addition to their scientific value, many of these illustrations were beautiful paintings.

The origins of botanical art can be seen in the drawings found on the walls of temples in Egypt dating from around 1,500 BC. The first known use of botanical illustrations put together into a book is thought to be somewhere from around 512 AD in De Materia Medica, authored by Pedanius Dioscorides for identification of plant species for medicinal purposes.

Although we think of this plant documentation as being a historical tool, necessary to record the discovery of new plant specimens as humans first ventured into unexplored territories, new species are still being discovered around the world today. As botanist James Compton wrote in the book, Plant: Exploring the Botanical World, scientists discovered 2,034 new plant species in 2015 alone. Photography may have replaced the need for botanical illustration in its uses for cataloguing and documentation, but the art of botanical illustration remains.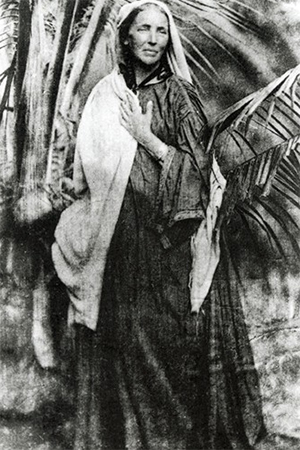 One extraordinary artist stands out in the botanical illustration world—Marianne North (1830 - 1890). She did not fit the traditional mould for a botanical illustrator and chose to create works that also broke into new territory. She was not trained in biology or illustration and was largely self-taught. She painted in oil at a time when, traditionally, most botanical illustrations were done in ink and watercolor. Usually, plants were depicted at eye level with a white background, but she chose to show her subjects in their natural environments and with colorful, thick use of pigment. These were revolutionary for botanical illustrations because they transcended mere scientific documentation and rose to the level of fine art.

Marianne was the oldest daughter of a prosperous English family. She didn't begin to paint flowers until after the death of her mother in 1855. The family had homes in both Hastings and London at the time. Her interest in botany may have stemmed from her father's acquaintance with Sir Joseph Dalton Hooker, director of the Royal Botanic Gardens, Kew. Her interest in travel stemmed from her constant travels with her father, Frederick North, a Liberal Party MP from Hastings. After Frederick North lost his seat in parliament, the two spent even more time traveling, visiting Switzerland and the South Tyrol. They journeyed to Syria and along the Nile. In 1869, her father became ill in the Alps. Marianne brought him back to Hastings, where he died soon after. (Photo: Marianne North in Ceylon by Julia Margaret Cameron)

Perhaps as an antidote to her grief after her father's death, she decided to travel the world alone painting and writing about the world's rare tropical and exotic plants in their native habitats. She traveled first to Sicily and then to Canada, the United States and Jamaica. During her time in California, she wrote about her concerns with the destruction of the giant sequoias. She spent a year in a hut in a Brazilian forest documenting the flowers she found there. She did not retreat from the world—indeed, she brought the world to her. She sent regular dispatches of her adventures to the British newspapers and her journeys became some of the most reported subjects of the period.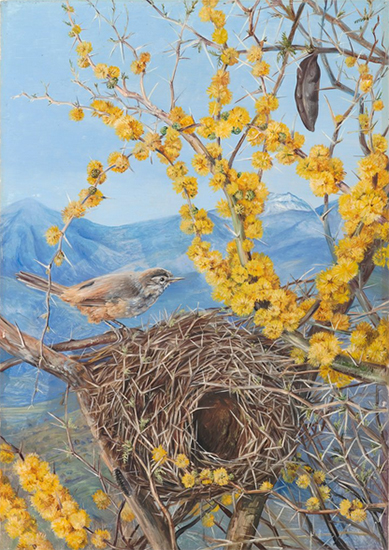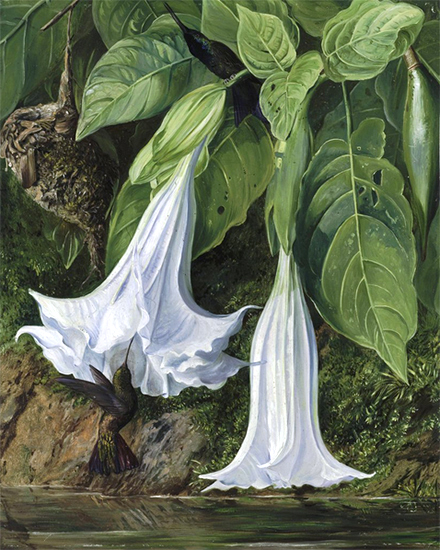 Acacia Tree with Bird's Nest - Chile Datura and Hummingbird - Brazil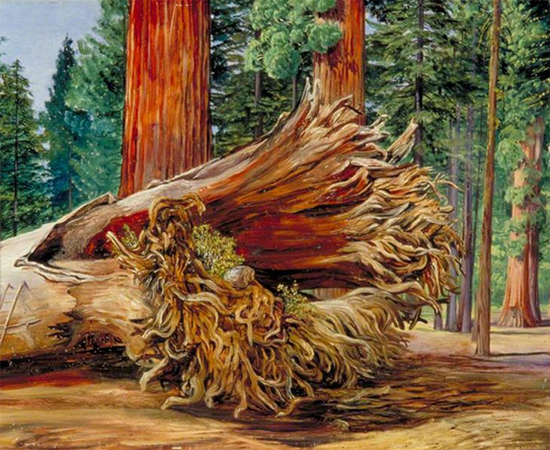 A Fallen Giant, Calaveras Grove, California

After spending several years painting in Japan, Borneo, Java, Ceylon and India, North returned to Britain and mounted an exhibition of her drawings and paintings in London. She then approached the Royal Botanic Gardens at Kew not only offering to donate her work, but to build a museum on the Kew property to house it. Her offer was accepted. She hired James Fergusson to design the gallery which was begun that same year.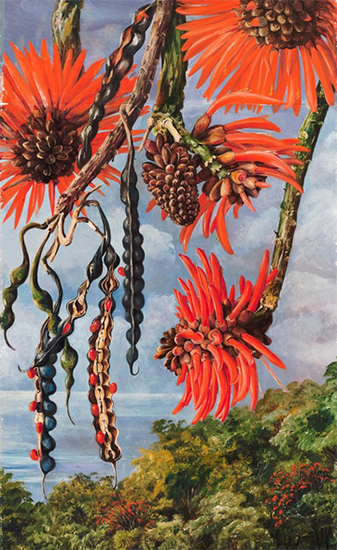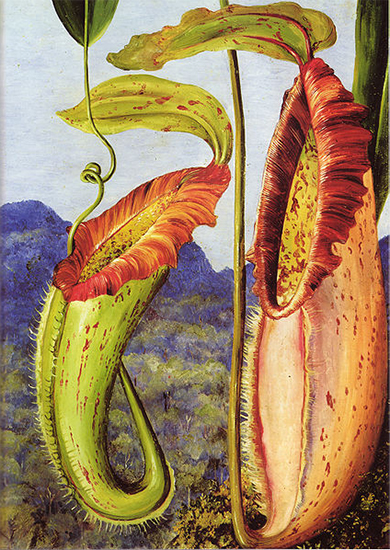 A Type of Coral Tree Tropical Pitcher Plant - Borneo

For most people, that would have been the crowning touch on a career. However, Marianne North was an extraordinary person who possessed extraordinary drive and courage. She was just getting warmed up. On a suggestion from her friend Charles Darwin, she traveled to Australia and spent 1880 exploring and painting some of the rare plants of Australia and New Zealand. One of these, the shrub Raoulia eximia, or Australian Sheep, she took back to England as a gift for Darwin.

Inside the Marianne North Gallery at Kew
In 1882 her gallery at Kew was completed. She filled it with twenty years of her life and world travels—800 oil paintings! But that wasn't the end of her travels as an artist. In 1883 she painted in South Africa where she met the botanical artist Katharine Saunders. Upon her return to England, she opened a new gallery room at Kew to display her latest works. Her last trips, in 1884-85, took her to the Seychelles and Chile. Her health began to fail shortly after, forcing her to retire from her travels and take up residence in Alderley, Gloucestershire, where she died on August 30,1890.

The genus Northia is named in honor of Marianne North along with several plant species, Kniphofia northiana, Nepenthes northiana, Crinum northianum and Areca northiana. The Marianne North Gallery at Kew was restored in 2008 with a grant from the Heritage Lottery Fund and other donations. The grant also allowed for conservation of the artwork. "During the project a conservator discovered a painting hidden on the back of another painting. It had not been seen for over 120 years, since North covered it with a backing board." - Kew




Victoria regia, South America
More information about Marianne North is available in the book: Marianne North: A Very Intrepid Painter - Second Edition.