Artist Profile

Ann Larsen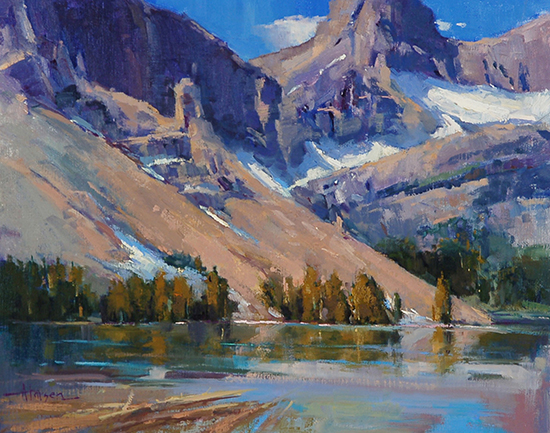 Bow Lake 16 x 20" Oil
The bold brushwork and vivid colors of Ann Larsen's paintings bring to the viewer a strong sense of the moment in which the landscape was witnessed. She captures the brilliant essences of her subjects. Larsen writes: "I strive to create a feeling of time and place in each painting."
"Lately I have been concentrating on using

my plein air paintings as notes."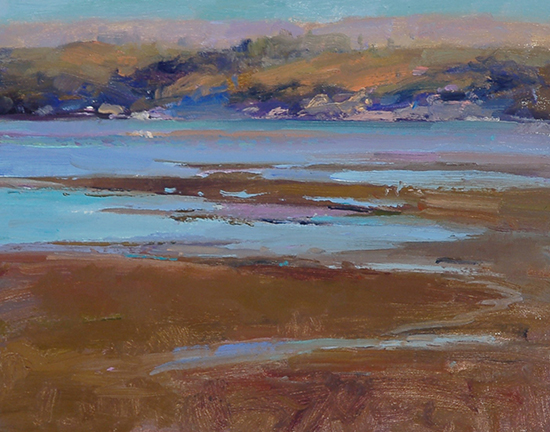 Sunset Tomales Bay 11 x 14" Oil
I get a lot of inspiration from the quick glimpses of shapes, colors and light as I am driving. I love to go out in the late afternoon because of the light and the contrast. I take lots of photos and do some sketching on the spot. Then later, after I have studied what caught my attention, I might go back to that spot and paint. Lately I have been concentrating on using my plein air paintings as notes. In other words, not finished paintings, but studies for concept, value and color. I might actually do black and white paintings for value, and color paintings for temperature. I am always pushing and experimenting with various ways to paint a scene. In the field I try to always start with a thumbnail, just to get my bearings and work out the composition. Then, I move on to the other things I mentioned. When I return to the studio, I put the painting notes away for a day or two so I can look at them with a fresh eye. When I do start a studio piece it will be from that field work.

Read more about Ann Larsen's paintings in our in-depth interview.
To read it and see more of her paintings, become a member of
The Artist's Road today by clicking here.

Already a Member?
Lucky You! You can go immediately to the Voices of Experience interview here.
To see more of Ann Larsen's work, go to:
https://annlarsen.com

All artwork © Ann Larsen
Save