An Imperfect Mirror

Perspectives No. 357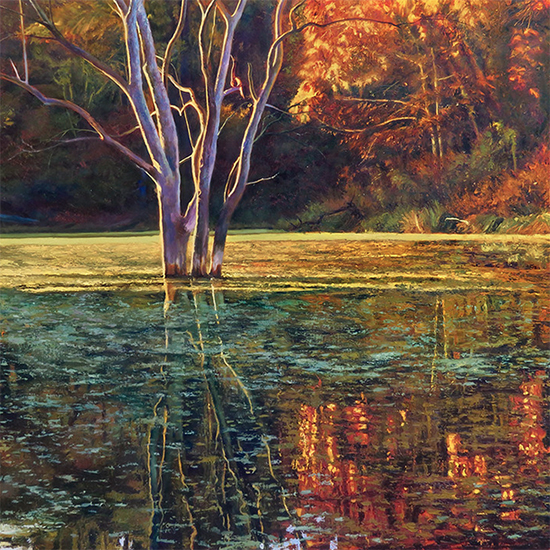 On the Pond II 36 x 36" John Hulsey

Living with a pond nearby, we are the lucky watchers of the seasonal, even daily changes in its display of colors, atmospheric effects and reflections. Reflections are a fascinating subject—changeable, seemingly unpredictable and shifting.

A perfectly still body of water is, at best, an imperfect mirror. It is imperfect because not all the light rays that strike it are reflected back to our eyes. Some of the light is scattered—bouncing off the surface of the water in different directions. Some of it is absorbed by the water it penetrates.

If we're looking at an object that is bright on the shore, it won't be as bright, generally speaking, in its reflection. Not all of the light on the subject is reflected—some of it is lost, so it stands to reason that its reflection looks darker. But a curious thing happens when you're looking at darker objects on shore. They may wind up being lighter in their reflection, for the same reasons. It's counter-intuitive, but if you think about it, it makes sense. Not all of the darkness is reflected either. Interesting. Because we are losing some of the light due to scattering and absorption, colors are not as saturated in reflections either. Some small details can be lost for the same reason.

If water is murky or has a lot of algae in it, conditions will be different, just as they will be different in water that is moving or has wind blowing across it. The rougher the surface, the more scattering and absorption.

Water closer to the viewer (in the foreground) is usually darker than water in the distance, partially because it is reflecting the sky which is nearly overhead, and thus, darker, and partly because as water nears the shore, it becomes shallower and our angle of view makes it more transparent, so we see more of the dark bottom. It may also become warmer in color because of the influence of the color of the bottom.

There are so many variables that affect what we are seeing on the pond surface—changing luminance and chroma from dawn to evening, changing weather from calm to windy, and seasonal changes all have their momentary effects. While some rules of thumb are definitely helpful, the surest way to understand how light works on water is to spend focused time observing, and, doing some reflection ourselves.