Andy Evansen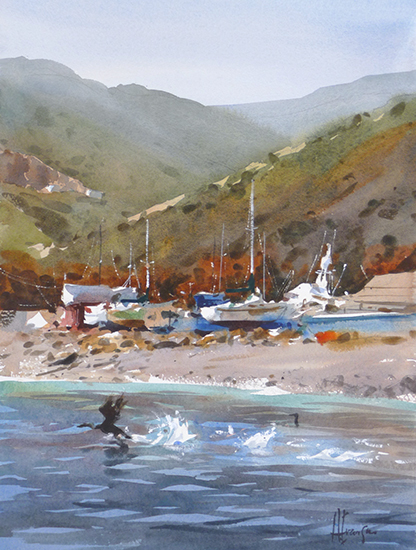 Cormorant Takeoff 19 x 14" Watercolor
"I've been very lucky that my art career has allowed me to

see the world. New places and cultures are visually

stimulating, and I've produced some of my best work on

these trips. China, in particular, has been a favorite of mine,

perhaps because it's so different from what I've been used

to my whole life. It's such a thrill to paint in an exotic country

you never dreamed you'd get to".

Andy Evansen's watercolors first gained recognition after winning an international competition through American Artist magazine in 2005. His work has since appeared in numerous other publications. He has become a sought-after workshop instructor who paints and teaches internationally. He served as President of the Minnesota Watercolor Society from 2004 - 2006, was elected a signature member of the Plein Air Painters of America (PAPA) in 2012, and is now serving as their President. He remains the only watercolorist invited to exhibit in the annual Wild Side Exhibition, a show of works done on Catalina Island by some of the top landscape painters in the country. His paintings have won numerous awards, including the Bronze Medal of Honor at the 2012 American Watercolor Society Exhibition, the High Winds Medal at the 2015 AWS Exhibition and the Painters Award in the Northwest Watercolor Society's 2012 Waterworks Exhibition. Evansen recently opened his own studio and gallery in Hastings, Minnesota. Andy graciously took time out from his busy schedule to be interviewed for The Artist's Road:
The landscape in general excites me, but more specifically when I see an interesting pattern of light and dark with strong shapes, I can't wait to paint it. The subject doesn't matter at that point. Many of my best paintings have a solid abstract quality to them, which isn't possible without that value pattern. I was just painting with a friend last week in a beautiful little town, much to see and paint, and we were both drawn to a group of roofers with their ladders casting shadows on the house. Those types of interesting scenes make a much better painting than a stream running through green trees, at least for me.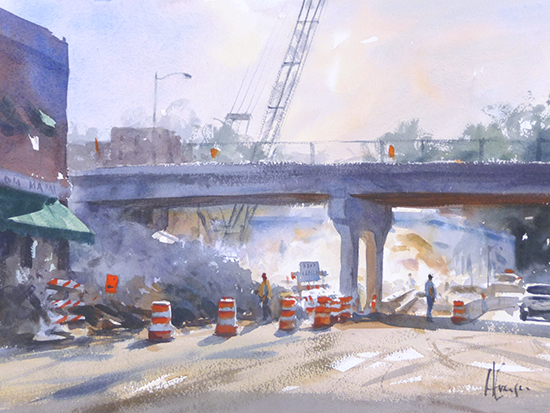 Construction Dust 10 x 14" Watercolor
The single most important lesson I've learned about painting is that we don't paint things - we paint how light affects things. So many of my students struggle painting cars, or figures, or buildings. I tell them it's just a light side and a shadow side, nothing more. Get those shapes right, and the viewer will see a car, or person, or barn without my stressing with details. The painting itself, on a larger scale, is simply a pattern of light and dark on a 2-D surface that we use to create the illusion of a 3-D world. Value is more important than color in that regard, and I do value studies quite often before the painting just to reinforce the simple composition and get me in the right frame of mind.
Learn more about Andy Evansen in our in-depth interview.
To read it and to see more of his paintings,
become a Member of The Artist's Road by clicking here.

Already a Member?
Click here to go to the the in-depth interview.
All artwork copyright Andy Evansen.