Without Culture

Perspectives No. 385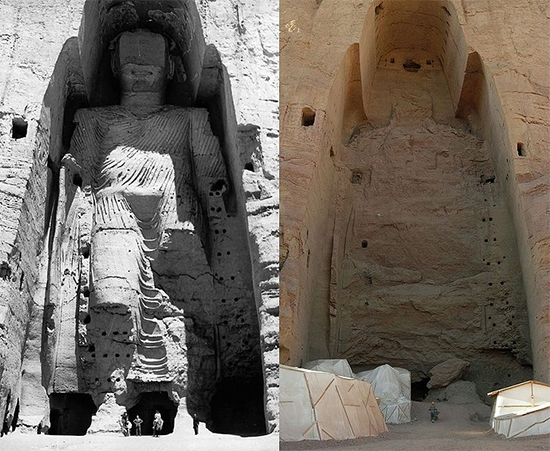 Taller Buddha of Bamiyan Before and After Destruction (Wikipedia)

"Without culture,

and the relative freedom it implies,

society, even when perfect, is but a jungle.

This is why any authentic creation is a gift to the future."
- Albert Camus

Training will begin in March, 2020, for a new American force of specialists. The training will take place at the Smithsonian Institution and the specialists will be Army reservists, all experts in their fields of fine arts, conservation and archaeology. After training, the team members will be deployed part-time to military units as needed. Their mission will be to identify important cultural heritage sites in countries which are under siege by war or other disaster circumstances.

The team will consist of museum directors and archivists who can identify vulnerable monuments and works of art with the goal of informing military forces and host nations of those sensitive cultural areas that need to be protected.

The original Monuments Men (see "A Nation's Purpose - Perspectives No. 172"), consisted of a group of men and women serving in the Monuments, Fine Arts and Archives section established in 1943 of the Allied armies. They came from thirteen nations, most volunteering, and most with expertise in the arts as curators, museum directors, artists, archivists and architects. They recovered artworks and other cultural treasured looted by the Nazis from Europe.

The new group will be different, but operating with a similar philosophy—to respect the great importance of these cultural antiquities and work to preserve them. The group will be based at Fort Bragg, NC, at the Army Civil Affairs and Psychological Operations Command.

The formation of the team is a collaboration between the Smithsonian Institution and the Army and will work to provide an interface between the military and the resident authorities in order to help host nations to protect and, if necessary, evacuate collections.

The idea has already been implemented in the United Kingdom, with its Cultural Property Protection Unit, a team of art reservists as well.

Colonel Scott DeJesse,who served in Iraq and Afghanistan, developed the unit together with Corine Wegener, a retired Army reservist. DeJesse is also a painter. Wegener served as international project coordinator for the preservation of more than 30,000 objects of Haitian heritage after the 2010 earthquake there. She now serves as director of the Smithsonian Cultural Rescue Initiative (SCRI).