Winter's Colors

Perspectives from The Artist's Road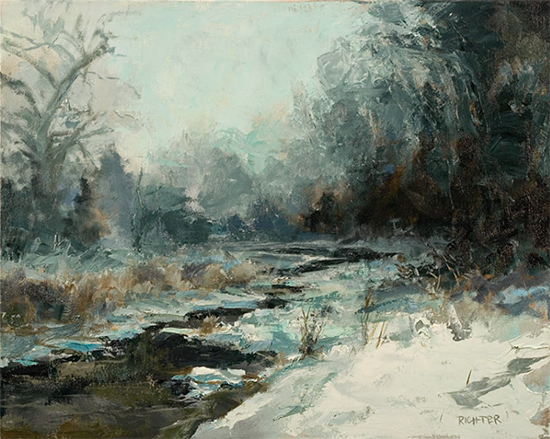 Winter Stream 16 x 20" Oil © Matthew Richter
Matthew Richter has immersed himself in the light and land of the Midwestern prairie, where he lived and painted for many years. Through countless hours of roaming this landscape and painting it, he has gained an intimate knowledge of the nuances of light, form and color around him. Over time, his paintings have evolved from recordings of his observations into highly personal expressions which connect his viewers to the beauty of the countryside around him. To achieve that artistic level, Matthew creates his own palette of colors and unique brushwork to suggest a world greater than that which is apparent on the surface. We had the opportunity to interview Richter earlier on The Artist's Road here. His recent paintings capture the nuanced colors of the snowy winter landscape. He described the pigments he chose to use on the painting above, Winter Stream, and below, Winter Bottomland - Winter Snow.

"The shadows are cool blue greens coming from Pthalo Green plus Alizarin Crimson. They are both extremely dark and serve to define forms. In the mid-values mixed with white, this pair of violently strong pigments tame each other creating subtle purple and minty blue-green. In the warm light values, apparent on shrubs, a Burnt Umber core pushing lighter with Yellow Ocher and Raw Sienna. On the right I pushed the middle half-tones toward red with Iron Oxide Red."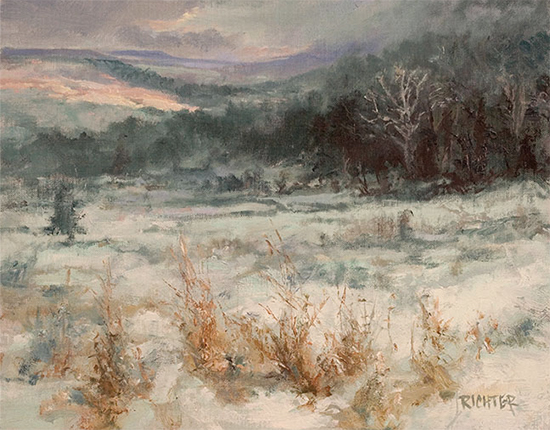 Winter Bottomland - Sycamore Snow 11 x 14" Oil © Matthew Richter
Matthew begins his paintings with thin washes of tone, either Iron Oxide, Burnt Umber or Payne's Gray, depending on the painting. In the top two paintings, his use of Alizarin Crimson, Thalo Green and Titanium White combine to create cool, pastel-like mid-tone lights and highlights. In Under Cedars - Sunlight Patches, he used Ultramarine Blue and Alizarin Crimson to create deep, rich darks and bright lavenders and violets with Titanium White and Cobalt Blue. For his mid-tones he added in umbers and ochres combined with Cadmium Orange or Yellow Ochre.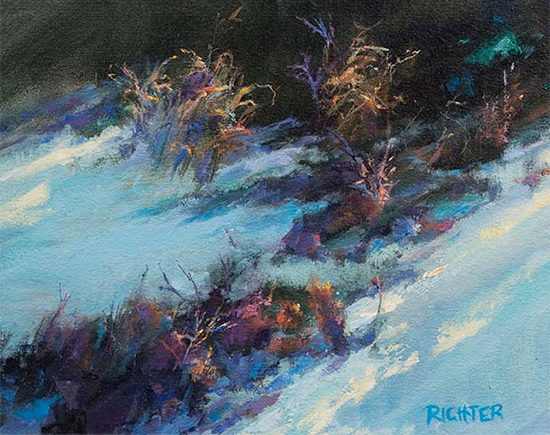 Under Cedars - Sunlight Patches 11 x 14" Oil © Matthew Richter
See more of Matthew Richter's work here: https://www.matthewrichter.com