Waxing Watercolors


Knowing how to properly display our finished masterpieces is a crucial skill in the life of an artist. Watercolorists have had to struggle with this since, well, forever, because of the intrusive and distracting reflections caused by glass. Glass is used to protect the surface. The invention of UV museum glass has helped to minimize harmful sunlight as well as to reduce reflections and provide protection. However, museum glass is very expensive, still causes some loss of clarity and is prohibited in some exhibitions (as is all glass) due to the possibility of breakage during shipping or handling by exhibition staff. Plexiglass is often substituted in those cases, but here again, reflectivity and the unevenness of the plastic surface can cause problems. We want our beautiful work to shine, not the glass in front of it!

There is an alternative, in some instances, and this solution is gaining traction with artists. Whenever possible, we now wax our watercolors with Gamblin Cold Wax Medium. We first heard of this from renowned watercolorist Sarah Yeoman. At first, you may be reluctant to apply anything, much less wax, to the surface of a watercolor. Once you try it on a practice painting, you will be a convert. Cold wax medium has long been used in oil painting as a medium and/or a final varnish. It goes on like paste, does not dissolve watercolor, and dries non-sticky to a protective film. When dried overnight, it can be gently buffed, or left as is. The very best part of waxing watercolors is that now, there is no need for glass! UV light is still an issue, however, (as with any watercolor), but waxing does provide beautiful true-to-life presentation and protection. Plus, no need for a mat, which allows selecting from all types of frames, even the plein air styles! We'll show you how it's done.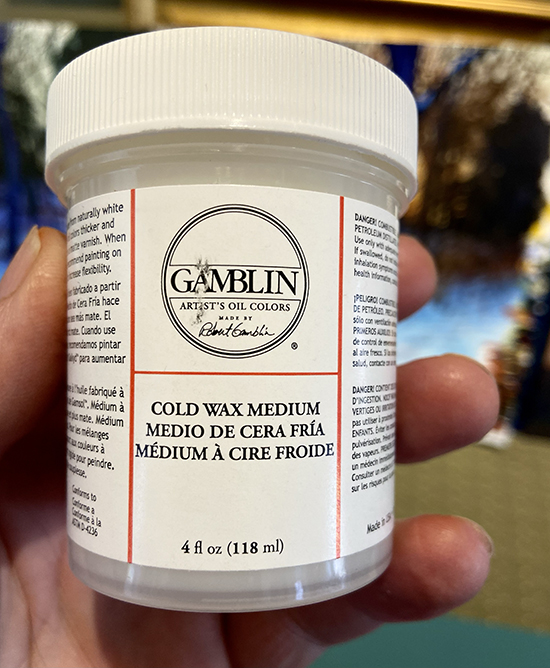 We use Gamblin Cold Wax Medium. It is made from the highest quality purified white beeswax and comes in paste form for easy application. It can be diluted with a little bit of Gamsol if needed, but we use it straight from the jar.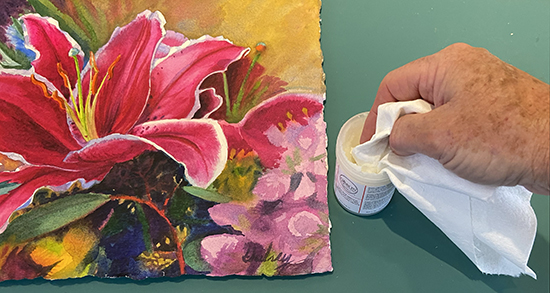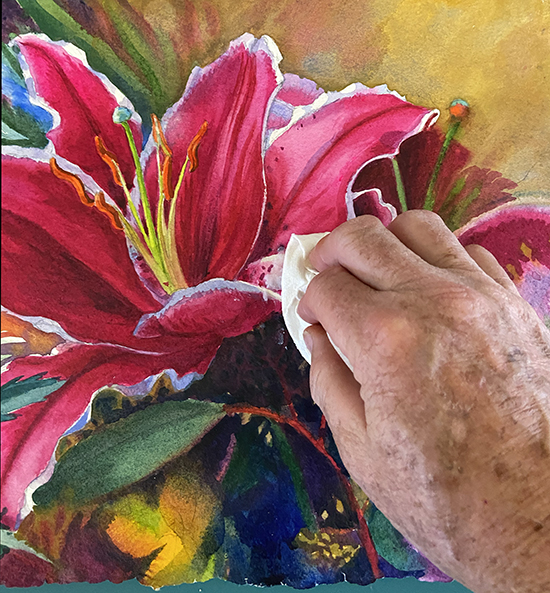 We apply it with a top-quality paper towel or lint-free cloth, working it into the paper in a swirling motion. If you have applied gouache anywhere to your work, be sure to test that separately first, to make sure it won't dissolve in the wax. You may note a slight darkening of some deep colors from the wax. We find this acceptable and even desirable in most cases—similar to the effect varnish can have on an oil painting, but, again, you will want to test on a practice watercolor to see if the effect works with your work. We like to work on top of a big piece of paper to absorb the inevitable excess when working the edges of the picture. Allow to dry overnight.

The dried watercolor can now be mounted on a substrate or matted, and here we have many more new choices available to us that we didn't have before. Without the need for glass or even a traditional mat, our creativity in presentation opens up. We like to start by mounting the watercolor on thick baltic birch painting panels from Dick Blick. One can buy an over-sized panel and paint it to create a "reveal" or float instead of using a mat when framed, and perhaps play with the color of this reveal to accentuate the artwork. Better yet, mount the art on a thick panel whose edges have been painted first. Then mount this ensemble onto a larger painted panel to create a three-dimensional presentation when framed. Or, perhaps mount your work on a varnished or painted, deeply-cradled panel without any frame at all. So many new possibilities!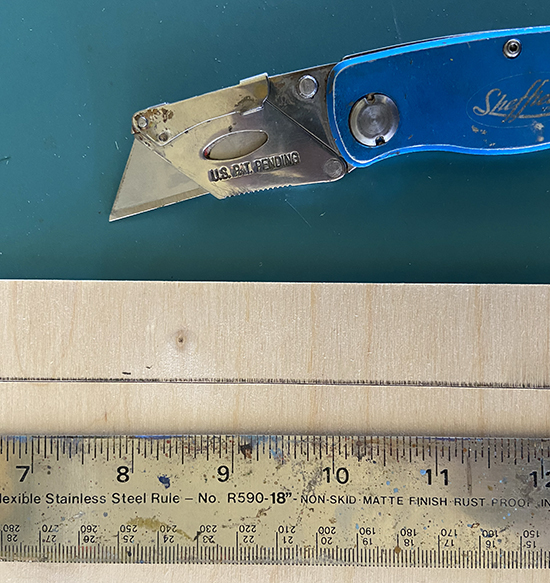 If the art is to be flush with the edges of the panel, the panel must be cut to size before mounting. On thinner, 1/8" panels, one can do this with a mat knife and a heavy steel ruler or yard stick. It will require a new blade and multiple passes, but avoids the need for a power saw. Heavier boards will require sawing with a fine-bladed circular saw.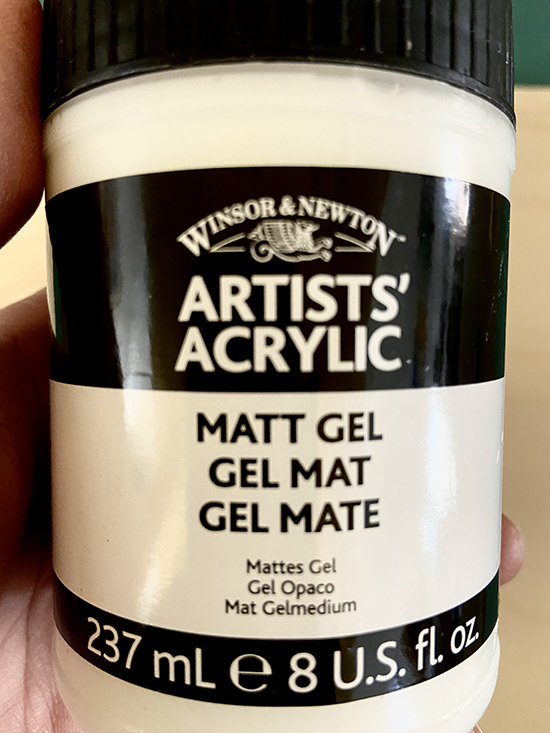 As an adhesive, we like to use high-quality acrylic polymer, applied with a brush to the back of the painting and the face of the panel at the same time.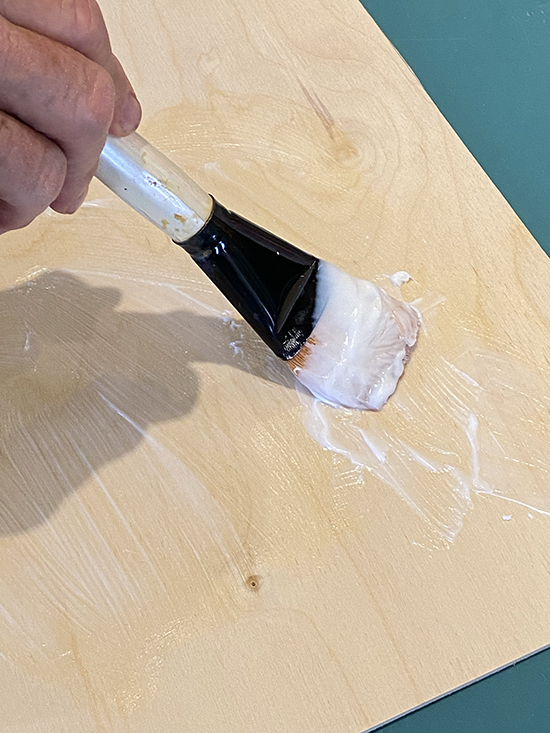 We first lay down a large sheet of clean paper on the table and then work the painting and then the panel on top of that. There will be excess around the edges. We use a large bristle brush dipped directly into the jar of acrylic and generously apply an even coating to both surfaces. Note: Be very careful to firmly hold your painting in place while you do this! If it slides, you may get acrylic on the underside, the art, with unpredictable results.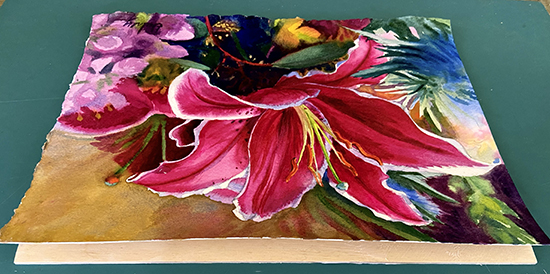 Carefully mount the artwork onto the panel and press together, smoothing from the center out. We usually size our panels slightly—maybe 1/16th" smaller than the painting, so that the artwork can be trimmed flush later. Much easier to trim the paper than to trim a board later! After the artwork is down firmly, we use a soft rubber brayer to do the final smoothing and push any air bubbles or excess polymer out. Let dry overnight by placing heavy books on top of the mounted panel.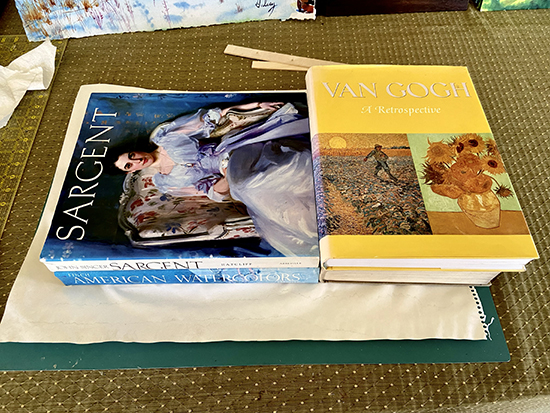 The next day, place the mounted panel face-down on a cutting surface and trim any excess paper from around the panel. Your watercolor is now fully sealed and protected from dirt, moisture and the atmosphere, and you are free to get creative with your framing presentation!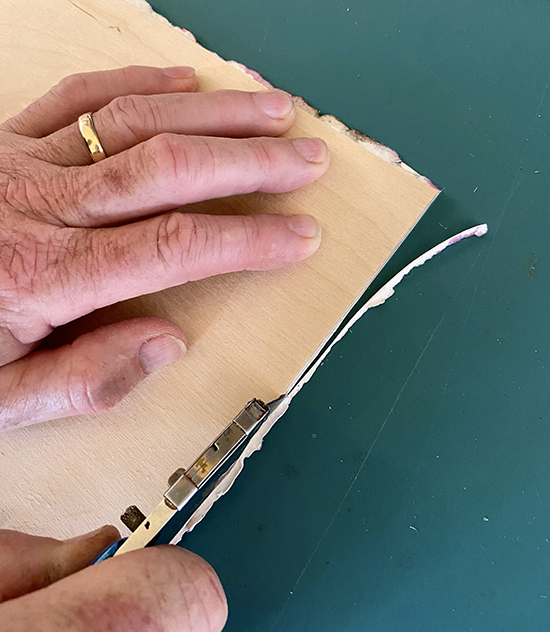 Here are just two examples of waxed watercolors with traditional plein air frames. We think you'll agree that they look great without the glass or the need for mats. We'd love to see any other watercolor mounting solutions which you may invent. Contact us with a photo and we'll put them on The Artist's Road.