Watching You Watching Me:

A Step by Step Watercolor Demonstration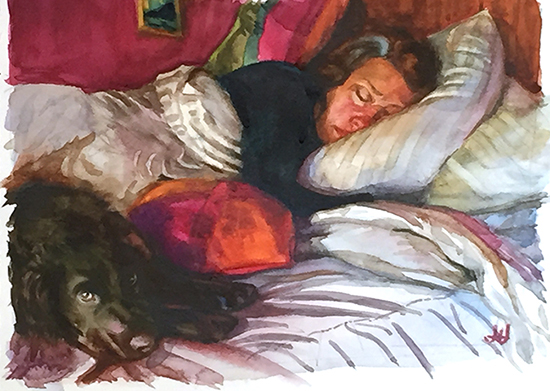 Watching You Watching Me Study 6 x 9" Watercolor on Canson
Inspiration can come to us seemingly out of the blue sometimes, though we often go out of our way on long trips hoping to find it. But most often, we find that it is the simple things around us and the people we care about most which serve to get our artistic energies flowing. Our working motto is, "paint what you love and all will come right", and it never fails. This watercolor demonstration is an example of how effective it can be to do just that.

This is a painting from our lives—a moment really—when I arose before Ann. Oliver the dog hopped up in bed to keep an eye on things, as he often does. It is an everyday occurrence, but this morning, something was different. Perhaps it was the arrangement of pillows, blanket and dog, or the interlocking shapes and colors, or maybe, the morning light had changed as winter gave way to spring. Perhaps it was everything combined to make a perfect moment and I knew that I had to grab as much of it as the light would allow. It is so easy to let these opportunities slip by!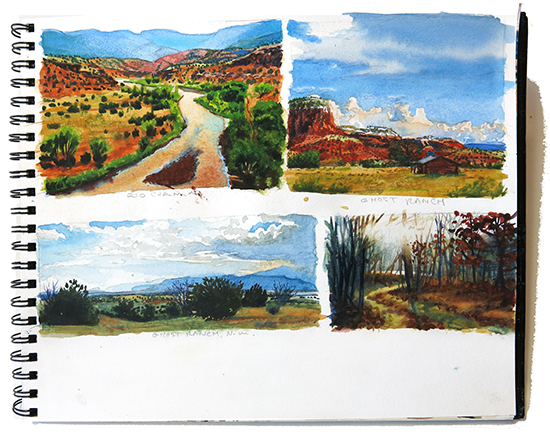 When I don't have time for anything larger or more complex, I work a small study in my Canson hard-bound watercolor sketchbook. These sketchbooks have become a mainstay of my art practice and often serve as the basis for larger studio paintings when I have more time. Sometimes years go by before I return to particular images. I call these books my "time machines" because the images in them transport me back to the times and places when I made the studies originally. The paper in them is labeled cold press, but the surface smoothness and sizing are really closer to hot press. Therefore, I paint in a hot press technique when working in my sketchbooks, versus the technique I use when working on cold press Arches for everything else. It takes some practice, but the beauty of the Canson paper is that colors do not blend readily or penetrate the paper very far and therefore remain vibrant. Because the technique is drier, it is easy to work rapidly. The downside is that each stroke is very noticeable.

First Attempt on Canson Paper 22 x 30"
In fact, my study had turned out so well that I decided to experiment with a sheet of the same Canson paper and see if I could duplicate some of the interesting effects in my sketch by working on this "faster" paper in a 22 x 30 inch size. I knew that I would have to use larger brushes and have my palette colors all waiting at hand, but I hoped that the increased speed of work would offset some of the difficulties. Boy, was I wrong! As you can see, I was doing all right, (though struggling) with the image right up to the point when I began to work on Ann's face. That is where I had to own up to the fact that I would never be able to render her the way I intended. The main problem with this paper, in my view, is that it does not hold on to the paint. Glazing one color over another becomes very difficult, as each new wet stroke tends to disturb the dry one beneath it. Also, the way the washes react to each other is unpredictable from stroke to stroke. It is not much of an issue when working small, but it became a nightmare for me on a full sheet. I am not a quitter, but in this case I was forced to retreat and start all over on a new sheet of Arches 300 lb. cold press. Lesson learned.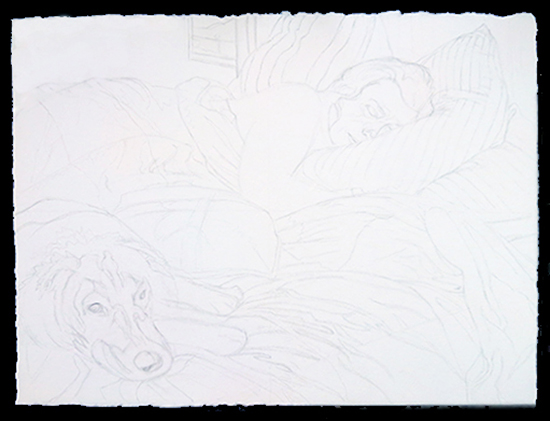 This is my new drawing on the Arches paper. I only put in enough light outline detail with my HB pencil to tell me where colors and shapes were and where they met or overlapped. The good thing about making a third drawing of my subject is that I know it very well before I paint it. The heavy 300 lb. paper requires no stretching and generally does not warp or buckle when damp. However, it does take a different technique than a 140 lb. sheet does, because the '300' is really more of a fabric than a paper. It is all cotton, has no wood fiber, and it is wonderfully hydrophyllic. What you don't expect is that even when the surface appears mostly dry, the paper is still a bit damp in its core, and that fact can ruin the next wash of color. As soon as water or paint touches the sheet, the sheet is "conditioned", the 'watercolor clock' starts ticking and there are only so many seconds when the surface will do anything you want. Then it is over, and the sheet must be thoroughly dried before it can be re-wetted. I think of painting on this paper like dancing the Tango with an expert partner. Once you learn the steps and timing, then magic can happen. But lose concentration or one's patience for a moment, and it can be unforgiving! The very consistent sizing helps with learning this dance and one can, through trial and error, develop a sense of timing of the relative paper dampness.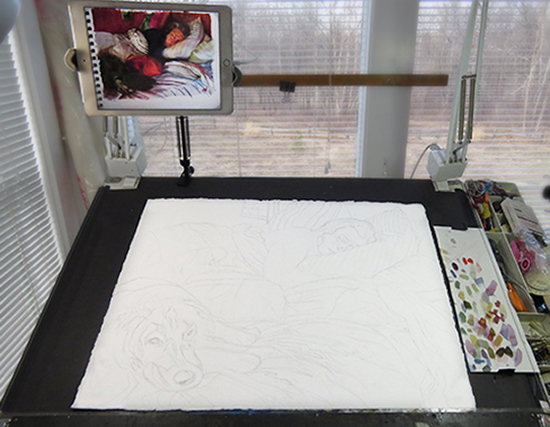 This is my watercolor table, adjusted to about a thirty degree angle with my 300 lb. Arches sheet lightly taped to it. An image of my small study on my iPad is attached to the table for reference as I paint. I find that the iPad produces a much more vivid and true to life image than a photo can. I shot a photo of my original watercolor sketch with my studio camera, balanced the colors in Photoshop, and then transferred the image to the iPad. I do not recommend simply shooting with a phone camera. As good as they can be, the pictures camera phones capture often need considerable adjustment, and those can't be properly made in the camera editing program–almost but not quite yet.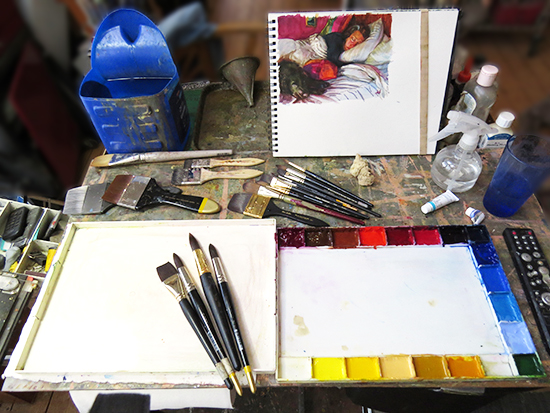 My process of painting a full sheet watercolor alla prima is somewhat like running a 100-yard dash. Once the gun goes off, there is no stopping the sprint to the finish! Therefore, I have learned to have everything I will need ready to go before I put brush to paper. Immediately to my right is a table with my Pike palette loaded with fresh juicy paints, an assortment of brushes, spray bottle, original study and lots of clean water. I use a variety of large brushes to do the bulk of the painting—flats, rounds and ovals. Richeson brand is by far my favorite synthetic brush maker. They are superb!
My Palette




Cobalt Blue, Prussian Blue, Violet, Quinacridone Rose, Burnt Sienna, Yellow Ochre, Naples Yellow, Cadmium Yellow, Cadmium Red
Before I begin any large washes of color, I premix a color string of the colors I will need in my palette. I then test them on a scrap of Arches and make adjustments from the dried results. Only then can I proceed with absolute confidence that I have the mass tones correct in value and temperature. This does not mean that I don't have fun along the way—just the opposite. I often drop juicy colors into these large areas of mass tone, wet-into-wet, and let the watercolor work its magic.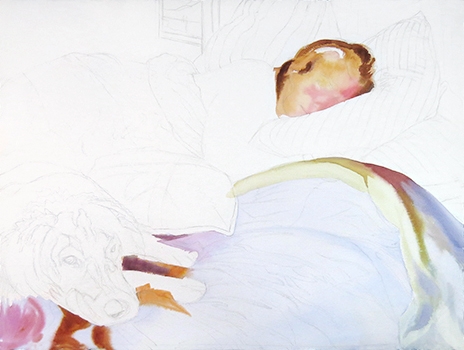 Step one in the progression of light-to-dark washes is getting the pale cool tones of the comforter blanket in, along with some reddish accents near Oliver. At this point I also wanted to get the initial skin tones established in Ann's face, since she is the main focal point and must take color and value priority. These washes go down so much better than similar ones applied to the Canson paper. No lifting or pigment migration here. Arches secret sizing behaves beautifully.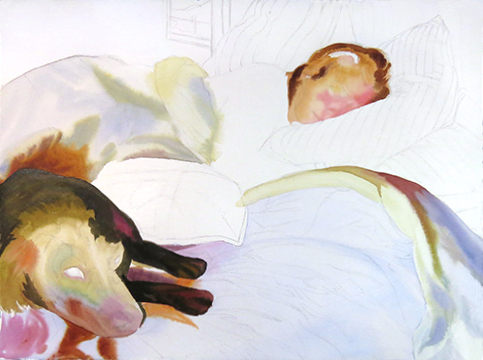 As illustrated here, I prefer to establish the mass tones in the largest shapes early on, wherever I can, and save details for later. Unlike other paints, dry watercolors can sometimes re-dissolve on the sheet and bleed into adjacent wet areas if care and planning are not used in laying down washes. For that reason, it is smart to generally work light to dark—the reverse of how I work in oil. In this way, each successively darker wash can not only hide previous errors, but can establish new edges. The risk of bleeding is not an issue if previous layers are finished and dry. However, this way of working takes lots of practice and planning. In any painting, but especially watercolor, value and color temperature relationships change when adding adjacent colors. I always recommend preparing smaller studies prior to jumping on to a big sheet. If any of the previous washes are wrong in color or value, it is a fool's errand to try and correct or balance them all out in the final moments with the darkest washes!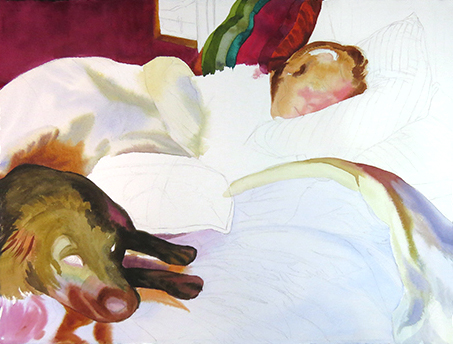 For example, my two big color/value concerns in this painting were the large area of cool red in the top quarter of the sheet and the dark, nearly black shape of Ann's pajamas. These colors and values are so dominant to the eye that the rest of the entire painting had to balance them perfectly. It helped that Oliver could also be painted with dark values. I was careful to share the rose tones of the background and the cool violets and blues of the comforter within his coat, thus harmonizing the composition.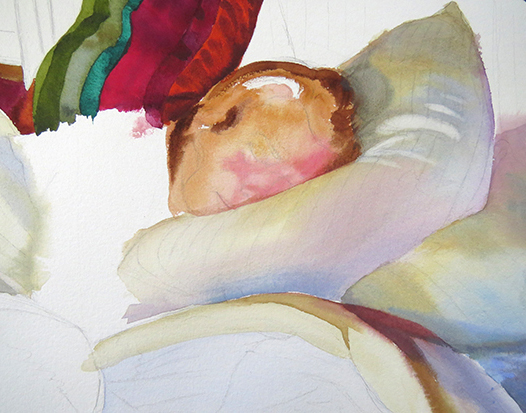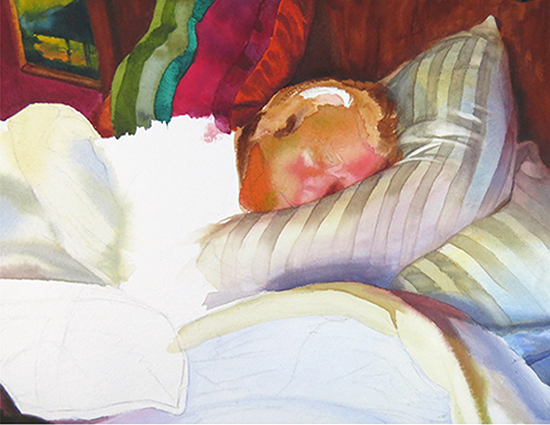 To illustrate the process of planning lights and darks, I detailed the pillows before I finished Ann's features and dark hair. In the image at left are the initial broad color washes with highlights removed. An important technique to be aware of is color removal, and this is done with a damp, not wet, brush on damp or dry paper. Softer edges are achieved if the paper is damp. This effect is superior to painting around a highlight. At right, the pillows are done and at that point I was able to lay in the darker wash of burnt sienna to create the headboard, wet-into-wet, all in one go. If the pillows were wrong at that point, there wasn't much I could do about it. Preparation and timing!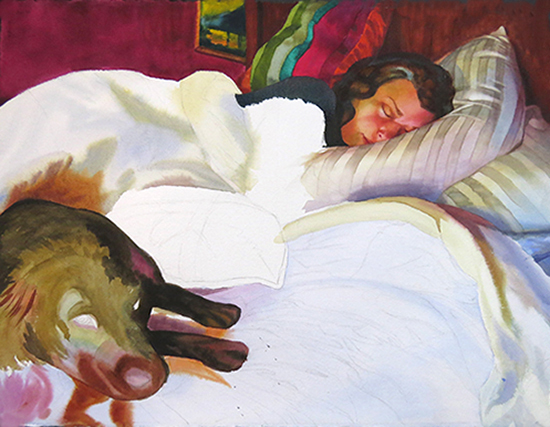 Once I had finished painting Ann's features, I moved to the adjacent area of concern, her dark pajama top. This I painted in two separate operations, the first you see here. I wanted to finish the quilt around her before I painted in the arm, since that would surely bleed into the quilt otherwise. Also, I needed to use the shape of her arm to establish some crucial edges and intersections in the composition, as you can see below.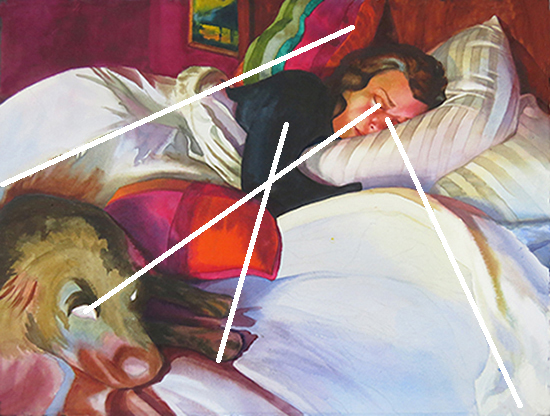 Another key area of concern was the very bright colors and placement of the red-rose pillow in the virtual center of the composition. Here again I am sharing colors from one area to the next which allowed me to bring the intense rose of the background down into the lower half of the painting. The diagonal arrangement of warm, vibrant color and deep values could not work if there was not the large mass of light, cool quilt on the right. Notice how all the angles lead the eye to Ann's face?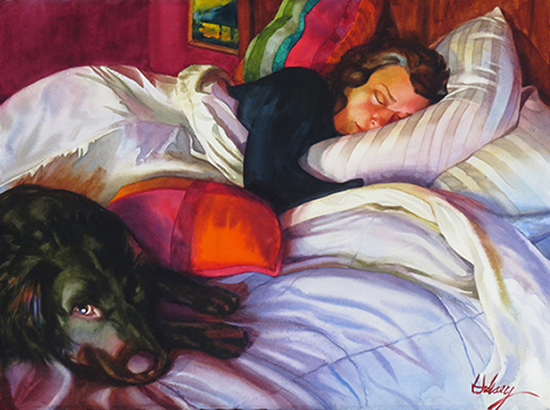 Watching You Watching Me Watercolor 22 x 30"
Finally, I re-wet the light areas of the quilt and adjusted the values of the cool washes within them adding a few wet-into-wet strokes to suggest the folds in the quilt. It is very important throughout any painting to keep in mind the focal point of the picture. That is where the bulk of any detail should be, often painted wet on dry for sharpness. The other areas for the most part, I keep loose and soft to allow the eye to go where I want it. In this story, I want you to see Ann clearly, and then notice that someone else is also watching you, watch her.