Voices of Experience
Vladislav Yeliseyev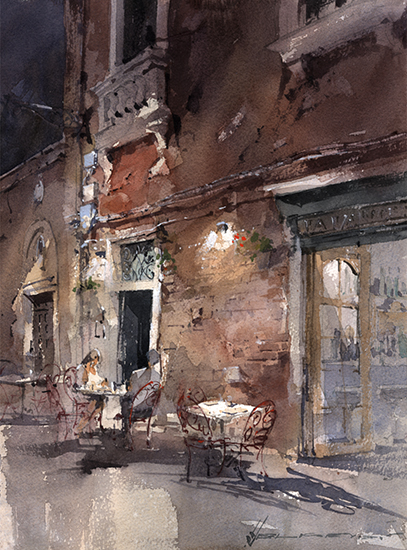 Night Cafe Watercolor
Vladislav Yeliseyev combines his passions for plein air painting and watercolor to create dynamic images that give the viewer glimpses of street scenes in Paris and Dubrovnik; the changing light of New Mexico; the seasons of Vermont; the boats of Zaton and Venice. How lovely to tour the world with the energetic strokes of a master watercolorist! Yeliseyev wrote to us about his childhood in Russia, his background in architecture and the inspiration of Rembrandt.

My mother served as an economist within a large Soviet socialist corporation, while my father pursued a career as an engineer. Despite their professional backgrounds, art wasn't a focal point in their lives. However, they held a deep admiration for artists who embodied a sense of freedom, particularly on the creative front, unlike the millions of workers entrenched in the Soviet Union's system.

Growing up, my parents were conscious of the challenges their child faced being exposed to the realities of the streets. In response, they wholeheartedly supported my education at the evening art school, which became a cornerstone of my childhood routine after regular school hours. They understood the potential downsides of street life and sought to encourage development in a nurturing academic environment.

Juggling both regular school and evening classes meant my plate was consistently full with homework, leaving me with limited opportunities to veer into unlawful street activities. However, within the brief windows of time available, I managed to explore the edges of the law, pushing boundaries as any youthful and energetic individual might.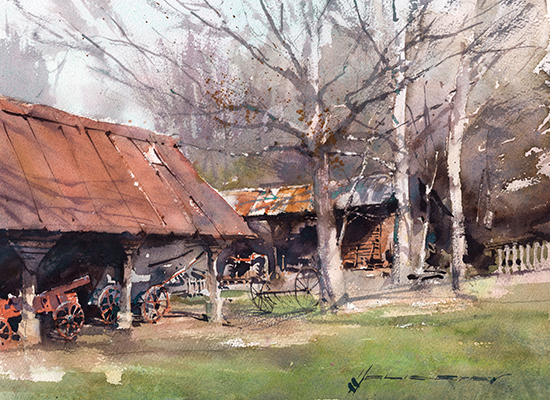 Georgia Spring Watercolor
I grew up in Moscow, the capital of the Soviet Union, a city steeped in a rich artistic legacy dating back to the time of Russian tzars, known for their immense collections and patronage of the arts. While I wasn't particularly fond of theaters, the art museums in the city provided an unparalleled opportunity to immerse myself in the study and observation of masterpieces crafted by extraordinary artists throughout history.

Simultaneously, the clandestine world of underground art, populated by contemporary artists, offered a gateway to explore the avant-garde and experimental frontiers of today's artistic expression. It was a thrilling opportunity to become acquainted with cutting-edge and unconventional works, challenging conventional norms and pushing the boundaries of artistic innovation.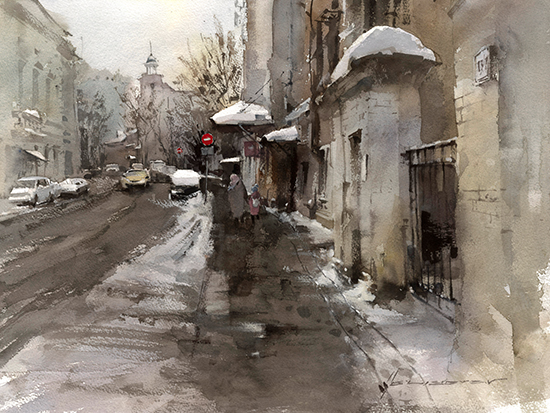 School Time. Watercolor

It just so happened that not a single teacher or artist exerted an overwhelming influence on my artistic vision or style during my formative years. Instead, I drew from an immense pool of visual information and the rich history of art, which provided me with a wide-ranging perspective on the evolution of art from ancient times to the modern era.

Interestingly, after emigration (to the United States), I was surprised to discover that certain great Russian artists, such as Nikolai Fechin, seemed to have been largely omitted from the textbooks, as if they had never existed, likely due to their deviation from the communist narrative. Today, Fechin stands out as one of the few artists I deeply admire, especially for his remarkable skill as a portrait painter. Additionally, I stumbled upon the work of Richard Schmid, a brilliant landscape painter, although I never had the opportunity to meet him in person. His art has left an indelible mark on my appreciation for the beauty of the painterly and loose style he possessed.

How has your training and work as an architectural illustrator informed your fine art work?

I've never received formal training as an architectural illustrator—my background is in architecture—but this field has provided me with unique training in architectural presentation skills. I've observed that this specialized training can sometimes hinder the development of my fine art skills. When you consider it, the only common elements between the two are the tools: brushes and paper. However, what truly sets them apart is the state of mind and the artistic objectives.

In architectural illustration, the emphasis often lies in creating visually pleasing images with a narrative. The goal is to use pretty, eye-catching colors and convey a specific storyline. On the other hand, fine art aims to delve deep into the emotional and intellectual aspects of a piece. It's about capturing the essence of a character in portraiture or evoking the mood of a scene. While illustration thrives on intricate details, fine art strives for just enough detail to enrich the viewer's emotional and intellectual connection to the painting.

Much like how it's easy to distinguish between popular dancing music and classical compositions, it's also apparent that commercial aspects are prevalent in illustration but largely absent in fine art.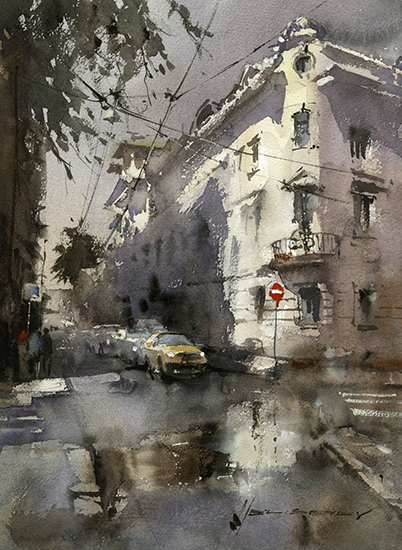 After the Rain Watercolor

What is it about watercolor that makes it your medium of choice?

Like many architects of the last century and art school students, I began my artistic journey with watercolor as the primary medium—a choice that might seem peculiar given its level of difficulty to master. However, I've also developed a keen interest in working with oil paintings. Surprisingly, I find oil painting relatively easy to master compared to watercolor, as it demands a lesser kind of discipline and forward-thinking akin to a chess player's strategy. Both mediums adhere to similar principles, but the application of paint varies significantly and the watercolor is much harder to plan since the process is sort of backward thinking—from light to dark.

Certain aspects are more manageable with oil, while others are better suited to watercolor. Despite the challenges, watercolor offers the advantage of portability, making it convenient for plein air painting and travel. The key ingredient, water, is abundant and easily accessible, especially in Europe where old town squares often feature charming fountains.

Additionally, watercolor presents a significant edge in elegant presentation. The white mat surrounding the image and a generally thinner, less imposing frame can enhance the overall visual appeal when displayed on a wall. During paint-out events, where numerous paintings adorn the walls, watercolor consistently shines in this aspect, adding to its allure.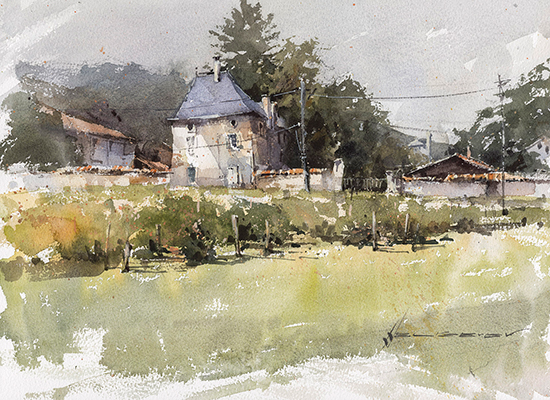 Vineyard Watercolor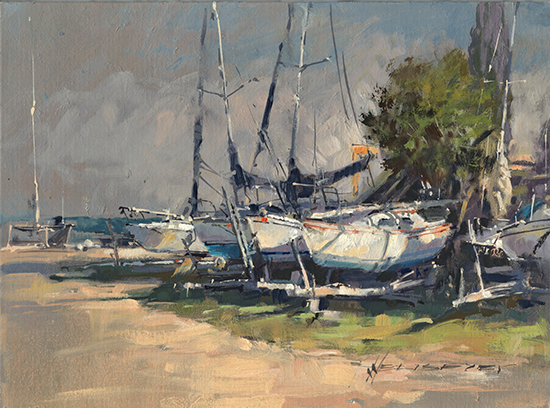 Sailing Squadron Oil

What is the one most valuable technical lesson you've learned about painting in watercolor?

Plan ahead.

Would you tell us about your processes and materials?

When I travel, I typically invest some time in acquainting myself with the new surroundings and their unique character. My preferred method for capturing these moments is through monochromatic sketches, whether executed in graphite or watercolor followed by large piece. These sketches are compact, quick to create, and serve as a handy reference for later use.

Indoors, I often rely on these initial sketches in combination with photographs. This approach allows the final watercolor piece to transcend the source material. It provides an opportunity to infuse the artwork with depth and a more painterly aesthetic, enriching the overall interpretation of the subject matter. The process itself is quite similar when working outdoors and in the studio.

I work primarily with American Journey watercolors, employing a strategic approach to color selection. For illuminated areas, I rely on primary colors, opting for darker primaries to capture midtones, and incorporating three even darker shades for cast shadows. This palette allows me to effectively create a range of grays. To infuse intensity into my work, I turn to vibrant options like Cadmium Red Light, Cadmium Yellow, and Cobalt Teal, among others.

In my artistic journey, I've also collaborated with Rosemary Brushes Co. to develop a line of synthetic brushes, which have been a vital tool for me over the years. One noteworthy brush from this line is the sword liner, a versatile alternative to the traditional liner brush. Its design offers a broader range of lines, particularly beneficial when detailing tree branches or similar elements. Interestingly, I've found success using this brush not only with watercolors but also with oils.

When it comes to watercolor paper, I've found a reliable choice in Hahnemuhle's cotton paper, especially their watercolor blocks. I prioritize consistency in paper quality, and the excellent tooth of their rough surface paper aligns well with my technique. This choice enables me to achieve the desired dry brush effect consistently in my work. For those interested, my brushes and other materials are available through my website here.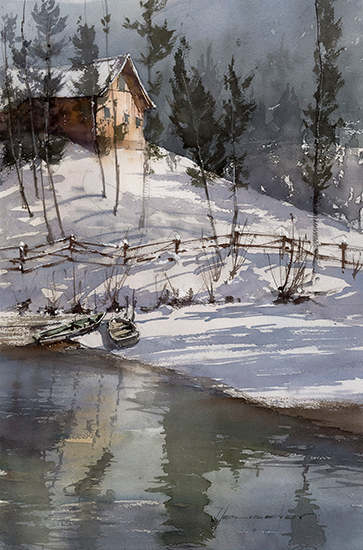 Winter Lake Watercolor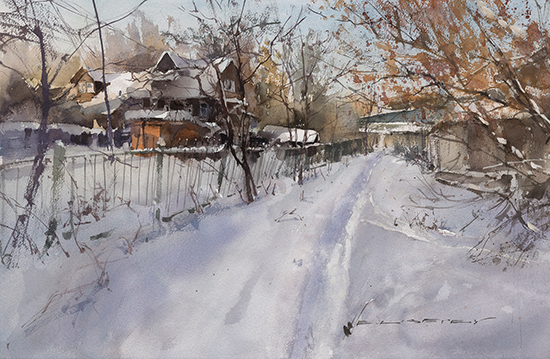 Winter Path in Golitsino Watercolor

Any words of wisdom you might give to beginning artists?

Learn how to draw.

And, just for fun, if you could sit down and have a long conversation over dinner with an artist from the past, who would you choose, and why?

Without a doubt, my greatest inspiration is Rembrandt. His work never fails to astound me. While it's true that he sometimes adorned his models with eccentric attire, one cannot help but be awestruck by his brushwork, which was centuries ahead of its time. When I closely examine his paintings, I'm often struck by the almost impressionistic and loose quality of his strokes, which, from a distance, might seem like a chaotic mess. However, as you reapproach the painting, it miraculously transforms into a harmonious and incredibly detailed impression. The key here is the word "impression." This effect is truly discernible only when viewing his original work, as the texture and subtleties of his brushwork are impossible to replicate on paper reproductions.

I've often wondered about Rembrandt's working palette and the secrets behind his techniques. It's said that he used egg whites to thicken his paint. I would love for him to reveal the intricacies of his methods, as I believe they would offer invaluable insights into the mastery he achieved.

To see more of Vladislav Yeliseyev's work go to: Vladislav Yeliseyev Fine Art
All artwork copyright Vladislav Yeliseyev