Voices of Experience

Philippe Gandiol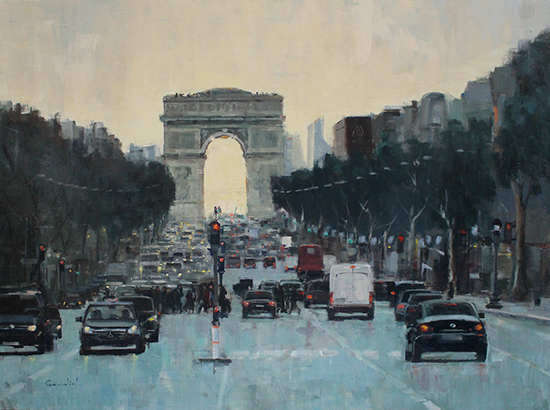 Champs Elysées at Dusk 30 x 40" Oil

"The painting becomes the master, I am the instrument."
The culture and artistry of a childhood in France is reflected in Philippe Gandiol's paintings. Although he moved to northern California in his twenties, Gandiol retains a European sensibility in his landscapes and cityscapes. He is an multiple award-winning artist and very active in the California arts communities. He wrote to us about growing up in France and the influences of its culture, about his mentors and his current work and processes.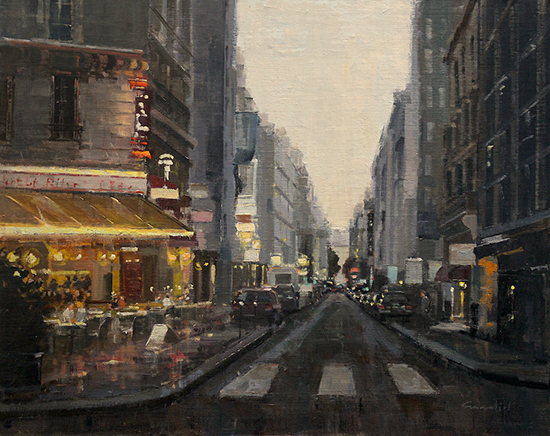 Dusk in Montparnasse 24 x 30" Oil

My grandparents who lived in Paris were a great inspiration to me. They loved art. The walls of their house were adorned with many paintings. My grandpa took me with him to visit some artists' studios and museums and also to concerts and plays. I remember doing some wood sculpting (very rough) using the many tools he had. My aunt was singing in a choir and a very close friend of her and the family was a renowned cellist.

There was a definite emphasis on all forms of art and cultural education (art, writing, music, acting, etc.) in high school and then in college. I think that, in my own experience, it was and still is much stronger in France than here. Consequently, my brother is a wonderful photographer; my sister-in-law is a writer; one of my cousins is a sculptress and another one worked for a well know designer. Also, my niece is an actress and my nephew designs and build furniture.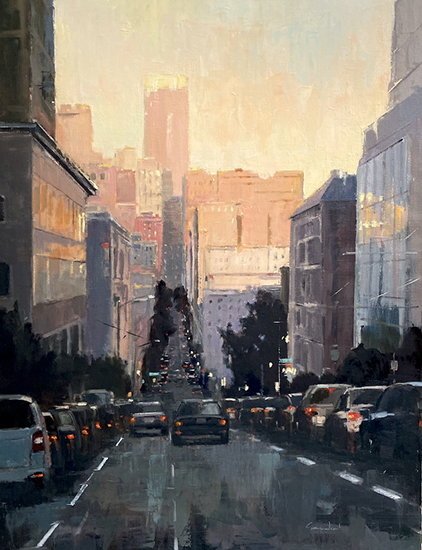 The Golden Hour 40 x 30" Oil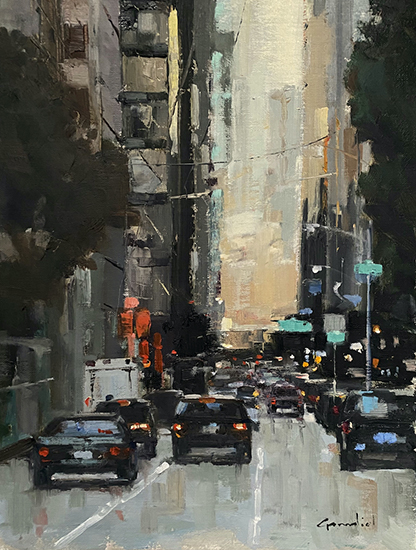 Restless 16 x 12" Oil
I did not pursue a formal education in art. I learned mostly by reading books and painting with artist friends. I took a couple of classes at Beaux-Arts in Paris for part of a year. When I moved to the United States, I took a few classes at the San Francisco and Sacramento Colleges and studied at the School of Art and Color in Sacramento where I met Earl Boley and Jian Wang. I painted with them for several years during which time I learned so much. I also attended a few lectures from Wayne Thiebaud here at UC Davis. I took several workshops with wonderful artists here in California. Amongst them Barry Raybould, Gregory Kondos, Randall Sexton, Ken Auster and Terry Miura. Terry had an atelier in downtown Sacramento in the early 2000s where he taught mostly figure drawing and painting. It was absolutely wonderful to be around all these artists. The creative energy was exhilarating. We worked hard all day and then gathered around some wine and snacks. Everyone was there—the artists, the models. We critiqued—we explored—exchanged ideas and stories. That period was instrumental in my ongoing development as an artist. I still keep a close relationship with Terry.

I worked in the music business in IT for many years while still pursuing my art. It was necessary at the time in order to pay the bills and take care of my family. I was able to become a full-time painter in 2001.

Do you return to France to paint, or other countries around the world?

I have had and still have the opportunity to travel to paint in other countries. I have visited France, of course, and also Italy. Both countries are a fantastic inspiration due to the wealth of art being displayed everywhere: the buildings, the museums, the energy, all feeding my passion to create. I also spent several months in Kerala (southern India) which was a mind blowing experience on so many levels: the tropical environment, the art, the people, the culture, the colors, so much! I had a motor scooter which allowed me to drive around, my easel between my legs and the rest of the gear in a bag on the rack. It was fabulous to be able to go to the sea, jungle, the small villages and paint!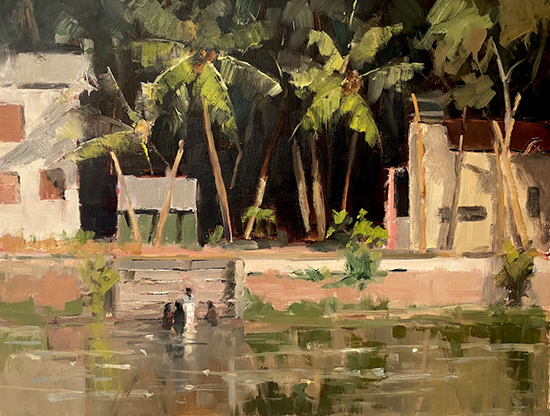 Dreaming of India 11 x 14" Oil

Would you share with us your painting process and the materials that you use?

Before beginning a painting, I create several thumbnails to work out the composition along with very simple small value studies (often 3 values: light, medium, dark). For larger studio pieces, I often use my plein air paintings/sketches when I have one. For those studio pieces I often write a short poem which will be a tremendous help to express the mood and the narrative. The poem is written with charcoal right on the canvas and then is dissolved into the paint and becomes an organic part of the piece. I use photo references for these pieces. It is helpful to start with and for details. But then as the work develops it all comes out from my heart and soul. It becomes a conversation between me and the work. The painting becomes the master, I am the instrument.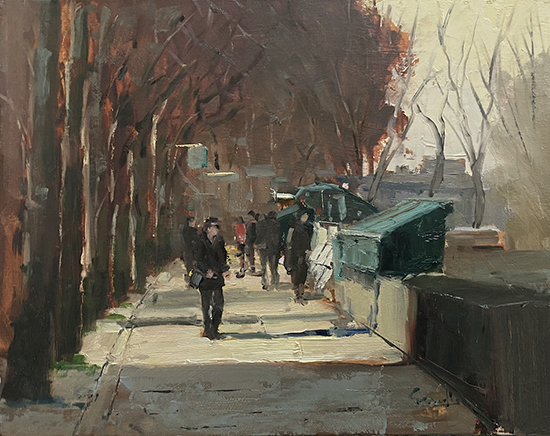 The Bouquinistes 11 x 14" Oil

My base palette is as follows: Titanium White, Yellow Ochre, Cadmium Yellow Light, Cadmium Red Light, Alizarin Crimson, Utramarine Blue, Viridian Green, Transparent Red Oxide.

My frequent "guest" colors are: Cadmium Yellow Medium, Prussian Blue, Asphalthum, Ivory Black. I also try other colors from time to time. As far as brands, I use mostly Rembrandt and Gamblin. I did try other brands but I always stick to these ones. I use Gamsol for solvent and Gamblin Neo Megilp for medium.

I paint mostly on oil primed linen. I make my own panels (Claessens #9) up to 24" x 30" and stretch my own canvases (Claessens #66) for larger works.

(Gandiol wrote to us about the inspiration for his painting, Homage.)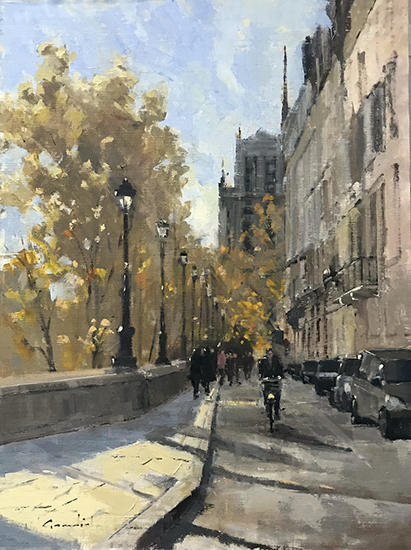 Homage 24 x 18" Oil

An homage to my grandfather who, as I mentioned earlier in the interview, had such an impact on my desire to make art. At the time, little did I know that these fun forays into artistic expression would be so consequential.

He always dreamed to have an apartment in the Île Saint-Louis in Paris. It is one of the two islands in the Seine, located just below Île de la Cité where Notre Dame stands. It is an exquisite spot with gorgeous buildings and unrivaled views in the heart of it all. When I come to Paris, I always stay at my cousin's house who lives on the left bank in an apartment right across the river from Notre-Dame. It is a few minutes walk from there to the Île Saint-Louis. I walk there often and I decided to paint this scene to honor my grandpa. I started sketching different views but that one with Notre-Dame in the back, the golden leaves on the trees, the people wandering really caught my eye. I took a bunch of photos. Along with the sketches and my lifelong familiarity with the place, I thought that it would be enough. Back home, I started to work on the painting and it came together so quickly, almost effortlessly. This was one of those magical moments when the piece paints itself.

The Louvre 30 x 40" Oil

Are you currently teaching workshops, or planning any for the near future here or abroad?

I am teaching studio classes and offer zoom demonstrations currently. I am planning on starting workshops again here in the US this year and also in France starting next year.

Any words of wisdom you might give to beginning artists?

Paint, paint, paint.
Everyone makes mistakes, fails, struggles. I sure do. Embrace it all as an opportunity to learn and grow. Keep painting.
Use the best tools you can afford.
Seek the company of other artists and learn from the ones that you admire.
Read about artists journeys, lives, struggles and successes.
Paint without fear. Paint with passion. Just paint.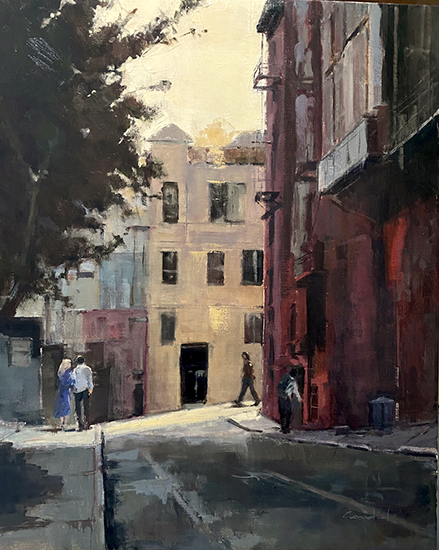 Morning Tale 30 x 24" Oil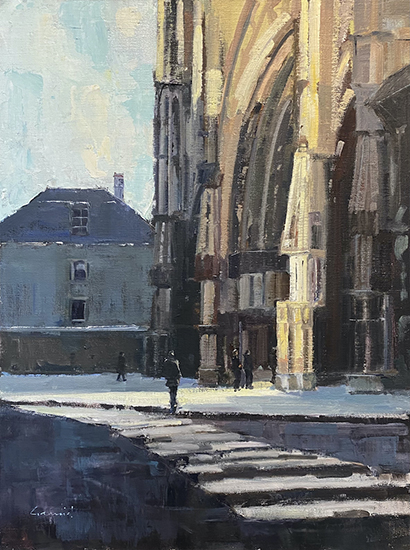 The Scale of Things 24 x 18" Oil

And, just for fun, if you could sit down and have a long conversation over dinner with an artist from the past, who would you choose, and why?

That is a tough choice. So many artists from the past that I admire and with whom I would love to have a long conversation over dinner!!! I'll pick Joaquim Sorolla. I am in awe with the way he handles and describes the light. And also I love his masterful figures. It is absolutely gorgeous and fascinating. Here are a few favorites: The Bath, Study for 'Sad Inheritance', 1899, Bath Time, 1904, Fisherwoman with Child, 1908, Young Girl in a Silvery Sea, 1909, Maria with Hat, 1910, After Bathing, Valencia, 1915.

When you discover beauty in everything from a dramatic sunset to a back alley,
a shiny rose to a broken glass, a radiant smile to a silhouette lost in the fog.
When struggles, failures and rejections are just opportunities to learn, grow and shine.
When painting is a thrill regardless of the outcome,
when time stops, and I am one with it all.
When your heart and soul is open to all possibilities,
and you find the courage to express it.
When someone says, "Thank you for what you do and bring to the world."
When you can pay the bills.
It is success!

- Philippe Gandiol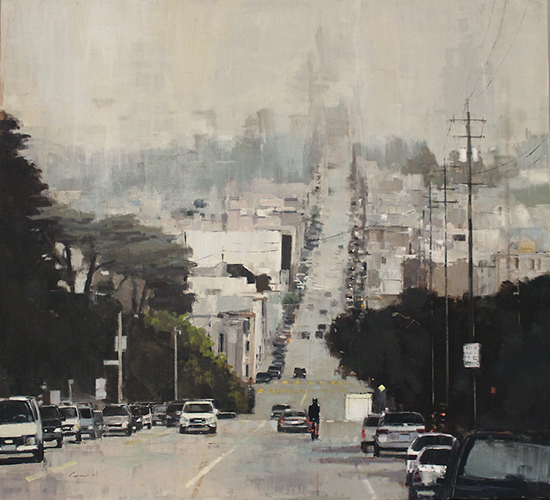 Summer Ride 40 x 44" Oil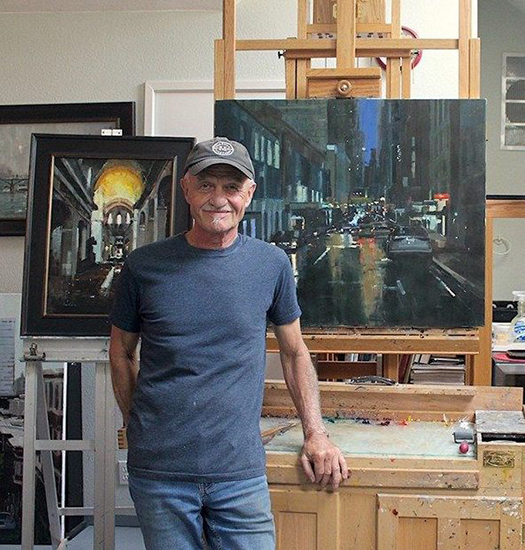 To see more of Philippe Gandiol's work.
go to: https://www.philippegandiol.com
All work copyright Philippe Gandiol