Voices of Experience

Mark Adrian Stopforth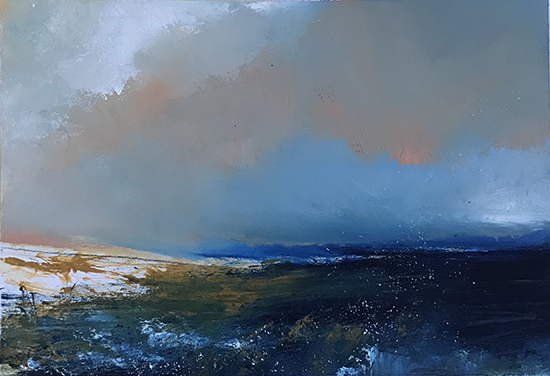 Solace 11.5 x 16" Oil, Chalk and Pencil on Paper


"Never paint for anyone other than yourself."
Mark Stopforth's evocative paintings are his impressions of the British moors, peatlands and estuaries—places with which he has intimate connections. With a nod toward the historic traditions of British landscape painters such as J. M. W. Turner, and honoring the monochromatic style of artists such as Hasegawa Tohaku, Stopforth brings the essences of his subjects into graceful refined expression.

He also puts his impressions into words, as an accomplished published poet. Stopforth was shortlisted for the Brit Writers' Award in 2012 and was the winner of the Fleeting Magazine's International Best Short Writing Award in 2010. He is currently Head of Art at a preparatory school in the Cotswolds.

He wrote to us about his earliest artistic inclinations, his training and his inspirations.

My mother always encouraged me creatively and indeed is a very active amateur artist herself. I can remember a portrait I did of her when I must have been three or four which was put on a wall and that must have registered with me that this was a normal thing to do. I was always drawing or painting and I remember being singled out at school that art was my thing.

I did my degree at Cardiff though my specialist field was sculpture and installations, specifically. Once I'd graduated and after about five years, I turned to painting in oils, which was much more immediate and was a medium I could lose myself in, much in the same way that installation art is immersive,, but with oils, it's a much more private and intense process.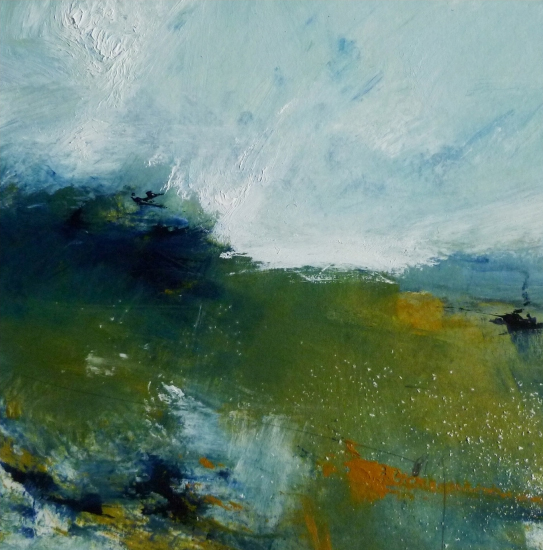 Moorlight III 7.5 x 7.5" Oil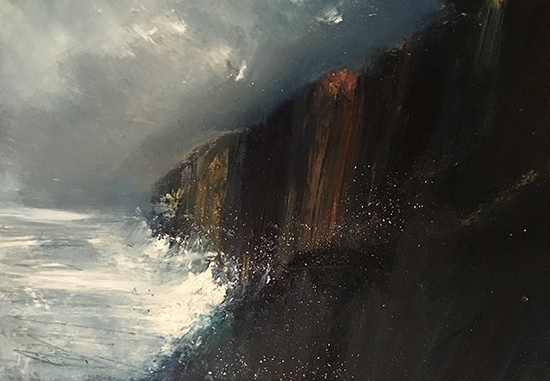 The Sea Wall 11.5 x 16.5" Oil, Chalk and Pencil on Paper

Did you have any mentors who were particularly inspirational to you and your work?

There has never been a go-to figure or mentor as I can remember. There were teachers and tutors who pushed me in the right direction, for sure. I learnt more from observing and analysing paintings in galleries—again, a much more private affair.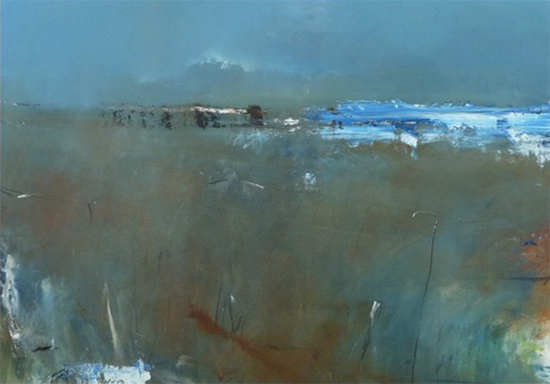 Estuary Light III 22.5 x 33.5" Oil, Charcoal and Pencil
Was there a pivotal moment or event that helped you to take the leap into pursuing your painting full-time?

It's a been a steady process of incremental steps, but never one defining moment. I still believe my mother placing a picture on the wall to be as important as anything else. Experiencing lockdown has been another defining moment as it has helped me to re-evaluate directions to follow and pursue.

My process is one of repetition—I approach every painting afresh. I never truly know which direction it will go in until the first wash of oil spreads into the paper. I do tend to make an initial decision between seascape, landscape or minimalist work and then go from there. Inspiration comes from so many things—walks in a landscape, rivers at dusk, first fall of frost in the morning, roadside verges, marshes in mist—it's relentless, really.

Have you also painted in other parts of the world?

No I haven't, I am quite stubborn in my pursuit of the English tradition of landscape painting. It's what I know.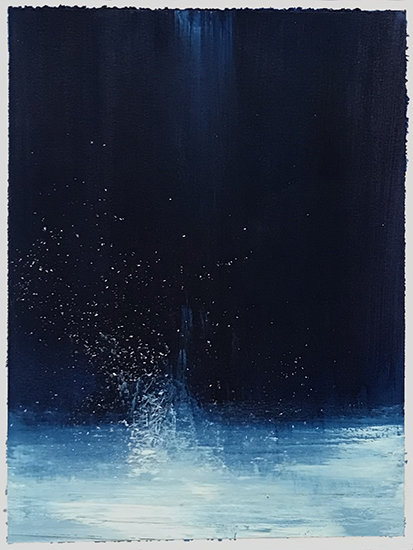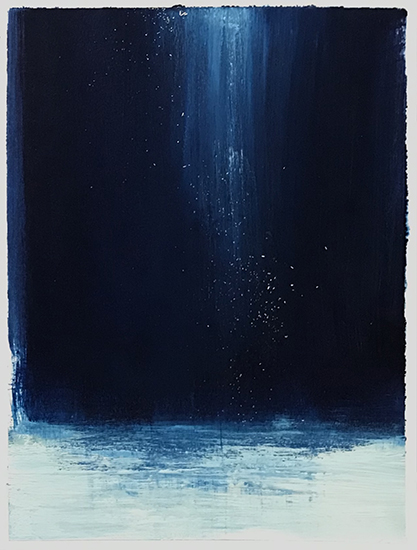 The Fall of Icarus (diptych) 16 x 11" each Oil, Chalk and Pencil on Paper

In addition to your primary medium of oil, have you explored other mediums?

Oil paints work on so many levels, but I like to break them down as thin as I can—like a watercolour wash and then add on the layers as I go. I like to branch out into charcoal drawings occasionally, but acrylics and watercolours are not media I tend to use. I also love to work in India Inks which is more akin to drawing but gives me a darkness and depth I crave in my work.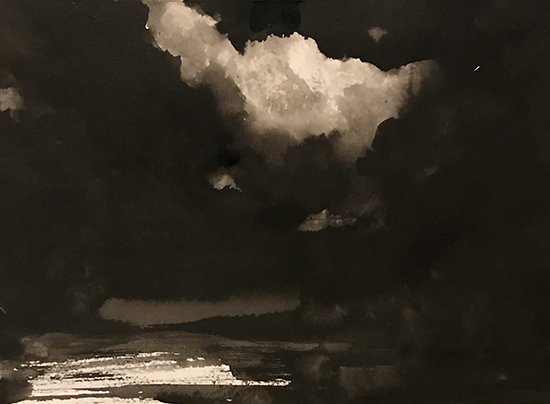 Storm Clouds Rise Above the River 8.5 x 10" Ink on Paper

Prussian Blue is always in my box of paints. It has a sublime quality and richness that can't be equalled. I've come round to the idea of quick-drying whites though not mixable whites. I work on a heavy weighted paper that is without texture—this is the best to take the first quick washes of colour and hold them under any further marks or layers I make. Unusually I don't use brushes—everything I do is ragged. This gives me a closeness of touch and connection with the paint which to me is essential.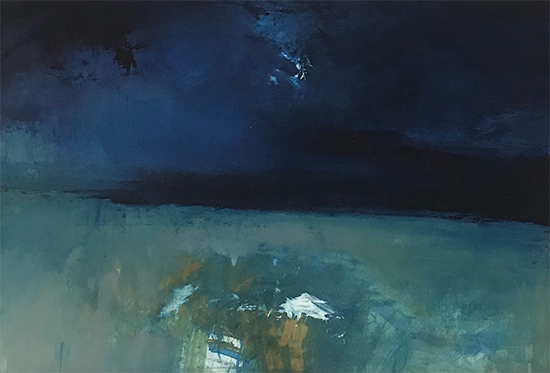 The River's Source 8 x 11.5" Oil on Paper
The painting above (The River's Source) is based upon evening walks on top of Dartmoor when night-time starts to close in and I would still be an hour away from wherever I happened to be staying. The subject matter is a nod towards the fact that rivers like the River Dart start on top of the boggy moor in a hundred different tributaries, but the whole moor is essentially shifting on layers of peat and water. I wanted that fluidity to come across in the painting—so much so you can see the first marks or washes in oil underneath.
Any words of wisdom you might give to beginning artists?

Never paint for anyone other than yourself.
To see more of Mark Adrian Stopforth's work, go to:
http://markstopforth.co.uk
All artwork copyright Mark Adrian Stopforth