Voices of Experience

Laurie Kersey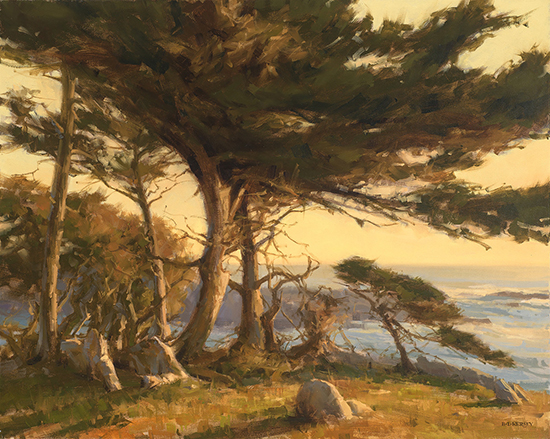 Point Lobos Cypress 24 x 30" Oil
When the commercial art world became ubiquitous with computers, Laurie Kersey knew it was time to leave her work as an art director and illustrator and to pursue her fine art full-time. Since then her work has been included in juried and invitational shows across the country. Kersey has won multiple awards for her paintings and is a Signature Member of the Oil Painters of America, the California Art Club and the American Impressionist Society. She is a Master Signature Member of American Women Artists. In addition to her landscape paintings of the dramatic and diverse California landscape, Kersey paints exquisite florals and is currently focusing on her love of horses. She is an Artist Member of the American Academy of Equine Art.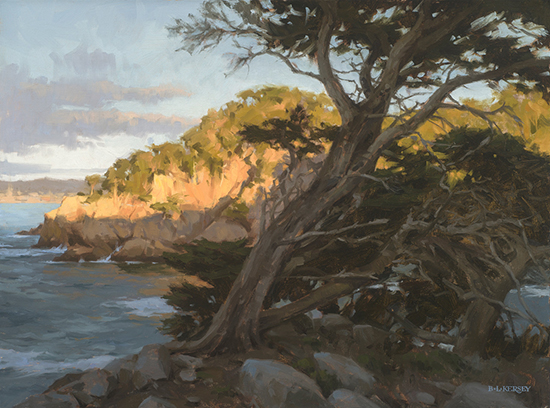 Cypress Coast Sunset 18 x 24" Oil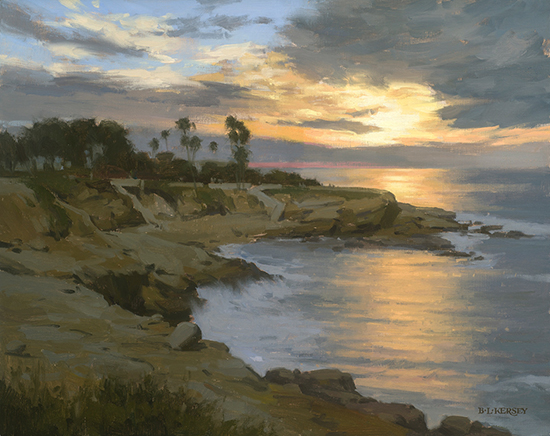 La Jolla Sunset 16 x 20" Oil

Laurie Kersey grew up in an environment surrounded by art. Her mother worked in oils and later watercolor. "My mother used to have artist friends come over once a week and they would all set up in the kitchen and paint." Her early formal education at the Art Institute of Pittsburgh prepared her for a fifteen-year career in commercial art and illustration, but her later work at the Academy of Art University in San Francisco launched her life into painting. "All the teachers at the Academy were great but I had two mentors. One was Brian Blood, who is now my husband, and the other is the Director of the Fine Art Department, Craig Nelson."

"In the early 1990s, computers came into the commercial art world and that's when I left. I switched at that time to illustration for a while and then to fine art. I had no interest in working on the computer all day. The commercial art background gave me a strong foundation in design principles and color theory."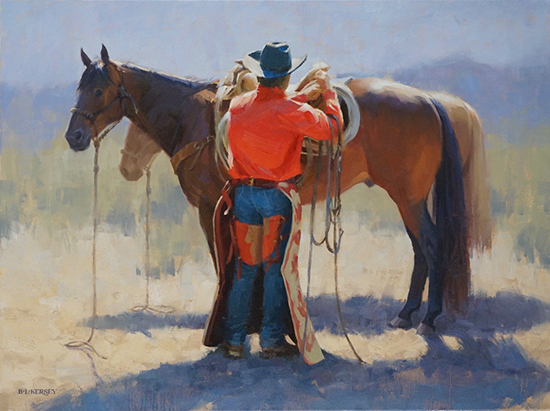 Red Shirt 18 x 24" Oil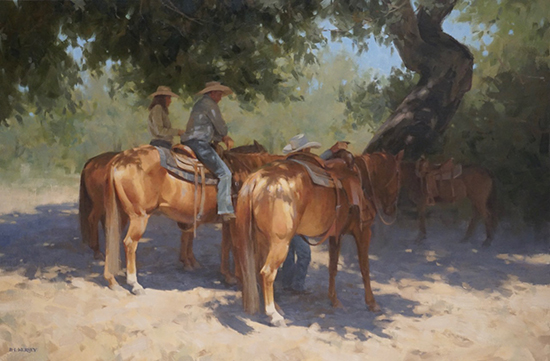 Cooling Off 24 x 36" Oil

Kersey has worked in multiple mediums. "Beginning when I was young and continuing through the illustration days, I worked in pencil, charcoal, ink, scratchboard, colored pencil, pastel, airbrush, watercolor, etc. I currently work primarily in oil, but I play a little bit with etching and charcoal, and I sketch in pencil or ink." She wrote to us about her processes in both plein air and studio painting:

"My process varies depending on whether it's a location painting or studio painting. For a location painting I just scout around, find a spot, and paint—pretty spontaneously. For a studio painting, there's much more preliminary work that goes into it. I will go to a location or event and shoot photo reference. Then I will do a number of thumbnails or black and white design sketches, usually involving multiple photos. I then usually do a couple of small color studies, and then I will begin on the actual piece."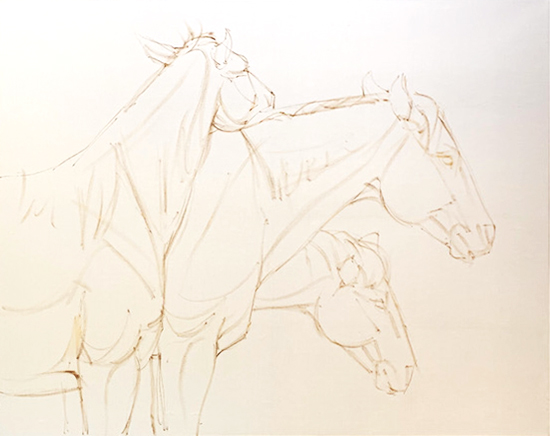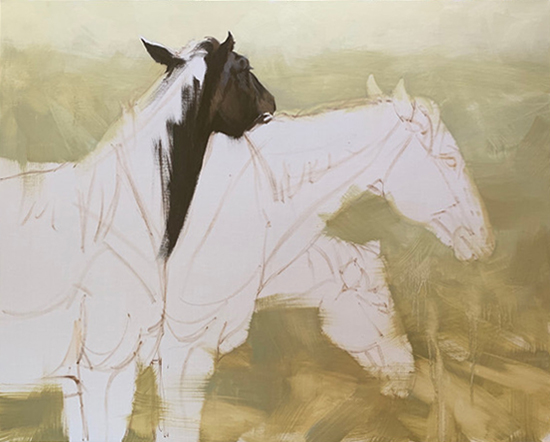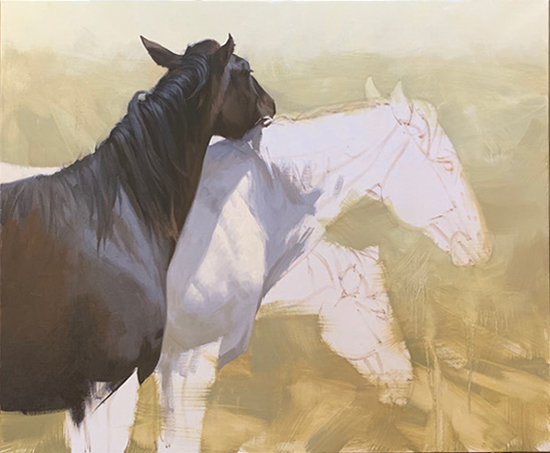 Tres Amigos 24 x 30" Oil

"The development of each work varies from painting to painting. You will see in the attached images that I sometimes begin on a white canvas with a linear sketch, sometimes on a toned canvas with a loose monochromatic underpainting. Sometimes I begin by massing-in with color on a white canvas. Sometimes I begin by massing-in monochromatically. Sometimes I will use a grid for a more complex drawing, sometimes no drawing at all. It all depends on what the painting needs, and there's not a simple answer for that.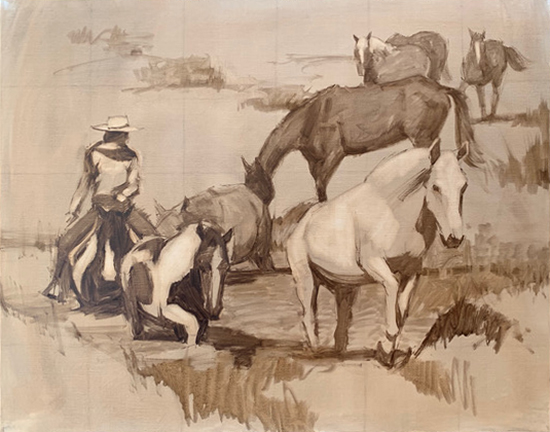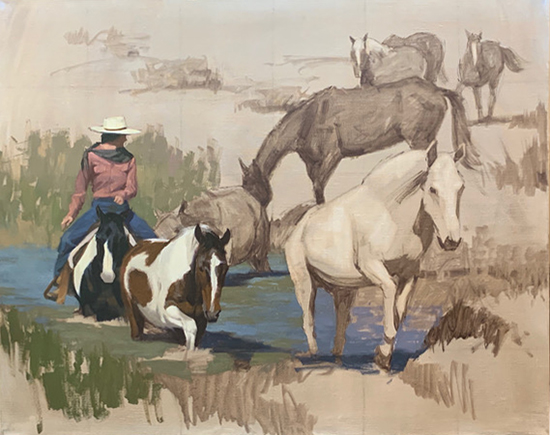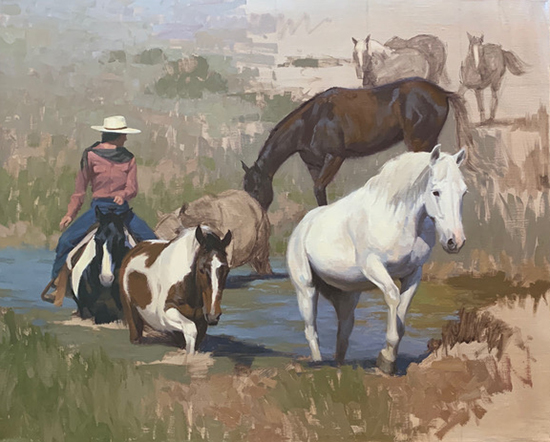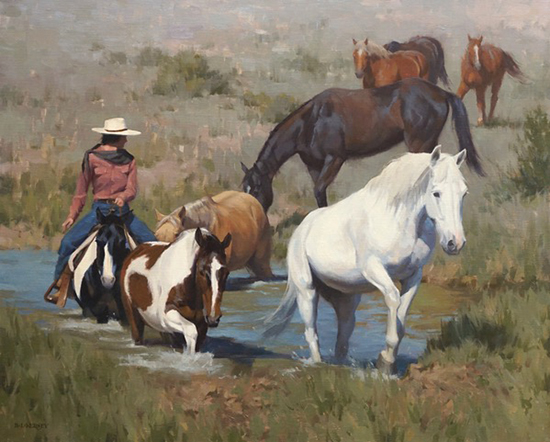 Crossing the Creek 24 x 30" Oil

"My palette varies somewhat over time and depending on the subject. That being said, my current palette usually consists of Titanium White, Cadmium Yellow Light, Cadmium Yellow Deep, Cadmium Orange, Cadmium Red Medium, Alizarin Permanent, Dioxazine Purple, Ultramarine Blue, Cobalt Blue, Cerulean Blue, Viridian, and Transparent Oxide Red. I prefer a smooth canvas surface and am currently using Centurion linen, stretched for larger paintings and glued on a panel for smaller pieces."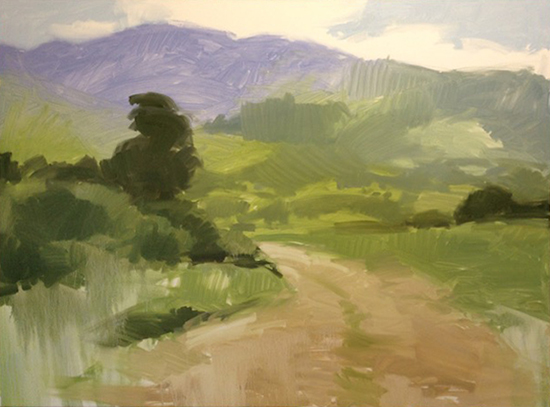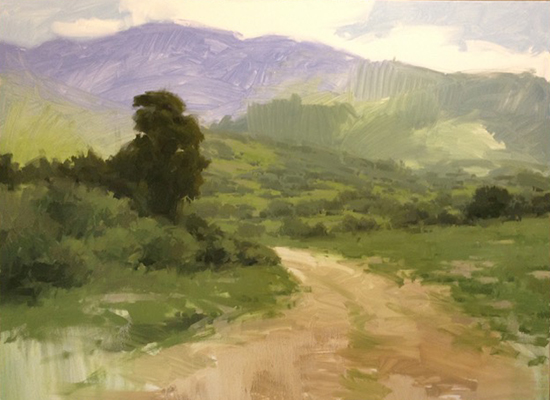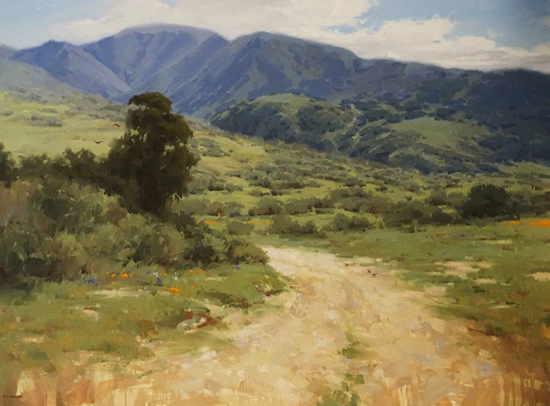 The Road Less Traveled 36 x 48" Oil

Laurie Kersey offers these words to beginning artists: "My advice would be to get an education. It doesn't need to be a formal degree but you need the education. Painting without a clear understanding of the principles will only ingrain bad habits."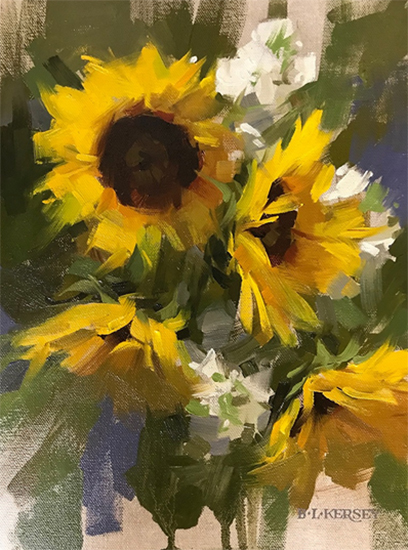 To see more of Laurie Kersey's work, go to:
https://www.lauriekersey.com
All artwork copyright Laurie Kersey