Voices of Experience

An Interview with John Crump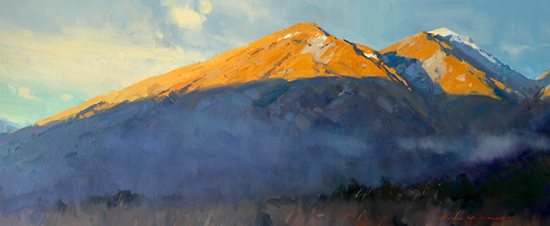 Last Light on Mount Judah Oil
New Zealand artist John Crump calls himself "a painter in paradise" . His paintings more than aptly honor the dramatic beauty of his native country. The majority of his painting time is spent working outdoors in the landscape, exhilarated and challenged by the need to work quickly within changing light and weather conditions. Crump wrote to us about his life as a plein air artist, including his thirteen tips for students. Enjoy this master artist's work and his answers to our questions about his inspirations and processes, beginning with his earliest artistic moments.



"I remember quite clearly the time I picked up a pencil and paper and began to copy (not trace) a picture of a figure, (I think it was Jesus standing in a robe), when I was about four years old. I thoroughly enjoyed myself as I managed to produce a reasonable likeness. When my parents saw the drawing, they were full of praise which of course, was hugely encouraging.

During my time at primary school, the teachers would quite often ask me to do illustrations and my efforts were often pinned on the classroom wall, and so, even at that early stage, I was beginning to lean towards the creative side of my character. Designing, building, and flying model aircraft, carving wooden animals, remodeling guitars, and many other creative activities, improved my hand skills and my ability to visualise a finished product from a basic idea. All handy skills that would help my painting a few years later.

After three years at secondary school and a year at an art and design school, I felt ready to start my working life. However, two years in a commercial art studio convinced me that graphic art was not the future I had in mind. I decided to go to Teachers College and on into teaching but realised that I was abandoning what I had learned in the art field and so I began painting the landscape as a hobby.

During that time, I read many books—particularly the best of New Zealand painters—Don Nielsen, Peter McIntyre, Owen Lee, and so many others. I studied their paintings, visited galleries and exhibitions, talked to other accomplished painters, and practiced at every opportunity. I made rapid progress with my painting but my wife began to worry about me.


First Light Rees Valley Oil

Teaching during the day and painting most of the night was not a recipe for good health—my hair began to go grey at 27 years of age—and so we agreed that I should try painting professionally to see if it could support us financially.
I could not have picked a better time. New Zealand was becoming quite affluent and people were readily buying paintings. I had three one-man exhibitions in my first six years of painting and all were very successful.

To illustrate that point, when I turned up at the gallery on the opening morning of my third exhibition, I was amazed to see a long line of people waiting to get into the opening. It was like the opening of Sale Day at a department store!
We don't see that sort of enthusiasm these days.

When I was getting started, I knew very little about the qualities of the different paints available and so I tried watercolours, pastels, acrylics, and then oils. After trying oils, there was no turning back. I've grown to love their creamy consistency, the vast array of colours available, and that, when working plein air, the conditions of the day don't matter too much. I've worked in rain, heavy snow, and windy and icy conditions and the oils behaved perfectly.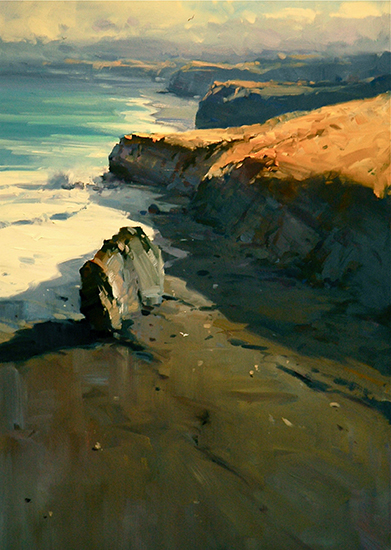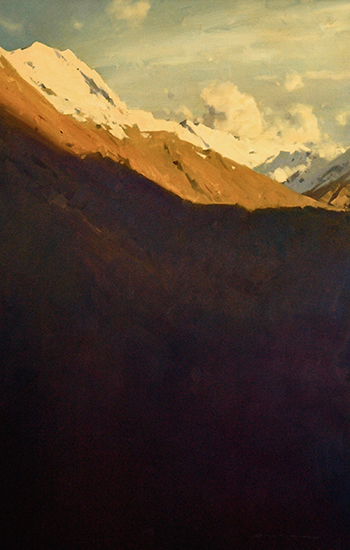 A Wild Day on the Wanganui Coast Oils Last Light on the Richardson Range, Glenorchy

Like many other painters when I first started, I wasted gallons of petrol and hours of time driving around looking for the perfect subject. Fortunately, I'm over that now. I've discovered that there are subjects all around us. It doesn't matter whether you pick on a bunch of flowers, huge waves on a rugged seashore, an old farm shed, or magnificent mountains. You can paint anything as long as you have sufficient lighting, good working tools, and a good focal point. Above all, you need to be excited by the subject.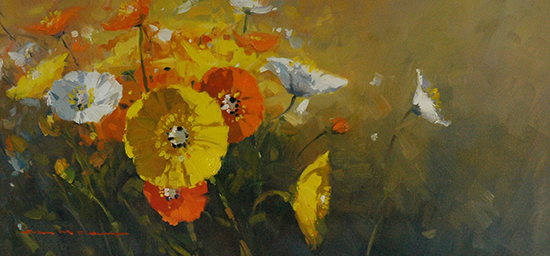 Neil's Poppy Patch Oil

When I was working in the studio from outdoor sketches, I would plan the subject again before I started. I guess it gave me some assurance that I was on task, that my design was okay, and that I was ready for the paint. Nowadays, I rarely sketch before I start painting. I just make sure that I am excited about the subject and then lay it out with a brush and thin paint with plenty of medium so that it dries quickly.

Probably 90% of my painting, I do outdoors. I have discovered that it is more demanding but also more exhilarating. Because time can be limited, you need to think on your feet. You need to ensure that your design is good, and that you mix your colours quickly but accurately. I start with the darks and work my way through the various tones to finish with my highlights. As I said, it can be demanding but there is a bonus—there is no time to fiddle! You haven't time to ruin a good painting by overworking it. Tiring but very satisfying when you have a success.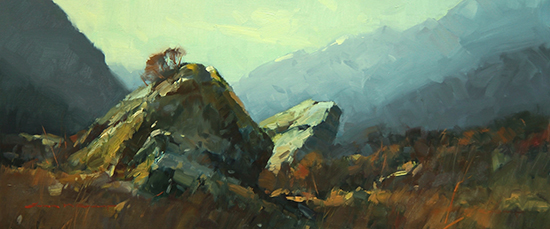 At the Entrance to the Routeburn Oil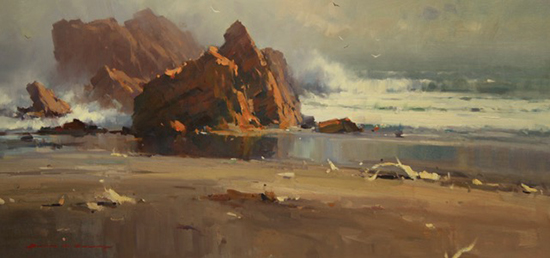 Baring Head Oil

That prompts the thought, how do you recognise a good subject? It's a difficult question because it is so dependent on so many things!

Indoors, it could range from a pumpkin on a nice tablecloth to a cheeky sparrow sitting on the back of a chair, done from a photo of course. Outdoors, a dramatic mountain peak, a stream wending its way across a tussock field, a beautiful reflective beach with towering pillars of rock, an old broken building showing off its years of weathering, or old fishing boats and yachts sitting on the sand. They're all mouthwatering and highly paintable.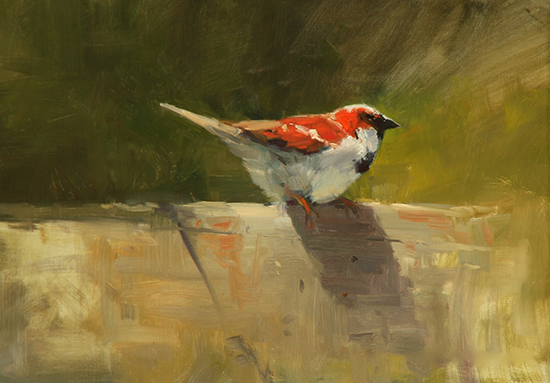 Waiting for Crumbs at Glenorchy Cafe Oil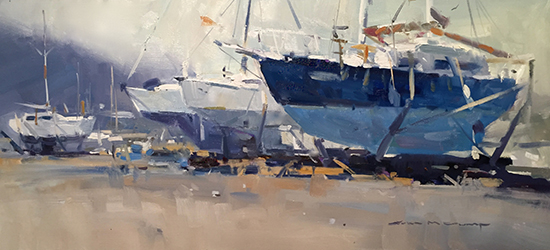 On the Hard at Lyttleton Oil

Whatever the subject, lighting is crucial. I much prefer to paint on a sunny day with strong crisp shadows. Of course, not every day will be sunny. If it's overcast, I start looking for breaks in the cloud so that there is broken light and moodiness involved. Sometimes, the threat of rain or an approaching thunderstorm can work for you but not always! I've had many days when I have started my painting in glorious weather but had to retreat only a short time later when snow and gale force winds suddenly arrived. One of the traps of painting in the mountains . . . but still exciting!

If you're out there early morning or very late in the afternoon, the low lighting and intense colours make the landscape so much more appealing! At those times, there will always be good subjects to choose from.

I seem to be overusing the word "exciting!" Of course excitement can come in many forms. I am generalising. I've been talking about subjects, but for me, it can sometimes be a combination of colours, or the flow of a good brush, perhaps a particular shape that gets me going. It can be the pleasure of the painting action itself and the thrill of seeing a painting grow.

While I'm talking about painting activity, I should mention my tools and materials. Poor equipment or inadequate paints and brushes can sometimes kill my enthusiasm. I find it very difficult to enjoy painting if my gear in the car is a shambles. Especially wet paintings. I suspect I might be slightly OCD so organisation matters.

So . . .what particular tools are needed? A good sturdy easel that can withstand wind is essential. Mine will hold a good-sized canvas, up to 1500mm long x 900mm high (approximately 60 x 35"). I enjoy painting big! I buy my canvas by the roll—Fredrix superfine polyflax, which I stick onto an MDF panel with masking tape. (I only work this size on a calm day though!) After the painting is dry, I glue it down with PVA glue to an MDF panel ready for framing. I do it this way rather than with stretcher bars as the canvas is far less vulnerable to damage and cannot develop wrinkles due to a different climate or seasonal changes.

My brushes are all size 12 long bristle, chisel tip, hog bristle and taklon fibre. I wash them thoroughly in kerosene which I've found looks after them well. My painting buddies all grizzle about the smell of kerosene but it's worth the ribbing! I use large brushes because they discourage fiddling. They help me to apply paint quickly in a broad flowing manner—important when time is short. I want my paintings to look easy—as if colourful brushes danced on the canvas.

I use Winsor and Newton Liquin Original for my medium. I find it ideal for my style. I can use it to control the drying speed of my paint from a few hours to several days by simply adding more or less to my colours. There are many good mediums on the market so it's really just a matter of trying them.

Talking of drying times—in winter I add Griffen Alkyd Titanium White into my oil based white as it helps the whole painting to dry more quickly. Great when the temperature is really low. When it comes to paints, quality is crucial. I always encourage students in my classes to bring "artists quality" colours. They are so superior to typical student grade colours.

I use Winsor and Newton colours exclusively. I like the fluidity and the remarkable consistency of their colours. They're not too wet or dry, and they always mix as expected.

After many years of experimenting with different colours and combinations, I've come to12 colours that I never change. NOTE! They are all "artists quality": Winsor Blue (red shade), Winsor Blue (green shade), Venetian Red, Pthalo Green, Titanium White, Cadmium Lemon, Cadmium Yellow Pale, Gold Ochre, Cadmium Orange, Permanent Rose, Cadmium Red, and Magenta.

After that, the only things I need when working outdoors are a large very glossy palette and a good sun hat. Sometimes, insect deterrent can be handy too.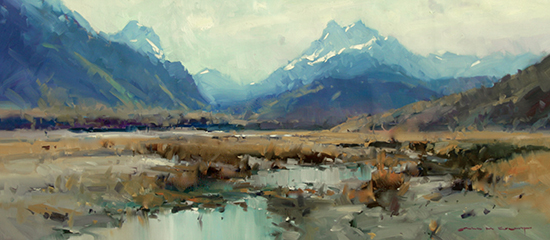 Mountain Glory from Hidden Valley Oil


You'll notice that I have not mentioned the camera or computer programmes for enhancing a subject. I guess I'm a little old fashioned. I do use a camera occasionally for a record shot in case I eventually get too old to drive, or a subject that is so good it must be painted, but the light is going. Maybe it's a subject that won't stay still – a bird for example. At other times, I am happy to be old-fashioned and do the subject to the best of my ability without any props involved.

Don't get me wrong. I am not anti-cameras or computers. I think they are amazing tools but they need to be the servant, not the master. They can stifle the creative spirit of many painters. I want my paintings to reveal my humanity with their vigour and freedom rather than show a perfect image that can be caught and copied from any camera lens.


Southerly Swell on the South Coast, Wellington Oil




Winter Coat, Rees Valley Oil

It's always good to encourage people so I would like to finish with a few thoughts for the next wave of painters who follow behind.

As I said earlier, I was very fortunate to come into the art world when sales were booming and galleries were eager to exhibit good quality work.

Figurative painters were taken seriously and their work was sought after by galleries and buyers alike. Thankfully, art critics were few and far between and, as most readers tired of trying to understand the convoluted jargon they were using. They had little effect on the art scene.

However, things have changed since then. It's much more difficult for young painters today. They have a hard time getting into good galleries, there are crowds of competent artists struggling to make a name for themselves, and many of the galleries have disappeared without trace—here in New Zealand anyway.

Another difficulty is the wide gulf between so-called modern art—taught by most of our art schools, (too often shallow art in my view), and the more traditional figurative art that has stood the test of time and demands a high set of skills, creativity, and years of practice to be good.

I have talked occasionally with some of the young students who graduate from these art schools—our painters of the future who are both confused and conflicted by these diverse views of what is good art. It's easy to understand this and an interesting example springs to mind.

Some time back, a New Zealand gallery was asked if the staff could dump on the floor in the middle of the main gallery, all of the packaging from the other works that had been entered in the annual competition. The heap of rubbish was to be this artists entry. You guessed it—he won the first prize of $15,000.

As one of the other artists in the exhibition said, it was a "sad mockery of us all and an embarrassment to the arts community".

I remember feeling both disappointed and mystified at the time. I wondered—should we be awarding prizes to the rubbish men throwing our household trash into the Council's rubbish truck? Could we tell them that they were creating art? They would probably suggest that you were being stupid or utterly insane. Either way, they would be right!

In case I'm coming across as rather jaundiced, I should mention that I do enjoy a great deal of modern art. Work that combines good design, beautiful colour work, obvious drawing and brush skills, and work that has something to say about the subject and hopefully, the painter.

I regularly look at Pinterest and see beautiful inspiring work there. Painters that have used traditional subjects but have presented them from a slightly different angle, a more modern approach. (I haven't seen any dumped rubbish there yet!)



John Crump's Advice to Seriously Determined Painters
1. Find what is important to you and do it to the very best of your ability. Paint from your heart—what you care about, and don't be persuaded or confused by what others would like you to paint.

2. Study other people's work. It's so readily available these days. Don't worry about copying their style. If you like their work, it may influence you but only for a time. As you progress, your own style will break through.

3. It doesn't matter whether you are aiming to become a potter, a painter, a sculptor, whatever . . . study widely and do the hard work. Brush miles as we say in the painting trade. Remember, practice brings success.

4. If you are just starting out to be a professional painter, you need a job that will support you through possibly some years of development. (That may not apply to geniuses, prodigies, or artists with very rich parents, but I'm not sure they exist in the painting field ).

5. Don't try to put out paintings for sale too soon. It's tempting, especially if other painters you know are doing it. Better to wait and then join the market with far better work.

6. Find yourself someone you can trust as a guide and critic, preferably someone who you know has a good reputation as an artist. If their criticism hurts a little, put the painting(s) away for a month. When you pull it out to view again, you may see that they were right!

7. Actually, you can do that without the critic. When you finish a painting, hide it in the wardrobe and don't be tempted to look at it for at least a month. You may be quite pleased when you see it again but you will also see things you could have done better. I think it's best not to touch the painting—better to do a new version incorporating the changes needed. Avoid tweaking until you are a more experienced painter.

8. Apart from all the books, art magazines, DVDs, etc, that you will be studying carefully, find a good teacher or join an art club so that you can learn from each other as well as combine forces to ask established teacher/artists to conduct weekend workshops. A word of caution though. Too many teachers can cause confusion. I have come across many people who have been taught bad habits by others who were not ready to be teachers. Try to see their work before you take their advice!

9. Whether you decide to work in a studio or outdoors, try to complete a painting in one sitting. Don't try to make it perfect. Once the canvas is covered, you've finished! It can be a real help to divide a canvas into quarters with strips of masking tape and then complete 4 small paintings in a set time—say 20 to 30 minutes for each one. Once the timer rings, you stop and move on to the next one.

10. In the studio, try working from a subject in front of you. Some flowers or a still life set up. With a good spotlight on the subject, you can paint it from several views, or just rearrange the objects each time. Much, MUCH better than painting from photos! If you decide to go to a spot in the outdoors, you can do the same thing. Just turn your easel around 90° and start a new one every 30 minutes or so. Look at each new subject, decide on your composition and focal point and go for it. As with the indoor work, when the bell sounds, you stop!

11. Don't despair if you're painting seems to plateau. It happens to most painters from time to time. It can help if you go and find one of your earlier works and bring it out for comparison. You'll almost certainly find that the latest painting (that you are disappointed with) suddenly looks brilliant alongside the one dragged from the back of the wardrobe.

12. Try to assess your paintings with a critic's eye, not through rose-coloured spectacles. My wife tells me I'm too harsh when I judge my own work but I feel that I must be realistic. There's always room for improvement. I can enjoy a painting's qualities but I also see the weak points. I try to regard each painting as just another step in the climb to real competence—probably a lifelong quest!

13. Lastly, don't get too wound up striving to reach the top of the tree too soon. Whether it's a job or a hobby, painting needs to be enjoyable, not something that will grind you down and destroy your creativity."


John Crump's painting DVDs are available here:
http://www.johncrump.co.nz/dvds.html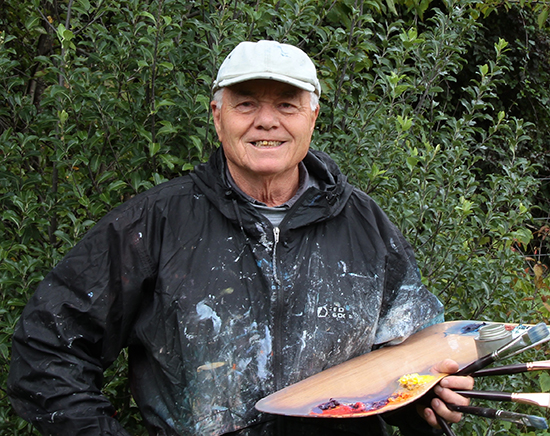 To see more of John Crump's work,
go to: http://www.johncrump.co.nz



All artwork copyright John Crump