Voices of Experience
Fernando Micheli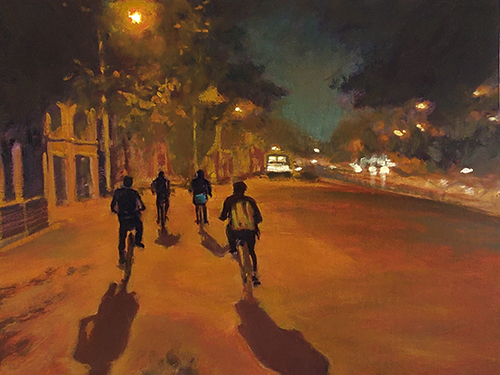 Lucca Voyagers 12 x 16" Oil
"One not only needs to capture the feeling of the subject, but also the essence of light and color as it bounces, reflects and scatters on the physical world. Painting is truly seeing more intensely than you can possibly hope to see. Painting is a life-long pursuit, one that requires always honing and learning new skills in order to build a vocabulary that just doesn't reproduce reality, but can capture the emotional essence of nature."
Fernando Micheli is an artist who is on his second career, after spending the early part of his life as a landscape architect, not a painter. We frequently discover artists who are like Micheli—taking up painting after decades of other kinds of work. We are happy to find those who work hard at learning to paint, especially outside, and who, like Micheli, improve steadily and even dramatically because of that effort. We think he is an inspiration to anyone on this challenging, but rewarding path. He participates in many organized paint-outs and painting events and has received much recognition and multiple rewards from them. We asked him to tell us a little bit about his background and family from Italy.



I was born into a rural household in Fiano (Lucca), Italy, who lived off the land and were hard pressed to find the essential necessities of life. By immigrating to the U.S. and leaving everything behind, they created a life for us that my parents had never dreamed of. I'd say that my creative careers of landscape architecture and art were encouraged by the courage, sacrifices and opportunity afforded me by my parents.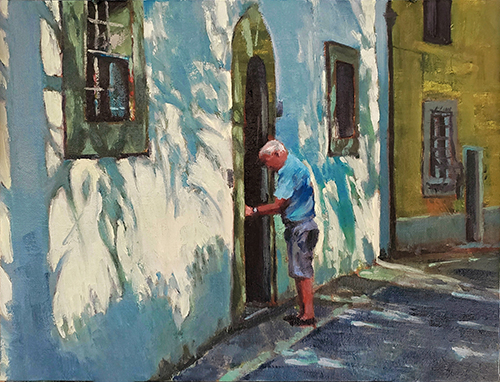 Casa di Paolo 9 x 12" Oil
After immigrating to the U.S. in 1956 and growing up in San Francisco, my family finally did make a wonderful trip back to reunite and reconnect with family in Italy in 1970. I feel in love with the country, its people, and ended up returning shortly thereafter, staying for close to two years. Living there was the first exposure I had to art and architecture—living in Lucca and Florence, visiting Venice, Rome as well as many more places of artistic significance which greatly influenced me. I've been back to visit Italy and family many more times in subsequent years as recently as last fall, staying for five weeks. I continue to plan trips back.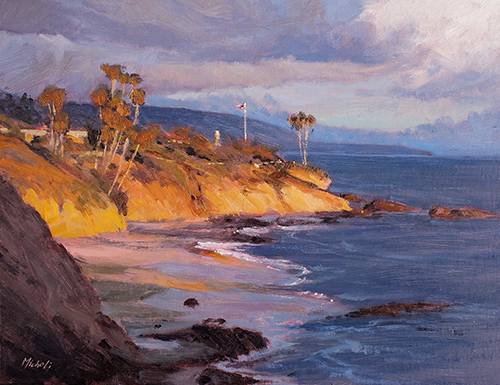 Heisler Park Sunset 11 x 14" Oil
I remained in Italy after high school and attended Salesian Novitiate in Pinerolo, Italy, studying to become a Catholic priest. I decided not to follow the Salesian vocation, but it led me on a road which formed my perception of art and architecture within Italy. I was obviously connecting with my cultural past and patrimony and learning the language more fluently, which allowed me to study at and tutor Italian students at a Salesian school in Pietrasanta, Italy. It then led to obtaining my Liceo degree, the equivalent of a U.S. high school diploma in Italy. I had then applied to go to the Accademia di Belle Arti in Florence to study architecture, but torn between my Italian and American identity, I opted to return to San Francisco and took the path towards a career in Landscape Architecture at UC Berkeley. Fine Arts would have to wait 36 years after I retired from landscape architecture.
During your career as a landscape architect, did you keep a sketchbook or have any sense that you would eventually pursue fine art?

I definitely based my career in Landscape Architecture and Urban Design on my ability to sketch and trusted in the belief that observation and design are the foundation of my work. I've sketched since I was in grade school, but never had entertained the notion of pursuing fine art as a career path until retiring from my other career paths.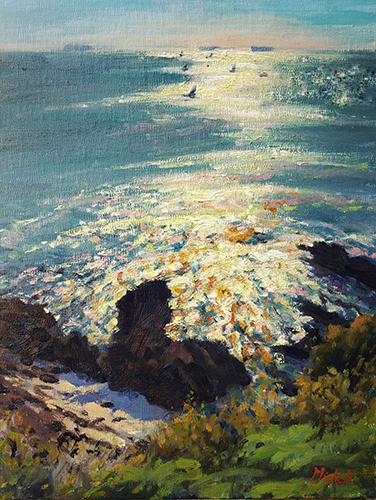 Mother of Pearl 12 x 9" Oil
Many of our members were either not supported in or diverted away from their passion for art when they were young and pursued other careers, finally to return to their love of art years later. Would you tell us about your journey?

I was lucky to have had many mentors and loving parents that never deterred me from seeking the path that I chose.
The earliest memory of art-related encouragement was at Star of the Sea elementary school, where my 4th grade teacher, a Catholic nun, asked me to create the alphabet letters that were placed along the ceiling soffit for everyone to see. It gave me great self worth that I needed, having been an extremely shy kid.

Within the Salesian order, we are still to this day after 50 years, a brotherhood, and regularly get together as family, encouraging and supporting each other.

In Landscape Architecture, I mentored under Allen Fong, a talented architect and landscape architect at the firm, Fong and Associates, for almost thirty years until he retired. He was a great mentor to me that gave me the latitude and encouragement to grow as a designer of many amazing outdoor spaces.

In the last nine years as a plein air painter, I've additionally had many great and encouraging painting mentors, so I'd say my life has been always advanced by the people around me in my professional career paths. I've been truly blessed!

Pearl 6 x 12" Oil
The landscape has always been a strong part of your artistic focus, both as a landscape architect and now, as a painter. Does your former career in landscape architecture influence your painting now?

I'd day yes and no. I obviously grew to appreciate and observe the natural landscape and specified the type of plants which were most beneficial and adaptable to the outdoor spaces I designed, but as an urban designer, it was much more than just doing gardens or parks. It was more about creating efficient and usable, aesthetic outdoor hardscape/ landscape areas as well as functional circulation, lighting, fountains and other amenities. I'm sure, however, there was inspiration and visual acuity that trained me to see the beauty that I now paint.

Did you have a teacher or mentor who had a strong influence on you and your work?

The first artist mentor—a wonderful person and now friend that convinced me to pursue plein air painting was Jeff Sewell. I participated in his LPAPA (Laguna Plein Air Painters Association) painting demonstration back in June of 2014. There have been many great painting mentors and friends that have given me great support and encouragement over the years, John Budicin, Rick Delanty, Michael Obermeyer and Jim McVicker among others. I'm embarrassed to say that I've only taken one three-day workshop with Jim McVicker. They all have influenced my career in a profound way even though they all differ stylistically and in their approach to painting.

Would you tell us about your process from inspiration to final painting?

I do believe in preparation and will study a place or subject I intend to paint outdoors by imagining in my head or sketching vignettes of a composition. Then I will either sketch small studies or directly compose on my panel/canvas. The aspects that inspire me vary so greatly in nature, but I look for strong design cues, big shapes, strong contrasts and what the aspects of the scene are that have movement and depth that will ultimately become a painting that creates an illusion of the physics of light of a 3D world applied to the 2D plane of the canvas.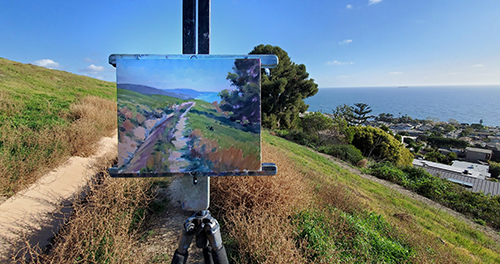 Don't Let the Green Grass Fool You Plein Air Oil 9 x 12"
I'll then paint using the basic method of "thin to thick" and "dark to light"—starting with my diluted dark value shapes and quickly composing, placing my color and value notes throughout my composition in order to capture the feeling of the moment and not losing the light. This happens within the first 45 minutes to an hour. I will then proceed to add thicker paint and lighter colors adjusting my painting design as I go, slowing down as I proceed until completing my painting.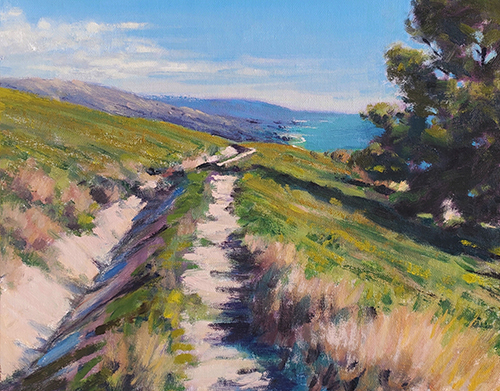 Don't Let the Green Grass Fool You 9 x 12" Oil
For me, the immediacy of painting plein air is so much more satisfying than painting from a monitor screen or photograph which often times misrepresents reality. The very act of painting outdoors requires using a triad of physical, mental/technical and inspirational abilities that allow me to experience the emotional feeling of the subject and ethereal qualities of our natural world. I also learn about how light and shadow inform objects in nature. That said, my studio paintings are the culmination of observation outdoors using my visual memory, outdoor sketches and photos that I've manipulated to create an image close to what I remember observing.

Don't Let the Green Grass Fool You II Oil
I've used predominantly Gamblin paints, solvents and medium, but I try to occasionally switch it up. My palette is the following: Titanium White, Cadmium Yellow Lemon, Cadmium Yellow Medium, Cadmium Red Light, Alizarin Crimson, Pthalo Blue, Ultramarine Blue, Burnt Siena, and also my vanity colors—Radiant Green, Pthalo Turquoise and Quinacridone Magenta.

I use a Prolific Painter DayTripper Easel with Centurion OP DLX strata and Simply Simmons hog bristle and synthetic brushes.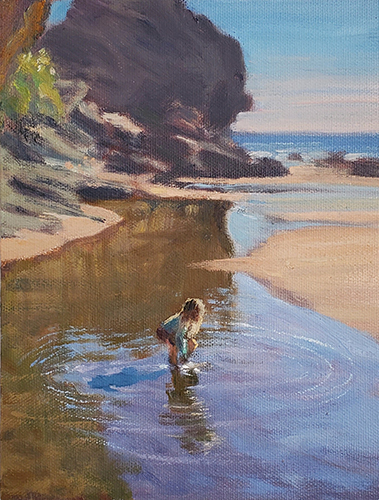 The Thrill of Water Oil 8 x 6"
Can you tell us about your palette and the experience of painting at night? What appeals to you about night painting?

I am continually intrigued with nocturnes, finding myself using a palette sympathetic to the color cues I see on location at night. I'm always sensitive and in tune to the color in the shadows in my daytime paintings anyway, so the key for me is to capture the feeling I have being there and use colors and values which are harmonious and do the scene justice, meaning low-key, compressed values.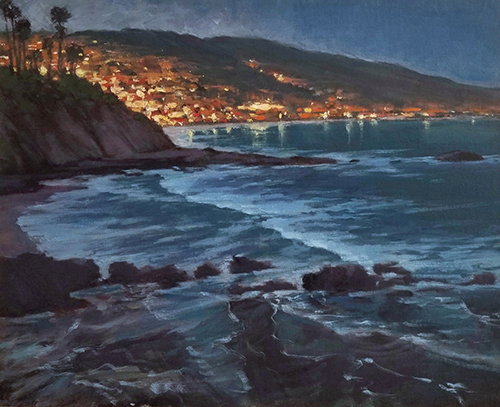 The Time of Stars Oil 16 x 20"
I have small groups of painters that I occasionally go out with called "Padawan Plein Air" and "Usual Suspects South" group. It's important to push each other to get better.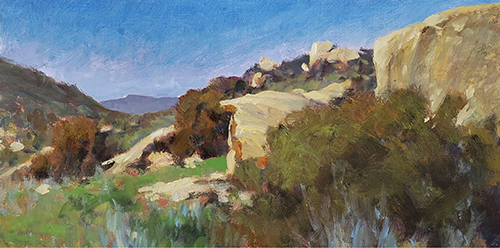 Possibly Maybe 6 x 12" Oil
Any words of wisdom you might give to beginning artists?

My only hope is that artists attempt to create paintings that reflect the beauty and shared experiences of the world around them. In so doing, they will see nature and the world on a deeper level, be in awe of it and respect it.

View of Diver's Cove 12 x 24" Oil
And, just for fun, if you could sit down and have a long conversation over dinner with an artist from the past, who would you choose, and why?

This is a tough one, but I would have to say Joachin Sorolla. In my opinion, he could not only throw paint onto a canvas with the utmost confidence and expression, but could evoke and express humanism and feeling in his paintings like no other.




To see more of Fernando Micheli's paintings, go to: https://fernandomicheli.com
All artwork copyright Fernando Micheli