Voices of Experience
Derek Penix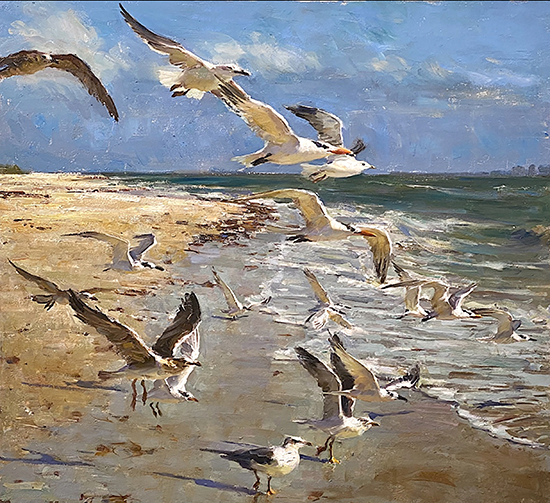 Sanibel Seagulls 33 x 36" Oil

The fresh, energetic works of Derek Penix invite us in to explore them—and the more we explore, the more we discover as our eyes travel from corner to corner. The patterns and colors often defy the tradition of a central focal point and instead guide us to spend time discovering treasures across the canvas. Penix has won awards in almost 100 national competitions in the last twelve years. He teaches art workshops around the country and currently lives in Laguna Beach, California. We asked Penix to write us about his inspiration, his ability to combine technical skill with suggestive gestural image-making, and his direction into the abstract. He started by telling us about growing up in Tulsa, Oklahoma.

My mother and grandfather painted. I never had interest in it until after graduating high school though. My parents encouraged me to paint and one day on a trip to Laguna Beach, California (where I live now), I walked into a gallery with my dad and saw the paintings and thought "I could do this!" Shortly after that trip I painted my first painting and my mom took it into a local gallery and they sold it immediately. After that I was hooked. I am still with that gallery today (Royce Myers Art Gallery in Tulsa, Oklahoma). I am grateful he gave me a chance and believed in me in the beginning and all of these years later.

Flamingos 8 x 16" Oil

I really knew nothing until Quang Ho. He helped me with some of the basics, like blocking in a painting and understanding how the eye can flow around a painting. I never went to college or any school to learn art techniques. C.W. Mundy has been a close friend and mentor to me for the last ten or so years. I have enjoyed his friendship and that we call and chat about everything from personal topics to whatever we are currently painting.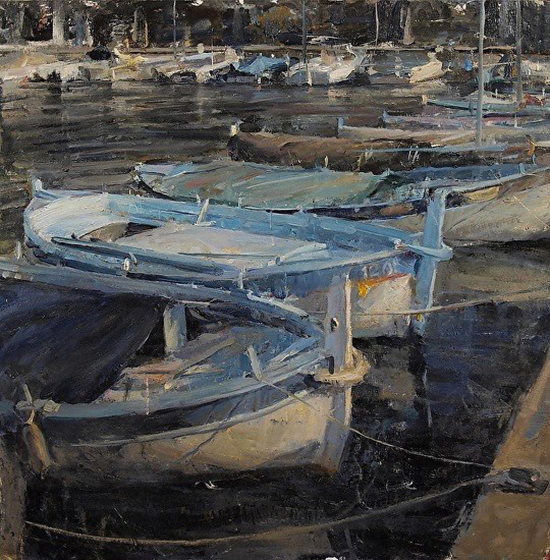 Old Harbor in Cap Ferrat 24 x 24" Oil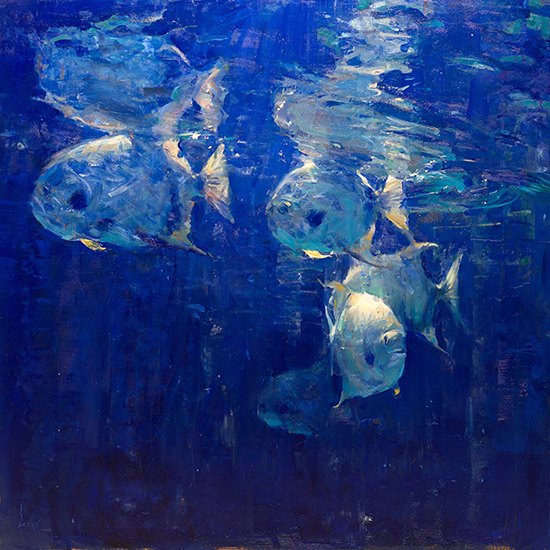 Into the Blue 36 x 36" Oil

Would you tell us something about your process and your materials?

I've never really been a plain air painter as I tend to not like my work when I paint outside. I don't create thumbnails. I usually just find a photo that I took that I like and paint it. I mostly paint in the studio. However, I plan going forward to paint more plain air pieces now that I live in Laguna Beach, California. I love it here and don't ever want to leave.

I currently just use a simple pallete of warms and cools of the primary and secondary colors. I mostly usually paint on
Claussens 13 oil primed canvas.

This is my workshop supply list:

Filbert brushes sizes #10 #8 #6, #4, #2, #0
Rosemary Shiraz Filbert brushes (what I mostly use)
Pallete knife
Gamsol
Gamblin Neo Megilp (optional)

I tend to use the following colors.
Titanium White
Cadmium Yellow Light
Cadmium Yellow Medium
Cadmium Yellow Deep
Cadmium Orange
Cadmium Red Light
Permanent Rose
Cerulean Blue
Cobalt Blue
Ultramarine Blue
Viridian Green
Yellow Ochre
Vandyke Brown

Have you explored other mediums in addition to oils?

Yes, watercolor, one time and I gave that up a few minutes later. I make too many mistakes and have learned to embrace them in oil painting. I'm not sure if watercolor would ever work for me.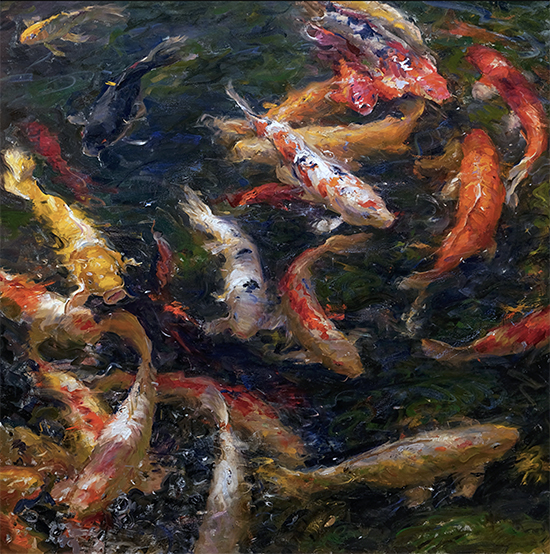 Koi Oil

Would it be right to say that many of your paintings have very strong visual pathways throughout them, sometimes without a singular focal point? Can you tell us a little bit about this and how you are able to structure them to be so engaging?

I think I'm more of an equalization painter by nature. I just am attracted to that style and like the eye to flow around. But I do hope to experiment in my compositions with dominant focal points.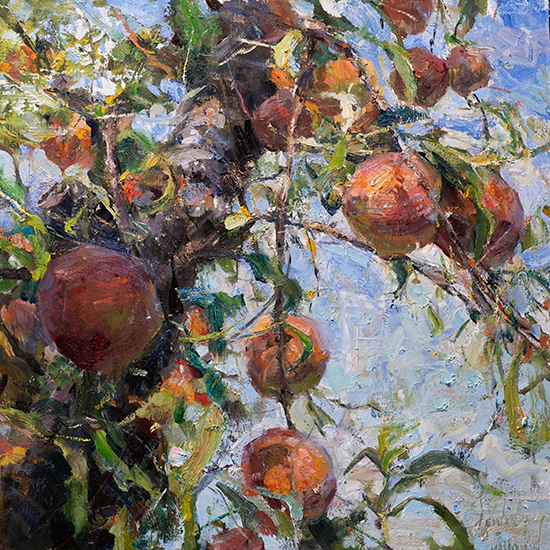 Peach Orchard 20 x 20" Oil
Any words of wisdom you might give to beginning artists?

Learn how you see as a person. and understand believability more than realism. Learn what's important to paint and what is not needed.

And, just for fun, if you could sit down and have a long conversation over dinner with an artist from the past, who would you choose, and why?

Richard Diebenkorn—probably because he is my favorite painter now. I would want to understand what he would say about color theory and design as I am becoming more interested in the abstract.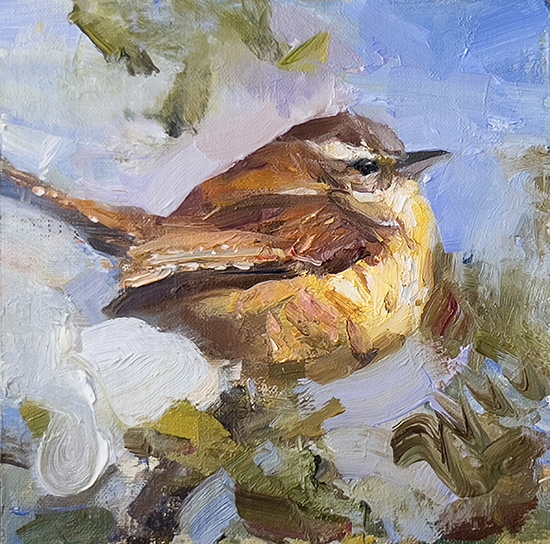 To see more of Derek Penix's paintings,
go to:
All artwork copyright Derek Penix