Voices of Experience

Dan Beck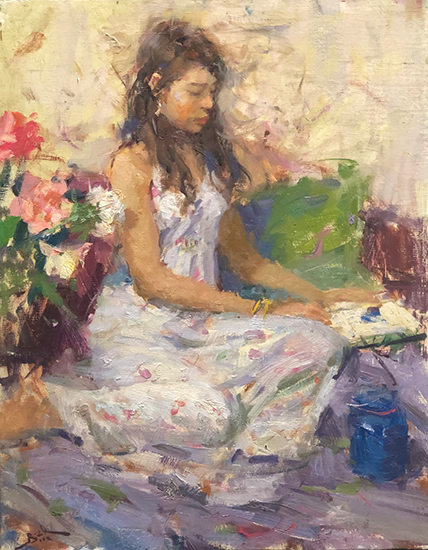 Book of Poems 18 x 14" Oil

"Painting is a balancing act between opposite ideas -
direct observation and instinct, control and spontaneity,
even between the literal and the symbolic.
It seems to me that although a painter is deeply involved
with his own private investigation,
his real aim is to communicate something
to the viewer that resonates on a uniquely personal level."

Keeping a sketchbook in hand has been the unifying theme throughout Dan Beck's life. A sketchbook was with him throughout his travels cross-country after high school, through his various jobs before joining the army and throughout his four years in the infantry, two of which were in Germany. Ultimately, understanding the importance of the sketchbook, Beck made the decision to devote himself to his art full-time. Since then he has exhibited nationally, winning top awards and becoming a master signature member of the American Impressionist Society and a signature member of the Oil Painters of America. Beck's landscape, figurative and still life work has been featured in multiple national publications. We asked Dan Beck to lead us through his artistic journey.

I grew up in an Air Force family, so naturally we lived in a lot of different places, from Maine to Colorado. But mostly and especially during my formative (teenage) years, we lived in the South—Georgia, Alabama, Florida, Louisiana. I'm pretty sure both the frequent moves and being immersed in the southern culture and the beauty of spanish moss, magnolia trees, bayous, beaches, etc., affected and influenced the direction I took as an artist. On the other hand, it wasn't until I got out of the Army, in Colorado, that I heard about art schools and people actually making a living as artists. I had always filled up sketch books and knew that's what I loved to do but until then I had no idea it was possible to make a living as an artist. I went to Denver the day after I heard about Rocky Mountain College of Art and Design. I used my GI bill to attend and never looked back.

I was lucky enough to study with Ramon Kelly at the Art Students League (also in Denver) and later at his studio . Also, workshops with Carolyn Anderson definitely were a huge influence on me. And a little bit later, I was able to get to know and paint with the great Chinese master, Zhang Wen Xin. I was also able to take a workshop from Ron Hicks. Our friendship, art talks and painting together were big influences that I value to this day.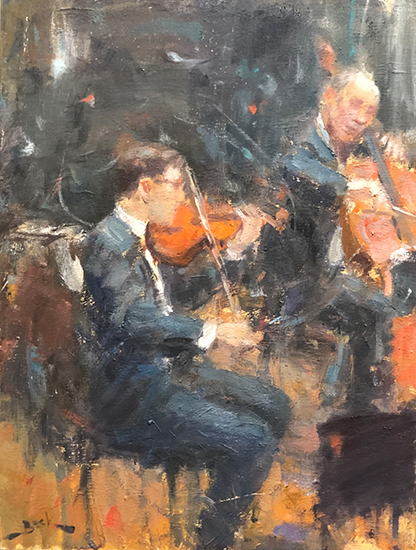 Strings 16 x 12" Oil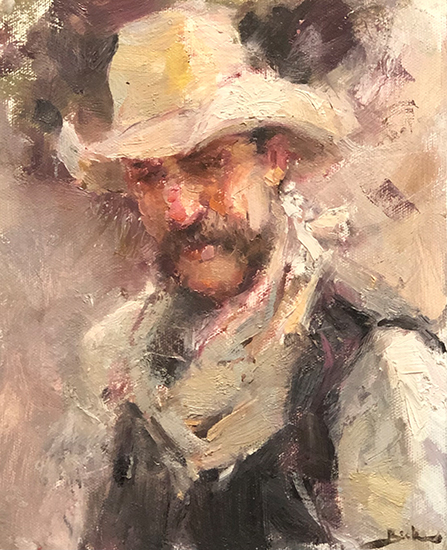 Tamara 16 x 12" Oil Cowboy 10 x 8" Oil
Have you had the opportunity to travel internationally? How has living in North Carolina influenced your landscape work? Please tell us a little about your processes.

I haven't traveled out of the country since my army days. Hard to say what influences me in any given part of the country. I do know moving back to the South about 10 years ago, the way I see color changed as soon as we hit the humid air of Arkansas. And that changes a lot of things. I totally love the North Carolina landscape.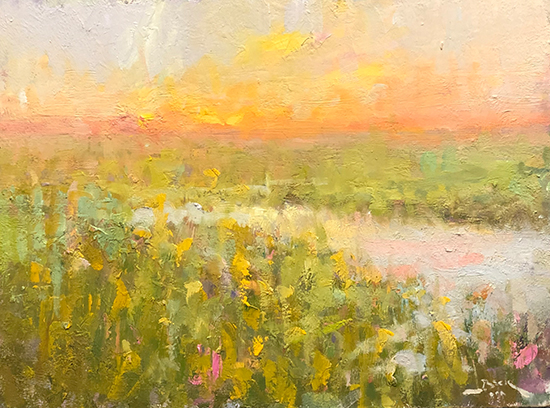 New Day Breaking 12 x 16" Oil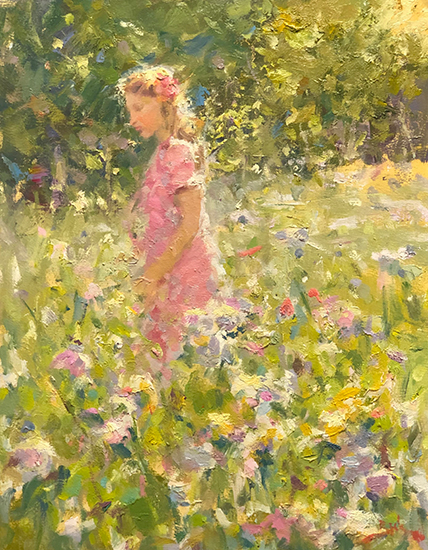 Wild Flowers 18 x 14" Oil

I liked to stay loose with what I'm working on. I keep a travel easel in my car so that if I get up and feel like going out, I can do it easily. I rarely plan what I'll specifically work on on any given day. But I generally have some kind of art idea regarding shapes, or edges or color that I want to address..

Sometimes I work with pencil notans, sometimes small color studies. Sometimes I sort of enjoy the trouble that follows when I just jump into a painting without much thought. I work from life in my studio, en plein air, from my imagination, and from photos. They all have their advantages for me.

I work on gessoed panels, canvas boards and canvas. I work over old paintings—working on different surfaces kind of keeps me from getting too comfortable. For the last several years I've been keeping to a double primary palette plus black and viridian.

Beck shared with us his inspiration and intentions in painting Winter Creek (below) with these detail shots.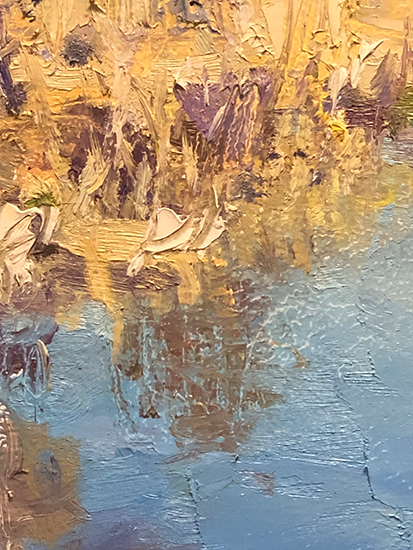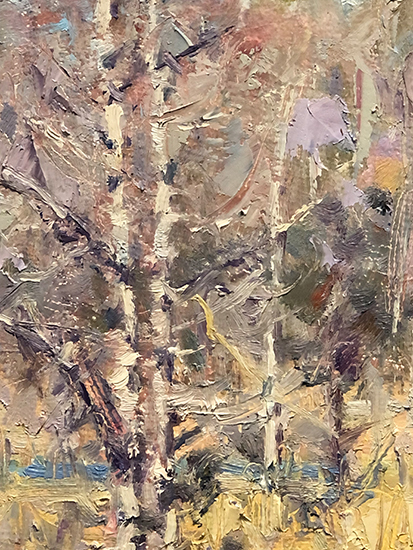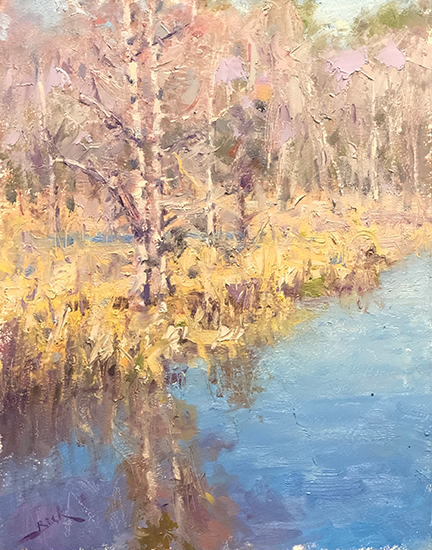 Winter Creek 14 x 11" Oil

Along with responding to what was in front of me, I also wanted to create a surface that by itself was interesting and rhythmic, sort of a story within a story or one story supporting the other—and for the surface to make obvious the idea that this is a painting—and the idea that we are translating what we're seeing in nature.

Are you currently teaching workshops?

I just got back from teaching a workshop in the Dallas/Fort Worth area and scheduled a two-day still life workshop here in Leland, NC. The rest of the year seems pretty filled already so I probably won't do another workshop. (Visit Dan Beck's workshop page for updates.)

Any words of wisdom you might give to beginning artists?

For the most part, try to leave your ego at the door and enjoy the ride.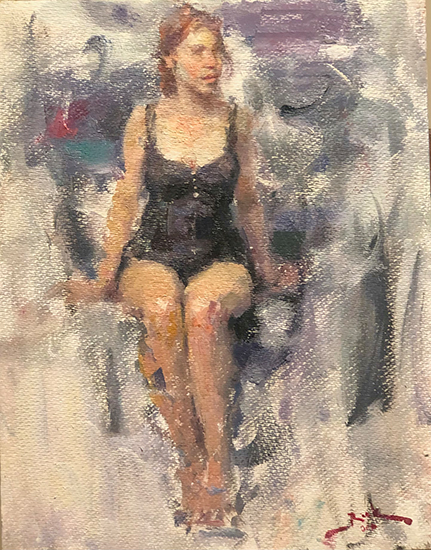 Red Dress 16 x 12" Oil Bather on an Abstract 14 x 11" Oil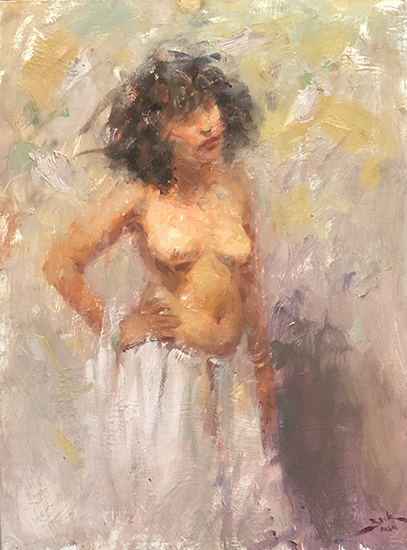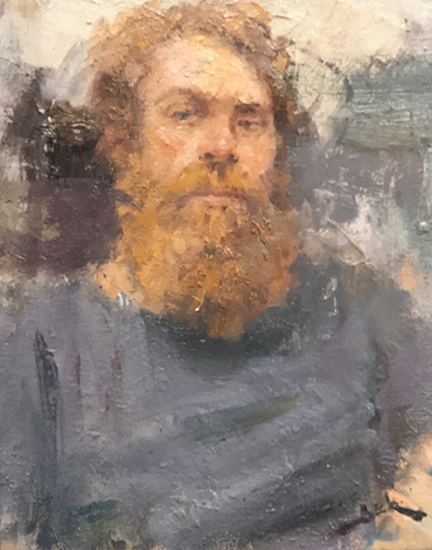 Jodie 16 x 12" Oil Record Man 19 x 8 Oil

And, just for fun, if you could sit down and have a long conversation over dinner with an artist from the past, who would you choose, and why?

Probably Berthe Morisot. I would want to talk to somebody from the cutting edge of Impressionism. I love her work. And I read somewhere that the other impressionist painters of her time behaved themselves in her presence. So I think the dinner would be pleasant.



To see more of Dan Beck's paintings,
go to: Dan Beck Fine Art
All artwork copyright Dan Beck