A Painting Holiday in Tuscany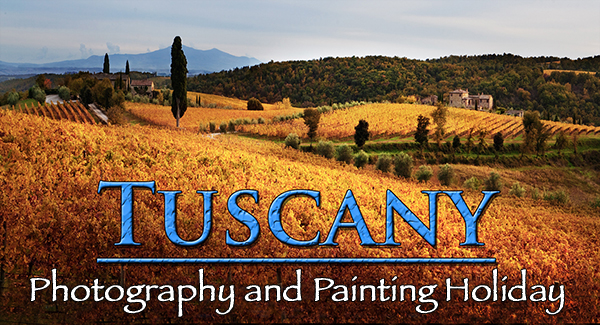 Photo © Robert Copeland
In celebration of our upcoming watercolor painting workshop to Tuscany in June, we decided to share with you some of the interesting and beautiful places we are planning to visit and paint, and, to give you an armchair traveler's overview of the area.

We are actually hosting two simultaneous Tuscany workshops, which we are calling "painting holidays", this year. Ann and I are teaching plein air watercolor and our partner and master photographer, Robert Copeland, is teaching a digital photography workshop at the same time. This allows any spouses who accompany painters to take a photography tutorial, and any painters who want to improve their shooting to take a half-day or more with Bob. Digital cameras do not operate the same way film cameras used to, and while they generally can capture pretty good images automatically, Bob can show us all the professional secrets for getting the most out of these amazing devices.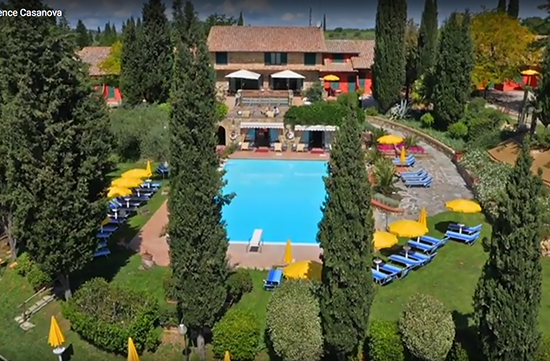 Residence Casanova Hotel and Wellness Center
We call our workshops painting holidays because we always plan lots of activities besides painting for our students to enjoy during the week. We might visit a small artisanal winery and sample their home-made prosciutto, cheeses and Barollo wines one afternoon. Or we might stop in at a local agritourismo for a cooking class where we learn how the Tuscans make such wonderful food, followed by eating that very food we made. Delicioso! Among our many, many choices to visit each day are fascinating ancient hilltop towns like Civita di Bagnoregio, medieval abbeys and churches filled with famous Renaissance frescoes, Roman-era thermal springs, cypress lined "stradi" zig-zagging up vineyard hillsides—too many wonderful places to fit into one trip.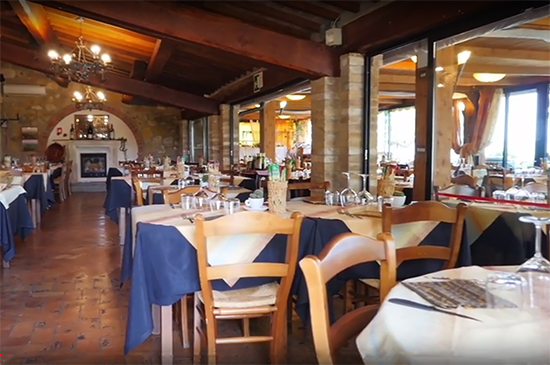 The Bar and Restaurant at our Hotel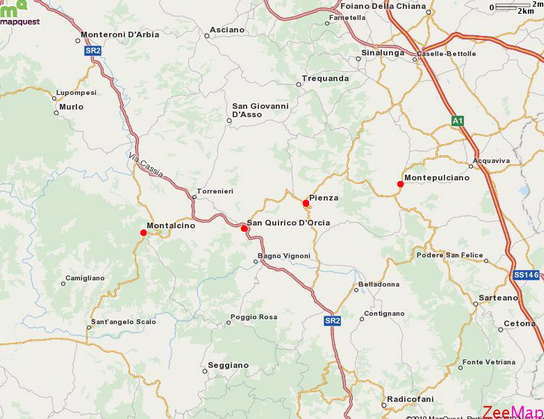 On Sunday, June 3rd, we will pick everyone up at the Rome airport for the two-hour drive north to San Quirico d'Orcia. Our first stop in Tuscany is our luxury spa hotel, the Residence Casanova Spa and Wellness Center—a lengthy title for a beautiful little country hotel set in a picturesque hillside nearby the village of San Quirico d'Orcia. A comfortable hotel is a high priority for us when we travel overseas and we want our students to be comfortable and well rested for the busy week ahead. We were impressed with our previous experiences here, and the hotel has continued to expand and improve their spa services and facilities over the years. We start each day with a nourishing breakfast provided by the hotel before we head out on a day of adventure and painting fun.

After checking in, everyone will have a chance to rest awhile before we all meet in the lobby for a Prosecco-infused welcome gathering. My partner, Robert Copeland and I will share some highlights of what we have planned for the week and then the entire group will head out for an early dinner. After dinner, we plan to set out for our first sunset location, the famous private chapel of Capella di Vitaleta.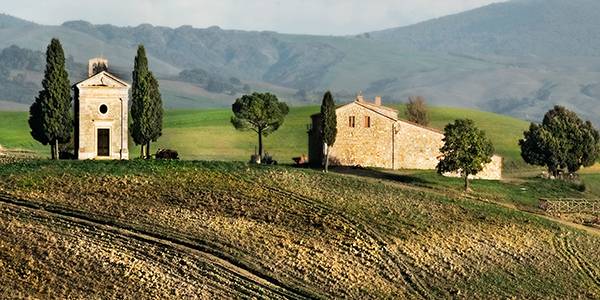 Capella di Vitaletta © R. Copeland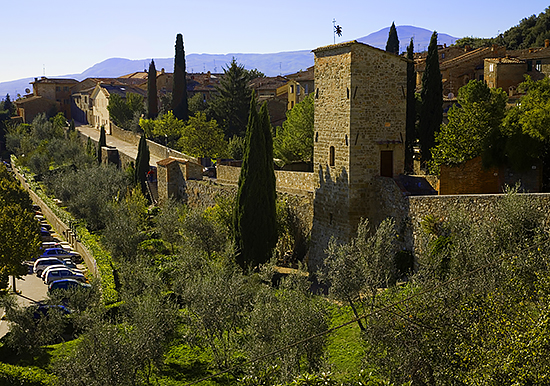 San Quirico d'Orcia

On Monday, our first full day, we will enjoy a buffet breakfast before we grab our painting gear and walk the short distance down the road to explore San Quirico. Located in the broad valley of the Orcia river (Val d'Orcia) about 22 miles southeast of Siena, the town was named after Saint Quiricus. A nobleman named Barbarossa built a fortified tower around 1155 on the Via Francigena, the road that connected northern Europe to Rome in medieval times. San Quirico became a very important stop because it sat right along this pilgrimage route. Today, the town is divided in half by the main street, Via Dante Alighieri, with most of its fortified walls still standing. However, the Germans partly destroyed Barbarossa's medieval tower during the war. In June there is a Festa di Barbarossa from the 14th thru the 18th. Prior to medieval times the ancient Etruscans inhabited this valley for thousands of years.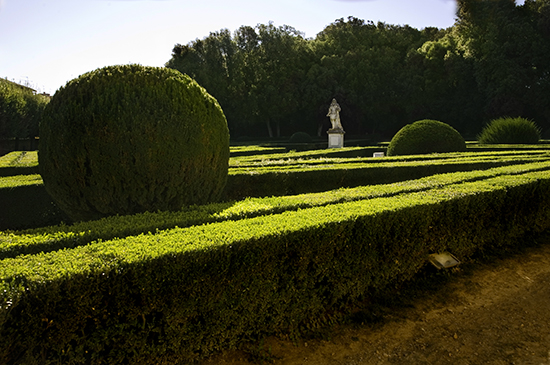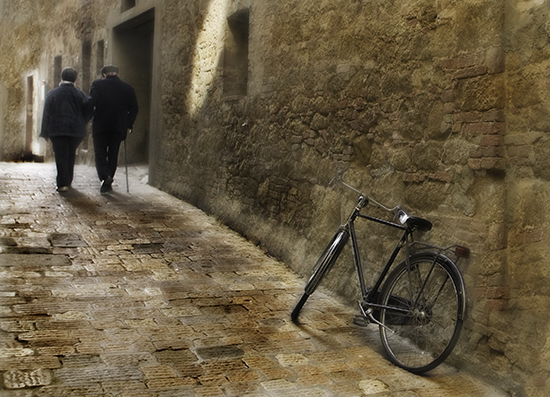 Horti Leoni, San Quirico J. Hulsey Out for a Walk © R. Copeland
There are plenty of painting subjects here, from the town center to the Renaissance gardens, or Horti Leoni, where I painted a decade ago. A statue of Cosimo III de'Medici sits in the center of the garden. But perhaps the most iconic landmark of the San Quirico d'Orcia area are the cypress trees—possibly the most photographed trees in the world. The cypresses of this area are located overlooking the southern part of the Via Cassia on a hilltop. In my view, light is the main thing, and the bright Tuscan sun makes the ancient stone walls and buildings of the town take on a lovely orange-tinged glow.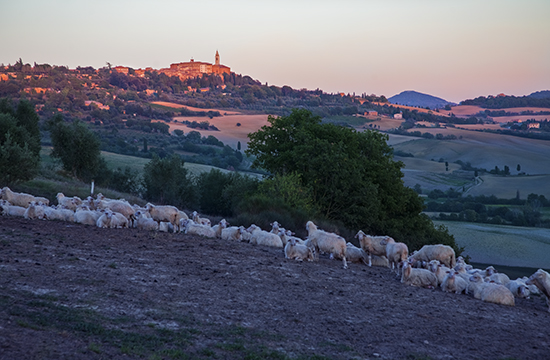 Pienza, Italy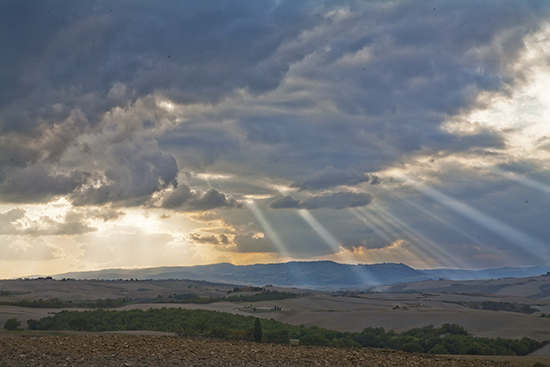 Crepuscle
After a lunch at a local cafe, we'll all pile in our van and take the short ride up the hill to Pienza. Located between Montepulciano and Montalcino, Pienza is a magnificent little Renaissance village with an impressive church and Papal palace in the middle of it. The village sits high on a hill overlooking the San Quirico river valley. Pienza is a UNESCO World Heritage site and as such, is protected from development that would mar or destroy its character. One enters the village through one of the ancient stone gateways and is immediately transported into another century. Built from 1459-1462, the village was first named Corsignano. The name change came in the 14th century when Enea Silvio Piccolomini, a native son, became Pope Pius II. He had the center of the village, or "centro historico", rebuilt as a retreat from Rome in what was considered an ideal Renaissance style and then renamed it after himself. However, he did not live long enough to complete his renovation dreams, making the village an interesting mix of rustic stone and carved marble edifices.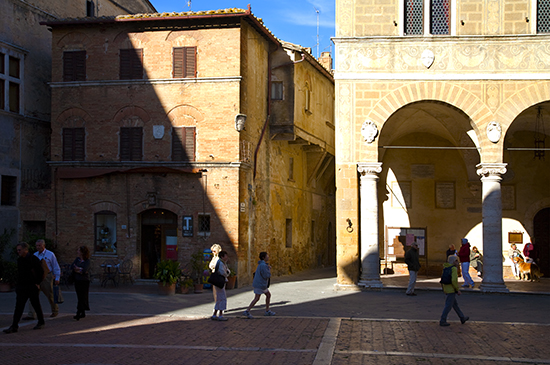 The Main Square, Pienza

Four buildings delineate the trapezoidal piazza of Pienza, the Palazzo Piccolomini which encloses an Italian Renaissance garden and looks over a vaulted stable that housed 100 horses; the Duomo or Cathedral with its bell tower, the Palazzo Vescovile, which housed the bishops traveling from Rome to attend the pope and now houses the Diocesan Museum and the Museo della Cattedrale; and, the Palazzo Comunale, or town hall. The town hall also has a bell tower, shorter than the cathedral one, symbolizing the superior power of the church. The rebuilding of Pienza was done by Bernard Gambarelli, a Florentine architect.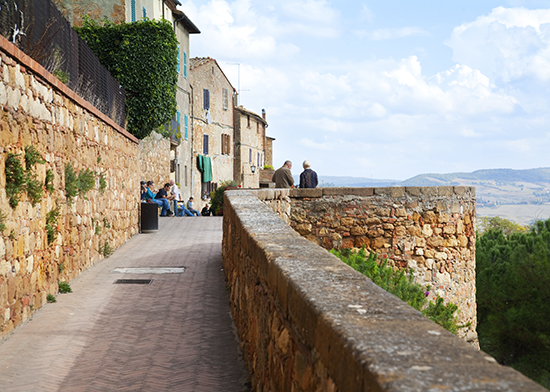 Along the Old Wall Piccolomini Garden (photo by Entoaggie09)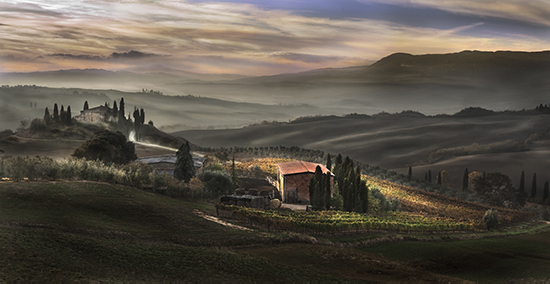 Tuscan Sunrise © R. Copeland

Pienza is popular partly because its architectural refinements and opulence are all contained in a very small area. It is easy for us to scout out painting subjects and the terrific views from the high walls out over the Tuscan landscape are not to be missed. If anything, we will have too many good subjects to paint here! Additional visits will no doubt be required. If there is time, we can visit Ceramiche Sbarluzzi to marvel at their wonderful polychrome ceramics and perhaps make some purchases. We purposely are planning our visit to Pienza for the second half of the day so that we can paint the lovely early evening light and when done, walk to our dinners at a restaurant in a converted monastery. A perfect first day in Tuscany.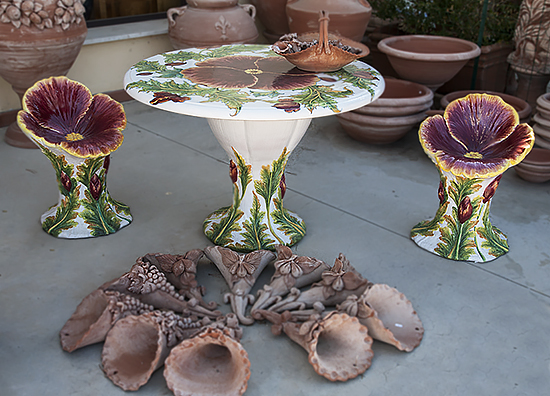 Hand-Painted Ceramic Furniture at Ceramiche Sbarluzzi, near Pienza
The next day we will set out to visit Montalcino. The ancient hill town of Montalcino lies west of San Quirico and Pienza in the Val d'Orcia. It takes its name from a type of oak tree that once covered the area. Writings dating as far back as the 800s indicate a church built there, thought to be that built by the monks of the Abbey of Sant'Antimo.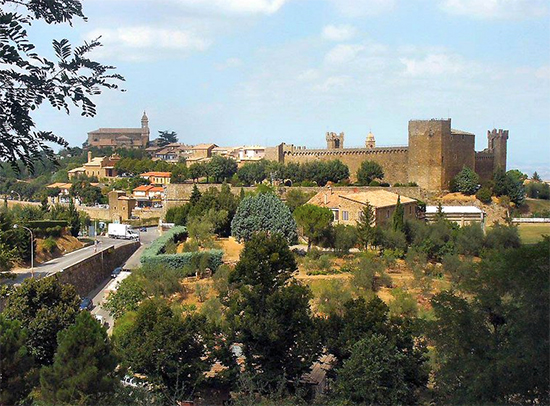 Montalcino (photo by Mac9)

Montalcino's location on the Via Francigena road connecting France and Rome gave it substantial importance and it was fought over by neighboring towns. Siena came to be in control of Montalcino with Florence ultimately taking control. The fortress was built on the highest point of land in a pentagonal layout in the mid 1300s. The town was divided into four quarters, each one represented by its own songs and colors. The four "contrade" are Borghetto, Travaglio, Pianello and Ruga. Representatives from each quarter still meet twice a year in an archery contest which takes place in Medieval dress.

Today, Montalcino is most known for famous wine, Brunello di Montalcino made exclusively from the Sangiovese grosso grapes grown there. The Brunello wine must age a minimum of five years, two of which must take place in oak barrels. Notable wine producers are: Biondi-Santi, Schidione and Banfi. See: Plein Air Pastel Painting in Tuscany, Part III.

Museums in the area include the Museo Civico and Diocessano di Arte Sacrs, which hosts religious paintings and sculptures. The Museo del Vetro glass museum exhibits the history of glass making.

Being a much larger town than Pienza, Bob and I will pre-scout good locations to paint and shoot pictures, but again, there are so many interesting views that one can hardly go wrong. The town is up on a very steep hill, so that there are panoramic views out over the landscape at nearly every corner. We're pretty certain that some of the painters will want to sample the famous Brunello wines, so we have planned lunch at Cafe Fiaschetteria, one of the grand cafes of Europe.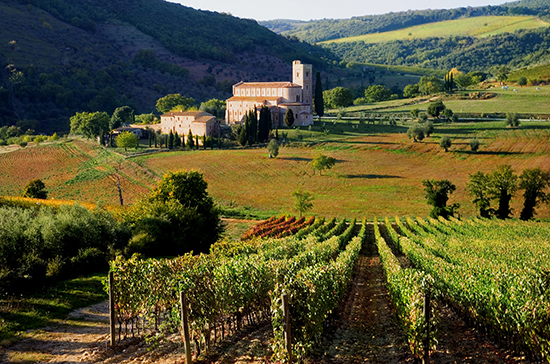 Sant'Antimo Abbey near Montalcino
After lunch, we can drive south from Montalcino toward the ancient abbey of Sant'Antimo, surrounded by vineyards and backed by verdant hills. If our timing is right, we will be able to catch the warm afternoon light streaming in the windows of the church and creating a pattern of light beams in the interior. We can also drive around the scenic country roads nearby the abbey and find wonderful subjects to paint.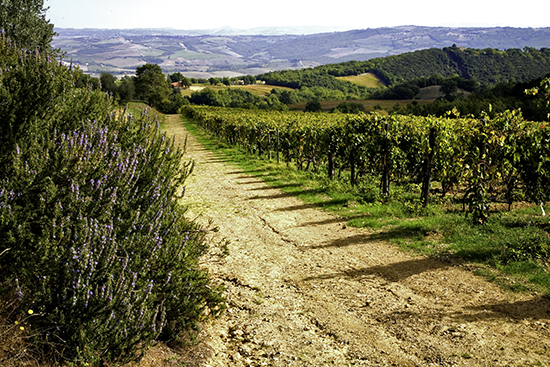 Biondi Santi Vineyards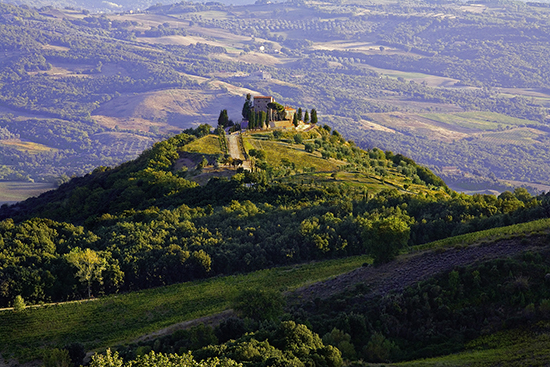 Mastrojanni Agricola Near Montalcino

We can also drive back up the road toward Montalcino and stop in at the famous winery, Biondi Santi, where we could take a tour of the winery or perhaps just paint in the beautiful vineyards. At the end of the day, we will drive some more backroads in the evening light, stopping by the farmhouse "Terrapile", used in the closing scenes of the movie Gladiator before returning to our hotel for a group dinner.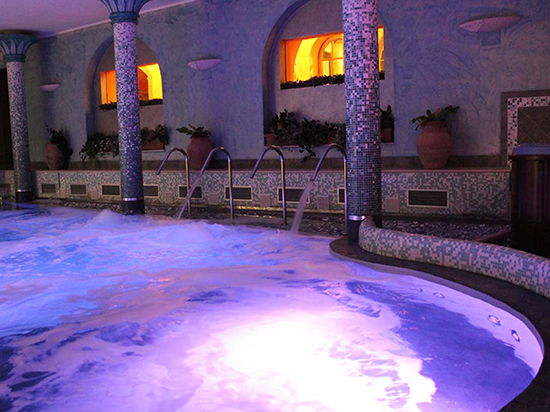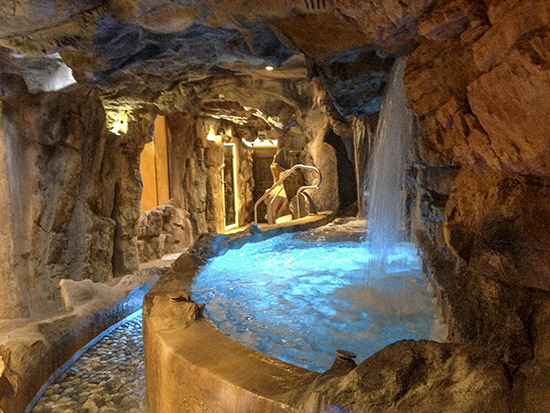 The spas at Residence Casanova
Wednesday is a free day for students to use any way they wish. Some may want to try out the world-class spa treatments at our hotel, swim or lounge at the pool, or walk into San Quirico for shopping or painting. Others may choose to hire a local driver and scout on their own. Good all-day trips can include the towns of Siena or further north, Florence.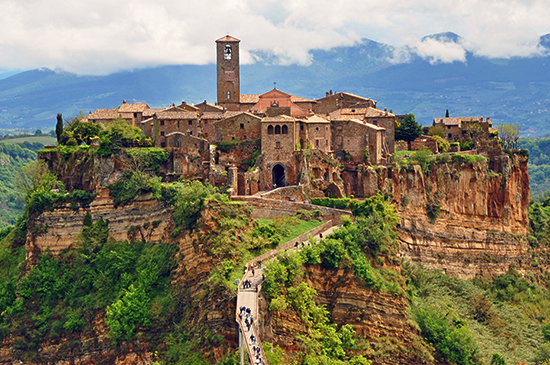 Civita di Bagnoregio
Thursday morning we plan to visit the remarkable and ancient cliff-top village of Civita di Bagnoregio. Civita di Bagnoregio was originally a larger community than its suburb, Bagnoregio. Today the roles are reversed and Civita is nicknamed "The Dying Town" (la città che muore). Civita teeters atop a ridge of friable volcanic tuff in a constant state of erosion. It sits on its tenuous plateau about 75 miles north of Rome.

Civita is more than 2,500 years old, founded by Etruscans. A major earthquake in the 17th century forced many residents to relocate to Bagnoregio. By the 19th century, Civita had become an island of stone and is today only reachable by a long walking bridge. (Tractors are allowed to transport materials to the estimated 10 to 14 full-time residents.) The town increases in size during the summer as many homes are owned by non-resident out-of-towners.

The sights in Civita include the Romanesque Arch at the entrance to the town. It was cut from stone by the Etruscans and later in the 12th century decorated in a Romanesque style. The Renaissance Palace consists only of a facade, with the rest of the building having collapsed into the canyon. The Etruscan caves are on the east side and include one which was made into a chapel, the Chapel of the Incarcerated. Another of these pre-Roman tunnels was used as a bomb shelter during World War II.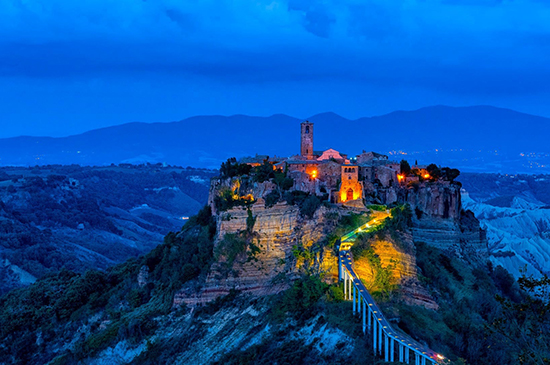 The Civita at Night
Landslides during 2014 and 2015 have escalated attempts to give Civita di Bagnoregio a world heritage status by UNESCO. The urgency is clear and makes our visit all the more poignant. It is a painter's paradise to paint and paint in—a town that time forgot but nature is working to dissolve back into the soil. When the valley below it fills with fog, it sits like a Disney-dream on its hilltop, floating above it all in the sunlight. We will likely spend the entire morning taking photos and sketching before having lunch at one of the local cafes. After a long lunch, I suspect that we will all want to stay awhile longer a make more paintings as the light continues to improve.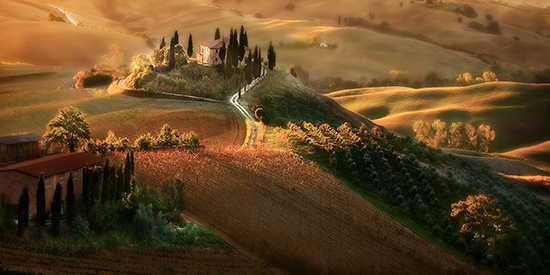 Tuscan Morning Il Belvedere © R. Copeland
Friday will be our earliest morning excursion—a short drive up the road to a spot where we can sketch and photograph an iconic hilltop palazzo, Il Belvedere. If we are lucky, the valley might still have some fog floating below the hill tops as the rising sun illuminates Il Belvedere in rose-colored light. Afterwards, we will go back to the hotel for breakfast and freshen up for our day's excursion to Montepulciano.

Recent findings indicate that Montepulciano existed in settlement form as early as the 3rd or 4th century. Located 77 miles southeast of Florence and 8 miles east of Pienza, Montepulciano sits atop a 1,985 foot stone ridge. During its long history it served as a garrison guarding the main roadways below it. It was attacked throughout the 12th century by the Republic of Siena and later became under the possession of Florence.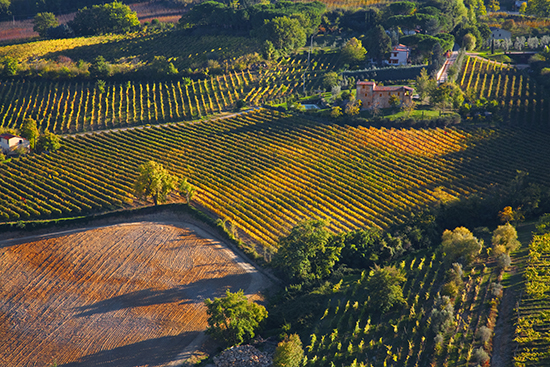 View From Montepulciano
After the unification of Italy, Montepulciano remained a strong agricultural center and today is renowned for its honey, lentils, "pici" pasta (thick, hand-rolled pasta, like fat spaghetti), cheese, pork, and most notably its Vino Nobile. The Vino Nobile de Montepulciano is made from the Sangiovese grape varietal blended with Canaiolo Nero and smaller amounts of local varieties such as Mammolo. The wine is aged for 2 years (with at least 1 year in oak barrels), and it is excellent.


Montepulciano is famous for its elegant Renaissance palaces including the 14th century Palazzo Comunale designed in the same tradition as the Palazzo de Signoria in Florence. The clock tower can be climbed to see a soaring town view. The Renaissance San Biagio Church has a towering dome and nave and is a walk from town. The town was used for the filming of the vampire saga Twilight sequel New Moon. The center of town is the Piazza Grande where the annual Bravio delle Botti (barrel-racing) contest is held in August and has been held since the 14th century. A long lunch in the village will rest our bodies before we drive down to Monticchiello to paint and photograph one of our favorite cypress-lined roads in Tuscany. Depending on the hour, we may choose to have dinner in the village before returning to our hotel for the evening.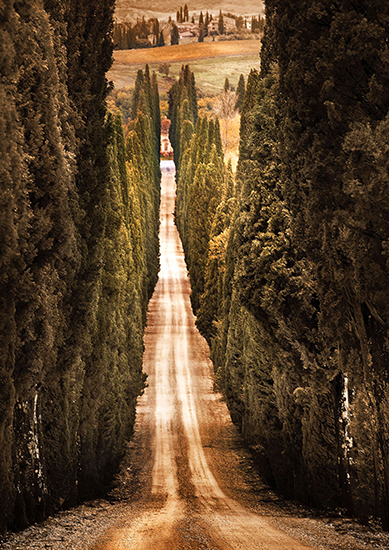 Cypress Lane © R. Copeland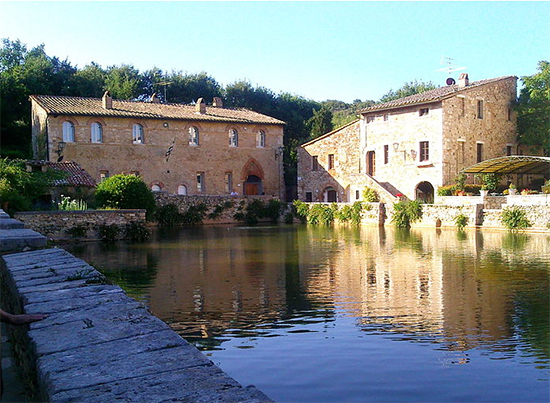 Bagno Vignoni (photo by Lepo55)

Saturday morning takes us to the thermal spa town of Bagno Vignoni. Bagno Vignoni sits on a hill above the Val d'Orcia 3.5 miles south of San Quirico d'Orcia and 8 miles south of Pienza. Instead of the traditional central town square of many ancient Italian villages, Bagno Vignoni has a central pool 160 feet long by 95 feet wide. The pool, or Square of Sources, is fed from the hot springs of a subterranean aquifer of volcanic origins. The springs were renowned through antiquity for their therapeutic quality. Pilgrims traveling the Via Francigena to Rome often stopped here for rejuvenation. The pool is believed to have been visited by Pope Pius II, Saint Catherine of Siena and Lorenzo the Magnificent, considered the most powerful patron of scholars, artists and poets of the Renaissance. Today the main square pool does not allow baths, but other springs of natural hot water are nearby (Parco dei Mulini).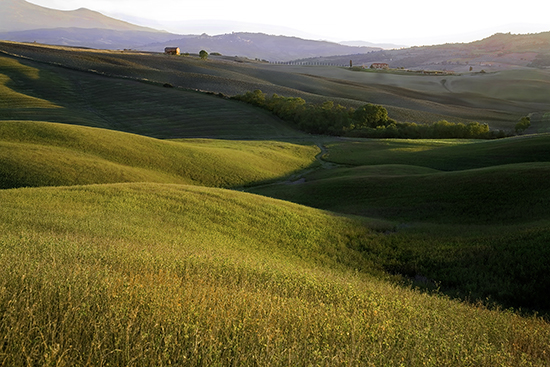 Golden Fields Near Our Hotel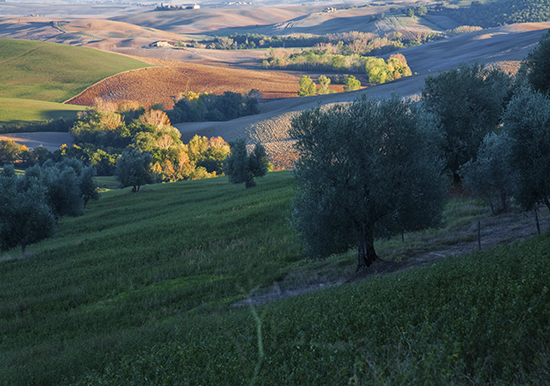 Day's End, Tuscany
After painting and lunch in the village, we will return to our hotel to pack and relax before we head out at sunset on a brief drive just north of San Quirico to our last evening sketch and photo location—the famous cypress grove. This grove of cypress trees is especially beautiful from sunset to last light. Group dinner is in San Quirico.

Sunday morning we all meet in the lobby before we load into our vans for the two hour trip south to the Rome airport. We will have had a wonderful week full of beautiful memories, hundreds of photographs and sketchbooks filled with ideas for new paintings. Along the way, we will have forged new bonds of friendship with a group of like-minded creative people. And making wonderful new friends is perhaps the best gift we take home from our delightful Tuscan travel experience.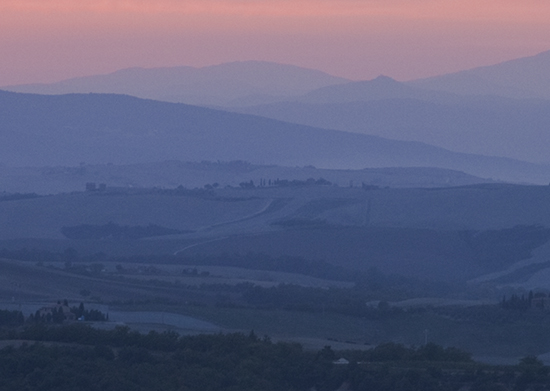 Sunset from Pienza