Too Much Information?
Perspectives from The Artist's Road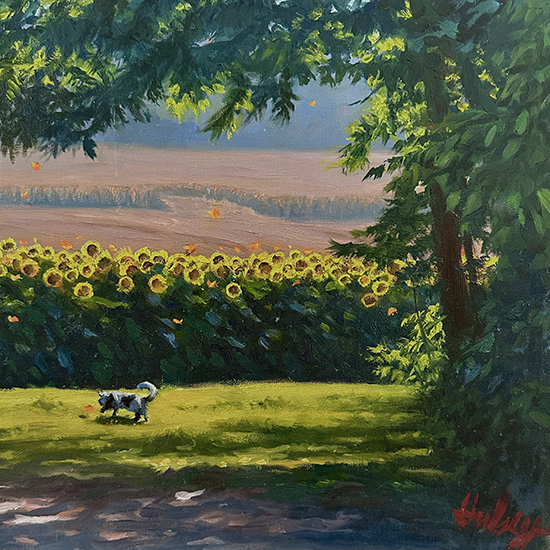 Harvest Time 12 x 12" Oil © J.M. Hulsey
This week, I've been across the road painting my neighbor's famous sunflower fields again. He plants millions of them and because his property is hilly, it looks remarkably like the sunflower fields in Provence, France. People come from all over the U.S., and even overseas, to visit and take photos. I go to paint, and over the years I've gotten comfortable with the thousands of visitors walking by, some of whom ask me what I'm doing or how I'm doing it. It isn't easy to explain, exactly.

Sometimes, I start by telling them that plein air painters have two large obstacles to overcome before we can begin to capture what Nature has set before us. The first is the vast difference in luminance between sunlight and paint. A new white paint was invented in 2021 which claims to reflect up to 90% of the light striking it—a huge improvement, but still no match for the light we experience outdoors. The whitest artist's paint cannot duplicate the brightness of sunlight. So artists must use mental gymnastics to re-make the world on their canvasses by creating an illusion of natural light. This takes many, many hours of practice to get right.

The second major obstacle is the fact that paint is a subtractive system, while light is an additive one. They are completely opposite systems of light representation. Simply put, in a subtractive system like paint, adding one other color to the first will produce a darker color mix. Add them all together and the result approaches black. In an additive system, each additional color makes the result lighter, and white is the result of adding them all together. Our computer screens and phones operate on an additive system, while paint does the opposite. Therefore, to paint natural light, especially bright sunlight, requires artists to not only be fluent translators of the two languages of light, but also masters of the paintbrush sleight-of-hand, creating a convincing world of light out of the crude stuff of paint.

Other times, it's best just to forget all that and simply talk about the romance of being a painter outside on a fine day, without a visible concern in the world. I think that's probably all they wanted to hear anyway!

Keep painting out there.