A Tonalism Demonstration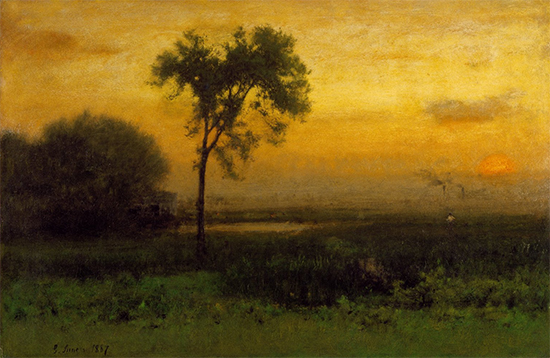 Sunrise 1887 George Inness

Tonalism was an art style that began in the 1880s in America. It most likely developed out of the work of the French Barbizon artists who created a realist plein air art movement in the 1830s based in the forest of Fontainebleau near the town of Barbizon. Inspired by the paintings of the English artist, John Constable, The Barbizon artists decided to make Nature their primary subject and abandon rigid formalism in their work. The style is notable for its loose brushwork, softness in tonal qualities and forms. The most prominent of the Barbizon artists were Jean-Francois Millet, Theodore Rousseau and Jean-Baptiste-Camille-Corot. By 1860, a younger generation of artists, which included Claude Monet, Pierre-Auguste Renoir, Alfred Sisley and Frederic Bazille, were also attracted to the work of the Barbizon artists and inspired to paint plein air works in the Fontainebleau forest. By 1870, the next great French art movement of Impressionism had grown directly out of the plein air work of the Barbizon artists.

Fast forward to 1880 and across the Atlantic to the east coast of America where a generation of young artists was working in a style very similar to the Barbizon but with slightly different techniques and an American point of view. They adopted the loose brushwork and softness of the Barbizon movement as their means of expressing an almost spiritual sense of Nature. Some, like George Inness, were influenced by the Transcendentalists and the desire to paint something beyond the veil of reality, where sharp details and forms were dissolved into otherwordly and interpretive subjects. Others, like James Abbott McNeill Whistler, wanted to express the evanescent light of a moment, as in his dark, smoky paintings of fireworks or dark water at dusk. Their painting were often full of mood, shadows and deep, earthy colors or mixed-down hues of blues and gray. By the 1890s, art critics had coined the term tonal or tonalism to describe the genre. Albert Pinkham Ryder, Granville Redmond, John Twachtman, L. Birge Harrison and Charles Warren Eaton were among the notable artists who practiced this style of painting. The style lasted until around 1915.

Today, the techniques and style of Tonalism are once again being practiced by a few American artists who have incorporated the style into their contemporary realist work. The tonalist approach to landscape painting is, above all, fun to try. One can work from Nature, photos or simply make up a landscape out of whole cloth, as I have done here. The techniques used, at least in the beginning, are loose and wet, brushy strokes accompanied by wiping back, wiping on or texturing with paper towels. It is striking how fast we can develop forms suggestive of Nature and modify our compositions on the fly. Atmospheric light and space are equally easy to suggest and manipulate using these techniques.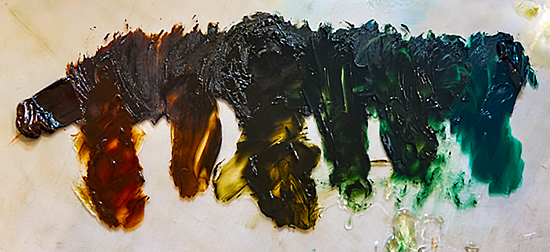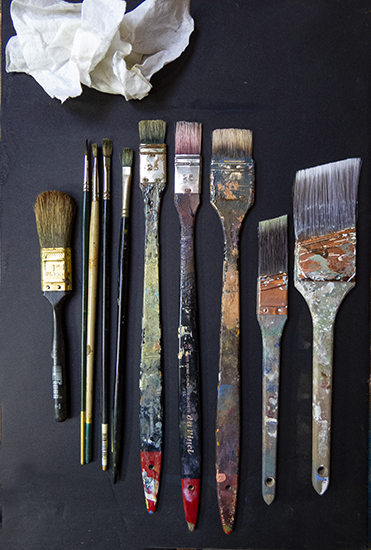 I decided to start by creating a landscape using only two colors, Thalo Green and Transparent Red Oxide, which, when mixed out on the palette in a color string, create a range of colors and temperatures suggestive of those in the landscape. On one end, I have a lovely red brown which transitions to a medium brown, then a warm greenish brown to olive green, to an array of dull cooler greens which get progressively cooler and more vibrant as they mix toward pure Thalo Green. I always mix my color strings first, so that I have a ready supply of color at hand and I won't have to stop while I am painting.

Tools

I like to start painting with a house painter's sash brush which I have in 3 sizes. This is a marvelous tool, capable of applying big swaths of color. It can also be used to draw a fine line. Using such a brush keeps me loose and receptive to making alterations. I also like to use the long-handled flat bristle scenic brushes to start paintings, for nearly the same reasons. I also have a filbert-like brush sold by Bob Ross (don't laugh, it works!) for scrubbing paint in or out of an area. After that a small group of hog bristles for small areas and a pointed round are about it. Less is more, in this case.

The Study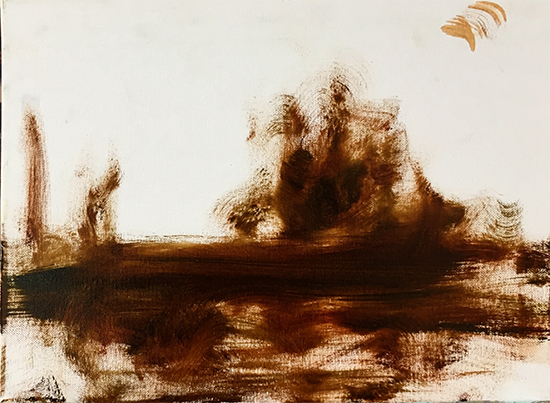 Step 1

This is the kind of lovely start I can get from my sash brush using only Transparent Oxide Red and some Neo-Megilp medium—nice and calligraphic. At this point I didn't know what I wanted exactly, just a ground line and maybe some trees, perhaps a pond reflection?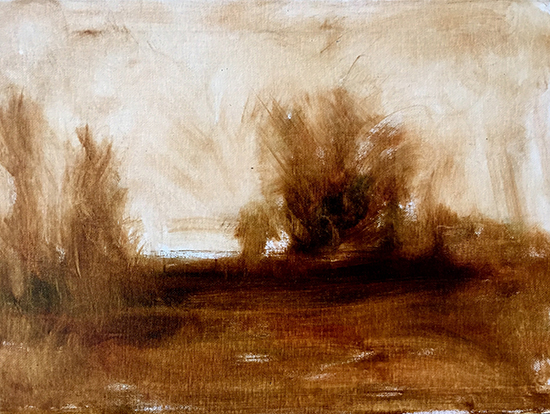 Step 2

It is useful to knock down the white of the canvas early on to help with tonal judgements. Here I was thinking "out loud" with my brush, seeing what could be made. I changed the pond for a possible farm field.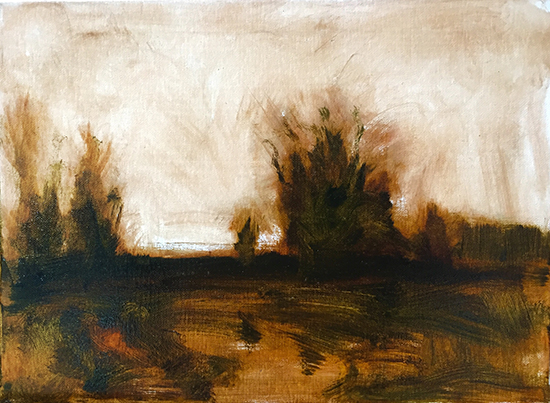 Step 3

Still wielding the sash brush, I picked up some warm green from my color string and glazed over the brown mix to darken the "trees". I created some directional swirls in the ground plane. At this point, it is starting to look interesting.
Step 4

I decided to create a cloud effect in the sky with a thin wash of brown smeared around with a paper towel. After that I began to shape some tree forms. I also decided to create a reflective stream which would serve to lead the eye up into the middle ground. The stream was made by dipping a paper towel in thinner and wiping out. With the same towel, I created a grassy texture in the foreground by just smearing and dabbing.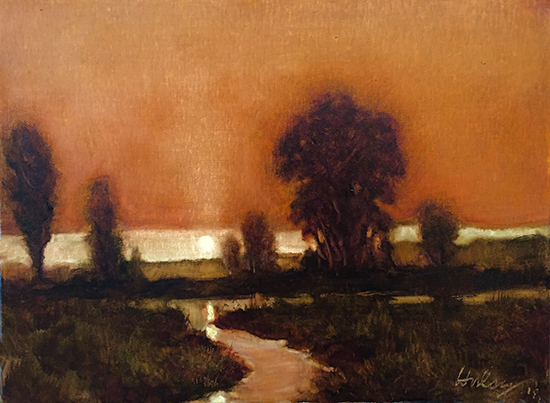 Step 5

In finishing the sketch, I strengthened some tones while creating additional middle values. This helped to create more depth of space. Grabbing a #6 Richeson Grey Matters hog bristle bright, I worked to refine my shapes a little better. Finally, I decided to create a moonrise effect by wiping out with another towel. All in all, a good start made in a very short time. Left to dry a day, this study would be ready for some more color.

Making Something More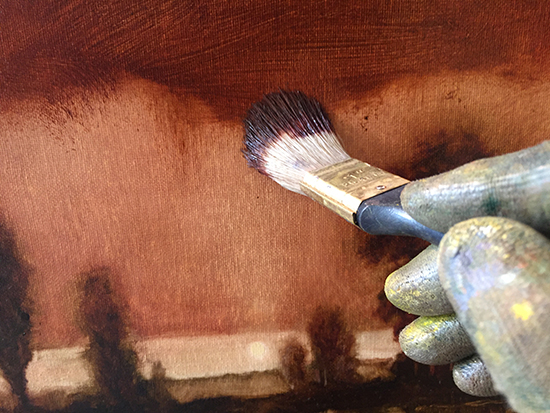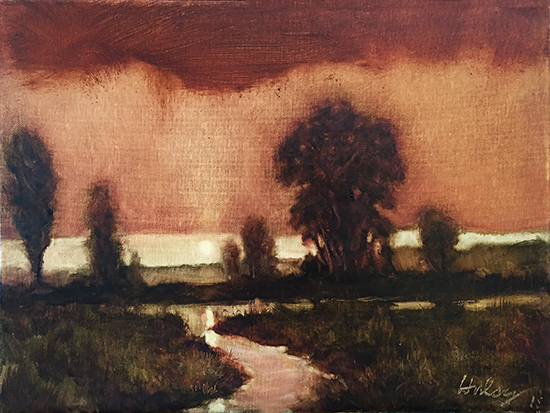 Step 1

I started this second phase by grabbing my Bob Ross filbert brush and loading it up with more Transparent Oxide Red. This I literally scrubbed into the sky to darken and warm it up. I didn't know where I was going with the color, but I was keeping in mind how the Tonalists preferred using browns, blues and grays in their paintings.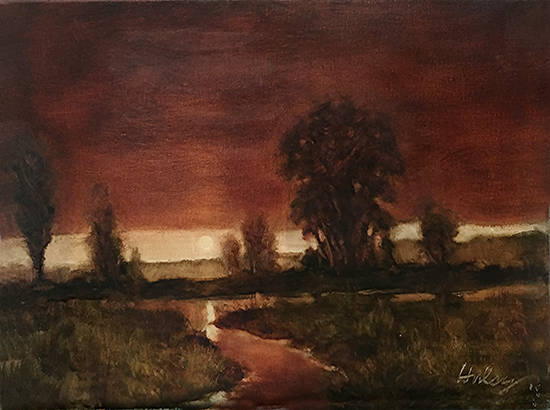 Step 2

The red brown is in the sky and the water. You can see here how beautifully transparent the glaze of Oxide Red is.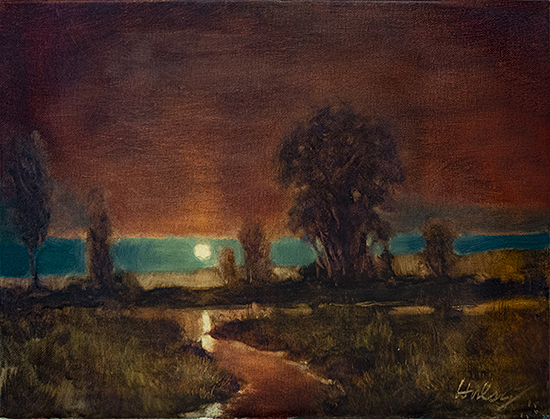 Step 3

Here I mixed up some Prussian Blue, Cadmium Yellow a bit of Yellow Ochre and White to create the moonlit sky color.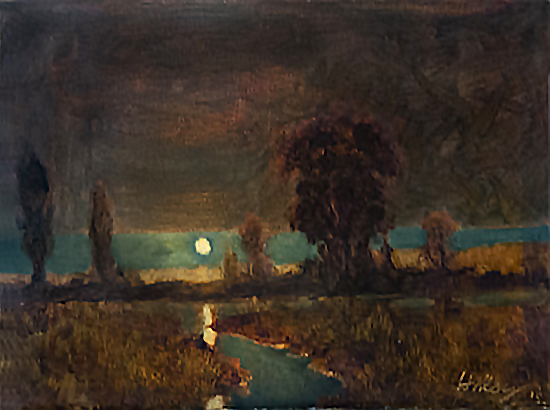 Step 4

Still using the #6 hog bristle, I decided to suggest some clouds near the moon with some slightly grayer smudges. After wiping the red brown out of the water with a towel, I painted the water in. I also began to work a grayed version of the sky color back into the clouds to build the impression of moonlight.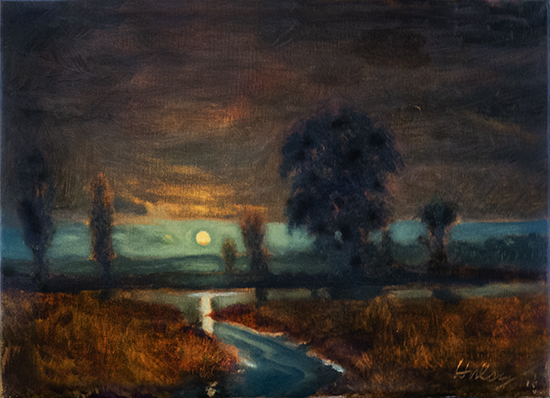 Step 5

I lightened the sky some around the moon and graded that tone out to each side while strengthening the suggestions of cloud forms. I wiped back some brown from the clouds just above the moon, and scumbled in a bit of Yellow Ochre and white to create nice contrasty highlights. Once done, I painted the gray blue in the background, grading it out to suggest a misty effect. I also worked some dark gray-blue mix into the trees.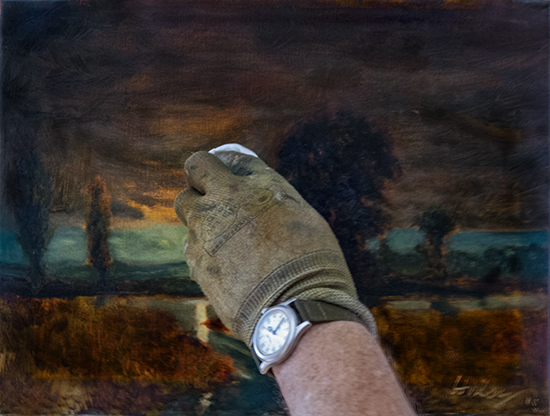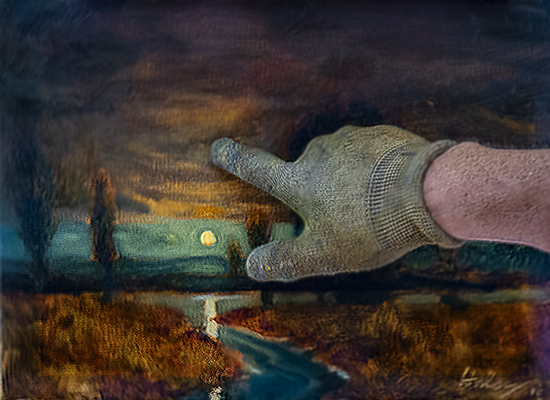 Step 6

Still feeling like none of the image is sacred, I played with the clouds more using both a towel and my fingers to smudge and wipe out interesting shapes and tones. Now we're getting somewhere!
Step 7

To finish up, I continued to work the gray blue tones into the water and clouds while lightening the misty field effect in the background. I warmed up the moonlight with some Cadmium Yellow and white and established the reflections in the water. Finally, I decided that the picture needed a human story to it, so I added the silhouette of a boat tied up to a post at the end of the little stream. This then, became Night Fishing, Full Moon.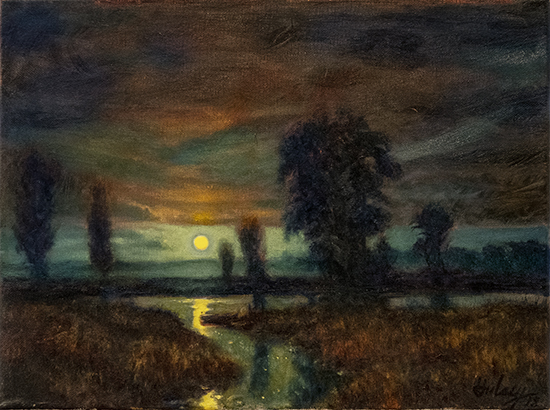 Night Fishing, Full Moon John Hulsey
More on Tonalism:
George Inness and the Visionary Landscape by Adrienne Baxter Bell
George Inness and the Science of Landscape by Rachael Ziady DeLue
Like Breath on Glass: Whistler, Inness, and the Art of Painting Softly (Sterling & Francine Clark Art Institute) by Marc Simpson