The Canadian Group of Seven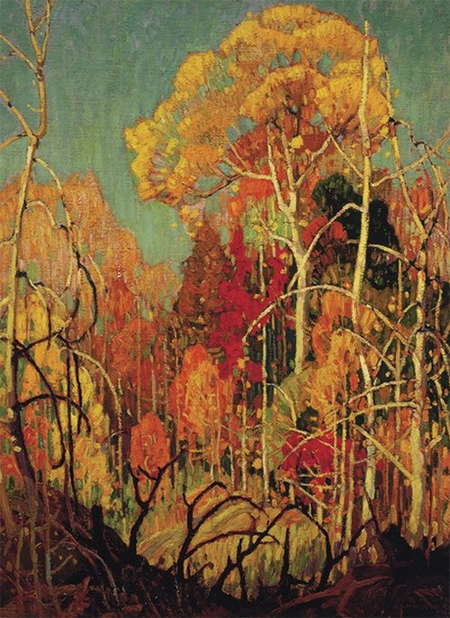 Autumn in Orilla 1924 Franklin Carmichael
(Some of the artwork of the Group of Seven may be protected by copyright.
They are posted here in accordance with fair use principles.)

"We are on the fringe of the great North and its living whiteness,
its loneliness and replenishment, its resignations and release,
its call and answer, its cleansing rhythms.
It seems that the top of the continent is a source of spiritual flow
that will ever shed clarity into the growing race of America."
- Lawren S. Harris, 1926
The wonderful watercolorist, Sarah Yeoman, wrote us about one of the sources of inspiration to her work - Tom Thomson and the Group of Seven Canadian artists. These artists are considered to have founded the first major Canadian national art movement from 1920 to 1933 (also known as the Algonquin School). It is daunting to consider the commitment they made to painting on location in many of the wilder areas of Canada throughout the tests that the weather of northern climates can bring to plein air artists.

Tom Thomson (1877-1917)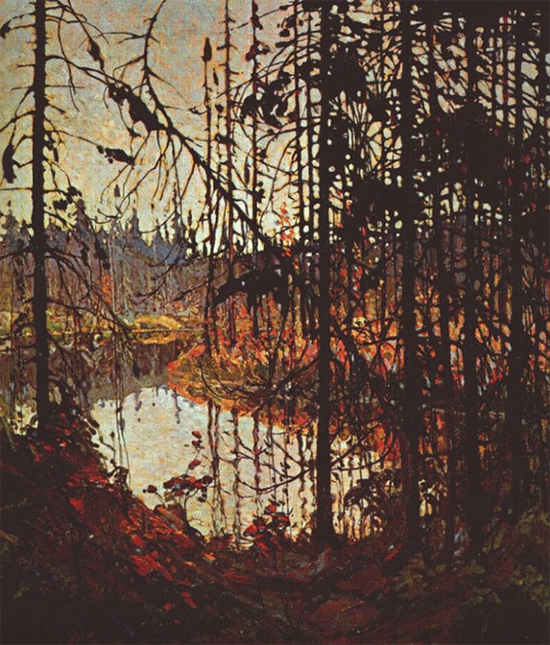 Northern River 1915 Tom Thomson
Although Tom Thomson is often credited as being a member of the Group of Seven, he died before the group was founded. However, he directly and significantly influenced the painters that later formed it. A common tie between most of the artists was the time they worked together with Thomson at Grip, Ltd., a design firm in Toronto and later at Rous and Mann Press.

Thomson found great inspiration in Algonquin Park and the wilderness of Ontario. He worked intermittently as a ranger, guide and fire fighter in the Park. He produced hundreds of plein air sketches, expanding many of them into larger studio works. Thomson's studio was housed in an old utility shack in an artist's enclave in Toronto.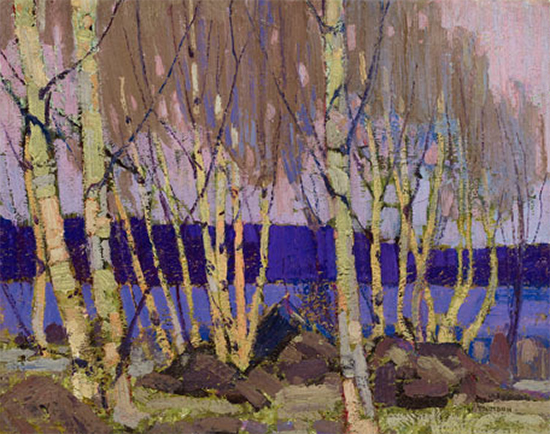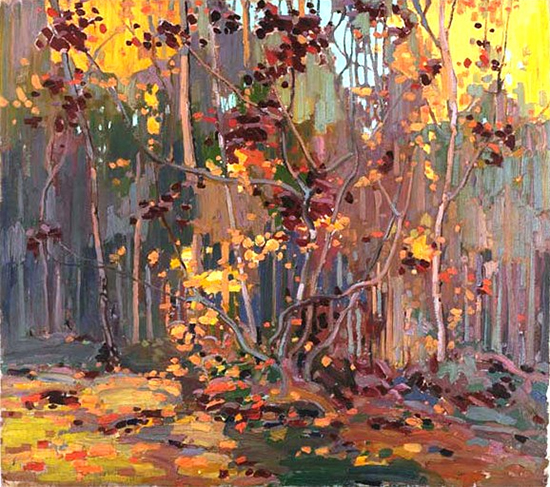 Evening, Canoe Lake 1916 Maple Saplings 1917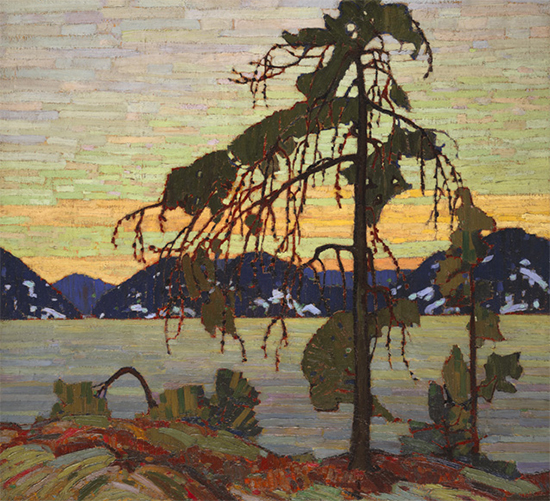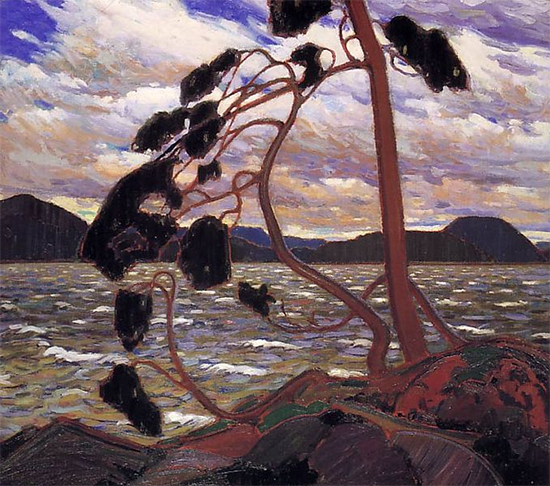 The Jack Pine 1917 The West Wind 1917

His death is still surrounded by mystery. Thomson disappeared on a summer canoe trip in Algonquin Park. His body was discovered eight days after his disappearance. Throughout the following years, many theories about the cause of his death, including suicide (despondence over his lack of recognition?) and murder (killed by poachers?) have been explored, but the initial forensic evidence declared it an accidental drowning.

Thomson's work eventually received the attention it deserved and is now housed in museums in Canada and England. The increased value of his paintings has led to numerous forgeries of his work on the market. Several books, songs and even a movie - The Far Shore (1976) - are based on his life and mysterious death.

Like several other of the later-formed Group of Seven artists, Thomson's work as a graphic designer informed his paintings of the Canadian landscape. His style is considered by many to be post-impressionistic.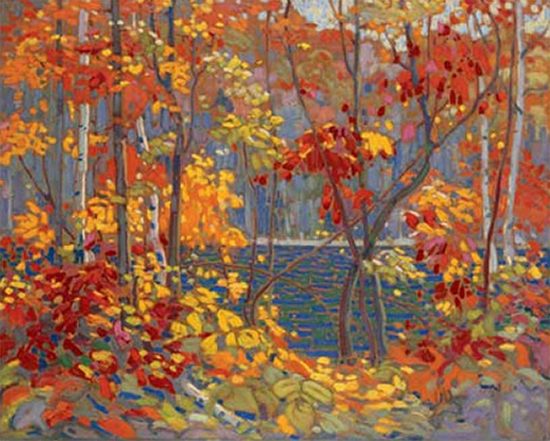 The Pool (no date)

These are a few of the many books that have been written about Thomson and the Group of Seven, including:

Tom Thomson, the Silence and the Storm
by Harold Town
A Treasury of Tom Thomson
by Joan Murray
The Group of Seven and Tom Thomson
by David Silcox
The Group of Seven and Tom Thomson: An Introduction
by Anne Newlands

The seven artists that formally established the Group of Seven in 1920, did so in the belief that a distinct national Canadian art movement should be developed working directly from nature. They included: J. E. H. MacDonald, Frederick Varley, A. Y. Jackson, Arthur Lismer, Lawren Harris, Frank Johnston and Franklin Carmichael. Thomson and five of the future Group of Seven (MacDonald, Lismer, Varley, Johnston and Carmichael) met while working at Grip Ltd. in Toronto. Lawren Harris (of the Massey-Harris farm machinery family) was able to provide financial support to the group, and, along with Dr. James MacCallum built a studio building as a meeting and working place for the artists.

*Some of the artwork of the Group of Seven may be protected by copyright. They are posted here in accordance with fair use principles.

J. E. H. MacDonald (1873-1932)

"It is the work of the Canadian artist to paint or play or write in such a way that life will be enlarged for himself and his fellow man. The painter will look around him . . . and finding everything good, will strive to communicate that feeling through a portrayal of the essentials of sunlight, or snow, or tree or tragic cloud, or human face, according to his power and individuality."
- J. E. H. MacDonald

March Evening, Northland 1914
James Edward Harvey MacDonald is considered the "father" of the Group of Seven. He was born in England to an English mother and a Canadian father. When he was fourteen, the MacDonald family moved to Canada and James began his formal education in art. He studied at the Hamilton Art School in Ontario, the Toronto Art Student League and the Central Ontario School of Art and Design. It was at the commercial art firm Grip Ltd. that MacDonald, working as a commercial artist, met Tom Thomson and several of the future members of the not yet formed Group of Seven. At the age of 38, MacDonald left his work at Grip Ltd. to become a landscape artist, only taking on occasional freelance design work. He exhibited his work with Lawren Harris. The two artists are said to have been greatly influenced by the work of Scandinavian Impressionist artists that they saw in an exhibition in Buffalo, New York. That influence may have further cemented their commitment to painting the Canadian landscape and forming the group. MacDonald had a great sensitivity to nature and the landscape influenced by his interest in the American writers Henry David Thoreau and Walt Whitman.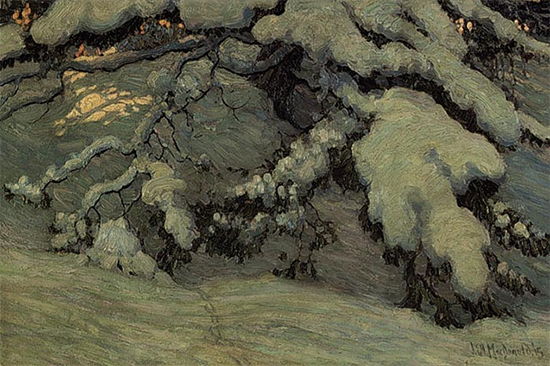 Snowbound 1915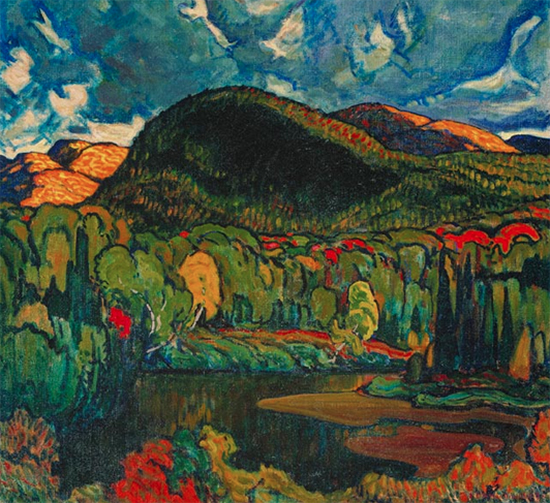 Algoma Bush, Autumn ca. 1919 Gleams on the Hill 1921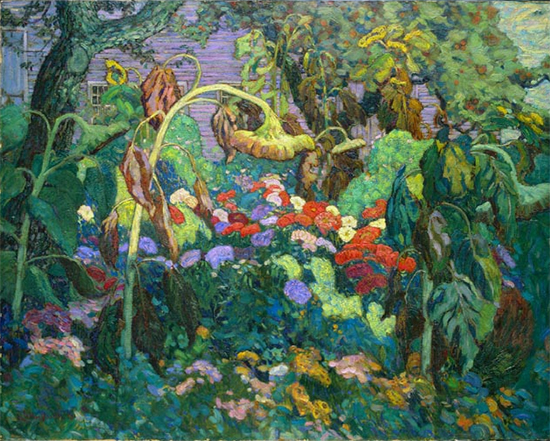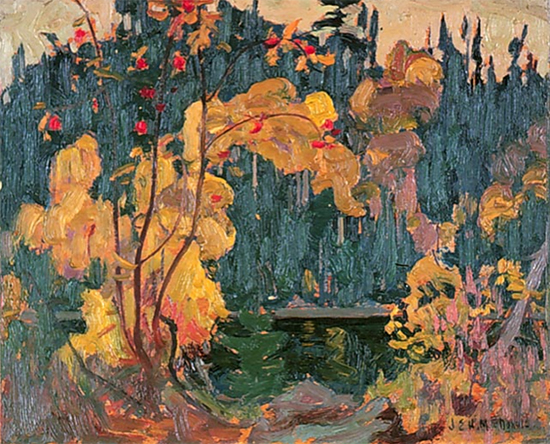 The Tangled Garden 1916 Montreal Lake, Algoma 1919

MacDonald died at the age of 59. His home and garden in Vaughan, Ontario, have been restored and are open to the public. MacDonald and his wife, Joan Lavis, had a son, Thoreau, who became an accomplished illustrator.

MacDonald was a popular teacher as well as a poet, calligrapher and wood worker. His design work was greatly influenced by the designers of the Arts and Crafts movement, especially William Morris.

Untitled Poem

by J.E.H. MacDonald

I go to the beautiful lake O'Hara 
lying in a rainbow sleep 
under the steeps of Mount Lefroy
 and the waterfall

I looked at the emerald
 and violet of her colour. It is
 emerald and malachite, and jade,
and rainbow green, and mermaid eyes…

These are some of the people 
who stand about Lake O'Hara: 
Lefroy, Victoria, Huber
 Wiwaxy, Cathedral, Odaray…

I have memories 
of the clearest crystal 
mountain days imaginable,
when we fortunates in the height
 seemed to be sky people 
living in light alone…
Frederick Horsman Varley (1881-1969)

"The artist's job is to unlock fetters and release spirit, to tear to pieces and recreate so forcefully that . . . the imagination of the onlooker is awakened and completes within himself the work of art."
- Frederick Varley in a letter to his sisters, 1936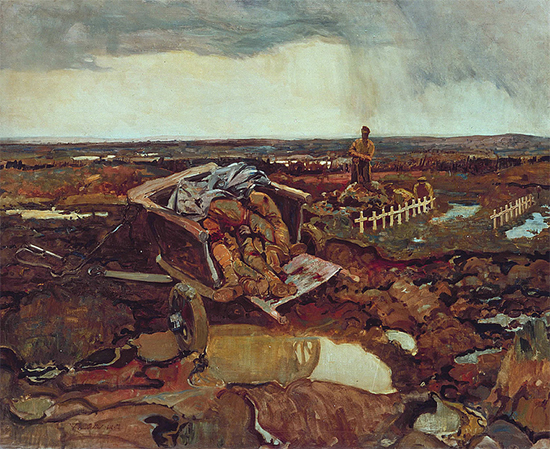 For What? 1917-1919
Frederick Varley was also born in England. He was schooled at the Sheffield School of Art and at the Académie Royale des Beaux-Arts in Belgium. He came to Canada at 31 years of age and found work at the Grip Ltd. Design Firm.

Varley was commissioned as an official war artist from 1918 - 1920 accompanying Canadian troops in the Hundred Days offensive from France to Belgium. He was deeply affected by the war horrors he had witnessed and wrote:
"I'm mighty thankful I've left France - I never want to see it again. This last trip over has put the tin hat on it. To see the land half cultivated and people coming back to where their homes were is too much for my make up. You'll never know dear anything of what it means. I'm going to paint a picture of it, but heavens, it can't say a thousandth part of a story. We'd be healthier to forget, and that we never can. We are forever tainted with its abortiveness and its cruel drama - and for the life of me I don't know how that can help progression. It is foul and smelly - and heartbreaking. Sometimes I could weep my eyes out when I get despondent. . . To be normal, to be as those silly cows & sheep that do naught but graze and die, well, it's forgetfulness."
Varley had been primarily a figurative and portrait painter before finding his principal interest to be in painting the landscape. He worked both in watercolor and in oil. He traveled to and painted the Arctic in 1938 and traveled to the Soviet Union in 1954 on the first cultural exchange of the Cold War.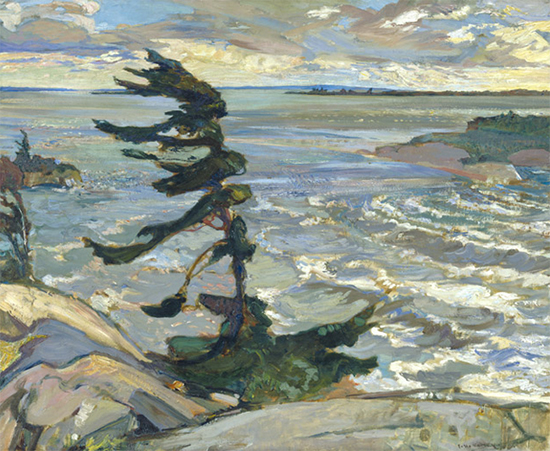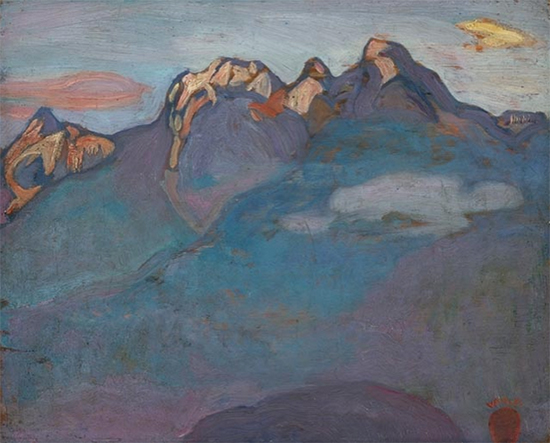 Stormy Weather, Georgian Bay 1921 Coast Mountain Form ca. 1929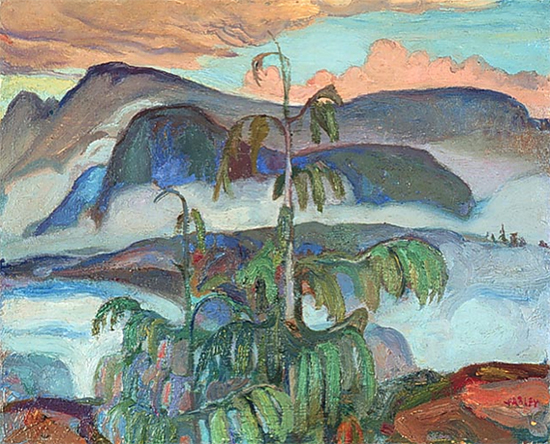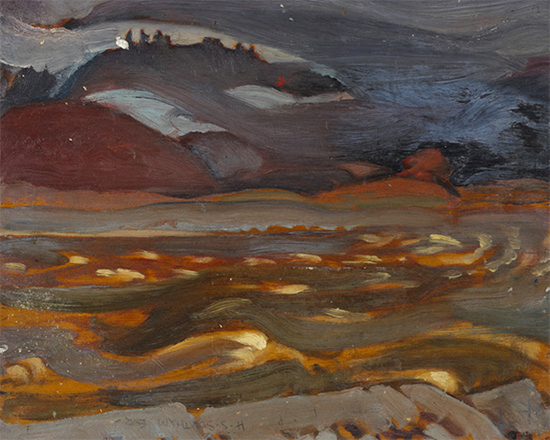 Evening After Rain 1930 Untitled (Mist and Sunset) ca. 1930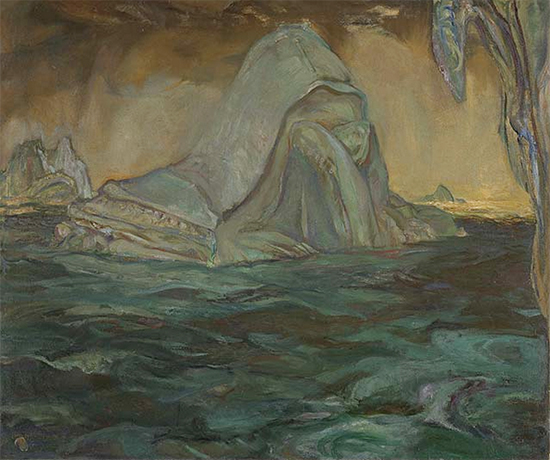 Arctic Landscape ca. 1940 Autumn Landscape ca. 1949

A. Y. Jackson (1882-1974)
"The obedient in art are always the forgotten . . . The country is glorious but its beauties are unknown, and but waiting for a real live artist to splash them onto canvas . . . Chop your own path. Get off the car track."
-A. Y. Jackson in a letter to Florence Clement, 1913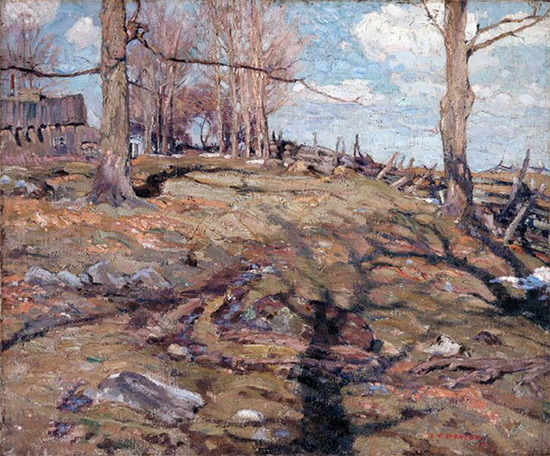 The Edge of the Maple Wood 1910
Alexander Young Jackson started working at a very young age after his father abandoned the family of six. He began his art studies in the evenings at Montreal's Monument-National. He went on to study at the Art Institute of Chicago in 1906, and at the Académie Julien in Paris, in 1907.

It was the purchase of his painting, The Edge of the Maple Wood, by artist Lawren Harris, that brought Jackson to Toronto where he met and painted with the artists who would later become the Group of Seven.

Jackson enlisted in the Canadian Army in World War I and was wounded at the Battle of Sanctuary Wood in Belgium. He became an official war artist from 1917 to 1919.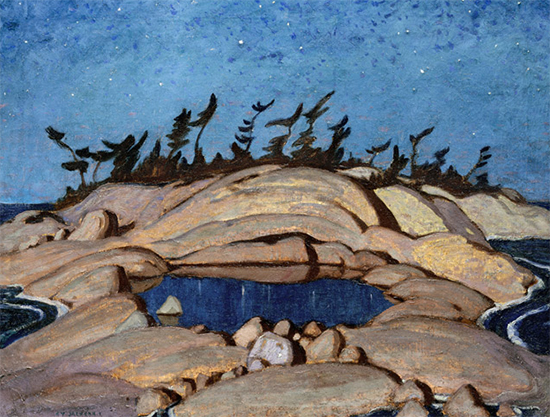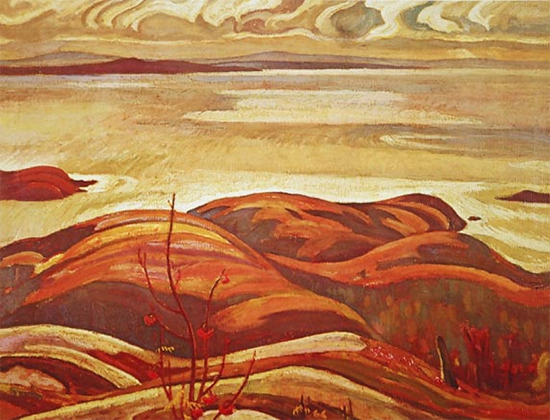 Night Pine Island 1921 North Shore, Lake Superior 1926

Jackson was a noted teacher at the Ontario College of Art in Toronto and later, the Banff School of Fine Arts. He published an autobiography in 1958, A Painter's Country: The autobiography of A. Y. Jackson (A Clarke Irwin Canadian paperback)
, dedicated to J. E. H. MacDonald and his work to create a Canadian school of painting.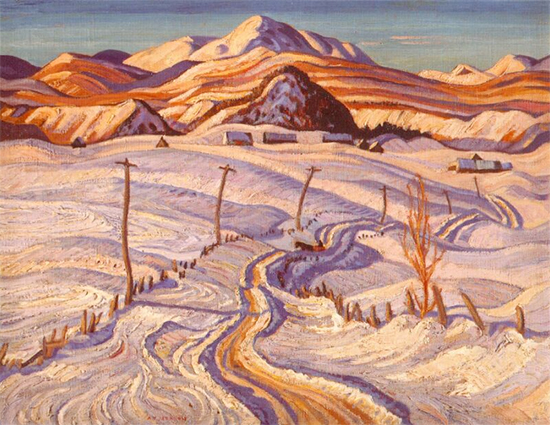 Winter Morning, Charlevoix County 1933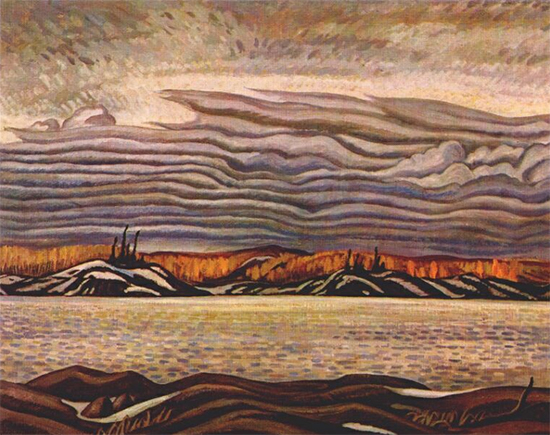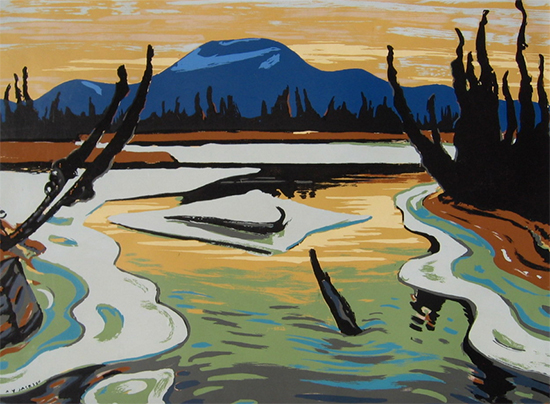 Algoma in November 1935 Smart River (Alaska) 1945

Arthur Lismer (1885-1969)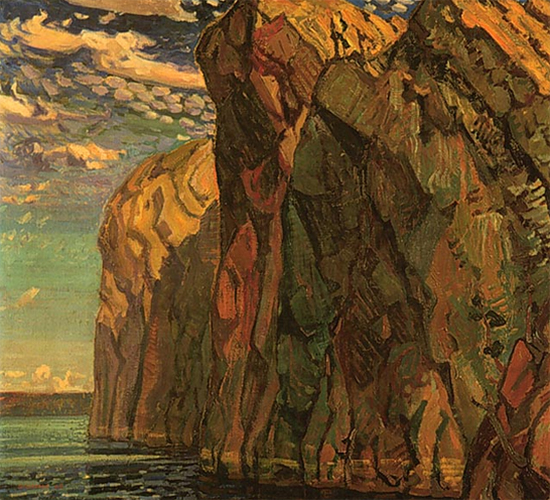 The Big Rock, Bon Echo 1922
Lismer was born in England, and, like Frederick Varley, began his art education at the Scheffield School of Arts and later at the Académie Royale in Belgium. He moved to Canada at age 26 and began work at Grip, Ltd. design firm.

Lismer dedicated a great part of his life to teaching, first as Principal of the Victoria School of Art and Design (now the Nova Scotia College of Art and Design) in Halifax, later as Vice Principal of the Ontario College of Art and Supervisor of Education at the Art Gallery of Toronto (now the Art Gallery of Ontario). He worked in childhood art education in Canada, South Africa and New York and taught at the Art Association of Montreal (now the Montreal Museum of Fine Arts.

Lismer was commissioned as an official war artist during World War I mostly recording returning troop ships and other harbor defense activities in Halifax, Nova Scotia.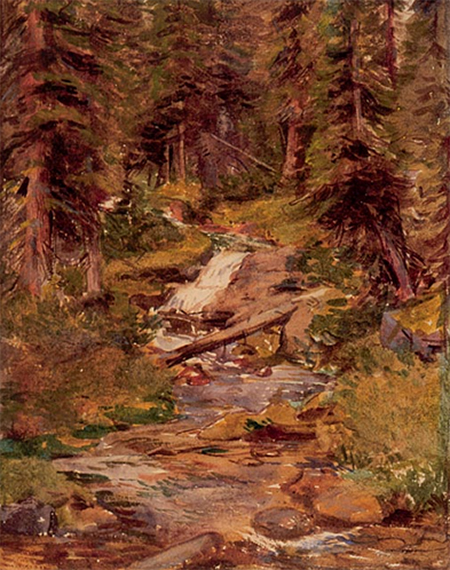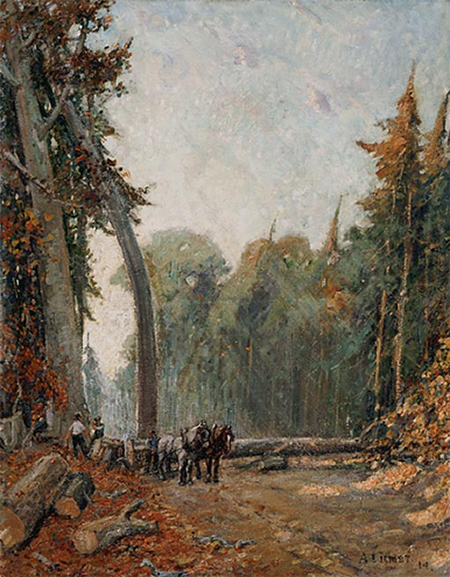 Algonquin Park 1914 Road Through the Bush 1914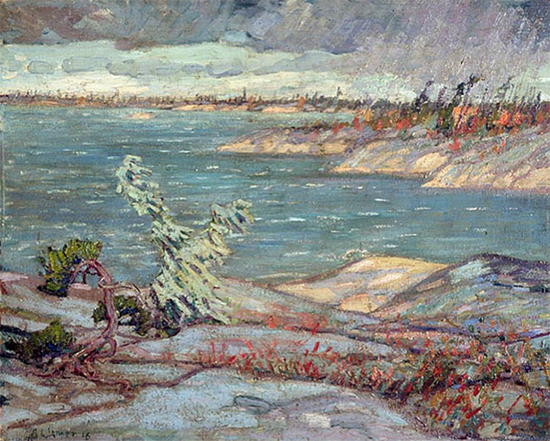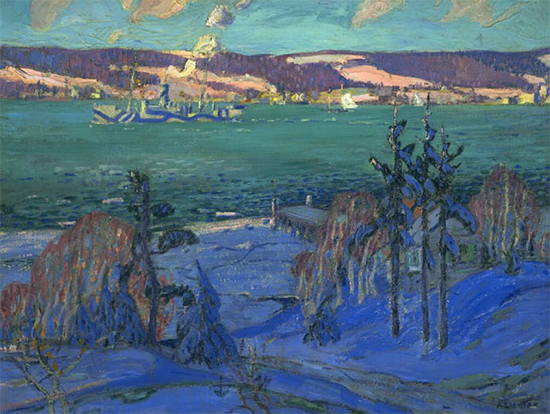 A Westerly Gale, Georgian Bay 1916 Winter Camouflage 1918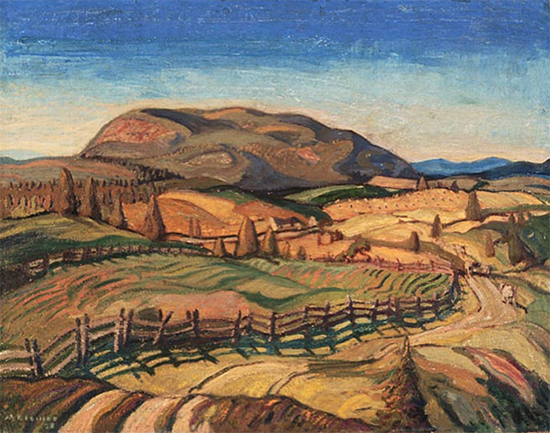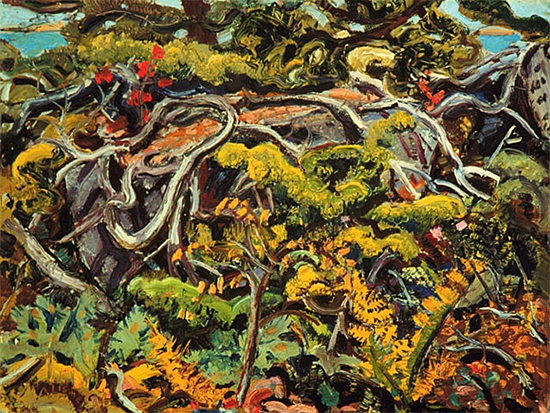 Quebec Uplands 1926 Undergrowth 1946

Lawren Harris (1885-1970)

Lawren Stewart Harris came from the wealthy family of the Massey-Harris industrialists. At age 19, he studied in Germany and became involved in theosophy, a branch of religious philosophy that would later inform his artwork.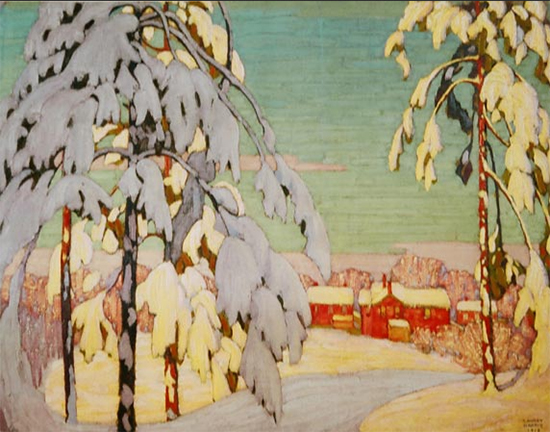 Winter Landscape with Pink House 1918
After returning to Toronto, Harris met and painted with several of the like-minded artists who would go on to form the Group of Seven. With his friend, Dr. James MacCallum, Harris financed the construction of a building in Toronto that would provide studios to artists with inexpensive or free space. With fellow artist, J. E. H. MacDonald, he financed train trips for the Group of Seven to the Algoma region and to the North Shore of Lake Superior.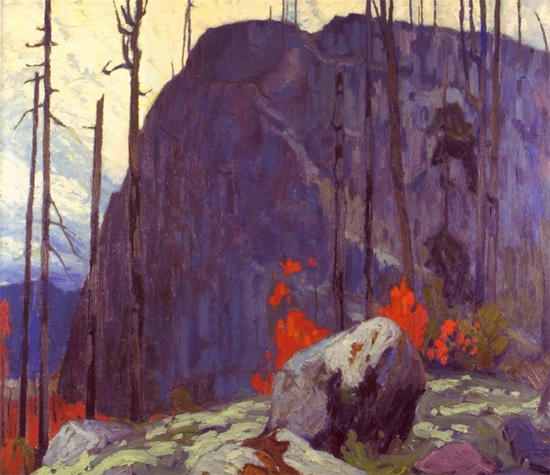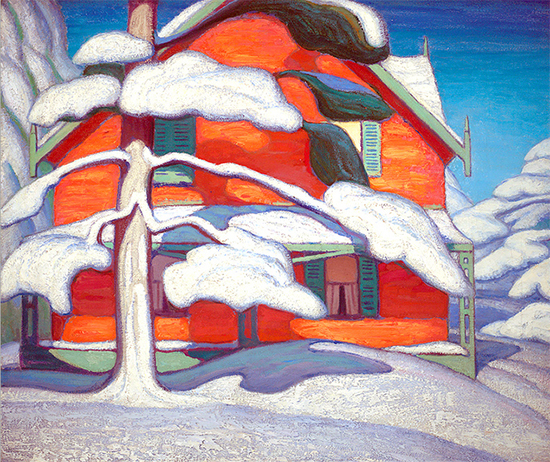 Algoma Hill 1920 Pine Tree and Red House, Winter City 1924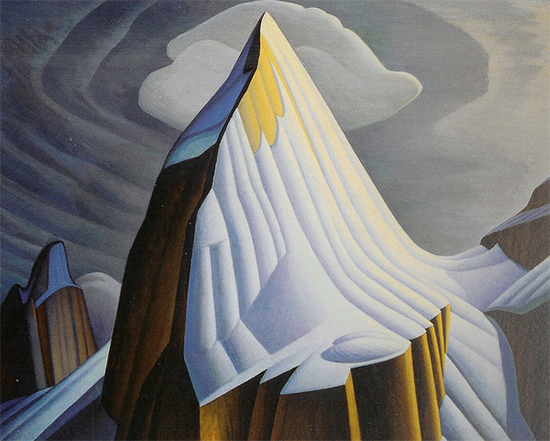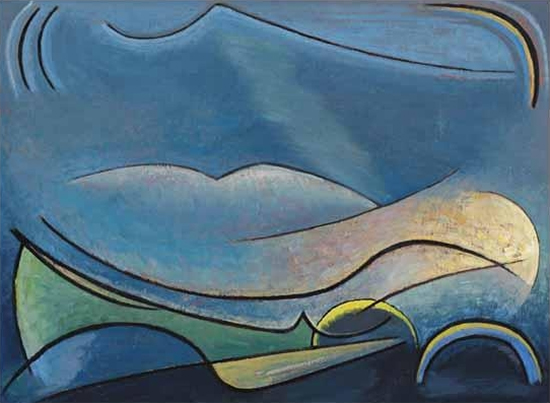 Mt. Lefroy 1930 The Spirit of Remote Hills 1958

At 49, Harris moved to Hanover, New Hampshire where he lived for three years, before moving to Santa Fe, New Mexico. He later returned to Canada living in Vancouver until his death. While in Santa Fe, Harris helped to found the Transcendental Painting Group, a group of artists prescribing a spiritual form of abstraction.

Harris's work became more abstract over the course of his career. His paintings have brought the highest amounts of the Group of Seven at art auctions today. One of the many books writen about his work is: The Idea of North: The Paintings of Lawren Harris by Martin, Burlingham, Hunter and Quinn.

Frank (Franz) Johnston (1888-1949)

"It took us out into the open air to look at Canadian landscape as distinct from European landscape. It necessarily meant that each was free to look at the landscape which attracted him..."
- Frank Johnston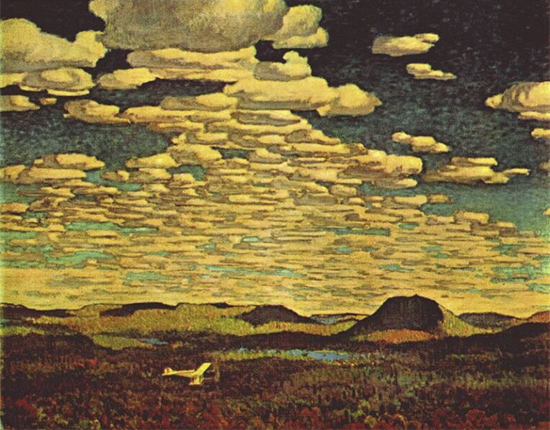 The Fire Ranger 1920
Francis Hans Johnston (also known as Franz) was born in Toronto. He apprenticed as a jewelry designer and later worked as a commercial artist while studying in the evenings at the Central Technical School and the Ontario College of Art. He went on to study at the Pennsylvania Academy of Fine Art and to work as a designer at Carleton Studios in New York. He returned to Toronto when he was 27 to work for the commercial design firm, Grip Ltd.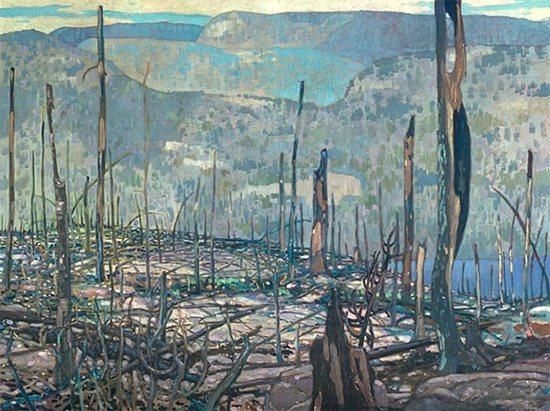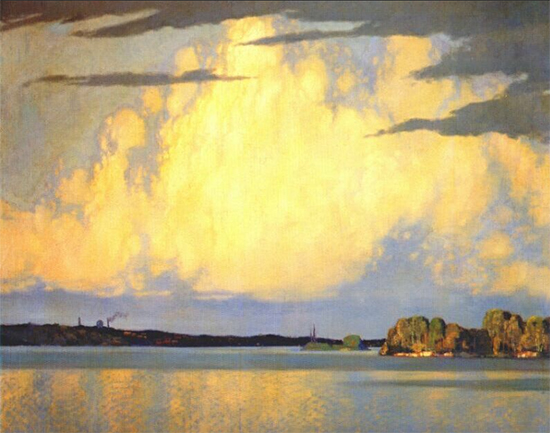 Fire Swept Algoma 1920 Serenity Lake of the Woods 1922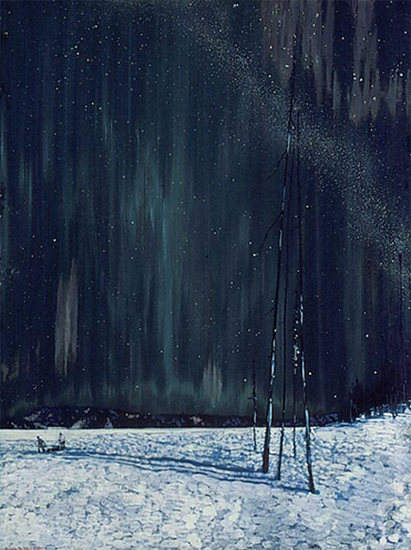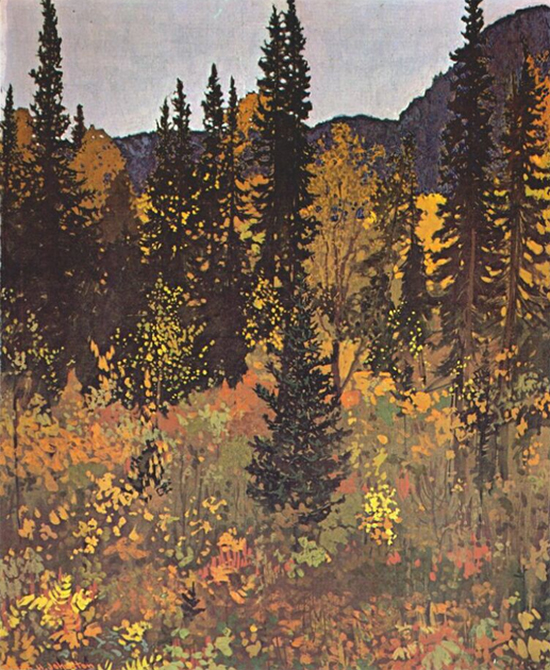 A Northern Night 1917 The Dark Woods Interior 1921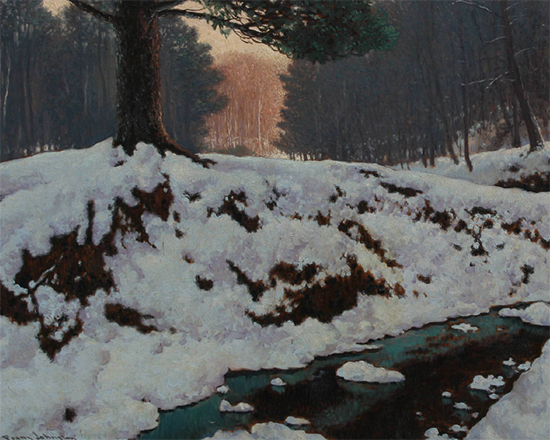 The Shadowed Valley (no date)
Johnston traveled with the other artists of the group on painting trips throughout Canada, often working in tempera. He exhibited with the Group of Seven only once, later resigning from the group in order to mount his own independent exhibitions. He left Toronto to accept the position as Principal of the Winnipeg School of Art and Director of the Gallery returning to Toronto in 1924 to teach at the Ontario College of Art and eventually settled in Wyebridge, Ontario.

Johnston was a prolific artist. His style became increasingly realistic throughout his career. He attained great financial success in his lifetime.

Franklin Carmichael (1890-1945)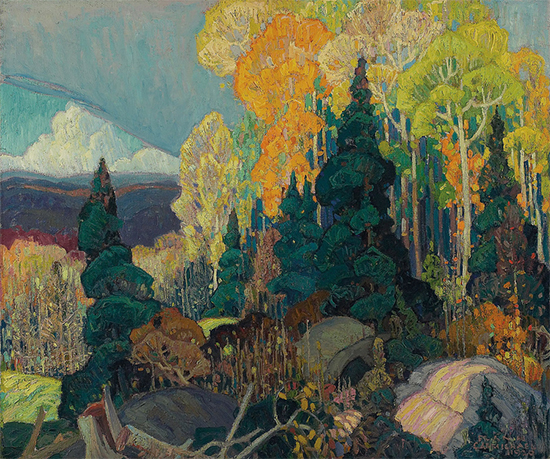 Autumn Hillside 1920
Franklin Carmichael also apprenticed at the design firm, Grip Ltd. in Toronto while studying at the Ontario College of Art and the Toronto Technical School in the evenings. He traveled to Belgium to study at the Académie Royale des Beaux-Arts.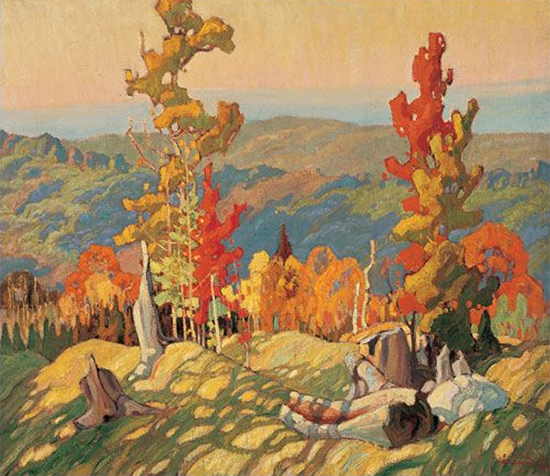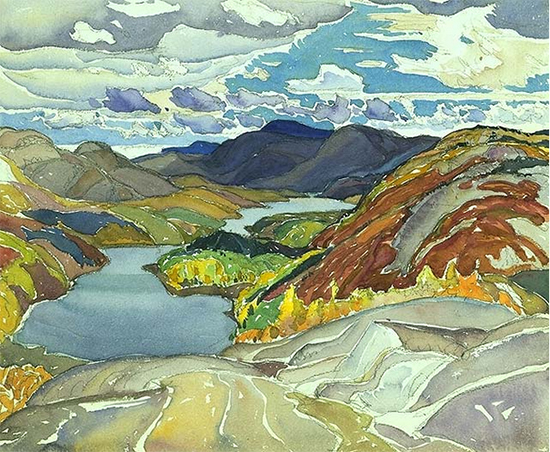 Autumn in the Northland (no date) La Cloche Panorama 1929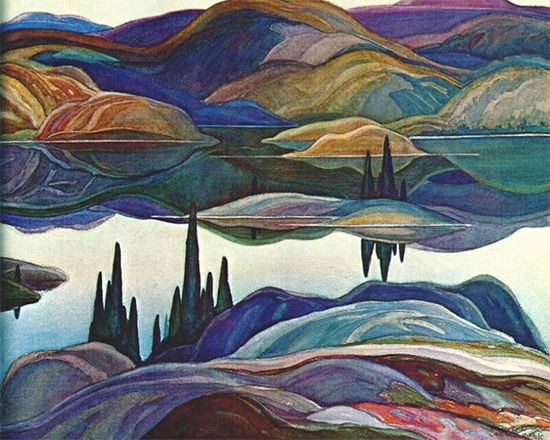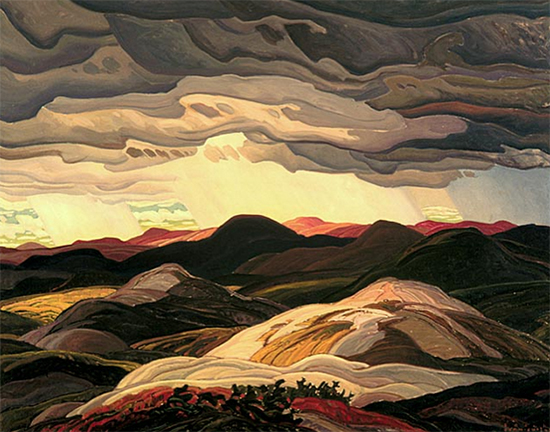 Mirror Lake 1929 Snow Clouds 1938

Carmichael painted in oil, but is known most notably for his watercolor work, co-founding the Ontario Society of Painters in Watercolour in 1925 and the Canadian Group of Painters in 1933. Carmichael taught at the Ontario College of Art.

Six of the Group of Seven members are buried at the McMichael Canadian Art Collection in an area of consecrated land. They have been honored by the government over the years with their work reproduced on postal stamps and silver coins.

Later members included: A. J. Casson (1898-1992) who was asked to join in 1926; Edwin Holgate (1892-1977) who became a member in 1930; and LeMoine Fitzgerald (1890-1956) who became a member in 1932. Emily Carr was also associated with the Group, but was never an official member.

*Some of the artwork of the Group of Seven may be protected by copyright. It is posted here in accordance with fair use principles.