The Sphinx of Delft

Perspectives No. 443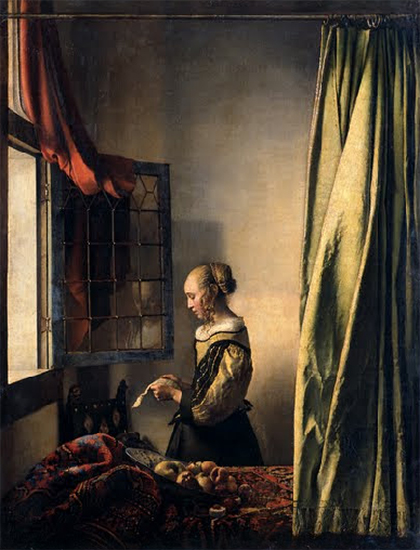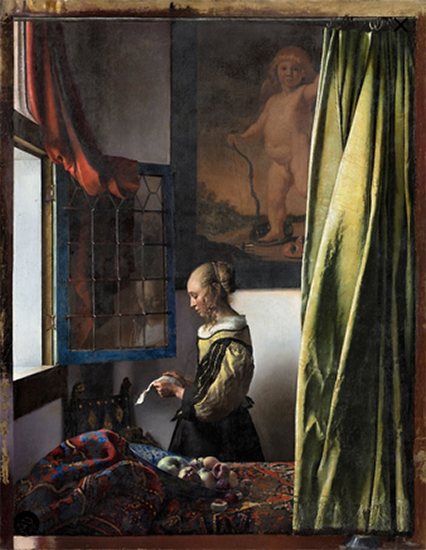 Girl Reading a Letter by an Open Window ca. 1657-59 Johannes Vermeer
Only 34 paintings have been authenticated as being works painted by the enigmatic Johannes Vermeer (1632-1675), with several others still not fully authenticated. We have only these few pieces to tell us the story of an artist who died at the young age of 42, leaving his wife and eleven children in debt.

Although he was moderately recognized in Delft and The Hague during his short life, Vermeer's work fell into obscurity after his death and was only rediscovered in the mid-19th century. Because of the lack of information about his life, French journalist and art critic Théophile Thoré-Bürger nick-named him "The Sphinx of Delft".

Today, Vermeer's paintings are valued in the tens of millions of dollars. Girl Reading a Letter at an Open Window is thought to have been painted between 1657 and 1659. In 1979, through X-ray scanning, it was discovered that Vermeer had painted a painting within the painting - an image of a portrait of Cupid on the wall above the girl. Vermeer often altered his canvases, changing or deleting imagery, so this discovery was noted, but thought to have been an intentional change in the work painted by Vermeer himself.

It was only upon the restoration of the canvas at the Gemäldegalerie Alte Meister in Dresden, Germany, that it was discovered that a layer of dirt was on top of the varnish over the image of Cupid but beneath the overpainting. That, along with other tests performed to understand type of paint and varnish used in the overpainting, confirmed that Vermeer had not altered his painting to eliminate the image of Cupid. It was established that the alteration had to have been done decades after his death.

Thus, the tedious process of removing the paint layer to bring the painting back to its original imagery, began by expert restorers, removing only a few square millimeters a day under a 120x microscope with a fine medical scalpel. It took two and a half years to complete the restoration. The fascinating process is described in detail at the museum's website: https://gemaeldegalerie.skd.museum/en/research/vermeer.

Photographs courtesy of Google Arts and Culture and the Gemäldegalerie Alte Meister.