The Marvelous Marmottan

Perspectives No. 392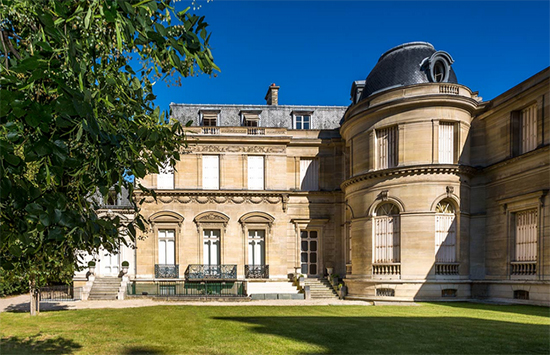 The Musée Marmottan Monet in Paris (photo courtesy Musée Marmottan)

The Musée Marmottan Monet is not located near the Louvre or the Musée d'Orsay or the Orangerie and therefore sometimes can be overlooked in a hurried trip to visit the famous art museums of Paris. But the former hunting lodge of the Duke of Valmy is only a 15-minute Uber ride away from the heart of the Paris cultural downtown—and, its collections are spectacular.

The house sits at the edge of the Bois de Boulogne. The Marmottan family, who bought the house in 1882, avidly collected furniture, sculptures and paintings. They eventually bestowed the home and their collections to the Académie des Beaux-Arts which opened it in 1934 as the Musée Marmottan.

In 1957, the daughter of Dr. Georges de Bellio (doctor to many of the Impressionists, including Monet and Renoir), bequeathed her father's collection to the museum. In 1966, Monet's son, Michel Monet, gave the museum his collection of his father's work. This established the Musée Marmottan as having the largest collection of Monet paintings anywhere. Another substantial donation of art came from Nelly Duhem in 1985. Duhem was the daughter of artist, Henri Duhem and gave the museum her father's large collection of Impressionist and Post-Impressionist paintings.

Upstairs is another jewel—a permanent collection of the paintings of Berthe Morisot. Granted to the museum by the artist's descendants, the collection houses 75 watercolors, 25 oil paintings and numerous pastels and drawings. How remarkable to see this large body of work by the "Grande Dame of Impressionism".

The Monet Galleries, Musée Marmottan Monet
(photo courtesy Musée Marmottan)
The Marmottan's collections upstairs alone would be worth the trip. What awaits downstairs, in what had been the basement level, is a revelatory artistic experience unto itself. There, a special exhibition space was built for the Monet collection. Its large open spaces were thoughtfully designed to allow visitors to immerse themselves in the impressive impressionistic canvases. These are the paintings Monet kept for himself and his family and did not sell. The paintings are presented chronologically so that visitors can experience Monet's evolving impressionistic vision. Large benches are thoughtfully positioned for contemplation in this perfectly lit and uncrowded space. Seeing these rare and masterful paintings up close opened our eyes and minds to the incredible achievement this body of work still represents today. It is awe-inspiring. Plan to spend, as we did, hours in the Monet rooms alone.

It may be a bit off the beaten track, but the Marmottan should not be missed!