Temperature's Rising
Perspectives from The Artist's Road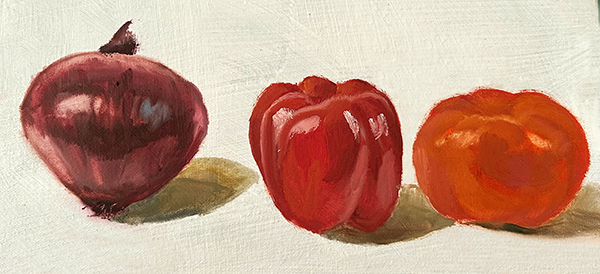 Onion, Pepper, Tomato Color Temperature Exercise in Oil

There is no more satisfying thing to hear from students than the exclamation that they are seeing differently in everyday life—noticing color shifts, lights and darks, warms and cools, that they never noticed before.

Color temperature changes are subtly all around us. There are warmer and cooler versions with all the primary colors. When we begin teaching painters, each lesson starts with one primary color. We explore objects which illustrate the temperature changes within that primary. This is perhaps the most effective way to learn how to mix those color temperatures individually and in so doing become more sensitive to the color temperature in everyday objects.

Starting with red, this is an example of a lesson in mixing cool to warm, starting with (left to right) the predominantly Permanent Alizarin Red onion. In the middle is the Cadmium Red Medium pepper with a little Alizarin in its deeper shadows, and, on the right, the warmest of the three—the Cadmium Red Light tomato.

Members, be sure to use the Search window on the website to type in key words for painting topics you are interested in on The Artist's Road.