The Taos Six and the

Taos Society of Artists




Haystack, Taos Valley Ernest L. Blumenschein *
Taos today is well-known as an international center of American art due to the efforts by a small group of six artists to establish Taos as an art colony just after the turn of the 20th century. The first artist to permanently settle in Taos in 1898 and the founder of the Taos Society of Artists was Bert Geer Phillips. However, Joseph Henry Sharp was the man who was largely responsible for bringing the charms of the area and its native population to the attentions of the artists with whom he studied in Paris, namely Phillips, Ernest Blumenschein, and eventually, E.I. Couse. Sharp led an amazing life.

Joseph Henry Sharp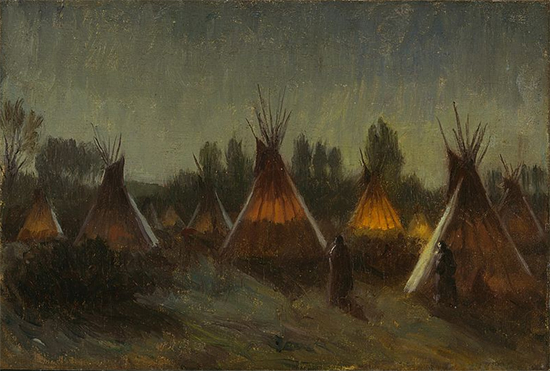 Shadows in the Night ca. 1906 Joseph Henry Sharp * (fair use)

Joseph Henry Sharp (1859 - 1953) was the first European-educated American artist to visit Taos, New Mexico. He traveled there with his friend and painter John Hauser in 1893. Born in Bridgeport, Ohio in 1859, Sharp, became deaf from a swimming accident which nearly killed him when he was a boy. Although he taught himself to read lips, his increasing deafness finally forced him to leave school altogether. At the age of fourteen, he was accepted into the McMicken School of Design in Cincinnati, where he moved to live with his aunt.

Undaunted by his struggles, Sharp studied and managed to save enough to eventually travel to Europe to continue his studies at the Royal Academy of Fine Arts in Antwerp, Belgium.

In 1883, at age twenty-four, Sharp decided to explore what was left of the old west on a trip to Albuquerque and Santa Fe, New Mexico and Tuscon, Arizona, sketching the landscapes and native peoples along the way. He then traveled to California from where he could get passage on a boat up to the Washington Territory. There, he encountered numerous Native American tribes in Washington and Wyoming - the Umatilla, Klikitat, Shoshone and Ute tribes in particular. All the sketches from these travels served as the basis for his first Native American portraits. Shortly after returning east from that excursion, he decided that he needed more education, and set off to study in Germany and Italy, but, actually wound up spending most of his time in Spain studying the work of El Greco, Velazquez and Goya.

In 1885, still seeking more European training, he traveled to Munich with another Cincinnati artist, John Hauser, to study at the Royal Academy of Fine Arts. While there, he also studied at the Academie Julian in Paris and with Frank Duveneck for a while in Italy.

Back in Cincinnati in 1890, he and twelve other local artists formed the Cincinnati Art Club. By 1892, he married and was teaching at the Cincinnati Art Academy while painting portraits of local society. In 1893 he got a commercial illustration assignment from Harper's Weekly which would change the course of his life and career. The commission was to illustrate Indian life at the Taos Pueblo in New Mexico. He set off in the company of his old friend John Hauser, quickly falling in love with the light, the landscape and the unspoiled traditional lives of the native peoples of the area. The work he produced from this trip was very well received and led to other assignments from many publications. However, he still felt a lack in his education, so he returned to L'Ecole des Beaux Arts and Academie Julian in Paris to study for an additional two years. This was a fateful decision for the future of American western art, for it was there that he met Ernest Blumenschein, Bert Phillips and E. Irving Couse. It was not long before his enthusiasm for the West in general, and Taos, in particular, had infected these young artists. Sharp's drawings added life to his words. Blumenschein and Phillips resolved to make their own trips to Taos when they returned home in 1898.

We would think that with all his enthusiasm for the area, Sharp would return there as soon as he could. He did not. Instead he returned to Cincinnati, taught art and illustrated for publications. In another one of his fateful decisions, he decided to visit the battlefield of the Little Big Horn in Montana, camping there while painting portraits of the Plains Indians. By 1900, he mounted a traveling exhibition of these portraits which went to Washington, D.C. and Paris. Not only did the Smithsonian Institution buy eleven of the portraits, but President Roosevelt took an interest in Sharp's work and commissioned him to paint portraits of the two hundred surviving Native American warriors from the battle. At the President's urging, in 1905, the U.S. Indian Commission of the Crow Agency, Montana, built and furnished a cabin for Sharp on government land at Little Big Horn so he could work there rent-free while completing the work! Sharp named it Absarokee Hut and he and his wife Addie furnished it with Native American artifacts and crafts that they had collected while there. (The Sharps were allowed to buy the cabin outright in 1922.)

In 1907 another turning point was reached in Sharp's career when Phoebe Appleton Hearst (mother of William Randolph Hearst) suddenly purchased eighty of his Native American portraits all at once. Sharp was suddenly financially independent. He quit teaching and moved to Absarokee Hut full time to paint. Hearst then commissioned another seventy-five portraits to include members of every major Great Plains tribe. Sharp continued to spend some summers in New Mexico and by 1909 he decided to buy an old chapel in Taos for use as a studio near the home of his old friend from Paris, E. Irving Couse. He moved there permanently in 1912. During that period, the strong light and colors of New Mexico beckoned him to paint outside, so he changed his academic working methods and adopted plein air painting for the first time.

In earIy 1915, he joined with Bert Phillips, Ernest L. Blumenschein, E.I. Couse, W. Herbert Dunton and Oscar E. Berninghaus to form the Taos Society of Artists. The Society's mission as a sales cooperative was to promote the work of the Taos artists by creating traveling exhibitions which might increase sales and exposure and perhaps, put Taos on the map internationally as a recognized art center. Among them, they certainly had the talent and experience to achieve just that, with Sharp being the most well-known and accomplished senior charter member. Always patient and witty, he was widely loved and respected. Moreover, he was one of the American West's most important historians, and his legacy of thousands of paintings and Native American portraits are a window into America's past. He continued to paint and travel the world until his death in Pasadena, California in 1953 at the age of ninety-three. During his lifetime, he produced around 10,500 works of art in oil, pastel, watercolor and etchings and monotypes. 7,800 of these works are of Native American subjects including 3,200 portraits. His house and studios in Taos are on the National Register of Historic Places.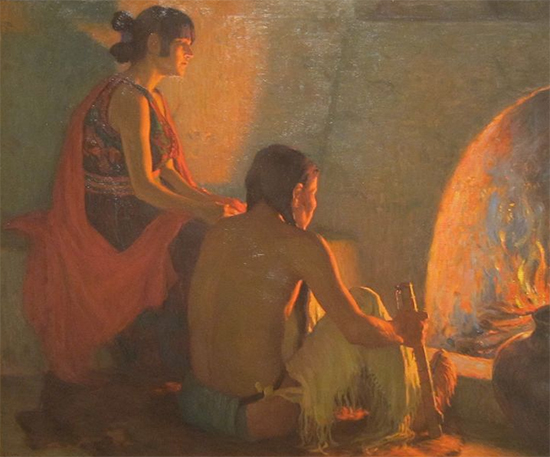 Fireside ca. 1900 Joseph Henry Sharp * (fair use)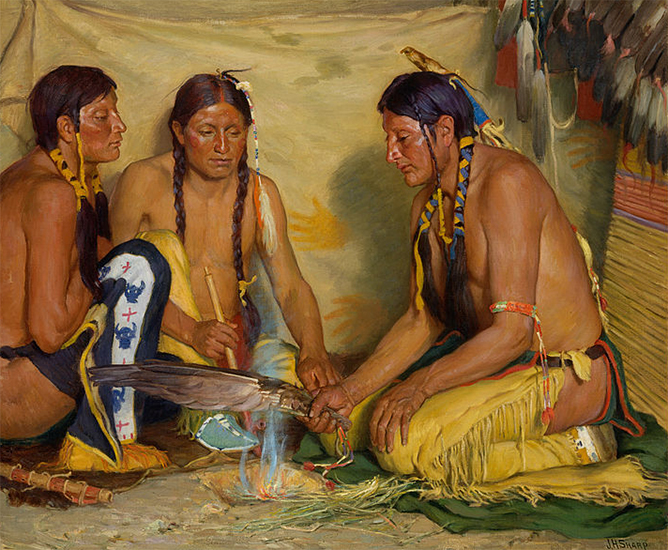 Making Sweet Grass Medicine, Blackfoot Ceremony Joseph Henry Sharp * (fair use)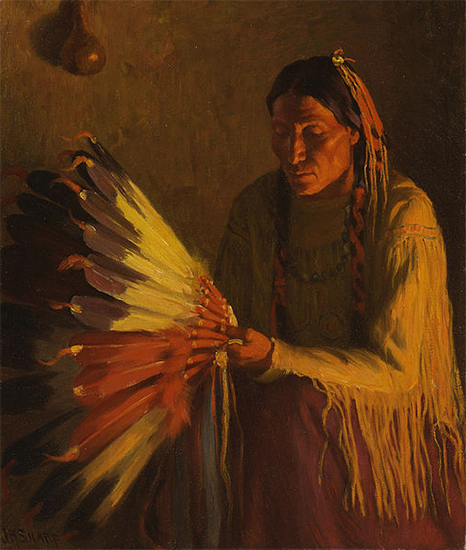 The War Bonnet ca. 1904 Joseph Henry Sharp * (fair use)
Bert Geer Phillips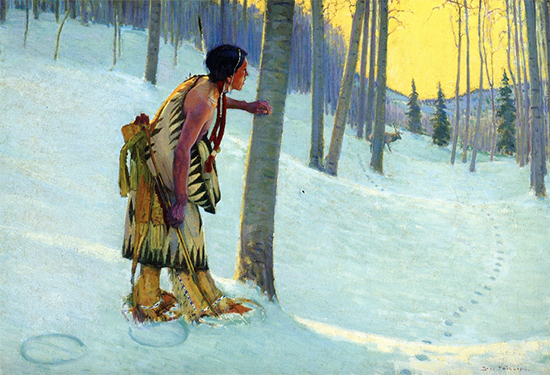 The Elk Hunter Bert Geer Phillips * (fair use)


Bert Phillips (1868 - 1956) was born in Hudson, New York. As a child, he was intensely interested in stories of the American frontier and any adventure involving Indians. He was always painting and eagerly sought out training at a young age. At sixteen, he left home to study at the Art Student's League in New York City and the National Academy of Design. He moved to Europe in 1894 to study ultimately at the Academie Julien, where he met and became friends with Joseph Henry Sharp and Ernest L. Blumenschein. It was to be an eventful meeting for the young artists, for they soon fell under the spell of Sharp's enthusiasm for the American West as a natural subject for art. They resolved to make a trip together as soon as they could. Phillips and Blumenschein returned to New York in 1896. They shared a studio while producing work for the illustration market. In the spring of 1898, Phillips agreed to join Blumenschein on a trip west to Mexico. Their first stop was Denver, where they bought a wagon, horses, art supplies, camping provisions and a revolver before setting off for Mexico.
By the time they reached northern New Mexico in September, summer rains had ruined the dirt roads so badly that a wheel broke on their wagon. Fortunately, they were only three miles from Taos. Upon a flip of a coin, Phillips stayed with the wagon as Blumenschein set off for town with the broken wheel. After three days, Blumenschein returned so excited by the friendly people, light and landscape of Taos that Phillips decided they should modify their travel plans to include Taos. Once there, Phillips and Blumenschein decided to stay. They sold their horse and all their equipage and immediately set up studios to paint the inspiration around them. At the time, there were few artists working in Taos and no art galleries, so they sold work out of their studios, a tradition that continues today.

A few months later, Blumenschein decided to return to New York to resume his illustration career, but Phillips had made up his mind to settle permanently in Taos. Phillips met and married Rose Martin there in 1899. The primary focus of his work became the native people of the New Mexico pueblos, painted in a traditional style. He was meticulous about depicting the proper dress and customs and loved to pose his subjects near firelight. He dreamed of a Taos art colony or creative collective of the finest painters in the country—the goal being to establish Taos as an international center of art. Through correspondence, he shared this idea with his friend Blumenschein. Phillips was a tireless and enthusiastic promoter of the natural beauties of the land and its people and by 1915, there were over one hundred artists working there. Phillips founded the Taos Society of Artists that same year with Blumenschein, Sharp, E. I. Couse, Herbert Dunton and Oscar Berninghouse as founding members. This group was initially called the Taos Six.

Phillips continued to paint his native friends in dimly lit settings, a practice which strained his eyesight so badly that he began to lose his vision. Eventually he was forced to quit painting to rest his eyes and avoid total blindness. He loved nature and soon gained employment as the first forest ranger of the Taos National Forest, which he himself was instrumental in establishing in 1906. He died in 1956, leaving a considerable legacy in art and his founding of one of the most important American art movements in history.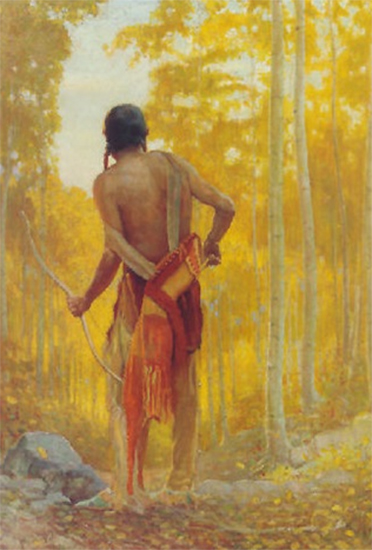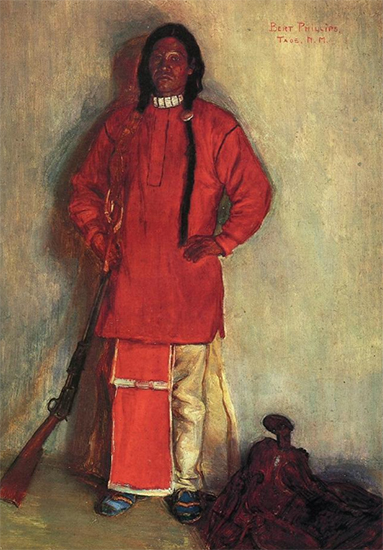 Hunter in the Woods The Indian Hunter of Taos ca. 1900
Bert Geer Phillips * (fair use)
Ernest L. Blumenschein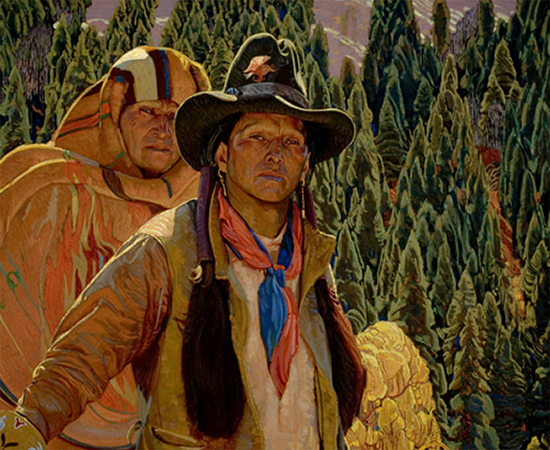 Star Road and White Sun 1920 Ernest L. Blumenschein * (fair use)


Ernest Blumenschein (1874 - 1960) was born in Pittsburgh, Pennsylvania, but upon his mother's death four years later, moved with his father to Dayton, Ohio. His father was a musician, composer and the director of the Dayton Philharmonic, so young Ernest grew up surrounded by and playing music himself. Even though he showed an interest in art, his father pushed him in the direction of music, hoping that he would become a professional musician like himself. After graduating from high school, the tremendously talented Ernest accepted a music scholarship in violin at the Cincinnati College of Music.

While in Cincinnati and free from his father's oversight, Blumenschein decided to explore his interest in art by taking a class in illustration at the Cincinnati Art Academy. He so enjoyed the experience he became convinced that his future career was that of an artist and soon switched his studies from music to art. In 1892, he moved to New York and began studying earnestly at the Art Students League, supporting himself by playing violin in New York Symphony. However, he didn't just play violin with this accomplished Symphony—he played first violin! Here was a young 18 year-old art student, sitting in the most prestigious chair—one aspired to by the very best professional violinists, leading one of the major orchestras in the country. And, keep in mind that he was only doing it to support his art studies! The story goes that when the conductor at the time, the world famous Czech composer Anton Dvorak, heard Blumenschein try out for the orchestra by playing a D minor scale, he appointed him first violin on the spot. Even with such an encouraging and prominent position in the Symphony, Blumenschein had no intention of making a career in music. That's determination.

It wasn't long before he understood the need to travel to Europe to study academic painting. In 1892 he made his first trip to Paris to study academic figure painting at Academie Julien. It was there that he met Bert Phillips, E. I. Couse and most fatefully, Joseph Henry Sharp. Sharp regaled the other art students with stories and sketches of the West and Blumenschein became convinced of the need to see it for himself. Upon his return from Paris to New York, he took a studio with his friend Bert Phillips and embarked on a very successful illustration career. He worked for all the top magazines of the day including Harper's, Century, Scribner's and McClure's. It was an assignment for McClure's in early 1898 that first sent him west to Arizona and New Mexico—a trip that convinced him he needed to return just to paint pictures of the area. By spring of that same year, he and Phillips had saved enough money to make their famous trip toward Mexico. After the breakdown of the wagon and the coin toss, Blumenschein rode alone through the New Mexico landscape toward Taos, soaking up the inspiration. As told in his own words: "No artist had ever recorded the New Mexico I was now seeing. No writer had ever written down the smell of this air or the feel of that morning's sky. I was receiving . . . the first great unforgettable inspiration of my life." From that moment on he set on a course to stay as long as he could in Taos. Phillips and Blumenschein opened their studios in Taos and began to explore their newfound inspiration.

Blumenschein only stayed in Taos for three months, returning to his successful illustration work in New York. He had plenty of illustration assignments and no trouble supporting himself while there. He returned twice to study in Paris, once for a protracted stay (1902 - 1909). He continued his illustration work while there, illustrating books by Jack London, Willa Cather and Joseph Conrad. About this time he met another successful award-winning painter, Mary Shephard Greene. They were married in 1905. Greene exhibited widely in Europe and even after their return to New York in 1909. They both taught at Pratt Institute. Blumenschein continued to create illustrations during the fall and winter, but he spent every summer in Taos. Mary would not accompany him, possessing an unfounded terror of American Indians.

From 1909 until 1919, the two remained working in New York. Ernest's painting career took off with one success after another, winning major awards and medals along the way to his election as an Associate to the National Academy. After receiving the considerable proceeds from an inheritance, Mary finally agreed to move the family to Taos in 1919. The decision was made in large part because their daughter was in poor health and it was hoped that the dry air would help her. They bought a large property and settled in comfortably.
Blumenschein was known to hold very high artistic standards and to be uncompromising with his work, so much so that he would destroy any painting that he felt missed the mark and even repaint finished canvases years later.

This amazing man of high intellect also had passions for tennis and bridge, often traveling to and winning tennis tournaments around the country. His eager eye never stopped working. He remarked, "There was never a tennis trip that did not yield a picture". He also traveled around the country to play in bridge tournaments, which he felt helped to improve his memory. During the 1920s he won awards and honors for his work from The Gilcrease Foundation in Oklahoma; the Fort Worth Art Museum; the City of Philadelphia; the Brooklyn Museum, New York; the National Arts Club; and the Chicago World's Fair. The highest honor that an American artist could receive at the time was to be elected a full member of the National Academy, an honor he achieved in 1927. Over the next 20 years his work sold very well. He continued to travel across the United States and throughout Europe, Argentina and New Zealand. He remained in Taos for the rest of his life, dying in 1960—the most famous resident of Taos and one of the most important painters in American history.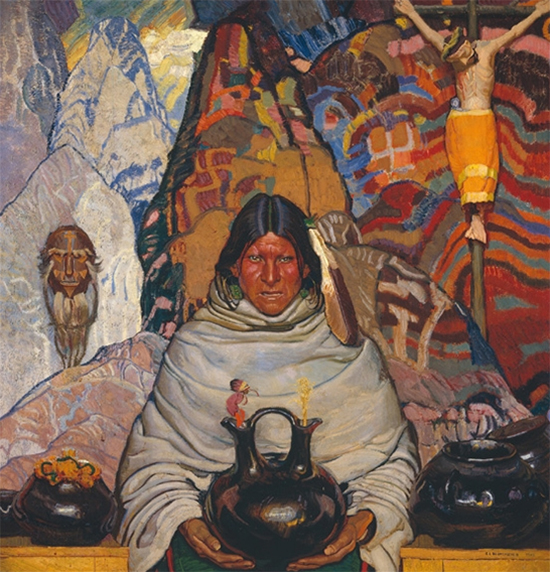 Superstition Ernest L. Blumenschein * (fair use)



The Gift Ernest L. Blumenschein * (fair use)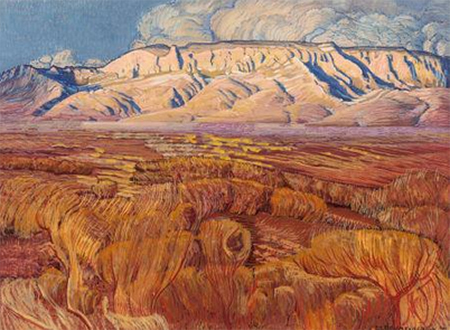 Sandia Mountains 1949 Ernest L. Blumenschein
Eanger Irving Couse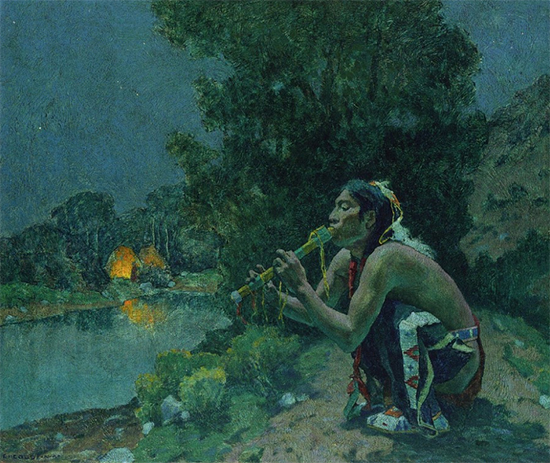 Flute Song, Moonlight 1927 E. Irving Couse (PD)
Born in Saginaw, Michigan, E. Irving Couse (1866 - 1936) was always fascinated with native people. As a boy he drew members of a Chippewa tribe who lived near his home. A self-motivated young artist, he painted houses to earn enough money to take courses at the Chicago Art Institute when he was only 16. After three months studying there, his money ran out and he returned to Saginaw to earn enough money to enroll in the National Academy of Design in New York City. He received an award from the Academy in every one of the three years he studied there In 1887, encouraged by his successes, Couse enrolled in the Academy Julien at L'Ecole des Beaux Arts in Paris.

In Paris, Couse studied under Adolphe Bouguereau and Robert Fleury. Again, he won awards in every student exhibition he entered. While there, he met his future wife, a young American illustrator named Virginia Walker. He also met his future mentor, Joseph Henry Sharp. After his studies, Couse painted French countryside scenes which sold well both in France and the United States. Because he wanted to paint a major American Indian picture for the Paris Salon, his wife convinced Couse to move to her family's ranch in Washington where he could find native models. Virginia Couse posed for this painting, titled The Captive, along with a local Klikitat Indian. It was Couse's first painting depicting an Indian subject. It was accepted into the Paris Salon of 1892 and now hangs in the Phoenix Art Museum.

In 1893 the couple moved to the village of Etaples on the coast of Picardy to join the art colony there. During this three year period Couse painted the local scenery and fisher folk and began to paint portraits. Their son Kibbey was born there. The Couses then returned to New York to establish their winter exhibition studio. During the summers they painted in Washington, Connecticut and France. In 1899, Couse exhibited three paintings at the Boston Art Club: A Cayuse Indian, Maternity, and Yakima Encampment. In 1900, they moved permanently to New York City where Couse enjoyed a strong market for his paintings of the Northwest Indians.

In 1902, a conversation with his friend Ernest Blumenschein convinced Couse to visit Taos. Two weeks later, the Couse family traveled there and began a lifetime of summer residency. There, Couse developed the body of work for which he was to become famous. Like his contemporaries, he was intent on trying to capture the last vestiges of the Old West even as it was disappearing. He was especially interested in painting portraits of the members of the Taos Pueblo. In 1891 he held his first solo exhibition there. He created his masterwork and perhaps his most famous painting of a Pueblo Indian in 1909, Elk-Foot of the Taos Tribe, now in the collection of the Smithsonian American Art Museum. In 1911 he was elected to the National Academy of Design and in 1914 painted his first piece for the Santa Fe Railway. The railway was interested in attracting tourist traffic to the Southwest, and eventually purchased twenty-two canvases from him for their yearly calendars.

In 1915 Couse joined with the other five prominent Taos artists to form the Taos Society of Artists, of which he was the first president. The family spent every summer between 1902 and 1926 in Taos, moving there permanently in 1927. Over his lifetime Couse won awards from the National Academy of Design, the Art Institute of Chicago, the Salmagundi Club, the Pennsylvania Academy of Fine Arts, the Boston Art Club, the American Exposition, the Corcoran Gallery, and the Panama Pacific International Exposition. He died in Taos in 1936, but his importance in American western art is still alive today.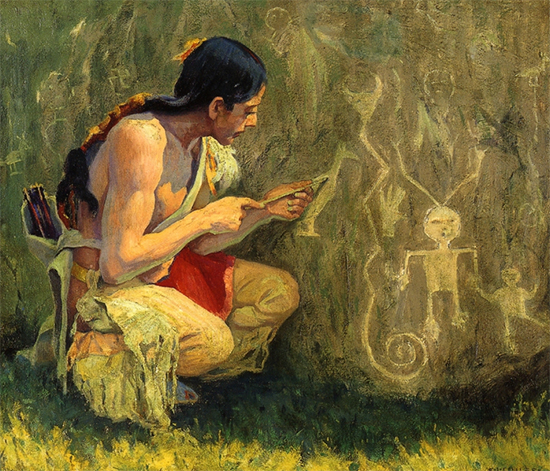 The Pictographs 1919 E. Irving Couse (PD)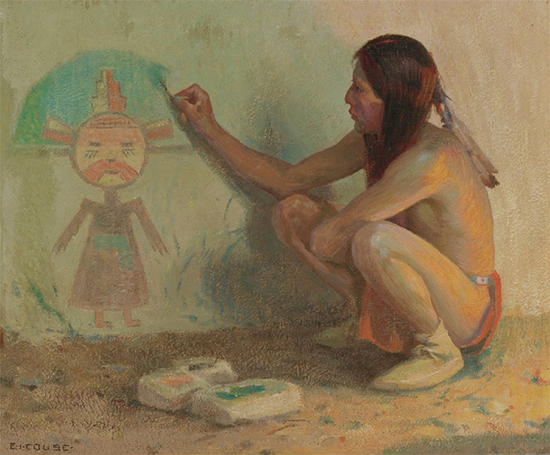 The Kachina Painter 1917 E. Irving Couse (PD)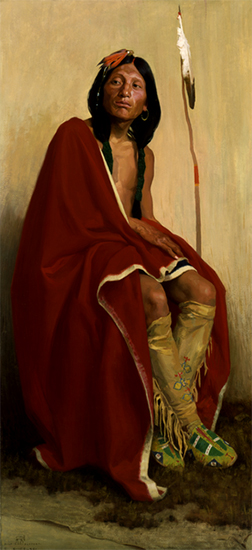 Elk Foot of the Taos Tribe E. Irving Couse (PD)

Oscar E. Berninghaus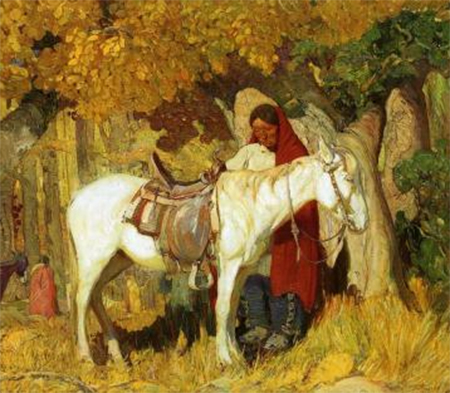 Autumn Days 1924 Oscar E. Berninghaus * (fair use)
Oscar E. Berninghaus (1874 - 1952) was born in St. Louis, Missouri. As a boy, he became interested in watercolor painting while watching his father work in his lithography business. He wandered around St. Louis, sketching local scenes and the bustling river waterfront and began selling his works to tourists and even newspapers. By the age of sixteen, he had started work in a printing house, first as an errand boy, but soon learning the skills required to make lithographs and engravings. While he was working, he attended night classes at the St. Louis School of Fine Arts and later at Washington University with the ambition to create original art.

In 1899, Berninghaus held his first one-man show in St. Louis to establish himself as a professional artist. The same year, he received a major commission for a series of paintings for the Denver and Rio Grande Railroad's travel literature for New Mexico and Colorado. He soon departed for Denver and then south to Antonio, Colorado on a narrow gauge track into New Mexico, sketching along the way. The conductor eventually invited him to ride on top of the car to get a better view! On his way south from Alamosa to Santa Fe, he met Bert Geer Phillips, who had established himself in Taos the year before and who was to become a life-long friend. Phillips was actively trying to recruit artists to live and work in Taos and convinced Berninghaus to travel there with him. Berninghaus stayed a week before moving on, but it was too late. As happened with all of the Taos Six, the magic of Taos and northern New Mexico had captured him for life.

Berninghaus returned to St. Louis and completed his assignment for the railroad. In 1900 he married Emelia Miller continuing to work as a commercial illustrator while dreaming of the landscapes of Taos. For the next few years, the couple spent summers in Taos, where Berninghaus could focus on his painting. In 1903, he had two of his designs selected for the 1904 St. Louis World's Fair medal competition. In 1905, Emilia gave birth to their second son, Julius Charles, who would follow in his father's footsteps and become a well known New Mexico landscape painter. By 1908, Berninghaus had established himself as one of St. Louis's foremost artists. He was a member of the St. Louis Artists' Guild, The Society of Western Artists, and the Salmagundi Club. He had won a major competition at the St. Louis Post-Dispatch and had a one-man exhibition of fifty Western paintings at the Noonan-Kocian Gallery. Berninghaus's success continued with a commission of ten paintings of American historical events by the Anheuser-Busch Brewing Company. His artistic relationship with the Busch family would continue throughout his lifetime. Their patronage helped him not only to maintain studios in the two places, but to eventually move to Taos permanently.

Berninghaus was an expert at creating western paintings from his sketches and his imagination. He did not have access in his St. Louis studio to Native American models, so he relied on the sketch references from his travels and summers spent in Taos. He believed that art was an emotional exercise, not a representational one: "The painter must first see his picture as paint-as-color-as form and not as a landscape or a figure. He must see with his inner eye, then paint with feeling, not with seeing." He often took liberties in this manner with color and form in his work, reducing unnecessary details and using impressionistic strokes whenever he felt they were needed. He became a founding member of the Taos Society of Artists in 1915, was the first chairman and spent more time as secretary than any other member. In 1924 he received his first accolade for his Taos Indian artwork when he received the St. Louis Art Guild prize for his painting Autumn Days. He finally moved away from St. Louis to reside in Taos in 1925.

Berninghaus was an enthusiastic and committed supporter of the Taos Society of Artists and believed that a truly original American Art would come from the work being produced there. Of course, that belief was backed up by lots of dedicated hard work, which resulted in the great success of the traveling exhibitions. This commercial success helped the Society's artists to survive and prosper.

Berninghaus cultivated an extraordinary relationship with some of the Taos Pueblo Indians, one that granted him unparalleled access to the kivas and private Indian ceremonies which few other non-native people ever saw. In exchange for access, the Indians exercised a degree of control over the subject matter which they felt was appropriate to paint and exhibit.

Berninghaus lived in Taos for twenty-seven years, painting hundreds of landscapes and portraits. He eventually knew the area and people so well that he did not need any models or other visual aids—he could simply paint the visions in his head. He died there in 1952. His work has only increased in interest and demand since.

A Field in Taos Oscar E. Berninghaus * (fair use)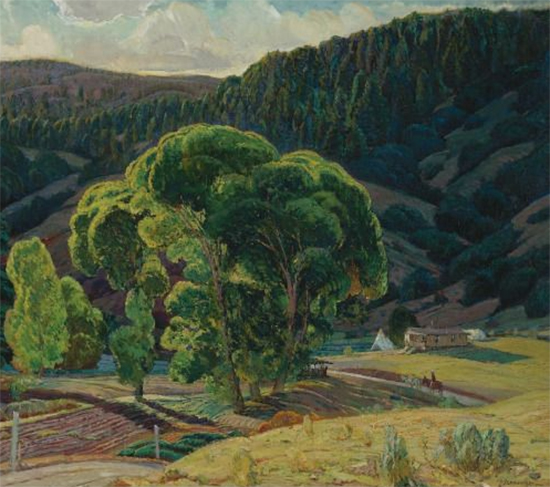 Cottonwood River Ranch ca. 1925 Oscar E. Berninghaus (fair use)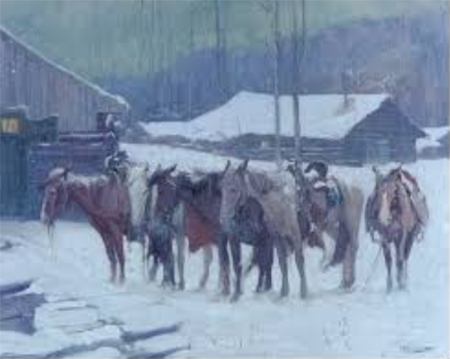 Horses in Winter Oscar E. Berninghaus * (fair use)
W. Herbert Dunton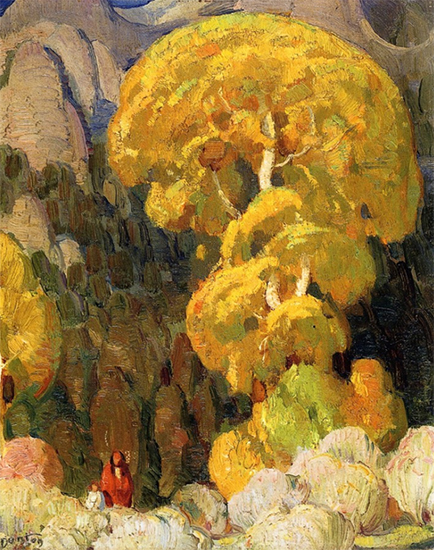 Cottonwood in the Indian Canyon W. Herbert Dunton (PD)
William Herbert Dunton (1878 - 1936) was born in Augusta Maine. He was exposed to nature from an early age by his grandfather, who took him on hunting and fishing expeditions. He soon began to draw what he saw and developed a precise style which proved useful later on in his illustration career. He sold his first drawings to a magazine at age sixteen prompting him to quit school to work as a professional illustrator. He first sought training at the Cowles Art School in Boston and later at the Art Student's League in New York City. During that period he illustrated for Harper's Weekly, Scribner's, Collier's, Woman's Home Companion, Cosmopolitan and others. He also illustrated books, including several of the classic cowboy stories of Zane Grey. His search for subject material to illustrate western life drew him to Montana in 1896. He spent every summer for the next 15 years traveling the West, creating drawings that would serve as the basis for his magazine illustrations. He eventually wearied of the deadlines and demands of editors.

While taking another class at the Art Student's League in 1912, Dunton met Ernest Blumenschein, who had been instrumental in establishing the artist colony at Taos. He convinced Dunton that he would be happier living out west in Taos. Dunton moved that very summer. As soon as he settled in he got to work on his favorite subjects—the open range, cowboys on horseback, hunters and native life before the arrival of Europeans. He was as concerned as E. Irving Couse about the quickly disappearing Old West and threw himself into capturing the life that was fading away before his eyes. "The West has passed - more's the pity. In another twenty-five years the old-time westerner will have gone too - gone with the buffalo and the antelope. I'm going to hand down to posterity a bit of the unadulterated real thing." For a while he had to continue to create illustrations in order to make enough to support himself. With the inauguration of the Society in 1915, and the subsequent successes of the traveling exhibitions, he gradually was able to devote himself to painting what he wanted full time.

Dunton poured himself into achieving exact authenticity in the clothing and equipment of his cowboy and Indian subjects. He reveled in painting the powerful muscles of horses straining under their riders. He loved to make the everyday dramatic with lighting and composition. Later, he created lithographs of animals, using the skills he had acquired in New York. Over time he succeeded in attracting several prominent collectors including Douglas Fairbanks, Franklin Roosevelt and H. J. Lutcher Stark. The Stark Museum in Orange, Texas still houses the largest collection of Dunton's work in the U.S.

Dunton resigned from the Society in 1922, likely due to a personal conflict, and from then on arranged solo exhibitions of his work in several states across the country. In 1923 he was commissioned to create a three panel mural for the Missouri State Capitol. In 1928, he was injured by a horse initiating his long decline in health. He eventually succumbed to prostate cancer in 1936, at the age of 57.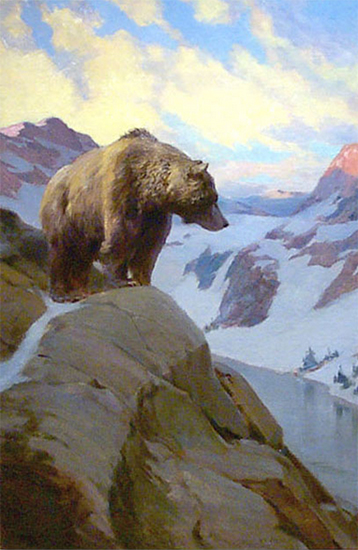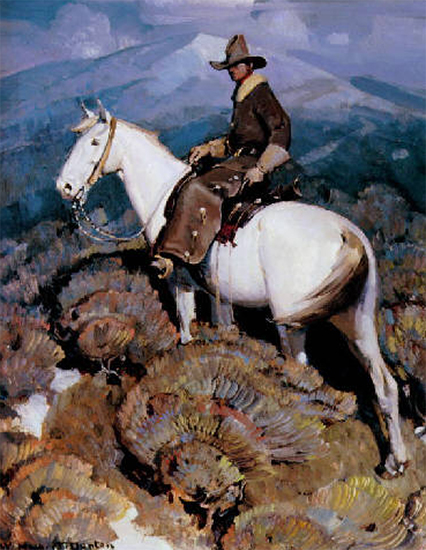 Monarch of All He Surveys 1909 The Horse Rustler
W. Herbert Dunton (PD)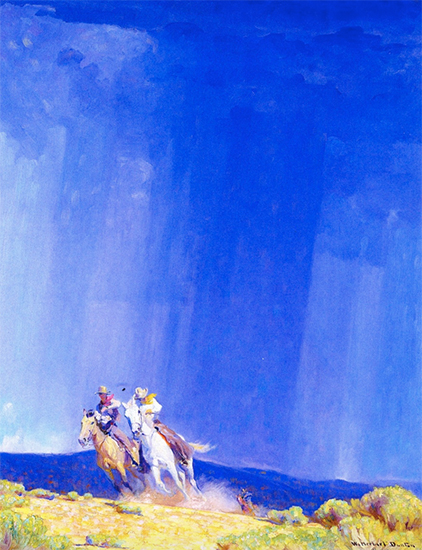 The Shower ca. 1914 W. Herbert Dunton
Later artists who became members of the Taos Society included:
Kenneth Adams (1897 - 1966)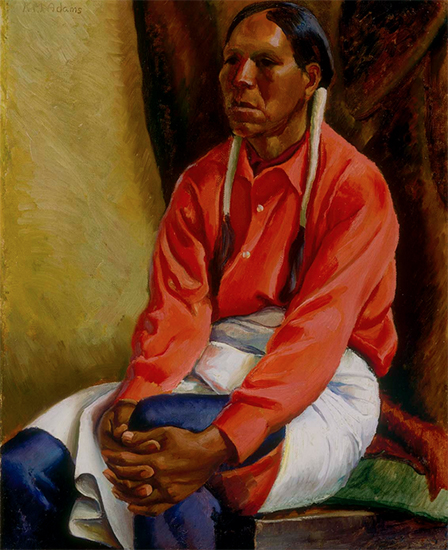 Deer Track Pa-ee-na after 1924 * (fair use)

Catharine C. Critcher (1868 - 1964)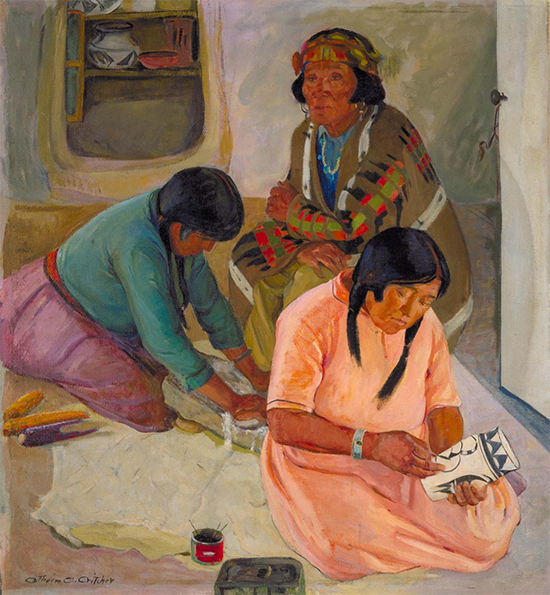 Indian Women Making Pottery ca. 1924 * (fair use)

E. Martin Hennings (1886 - 1956)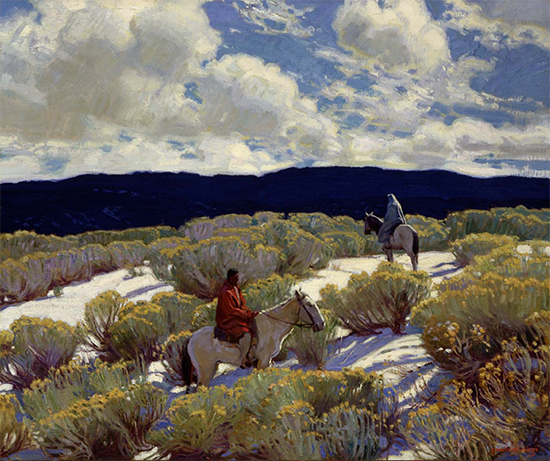 Riders at Sunset * (fair use)

Victor Higgins (1884 - 1949)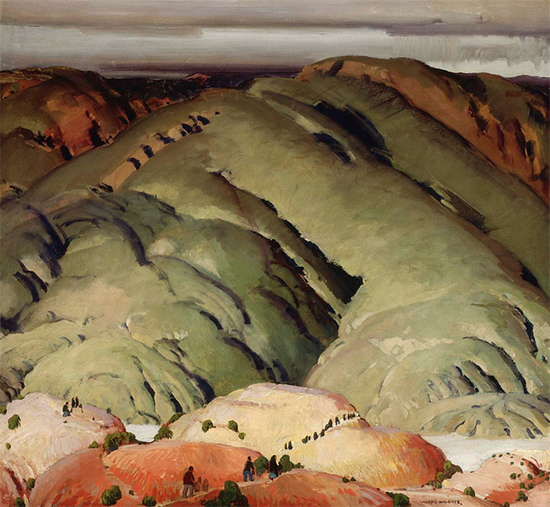 Mountain Forms II * (fair use)

Julius Rolshoven (1858 - 1930)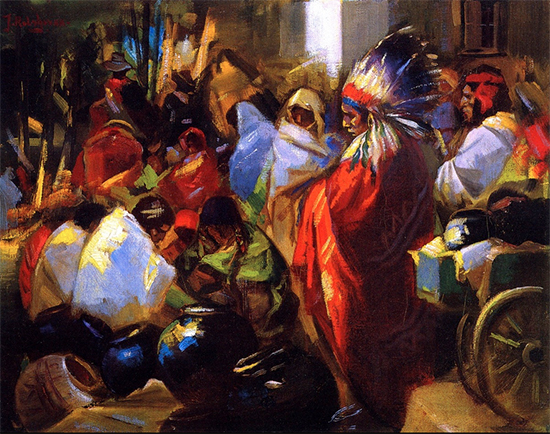 Indian Market ca. 1917 (PD)

Walter Ufer (1876 - 1936)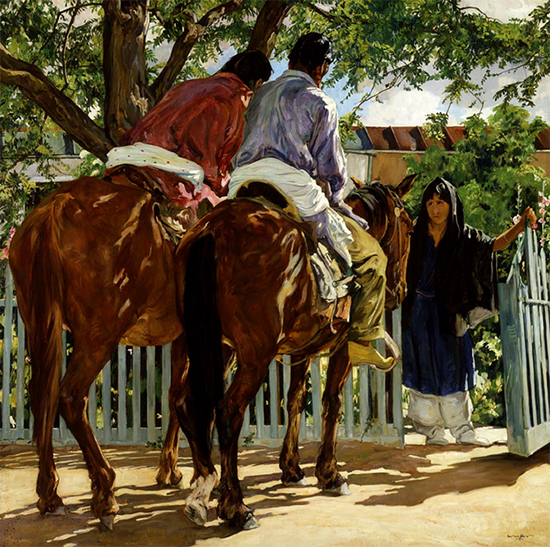 Callers ca. 1926 (PD)
The Taos Society of Artists was disbanded in 1927.
* Though some images in this article are subject to copyright, their use is covered by the U.S. fair use laws because:
they are of lower resolution than the original (copies made from it will be of very inferior quality);
they are being used for educational and informational purposes;
their inclusion in the article adds significantly to the article because the images and their historical significance are the object of discussion in the article.

Information for this article came from The Harwood Museum of Art, the Taos Museum at Fechin House, the Couse-Sharp Historic Site, the Blumenschein Home and Museum and Wikipedia sites.