Shaking it up
Perspectives from The Artist's Road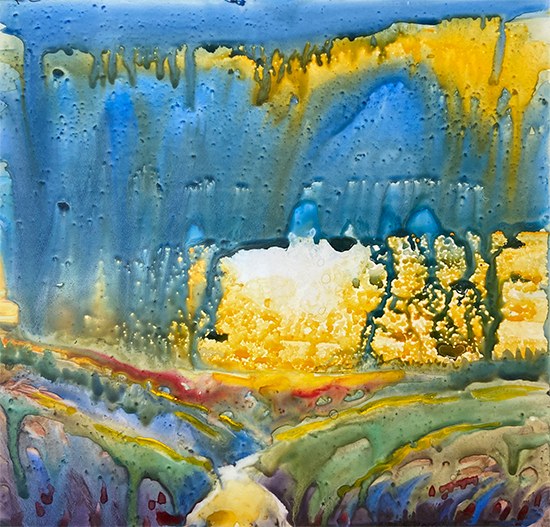 Canyon Sunrise Watercolor on Yupo

There is comfort in mastering an artistic medium—often taking years, maybe even decades, to become fluent enough with our materials and tools so that we can express ourselves with confidence and fluidity. We come to see them as old reliable friends whom we can trust with our tenderest creative notions. However, after some time carrying on successfully in this mode, we can actually become too comfortable and slip dangerously close to repeating, in variations perhaps, what we know how to do best. This is considered a desirable achievement in almost any other profession, but not art.


Whenever we sense that we are doing a bit of sleepwalking through our work, we try to shake it up somehow. There are many different strategies for this. It can be useful and fun to try to work in an unfamiliar medium or perhaps on a new kind of surface. Trying something new changes the way we have to respond to the materials and in so doing, changes the way we think about making art. It can challenge our notion of what is possible for us. All good things. 


I had been working for decades in watercolor using primarily Arches paper and found that my approach to painting was getting tired. I decided that this was the time to take on an unfamiliar painting material and see what might come of it. The material I chose is sold under the name Yupo, and has gained a following among watermedia painters in particular. It is made of impermeable polyester and will hold watercolor washes, but can also be washed off clean with water. I knew of Yupo, but had ignored it until I saw some of the marvelous paintings my friend and master watercolor painter Mark Mehaffey has been producing. "Wow, that looks like fun, and I need to have fun with painting!" was my first reaction. Indeed, if you watch any of Mark's Yupo videos, he is having fun. (Check out some of Mehaffey's latest Yupo abstract paintings here).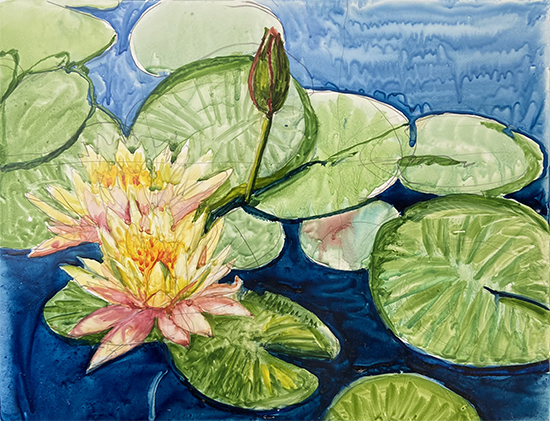 Waterlilies Watercolor on Yupo
I ordered some Yupo, which comes in a couple different versions, and began painting on it. For anyone used to the way cotton paper behaves with watercolors, forget just about everything you know. On Yupo, washes puddle, pool and mix together in completely different ways. Strokes don't blend together well at all, so the surface has a very calligraphic look. If you have your table on a tilt, as we do with traditional watercolors, then the washes of color all slowly run downhill to a big muddy pool at the bottom. Perfect! A challenge was what I wanted and now I had a big one. I am still experimenting with this weird stuff and I have to report that it is fun to work with precisely because I don't know what I am doing or what I am going to get, if anything. You are seeing some of my experiments here. Best of all, it is very easy to correct—just wipe off with a towel, and voila! clean Yupo, ready to go again. No worries of ruining expensive paper - just freedom to play. Try it yourself, you may find it is exactly what you've been looking for.