Seeing Things Differently

Perspectives No. 426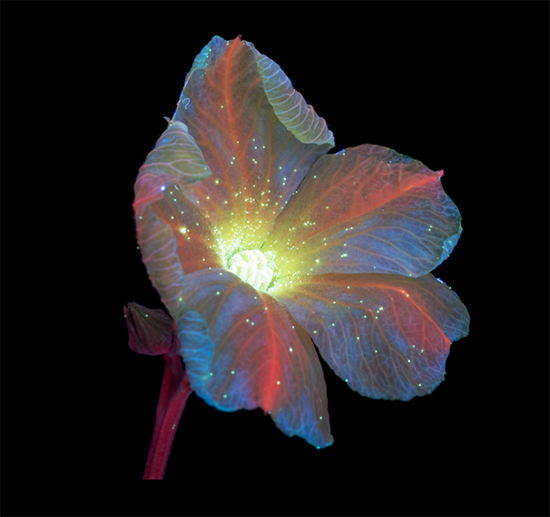 Photograph © Craig P. Burrows*
(Used with permission)
It is interesting to consider that a viewer of a work of art may be seeing it very differently than the artist who created it, or even another viewer.

We each seem to see a little differently. Our visual biases may be the result of learned survival skills or just personal preferences. Our biological and chemical make-ups may have a bearing on our vision. We know that persons who are functional tetrachromats (having a rare fourth retinal cone) have been identified (see: Do You Have Super Vision?). A tetrachromat may be able to differentiate between up to one hundred million colors, compared to our normal trichromatic vision, which can differentiate between about a million. Complete colorblindness (achromatopsia) is prevalent on two remote islands in the South Pacific. (See: Island of the Color Blind.)

After the lens of Monet's left eye was removed from cataract surgery, he saw what is called "near" ultraviolet light. In this regard, his vision became closer to that of bees and some butterflies who see an ultraviolet range of color on the flowers they pollinate. (See: Monet's Ultraviolet Bee Vision.)

Scientists are now carefully studying the eyesight of bees and other insects. Many of the flowers that bees and butterflies pollinate have ultraviolet patterns on their petals, like lights on a runway, to guide them deep into the flower—colors we cannot see. Understanding how insects see may be of great help to the world of commercial pollination and may help biologists to understand how plant colors evolve. Researchers at Queen Mary, University of London along with researchers at the Royal Botanic Gardens, Kew developed the Floral Reflectance Database (FReD). Measurements are taken using a spectrophotometer to record the wavelengths of light reflected from the petals and leaves of different plants. The database is free and available here: http://www.reflectance.co.uk/index.php. (Arnold SEJ, Faruq S, Savolainen V, McOwan PW, Chittka L, 2010 FReD: The Floral Reflectance Database — A Web Portal for Analyses of Flower Colour. PLoS ONE 5(12): e14287. doi:10.1371/journal.pone.0014287.0

* Photograph copyright Craig P. Burrows. Burrows uses a ultraviolet light to excite fluorescence in the visible spectrum.