Scale Changes Everything
Perspectives from The Artist's Road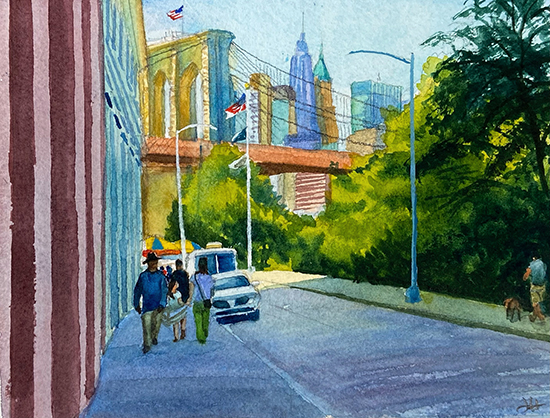 Brooklyn Watercolor John Hulsey
While in New York City recently, we journeyed across the East River to Brooklyn to visit family living in what is called the DUMBO neighborhood (Down Under the Manhattan Bridge Overpass).

Once upon a time (1787), the area was called "Olympia", named by Comfort and Joshua Sands who had purchased the land to develop as a summer getaway for New Yorkers. It connected to Manhattan via a ferry stop before the Brooklyn Bridge was opened and became primarily a manufacturing area filled with warehouses and factories. Among the innovations that have come to us from the area is the cardboard box, invented by a Scottish emigrant named Robert Gair. For a time, the area was referred to as Gairsville.

One of the most photographed spots in the country comes from the unique framing of the Empire State Building through the legs of the Manhattan Bridge. The clearance below the bridge is 135 feet and the towers on it rise up 336 feet. The contrast of the scale and height of the massive structure of the bridge with the buildings and people below is powerful and awe-inspiring. The camera lens just can't quite capture it.

During the ten years that we lived north of Manhattan on the Hudson River, I visited the city nearly every week for freelance illustration work, but never spent time across the river in Brooklyn. We were pleasantly surprised to visit DUMBO on this trip. The streets were full of families, food vendors, antique stalls, tourists and folks of many nationalities all enjoying the fine day. It is a place for artists. Anyone who is inspired by urban scenes has plenty of subjects here to paint. We didn't have time, so photos and memory will have to serve for now until we can get back there to paint the real experience and extreme contrasts of scale on the street.