Rhythms

Perspectives No. 409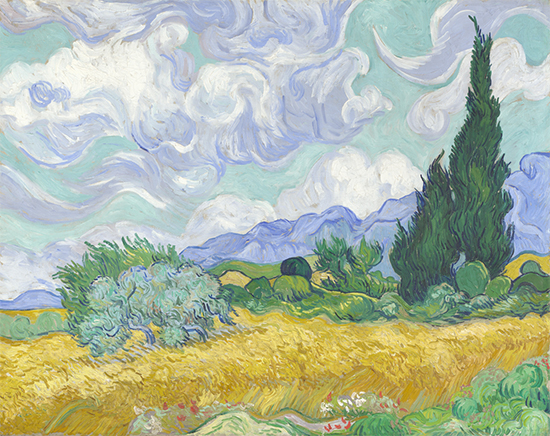 Wheat Field with Cypresses 1889 Vincent van Gogh (National Gallery)

"Rhythm comes mainly from a receptive state of mind, which is usually brought about by what is seen and felt. When viewing the various aspects of nature we find that which coincides with our own moods, or this may be the other way around: the scene may create the mood. To enjoy nature and its depiction, the viewer needs to be in tune with her. Being in tune does not mean that individuality is surrendered. This must be preserved if full and complete rhythm, unity and enjoyment are to be realized. To feel the spirit of nature is to feel the rhythmic, spiritual flow which encircles animate and inanimate nature—the rhythm of life and the universe." - Edgar Payne

We look to the rhythm of the ocean waves to refresh our own internal rhythms. And we look to the rhythms of nature to bring structure and some sense of stability into our lives. The rhythms that move a beautiful work of music from beginning to end are the same rhythms that lead an eye through a wonderful painting.

Edgar Payne wrote and illustrated Composition of Outdoor Painting, the definitive guide to seeing and understanding the rhythms in nature and using them to create works of art that transport the viewer through their imagery.

Significance of Various Items in Composing by Edgar Payne

"As the dancer uses rhythm to integrate time, space and movement, so too, does the painter utilize this element to integrate the factors in art." - Edgar Payne