Of Rainbows

Perspectives No. 444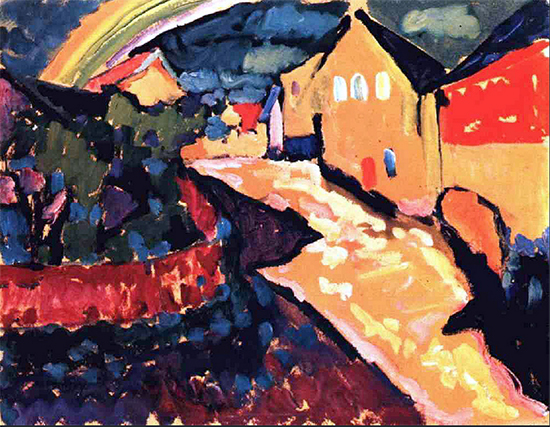 Murnau with Rainbow 1909 Wassily Kandinsky
How lucky we are to have friends who send us books that they know we will find interesting. This is how Adam Rogers's new book, Full Spectrum - How the Science of Color Made Us Modern came to us. It is filled with interesting information about the history of understanding light and color and our ongoing quest to create more and more brilliant and vivid colors.

Rogers addresses the commitment of scholars from ancient Greece, the Arab world and Europe, all working to understand the nature of light. One of the phenomena providing clues was the rainbow. Besides being a source of delight and what once was thought to be magic, rainbows helped scientists to understand the light refractions and reflections that produce the colors we see.

Refraction is caused by sunlight changing direction as it travels through a denser medium than dry air—for example, a raindrop. It is then reflected off of the backside of the raindrop, then refracted again as it travels out of the drop. The different wavelengths of sunlight travel at different speeds when passing through a denser medium. The white light is thus split into different colors.

Typically a rainbow arc has red (a longer wavelength) on its outermost part and violet (a shorter wavelength) on its inner side. Interestingly in the rarer double rainbow, the colors are reversed. As Rogers notes in his book, "Doesn't make sense." Scientists, though, believe it is caused by light being reflected twice inside the water droplet.

There is also a phenomenon knows as a twinned rainbow, rarer even than the double rainbow. Because the two rainbow arcs split from one base, they maintain the same order as each other rather than reversing as in the double rainbow.

Rarer yet, is the triple rainbow, with light reflected three times within a raindrop.

Naturally artists have been fascinated with rainbows, always grasping at being able to convey the untouchable qualities of light onto canvas or paper. Ironically, I missed a double rainbow while I was writing this article!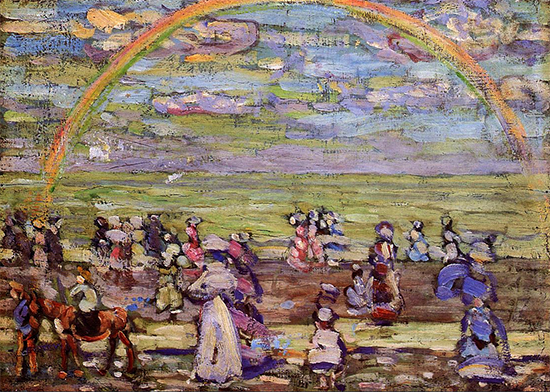 Rainbow 1902-04 Maurice Prendergast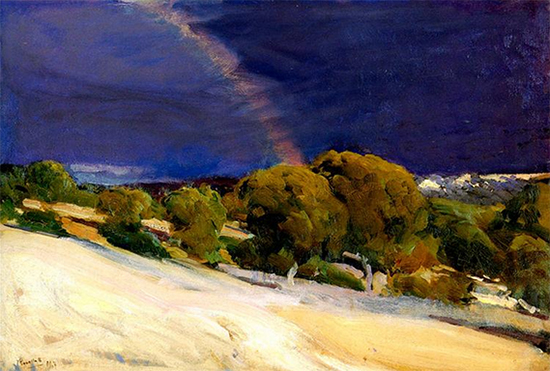 The Rainbow 1907 Joaqin Sorolla