Quick Draw in Dubois, Wyoming
Quick Draw in Dubois, Wyoming
(2014)
Master Artists Square Off in a Step-by-Step Art Showdown

Painting Spot in the Brooks Lake Area near Dubois, Wyoming


E
verywhere we travel, indeed, all over the country, the Quick Draw event has become a perennial feature of paint-outs, competitions and artist gatherings. We first encountered and participated in them while living in the little riverside hamlet of Garrison, New York, in the the Hudson Valley in the 1980s. They were, at that time, all-day festive events with a big public auction in the evening. The general idea stems perhaps from a natural desire to generate an instant marketing event to sell paintings created the same day, and Quick Draws can be ideal fundraising events for local art centers.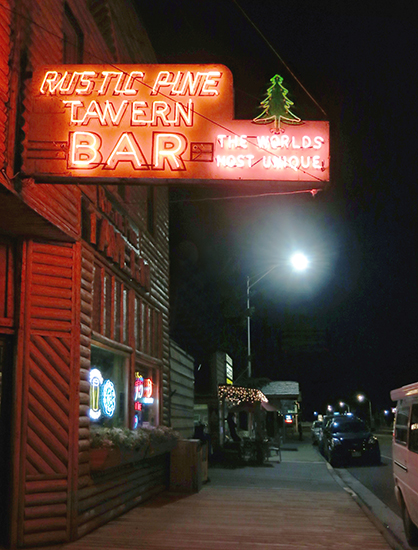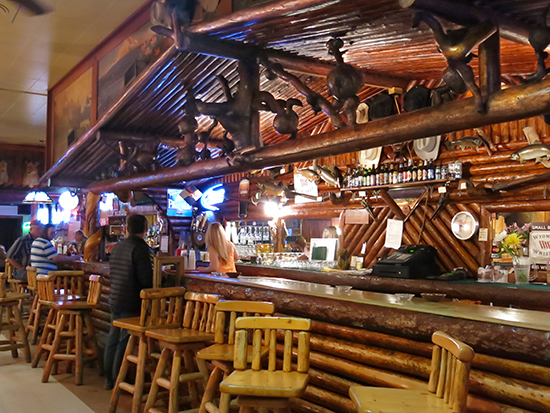 The "World's Most Unique" Rustic Pine Bar in Dubois

Dubois is an old western town where the sidewalks are made out of wood and cowboys still carry guns to keep the Grizzly bears away. In Dubois, the words "quick draw" used to mean something very different not so long ago. Nowadays, it is an invitation to an entirely different kind of show-down, one made from paint and clay instead of lead.

The Quick Draw event organized by the Susan K. Black Foundation (SKB.) at the Headwaters Art Center in Dubois, Wyoming, is a very special opportunity for the public to rub shoulders with some of the top artists in the country while they work.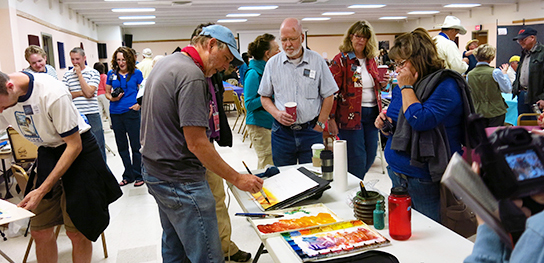 Artists and Onlookers during the Quick Draw Event at the Headwaters Art Center in Dubois

The audience can get in close, and as artists painted that morning, they were frequently jostled by folks getting "up close and personal" with the art being created! The SKB Foundation began this week-long workshop many years ago to provide professional arts training to anyone who is accepted into the program. Students' fees include a week of lodging, instruction and three meals a day. Evenings are filled with lectures and entertainment with the Quick Draw as a highlight.

SKB also sponsors scholarship students who have earned a place at the workshop by excelling in the Foundation's high school level month-long arts education program based in Texas. Many of these students have not been away from home on their own before and their enthusiasm and excitement is contagious. Watching the pros work is an incredible educational opportunity for these young artists and one can almost see the creative lights going on as they watch the work develop from blank canvasses.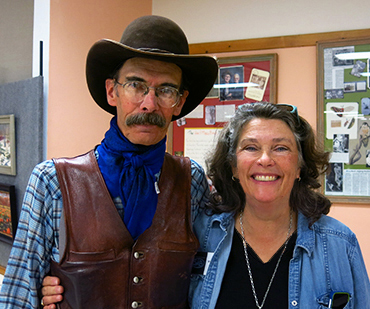 E
ach artist is literally "under the gun" (pun intended) to

produce, in a few hours, a work of exhibition quality. It is all to raise money for the SKB Foundation so that young artists can continue to be trained at the highest level. While John worked against the clock, Ann photographed the progress of some of the other twenty plus participating artists. We thought you would enjoy seeing how they set up their easels and work areas, the tools they employed, the steps of their progress and their finished efforts. Many thanks to Bob Bahr for providing us with photographs of many of the finished paintings.


Local artist John Findlay with Ann Trusty above.



John Seerey-Lester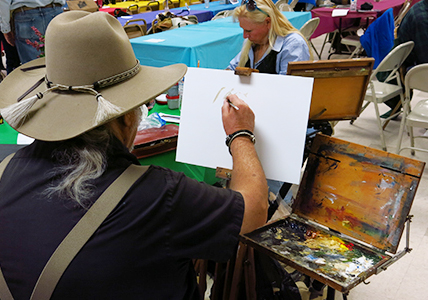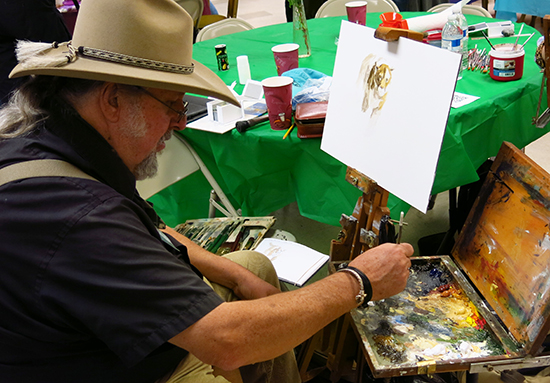 John is a world-renowned artist and sought-after teacher specializing in wildlife art. As of this writing (October, 2014), he and his wife, Suzie Serrey-Lester had just received the Simon Combes Award at the Artists for Conservation Festival in Vancouver, B.C. He has an encyclopedic knowledge of animal anatomy, natural light and landscapes which allow him to work directly from memory. He is using an Open Box M pochade box made in nearby Cody, Wyoming.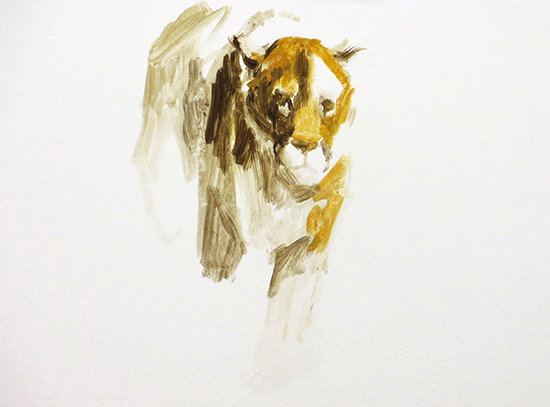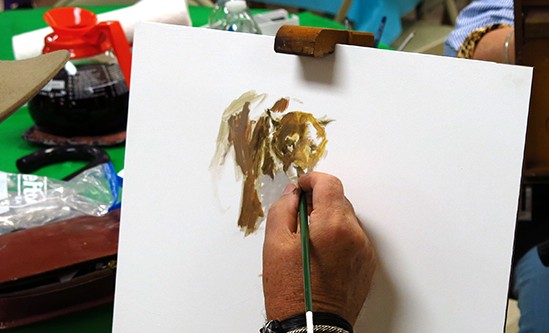 After sketching the basic form of the big cat in a thin neutral wash, John then proceeds to overlay thicker oil color mixes to build light and shadow into the main masses. He is careful at this point to keep his shadows translucent and his strokes broad and loose.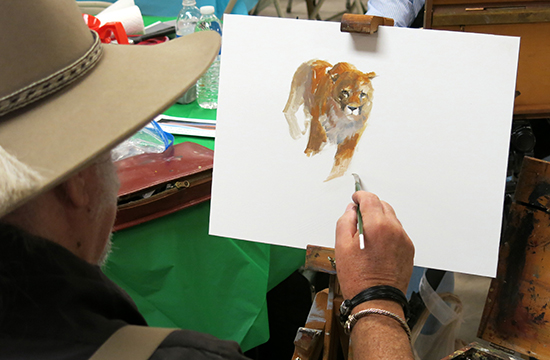 As he zeroes in on building a three dimensional illusion head to tail, he adds important color notes and facial details to the cat which imply mass, musculature and light direction. Then he quickly scumbled in a gray wash in the background to suggest foliage in the distance. But why is the foliage gray instead of green?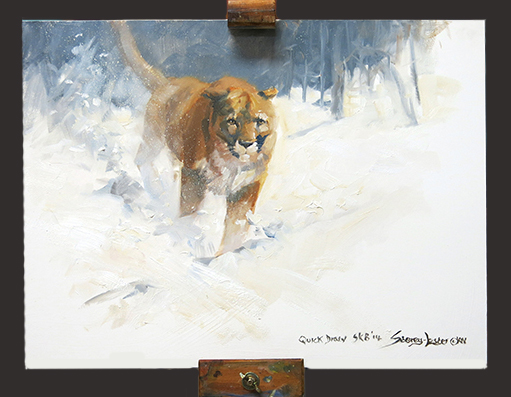 A few quick, expressive strokes of opaques to suggest flying snow and action and the scene emerges - a puma running in the snow!

Artwork © John Seerey-Lester. See more of John's work here:
John Seerey-Lester

Jeanne Mackenzie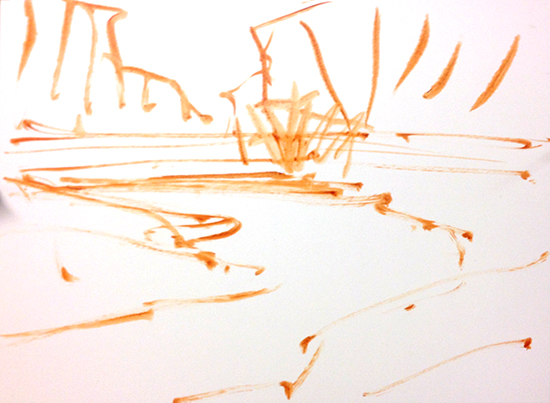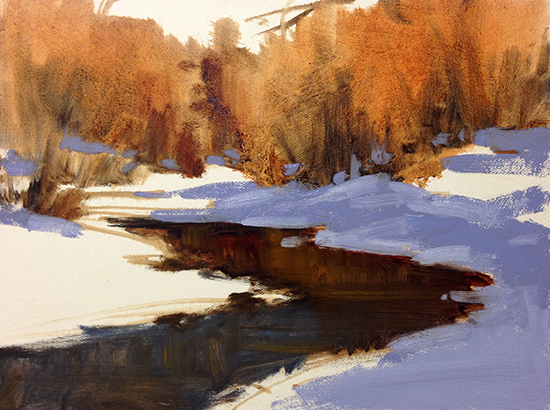 Continuing the snow theme for the moment, artist and teacher Jeanne Mackenzie decided to work from a photo she had taken of a winter stream. Jeanne works rapidly and starts with a very gestural indication of her composition. At the midpoint of the painting she has established her largest masses of form and color with large flat applications of paint. She is careful to keep those deep shadows in the water translucent.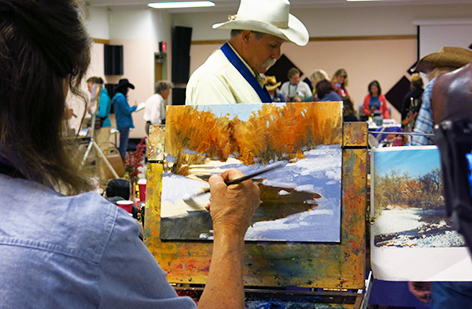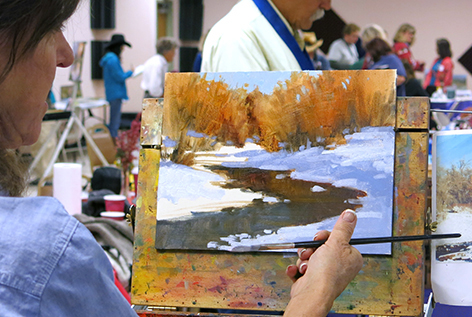 As she progressed, she broke the large masses into smaller shapes of color and texture. On the left she brushes in sunlight with opaque passages of titanium white and yellow. On the right she works the left side of the stream as it hits the snowy stream edge.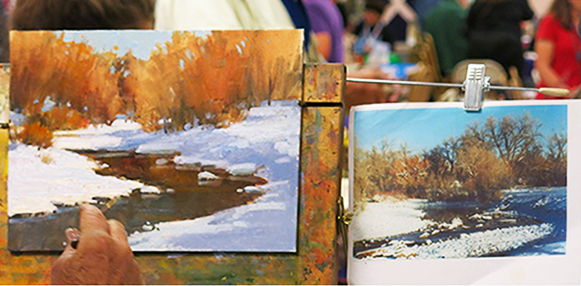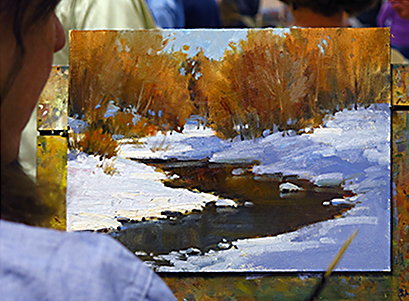 On the left you can see Jeanne's apparatus to hold her photo right next to her canvas - a modified skirt hanger she buys at a department store. This arrangement aids in working the sight-size method of visually transferring the proportions from the source photo to the canvas. Note that she has chosen to crop her composition and make other artistic decisions in her drawing which deviate from the photo. The camera is not in charge, the artist is! On the right, she adds strength to her cool shadow colors.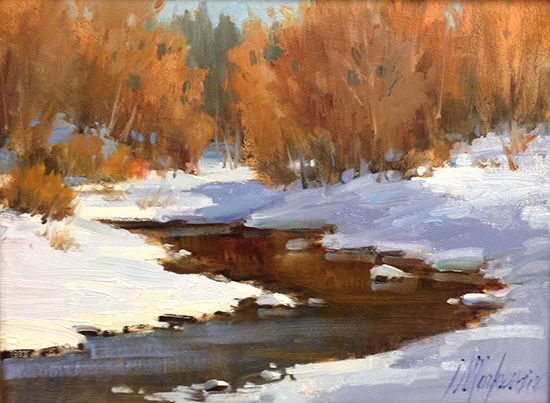 A few quick strokes of light blue on the surface of the water and she was finished.


Artwork © Jeanne Mackenzie. See more of Jeanne's work here:
Jeanne MacKenzie
Mort Solberg
In addition to John, there were two other watercolor painters present this year, both of them preeminent in the field. Mort Solberg is a Master watercolor painter and is famous and (often copied) for a method of painting his wildlife and figurative work known as "the Solberg Style". Mort is fun to talk with as he has a lifetime of art, travel and teaching experiences which he loves to share.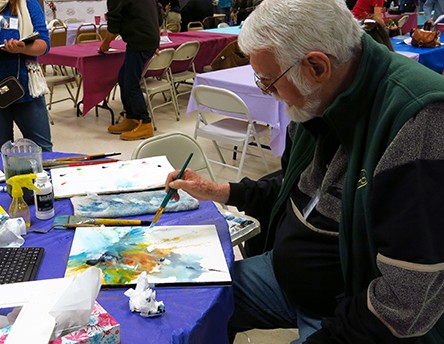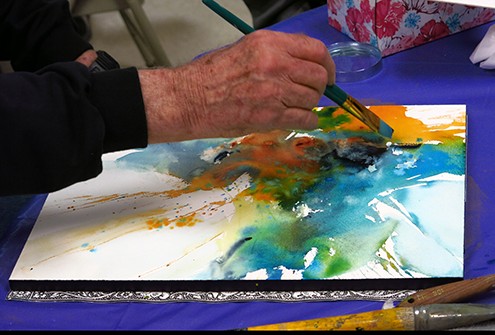 His method of painting is remarkable and amazing to watch. As he says, he starts each painting not really knowing what will happen. "I usually don't have an idea in my head when I begin - I just start in and see what happens."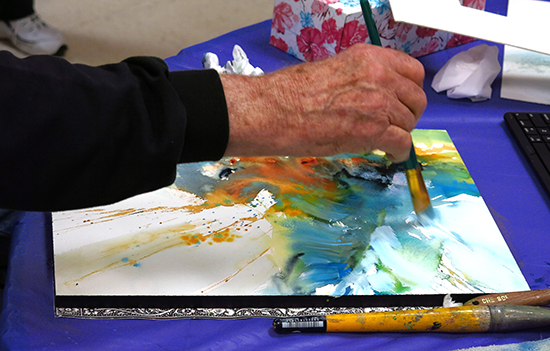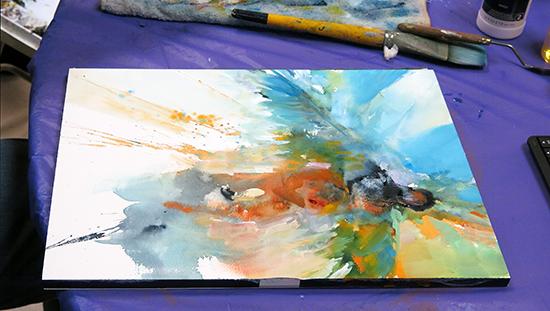 He goes on to say that as he works, the painting seems to tell him which way to go and soon, an image begins to develop. Once he has the basic image and composition started, he lets his imagination work together with his vast experience to guide his choice of color and shape. As you can see above, his random color splashes and mixes are beginning to morph into a figure with wings.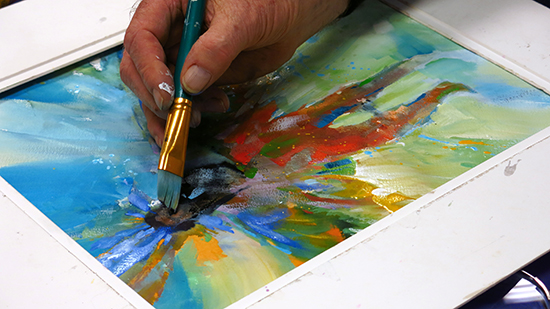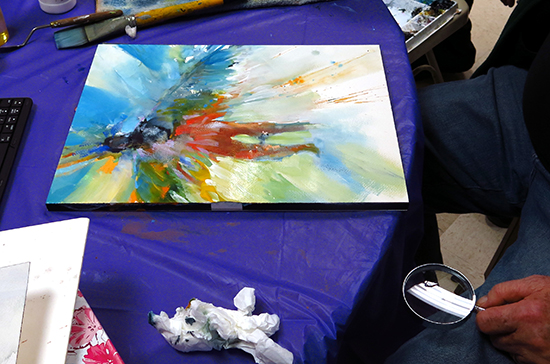 Part way through the painting, Mort likes to place a mat over the work to see how it might crop. Notice that he is not too fussy about using only watercolor brushes. He feels free to use acrylic brushes and opaques whenever he feels they are helpful to the painting. On the right, you can see Mort holding a lens - another smart tool every artist should probably have in their kit. This reducing lens allows him optically "step back" from his work without moving an inch. In this way, he can see how all the big shapes and colors are working, and make corrections as he goes.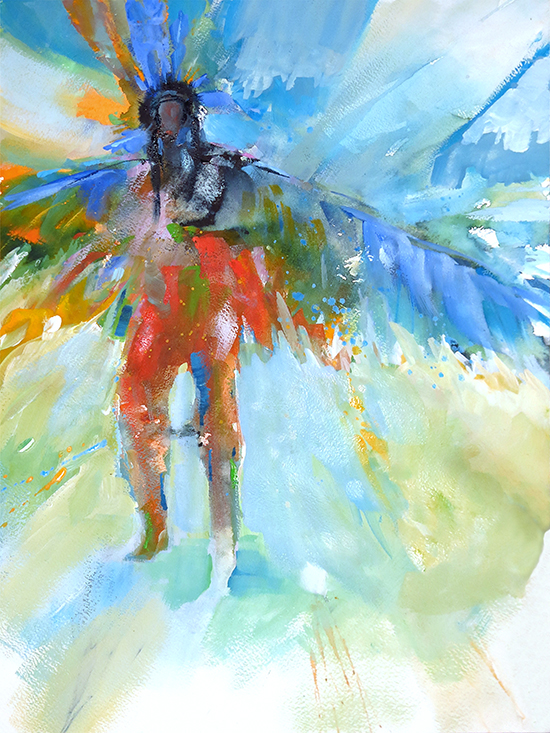 Mort Solberg's finished painting. He makes it look easy.
Artwork © Mort Solberg. See more of Mort's work here:
Mort Solberg



James Gurney

James Gurney is an illustrator, painter and author of the popular Dinotopia Books, which have become a world-wide sensation, having been translated into 17 languages! This soft-spoken and generous artist is a peripatetic observer and painter of everyday life, and is never without his sketchbook and colors. He is also a tireless teacher and maintains both a wonderfully informative and interesting website and an illustrated daily blog filled with ideas and information, Gurney Journey. We could go on, but you will want to find out for yourselves!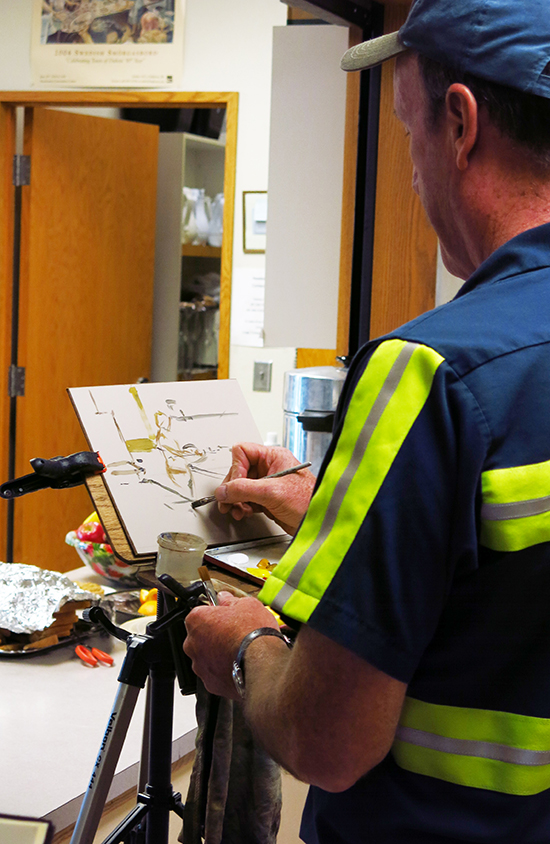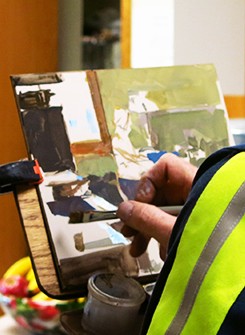 James is working here in Casein, a milk-based water-soluble medium that dries quickly. Casein used to be a popular painting medium for illustration and other uses that required great speed of production, but has fallen out of favor in recent times. Richeson and Co. acquired the Shiva brand of Caseins and is working to revive interest in the medium. James knows exactly how to use it to great effect in his painting of one of the cooks in the kitchen at the Headwaters Art Center. His painting easel is of his own invention and construction.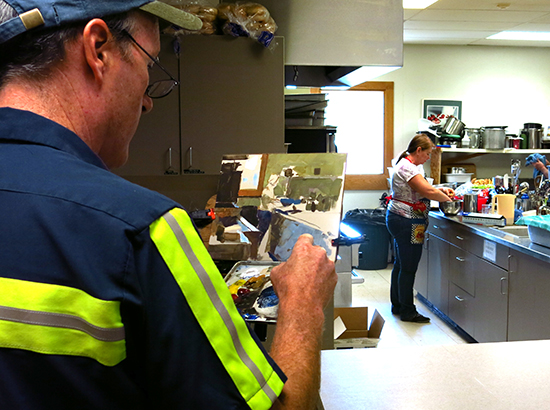 On the left, you can see James's model, who actually could not stay still to pose, but had to continue her work. From years of practice painting on the streets, James has a finely-developed visual memory which allows him to grab the essential elements of the pose and get them painted in quickly when his model stops moving for an instant.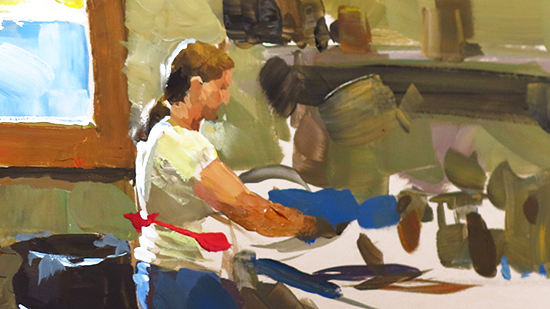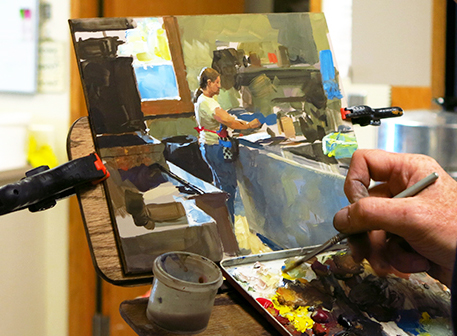 James concentrates on the big masses and shapes of color first and then gradually breaks them into smaller units as he builds his picture. Details come last. Notice his sawn-off brush and how compact his palette is - perfect for sketching on the move.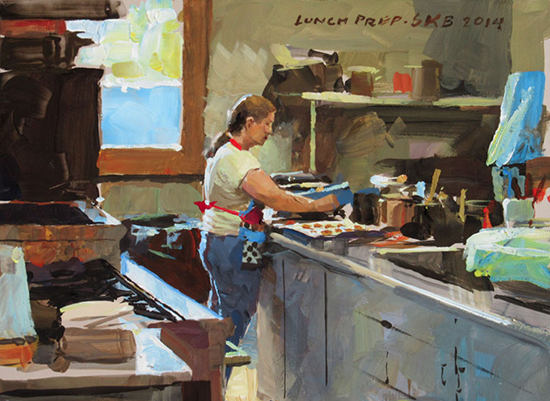 James's skill makes these little paintings have a big presence.


Artwork © James Gurney. See more of James's work here:
James Gurney



David Rankin

David is another world-traveling artist who is a mainstay of the SKB teaching faculty. Watercolor painters are familiar with him through his many exhibitions, articles and teaching projects. For this Quick Draw, David chose a large table where he could lay out all his tools and brushes and set up his laptop with his source photo on it.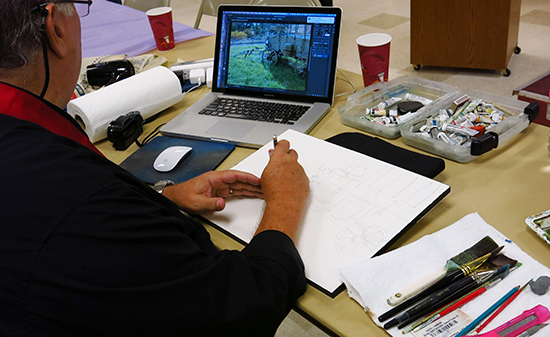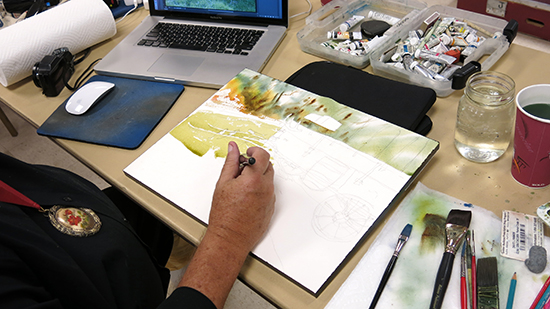 Looking at the image on his laptop, David starts with a light pencil drawing of his subject on a block of Arches watercolor paper. David has become adept at drawing and painting on the iPad, and it would not be unusual for him to "repaint" or otherwise rework his photo image before he uses it for a painting reference. Laptops and iPads are superior to photographic prints for painting reference because they can simulate the same luminance and color vibrance that we can perceive with our own eyes so much better than a print. Working light to dark David paints his background in first in loose, wet-into-wet strokes.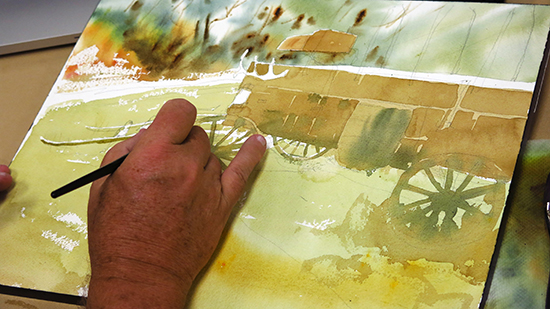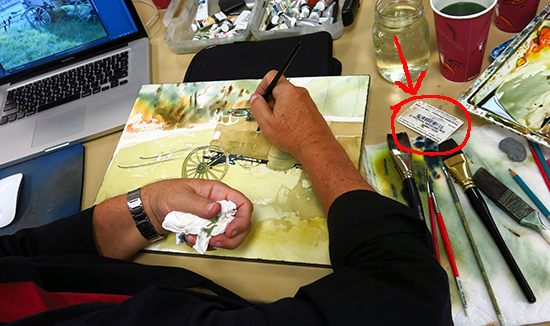 David paints rapidly and moves into painting his main subject, the old wagon, with a large flat brush and decisive applications of paint. David makes it all look so easy, but his hand is guided by many years of experience. This is just the kind of painting demonstration that novice students can learn so much from. David is also open to experimenting with a variety of mark-making tools - notice the plastic credit card among his brushes in the right hand photo. However, when we saw how close his coffee cup was to his wash water, we got a bit concerned!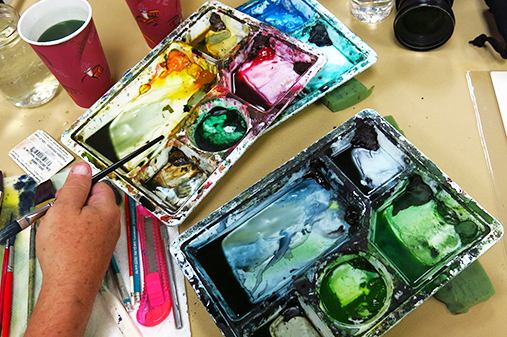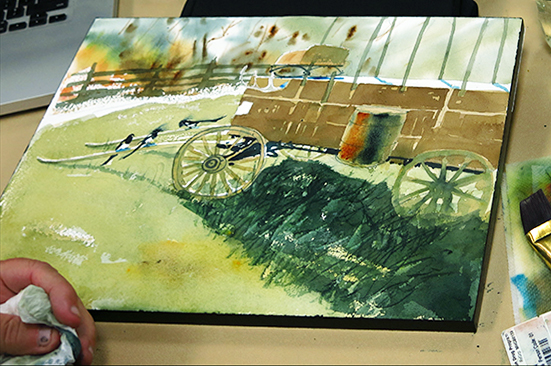 David introduced us to these great, inexpensive palettes, which are actually Indian take-out food trays. Having added the three Magpies to the wagon we figured David was about done with this one, but not yet. He repainted the background above and behind the wagon to add more contrast and punch to his main subject.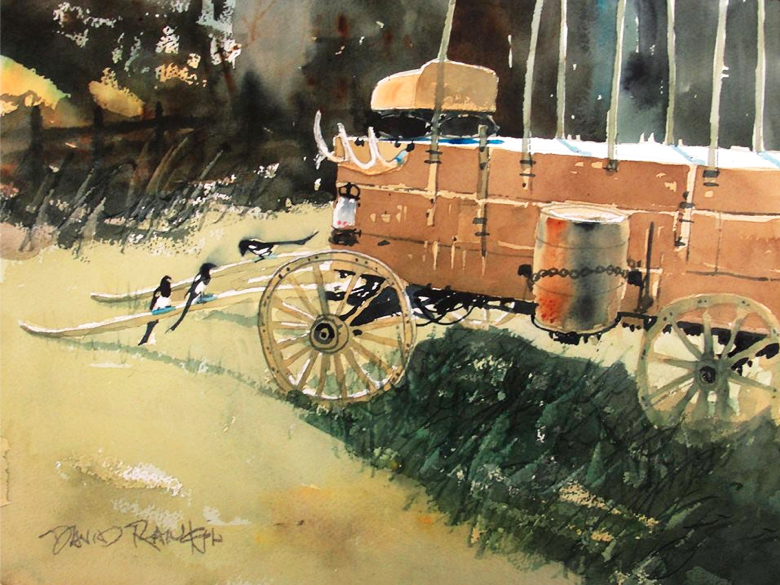 David's final watercolor, a moment in time from Wagon Box Ranch.


Artwork © David Rankin. See more of David's work here:
David Rankin



Heiner Hertling

As many great artists have over time, Heiner Hertling began his career as a commercial artist, eventually owning his own studio. Commercial art can be a terrific training ground and often serves as the springboard for greater things. Such is the case with German-born Hertling, who left the commercial arena to concentrate on his love of nature and wildlife, eventually winning the prestigious Federal Wildlife Conservation Stamp competition seven times. He is also the star of the "Your Brush with Nature" series on PBS and Create TV. Heiner is a returning instructor at SKB and his mischievous and outspoken sense of humor keeps students and faculty entertained.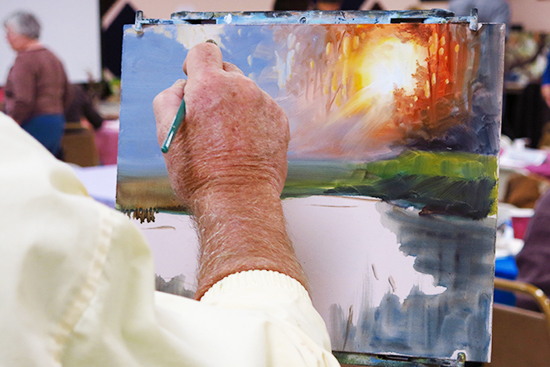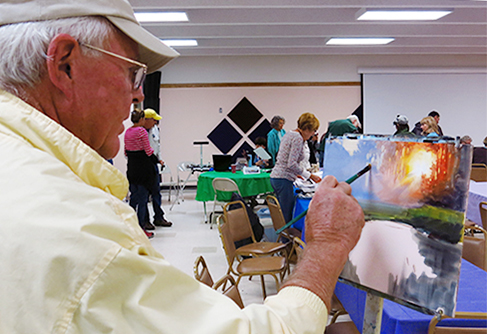 Heiner is another rapid painter and Ann wasn't able to get around fast enough to document his start. On the left, it took him only minutes to establish his main color masses and suggest the water. Undoubtedly, this is a lighting condition he is very familiar with and knows just how to quickly make come to life. On right he is working the color transitions from warm to cool to convey that misty quality of atmosphere.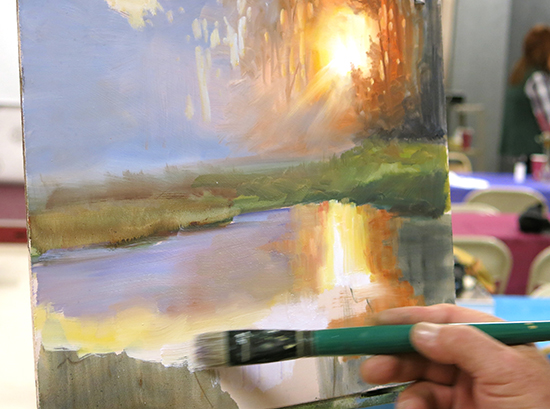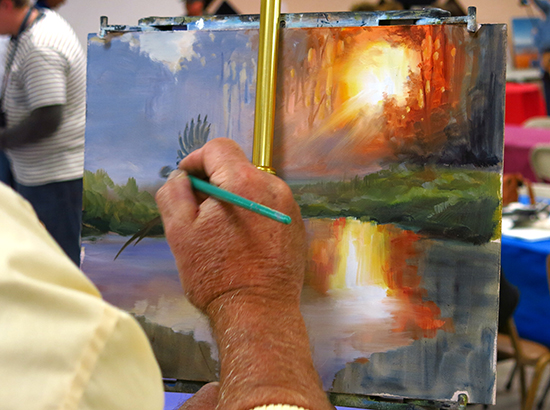 At left he is blocking in the water using a large white bristle and blending as he goes. Whenever starting a painting of any size, it is a good idea to use the largest brushes possible for the block in, and gradually shift down in size as the painting nears completion. This avoids the tendency to get too detailed and fussy in the early stages of the painting. At right, he is using
his mahl stick to help with

establishing the detail in his main subject, the flying pheasant. The mahl stick serves to keep his hand off the wet block-in and provides a steady surface from which to paint.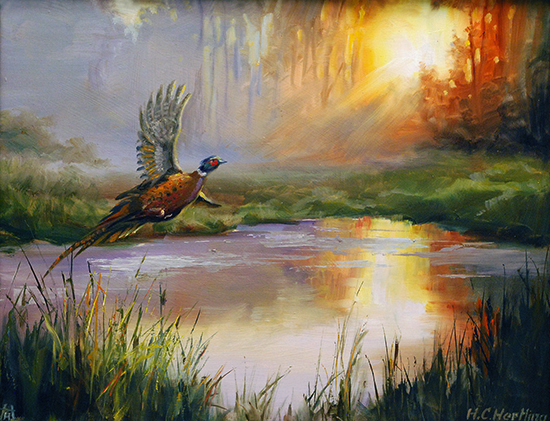 Here is Heiner Hertling's finished oil. Great color, light and and energy.


Artwork © Heiner Hertling. See more of Heiner's work here:
Heiner Hertling
John Hulsey

John is a life-long professinal artist, having completed his first commissioned work at 18 years of age. He is an accomplished painter and teacher in watercolor, oil and pastel and co-founded The Artist's Road.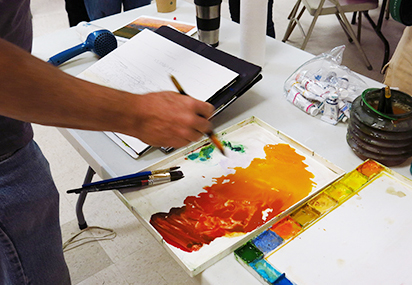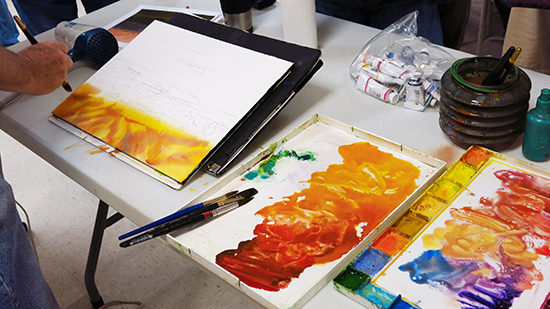 With his composition drawn in very lightly in pencil, John begins his watercolor by premixing a large quantity of paint in a color string. Mixing color strings from one tone to another allows him flexibility in choosing colors rapidly as the wet paper begins to dry. Stopping to remix a color can ruin momentum and perhaps the painting. And just as in oil, he paints with the largest brushes possible for the size of the painting, a pair of Size 20 Richeson rounds. He also uses a Richeson 1-inch flat to lay in big passages of water and color. At right, he makes a surprising and unconventional decision to start painting his background upside down. This keeps the wet bead toward the top of the image so that he can apply his deepest, dark shadow with the next pass without it getting diluted.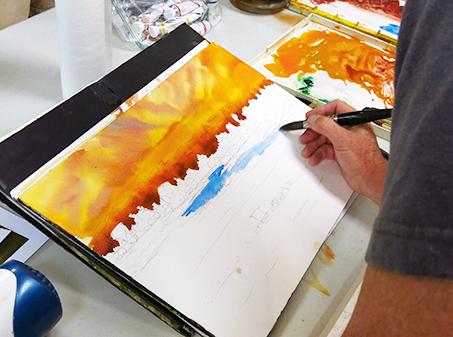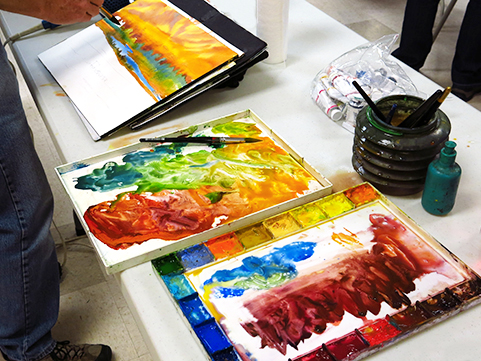 Having turned the block right way round, he moves his attention to painting
the next lightest element, the river, on dry paper. This also

avoids the risk of contacting the wet bottom of the background wash, which would immediately flood into the adjacent wash color. At right he has created additional color strings for the next set of colors. Note how he cross-mixes his greens into the complementary warm colors used for the background to create colorful grays and keep all the colors linked in the same harmony.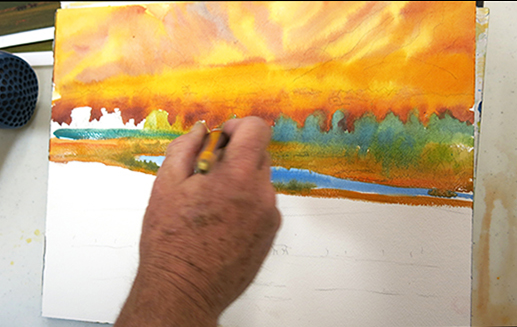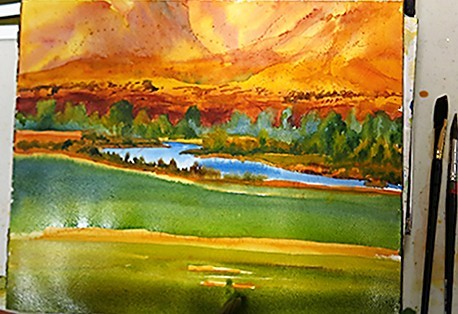 At left he rewets the bottom of the background wash so that the blue-green treeline will soften upwards into it, avoiding a hard-edged cut out look to the top of the trees. At this point he is still painting wet into wet, keeping details and color transitions soft. At right, all the main color masses are in and drying. Note how wet the bottom half of the paper is. To work like this, John paints with very saturated colors, knowing that they will dry lighter.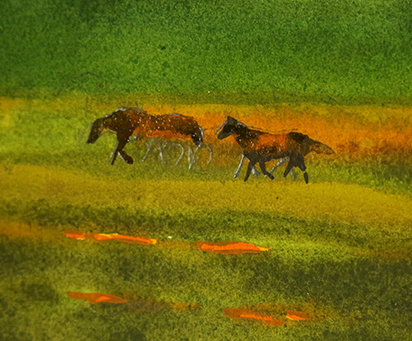 The final, sharp detail of the horses had to be carefully painted with a fine pointed small sable brush. You can see that he is not exactly following his pencil marks, but making accurate strokes on the fly. When painting horses, no matter how small, while one is in horse country, the anatomy had better be right!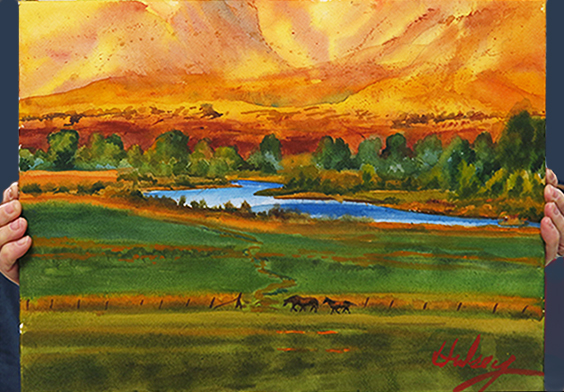 The finished watercolor, Sunset, Horse Creek, Wyoming.

Artwork © John Hulsey. See more of John's work here: John Hulsey


Other Artists Who Participated in the Quick Draw


Unfortunately, we couldn't get around to cover everyone who was working in the two hour
s allotted for the event.
These are images of the work created by some of the other artists.
Lee Cable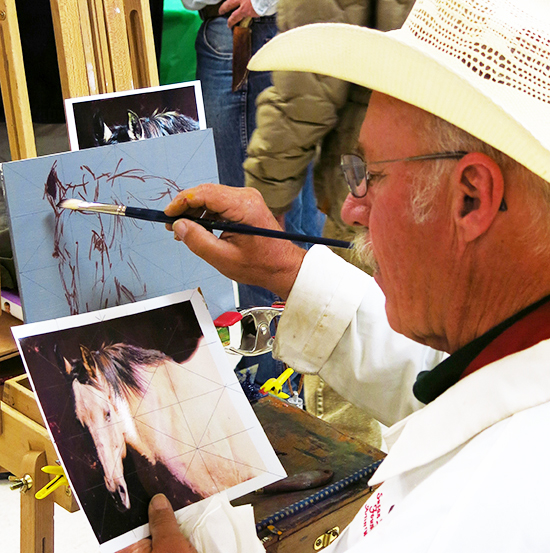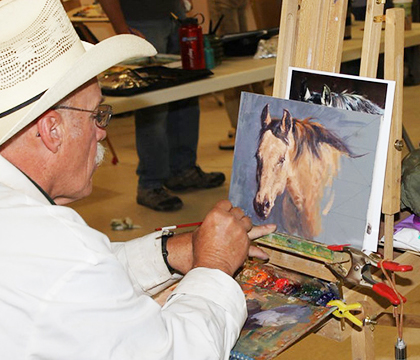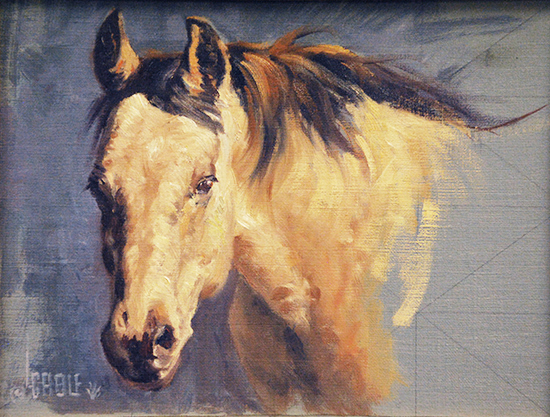 Lee Cable's finished oil portrait

Artwork © Lee Cable. See more of Lee's work here:
Lee Cable
Suzie Seerey Lester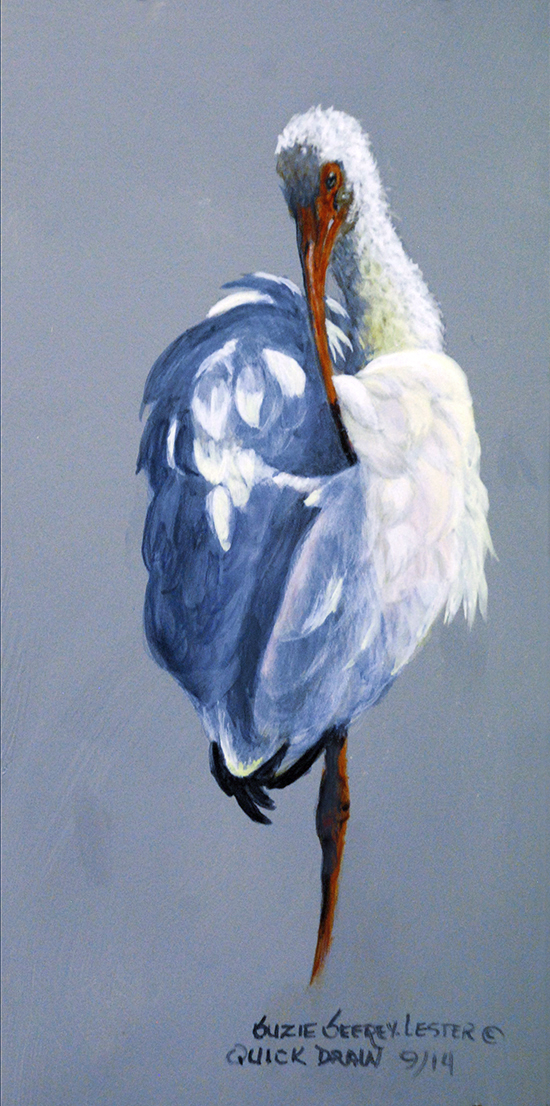 Suzie's finished oil painting


Artwork © Suzie Seerey-Lester. See more of Suzie's work here:
Suzie Seerey-Lester
Matthew Hillier
Finished oil painting by Matthew Hillier
Artwork © Matthew Hillier. See more of Matthew's work here: Matthew Hillier
Connie Spurgeon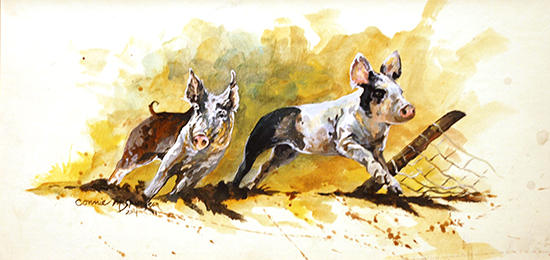 Finished oil painting by Connie Spurgeon
Artwork © Connie Spurgeon. See more of Connie's work here:
Connie Spurgeon
Wanda Mumm
Wanda Mumm's finished oil painting
Artwork © Wanda Mumm. See more of Wanda's work here:
Wanda Mumm
Nancy Foureman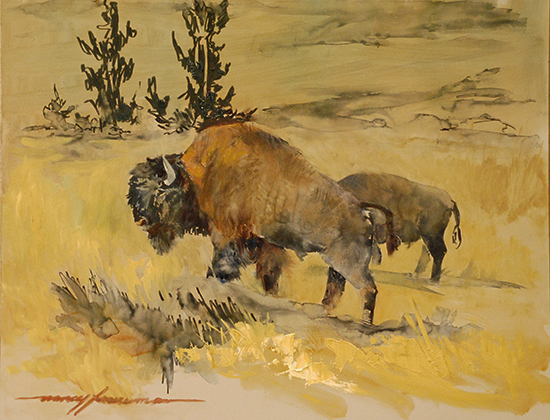 Finished oil painting by Nancy Foureman
Artwork © Nancy Foureman. See more of Nancy's work here:
Nancy Foureman
Greg Beecham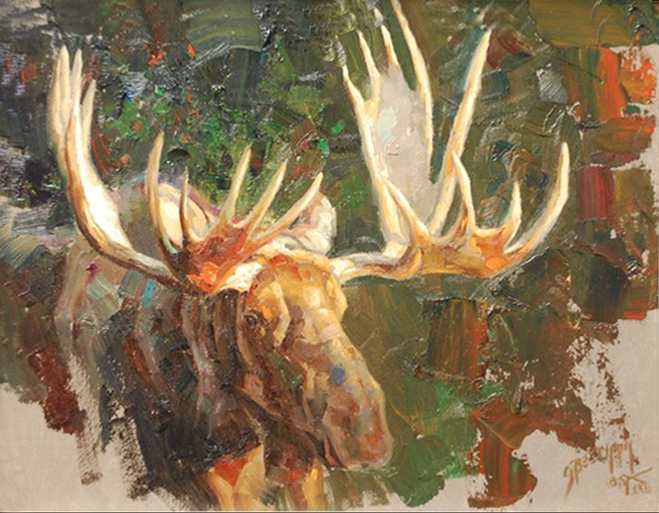 Greg Beecham's finished oil painting
Artwork © Greg Beecham. See more of Greg's work here:
Greg Beecham
Andrew Denman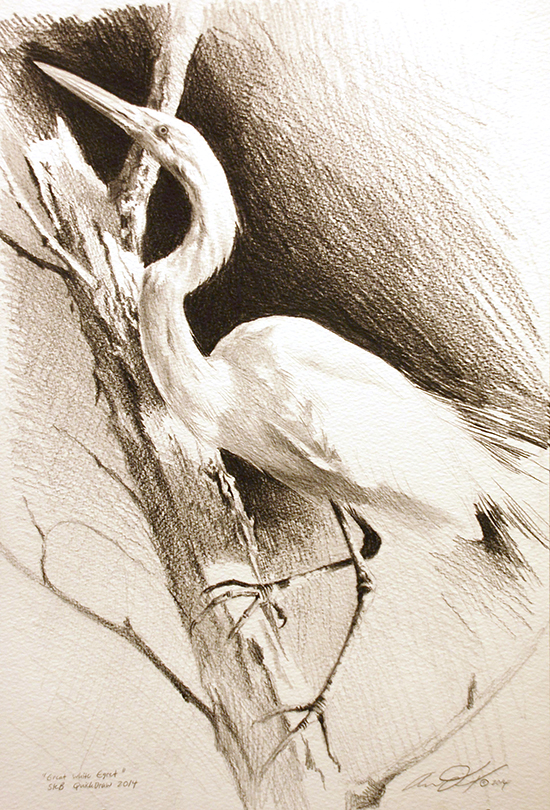 Great White Egrey by Andrew Denman
Artwork © Andrew Denman. See more of Andrew's work here:
Andrew Denman
Mark Kelso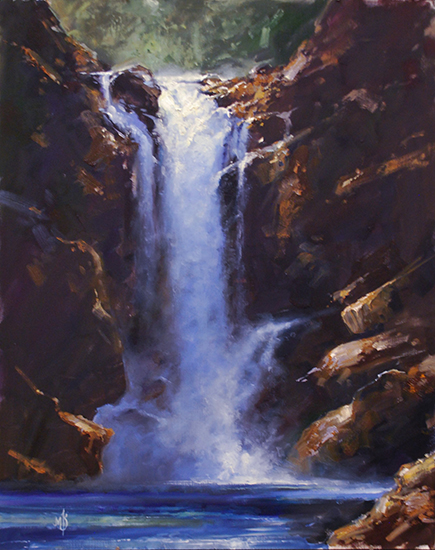 Mark Kelso's finished oil painting
Artwork © Mark Kelson. See more of Mark's work here:
Mark Kelso
Ken Shanika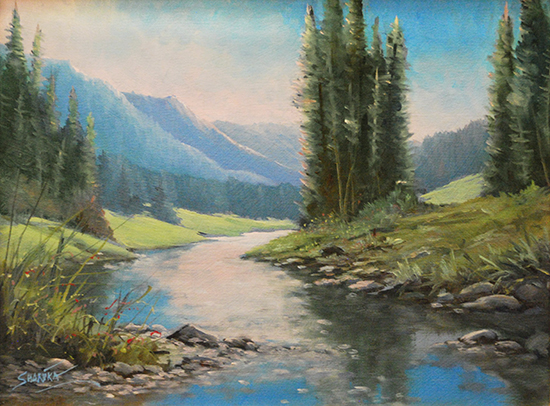 Ken Shanika's finished oil painting
Artwork © Ken Shanika. See more of Ken's work here:
Ken Shanika
Janene Grende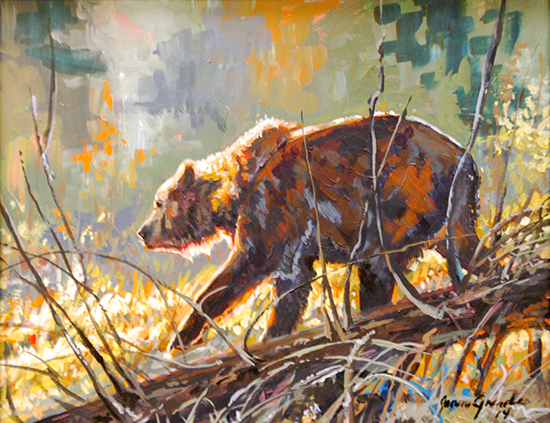 Janene Grende's finished oil painting
Artwork © Janene Grende. See more of Janene's work here:
Janene Grende
Guy Combes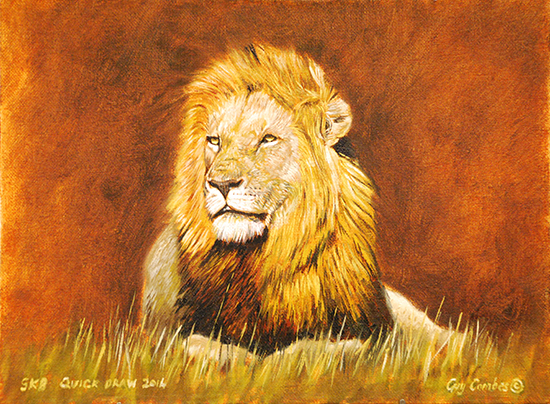 Guy Combes's finished painting
Artwork © Guy Combes. See more of Guy's work here:
Guy Combes
John Phelps



Artist John Phelps chose to work in clay this year, creating a clay maquette to be cast in bronze.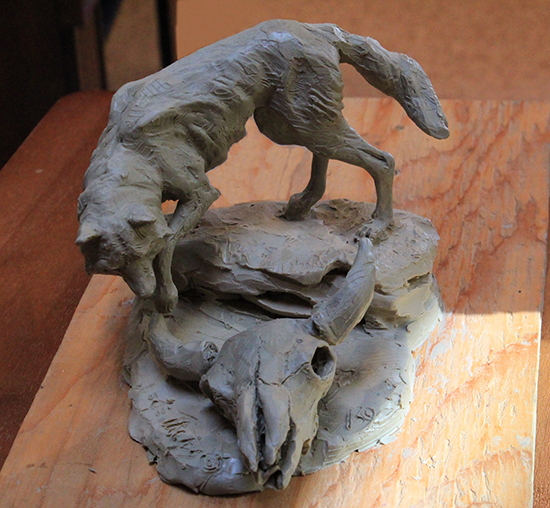 Finished Maquette by John Pehlps
Artwork © John Phelps. See more of John's work here:
John Phelps
Christine Knapp
Scuptor Christine Knapp also created a work in clay for future casting. See her work here:
Christine Knapp
John Ruthven
At 90 years of age, John Ruthven inspired everyone around him with his enthusiasm, humor and great knowledge of art. Often referred to as The Twentieth Century's Audubon, he was awarded The National Medal of Arts from the President, the highest federal honor an artist can receive. He was the first wildlife artist to be so honored. John worked in pencil creating a drawing of an Ivory Billed Woodpecker.
See more of his work here:
John Ruthven
Become an Artist's Road Member Today!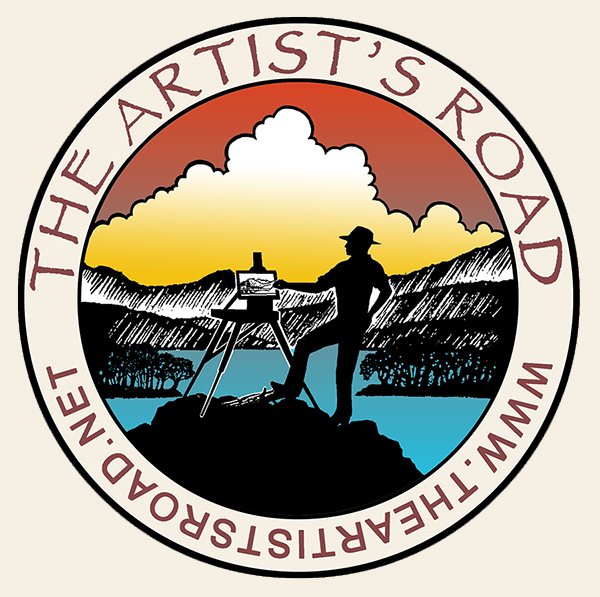 Click here to become a Member and enjoy access to all the in-depth painting and travel articles, videos and tutorials. Guaranteed!

Already a Member?
Log in here. To renew your membership, log in and follow the links.
Perspectives
Not ready to become a Member yet? Subscribe to our free email postcards, "Perspectives". Enter your email address here.
Member Content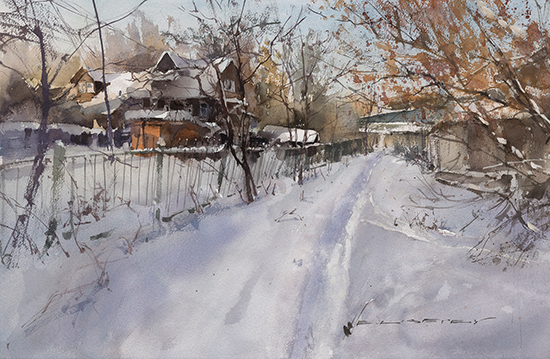 Voices of Experience:Vladislav Yeliseyev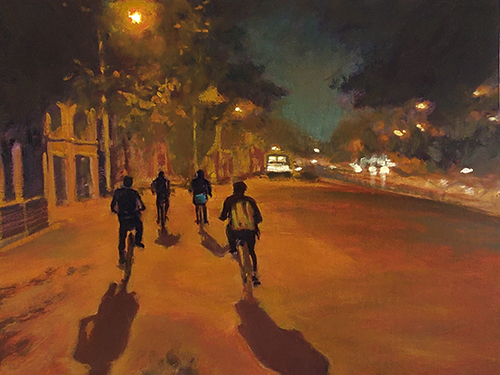 Voices of Experience:Fernando Micheli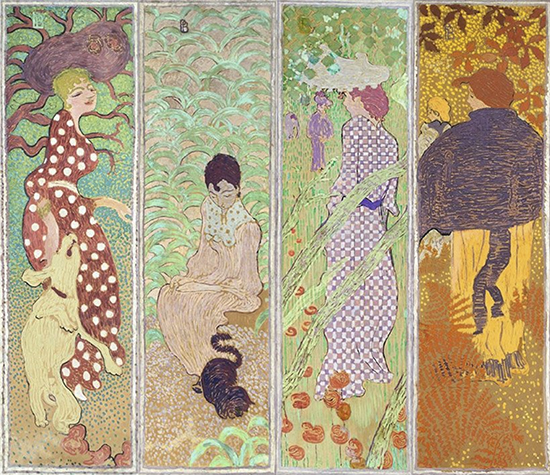 Pictures of the Floating World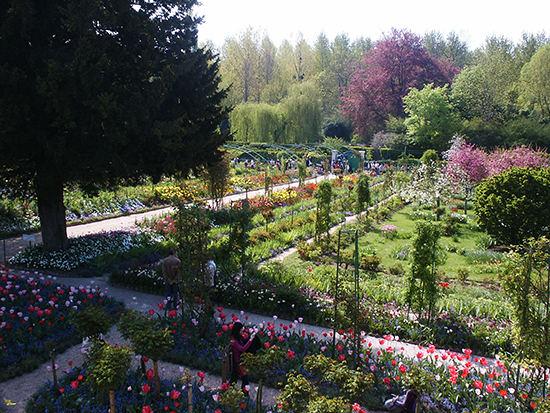 Inspiration in Monet's Gardens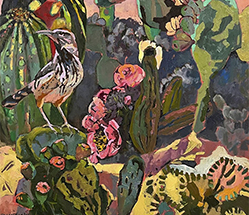 Using Oil Paper for Oil Paintings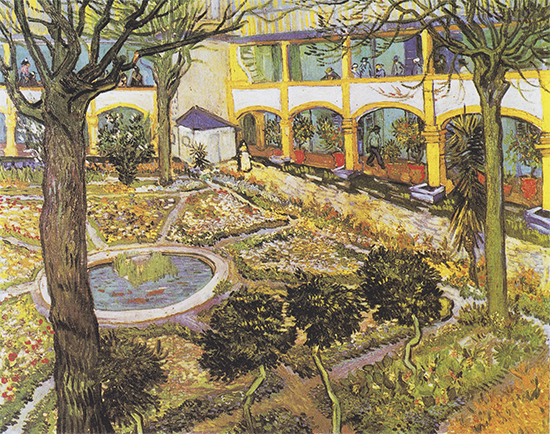 Paintings & Their Places
Van Gogh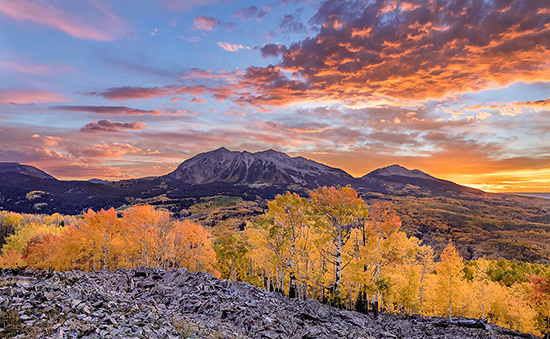 Essential Photo Tools for the Landscape Artist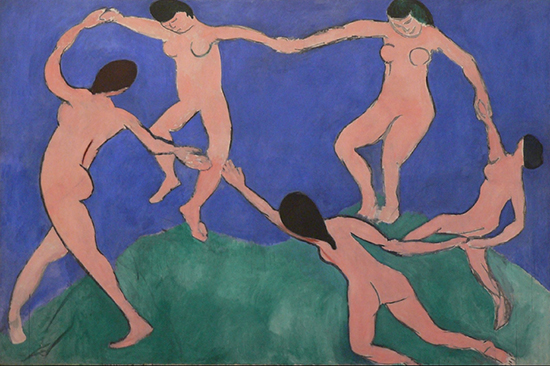 The Perspectives Archive

and MUCH MORE!
Free Content
The Artist's Road Store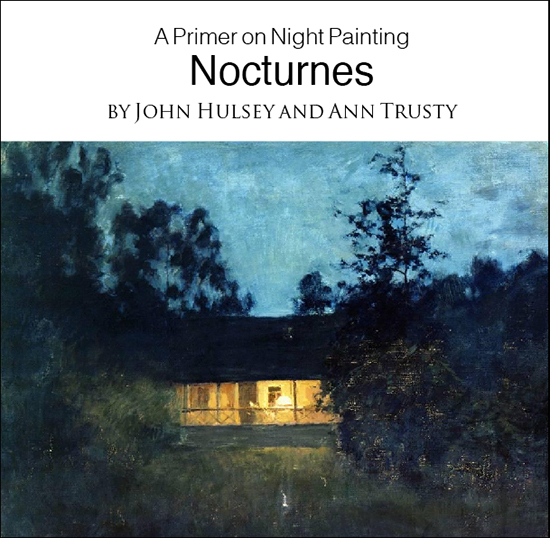 Nocturnes - A Primer on Night Painting
Filled with inspirational examples by the masters of nightime painting, this little book is sure to fire up your creative energies. Never tried painting at night? We show you how it's done with a step-by-step-oil demo and a tale of night painting in the wilds of Rocky Mountain National Park. The Primer on Night Painting - Nocturnes is a 7 x 7" PDF download with 40 pages of text and images. It includes a gallery of paintings by masters of the nocturne, information to inspire and encourage you in your plein air nocturne painting, an illustrated step-by-step demo and tips for working in pastel and oil. Also available in a softcover edition. Check out the tools and other products that we use in our own art and travels in The Artist's Road Store. We only offer things for sale that we enthusiastically believe in.
Save
Save
Save
Save
Save
Save
About Us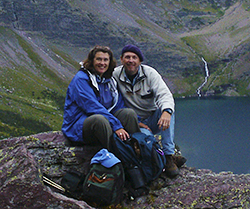 We are artists, authors and teachers with over 40 years of experience in painting the world's beautiful places. We created The Artist's Road in order to share our knowledge and experiences with you, and create a community of like-minded individuals. You can learn more about us and see our original paintings by clicking on the links below.
About Ann About John
Hulsey Trusty Studios