An Artist's Tour of Provence - Part II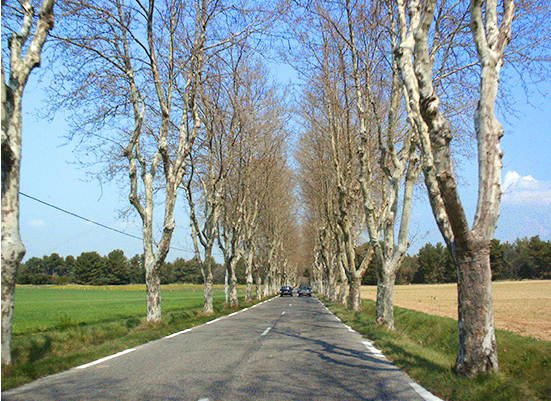 (Click here to return to Part I)

Lourmarin

The next day we planned to head north out of Aix on A51 to visit the village of Lourmarin and paint. Lourmarin is in the Vaucluse departement, in the heart of the mountainous area known as the Luberon. It is an easy day trip from Aix and one can continue on to see many interesting villages like Vaugines, La Motte-d'Aigues, Bonnieux, Lacoste, Menerbes or Oppede. Market opportunities are 20 km away in nearby Apt, as well. This was the excursion where, as navigator, I completely miscalculated the distance and not only missed our exit, but led us far astray, toward Italy and the Alps! Our route should have exited off the A51 onto D943, then onto D973 toward Cadenet. From there continue on D973 around Pertuis, connect with the D956 and in to the village of Lourmarin.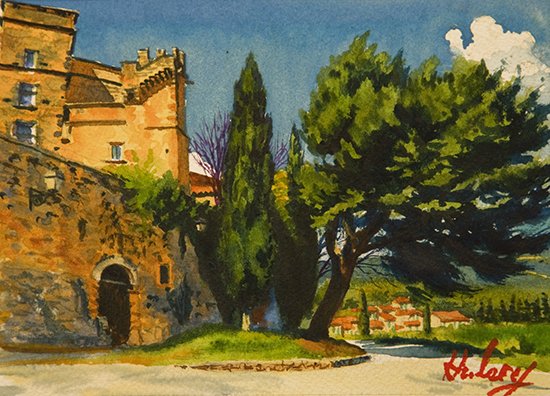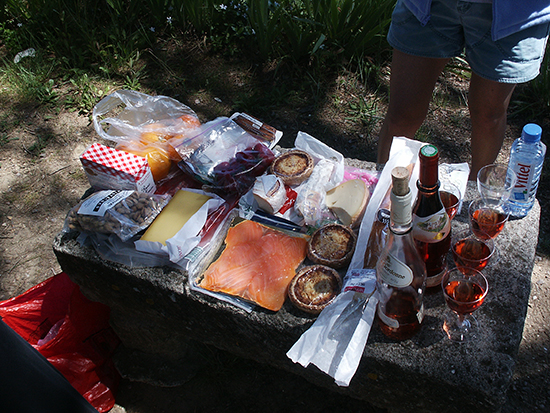 The Ancient Pine Watercolor J. Hulsey Picnic at Lourmarin

Our destination was the Renaissance chateau which sits just outside of the village proper, the Chateau Agoult, built between 1479 and 1545. There are some very interesting medieval rooms worth seeing which are open to the public, gained by a climb up a remarkable hand-made spiral stone staircase, but the grounds and setting are what we came for. In early spring, there are almond orchards in bloom and the olive grove adjacent to the chateau is filled with wildflowers. But first, there is lunch to consider, and for that we brought sumptuous provisions gathered from the street markets in Aix. Painting is hard work and must be balanced with good living!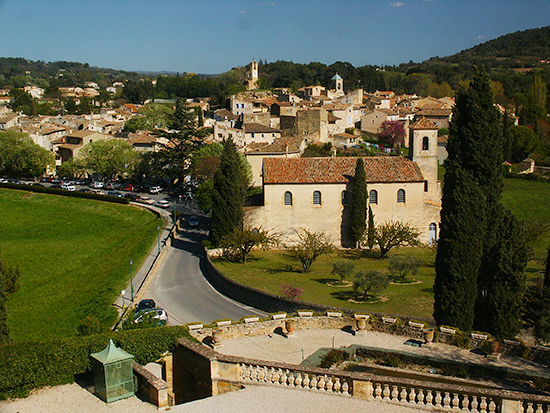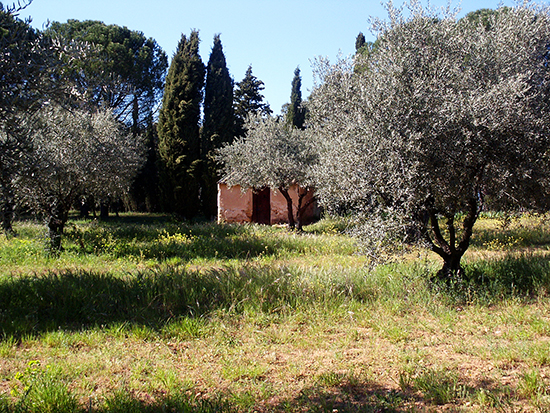 Lourmarin Village In the Olive Grove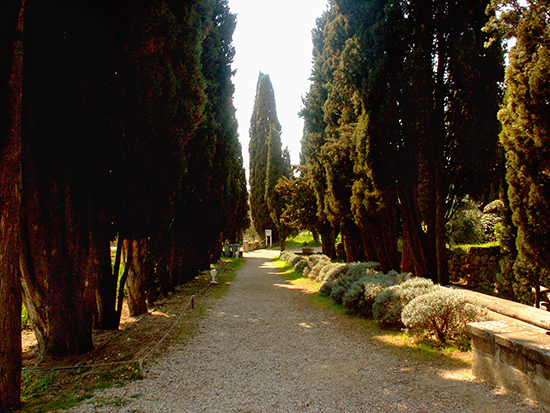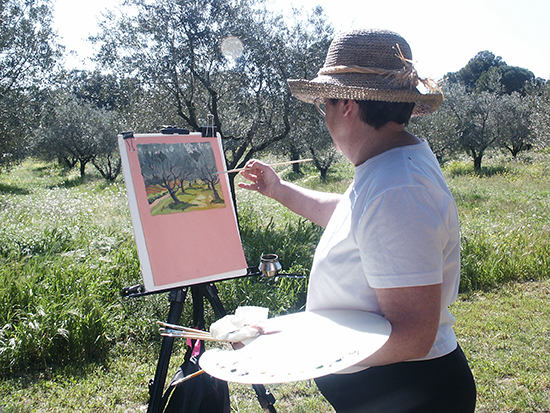 The Allee Student Painting in the Olive Grove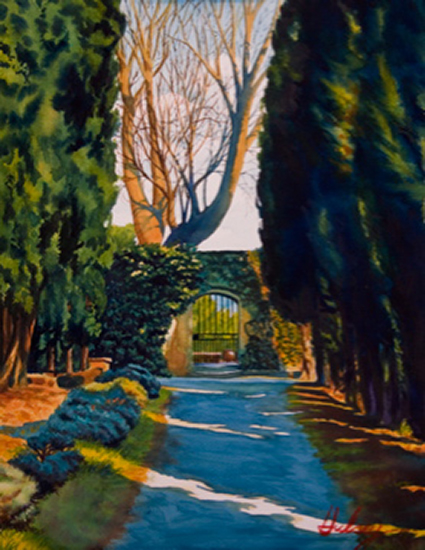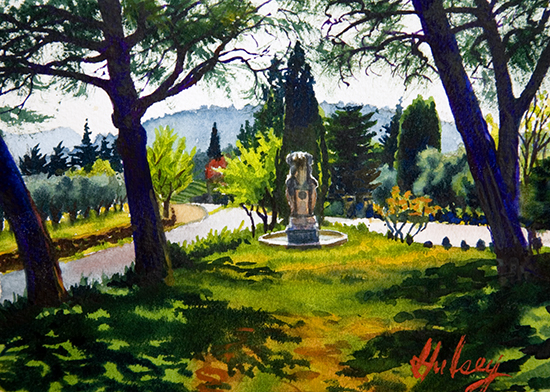 The Cedar Allee Watercolor J. Hulsey Lourmarin Watercolor J. Hulsey

After lunch we scouted around the grounds and soon everyone set up at their favorite spot to paint. From the terrace, one could paint a charming aerial view of the village, or perhaps paint in the cedar allee leading up to it, or even work among the olive trees in the orchard. Over the years, we have painted from several different vantage points, and there is always more to see. The light is wonderful throughout the day, and although we have not hung around for it, I'm sure there are terrific nocturne painting possibilities.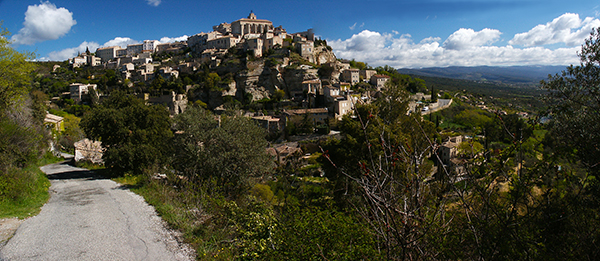 View of Gordes

Gordes

Another spectacular village—a must-see—which is on the official list of "the most beautiful villages of Provence", is Gordes. Located just 21 kilometres (13 miles) north of Lourmarin, take the D943 out of Lourmarin, and then left onto D36, continuing on to D3A at Bonnieux. (You might want to stop and look around Bonnieux as well). Sharp left onto D3/Tilleuls Avenue. At the roundabout, straight onto Gare Avenue/D194, and continue on out of Bonnieux on D194. Keep onto D36 to D145 through the roundabout and then right toward D105. Right onto D105 and then D104 at the roundabout. Right onto D60, left onto D156, left onto D2. Take first right then left onto Neuve Road/D102 and stay on D102 to Gordes. Whew! These little two-lane routes twist and turn, sometimes reversing direction, and often change designation mid-stream, so you can see why we like to have a GPS in the car. Our time in France is precious, and we don't always want to waste daylight being hopelessly lost! Despite the circuitous route, this trip is so worth it, you will be glad to have stuck with it.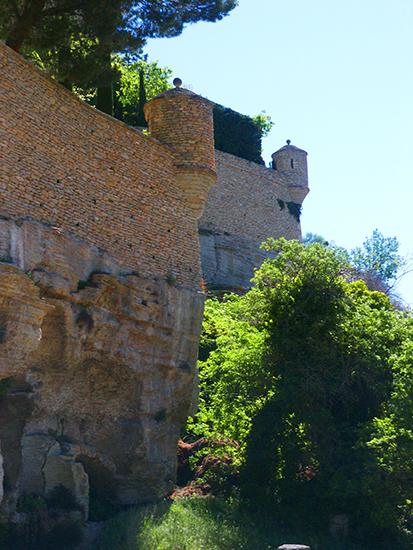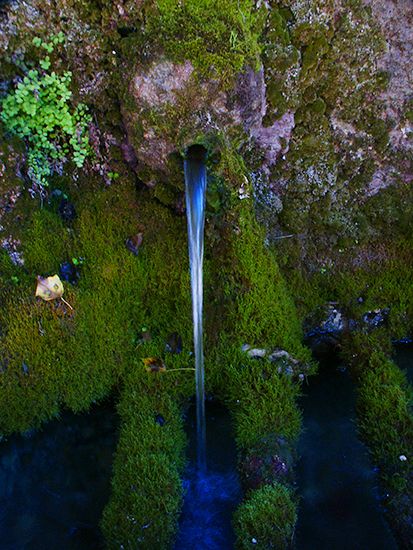 Medieval Defenses Fount of Life

Gordes is a stunning example of a traditional Provencal village perche, or village on a rock, and it retains the look and feel of a fortified medieval village. Many of these perched villages evolved during the middle ages out of necessity. The countryside was beset by roving bands of marauders and the only defense was to build fortifications up high on the rocky promontories. During a raid, the farmers in the land surrounding the village could retreat uphill to the fortress, slam the gates and rain down arrows and projectiles onto the attackers. Gordes also has an essential—water —so the village could withstand a long siege. That water source can still be found flowing in ancient cisterns and fountains on the slopes of the village.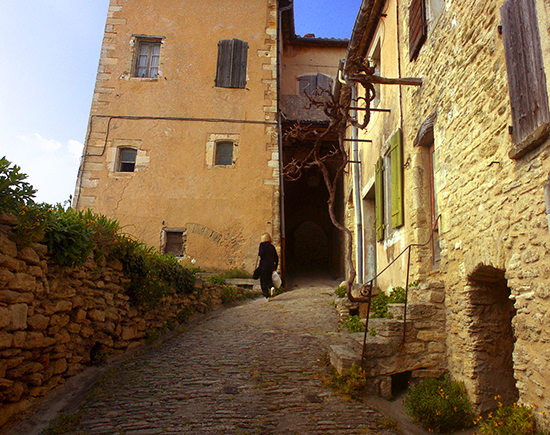 A Street in Gordes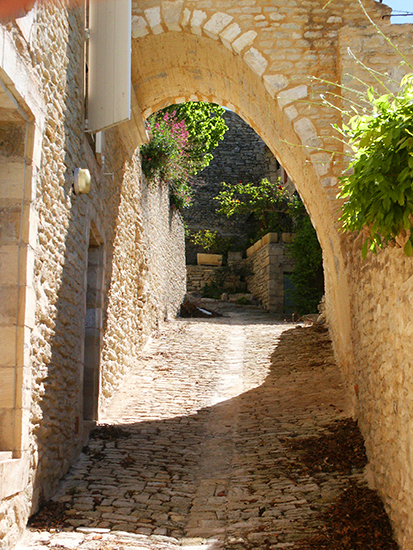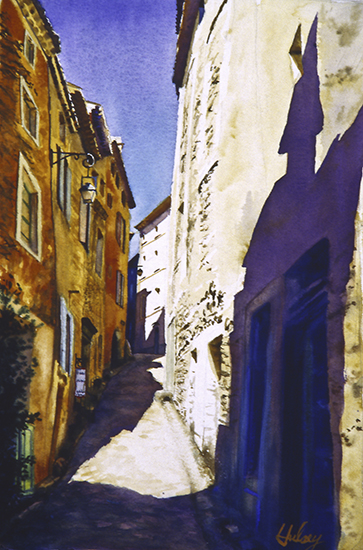 Gordes A Street in Gordes Watercolor J. Hulsey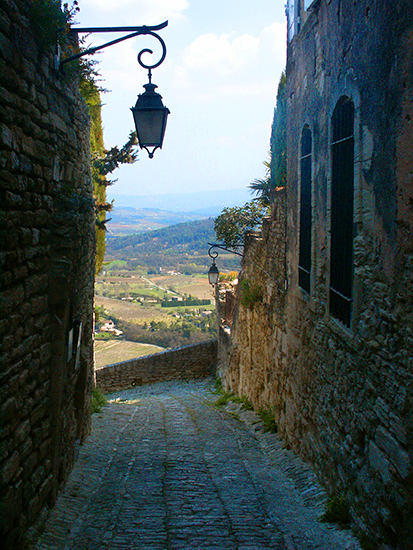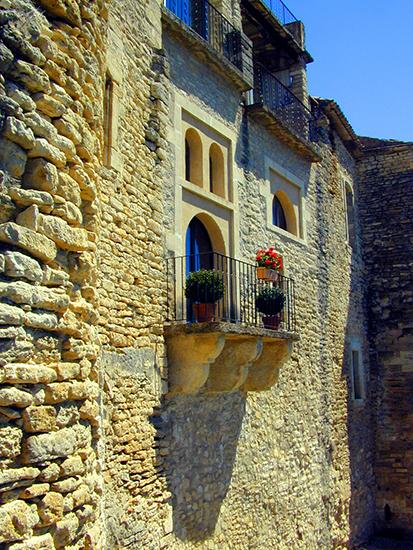 A Sudden View Hotel

There are so many interesting things to see in Gordes we never get tired of it. The village itself is the great attraction for us. Visit on a sunny day, when it is best seen from some distance. One can easily appreciate the almost organic flow of the architecture down the slopes. For defense and strength, every building is attached to another and terraces were built to grow food at every level. There is the castle at the top, built in 1525, and now lovingly restored, and a cemetery and public park. Be sure to wander the many winding streets—they often will suddenly open to give you a spectacular bird's eye view of the surrounding countryside and the entire Luberon.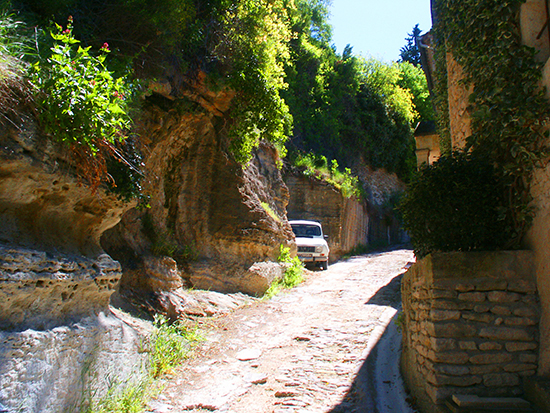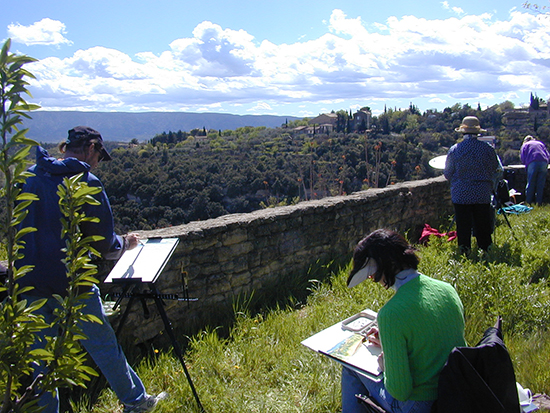 Tight Parking John's Workshop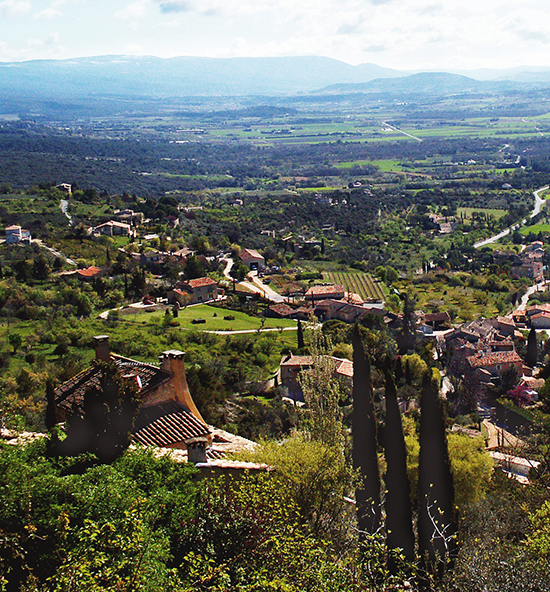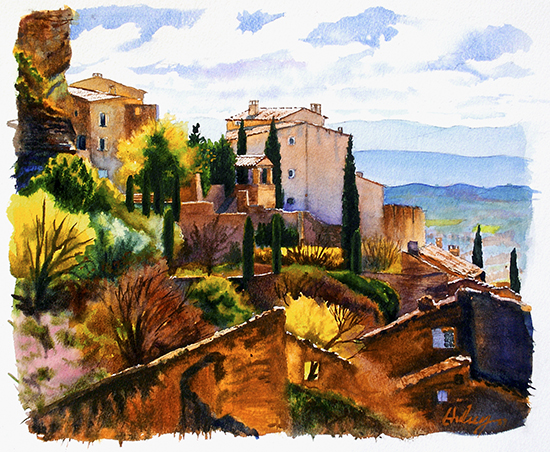 View From Gordes Composition, Gordes Watercolor J. Hulsey

There is so much pictorial inspiration it can be difficult to choose where to start, but we try to find a spot where we won't be blocking the way. When we have brought our workshop to Gordes, we like to set up on a small orchard terrace, where there is plenty of room for everyone. The terrace location is not about painting Gordes itself, but rather, the landscape views around it. Plan to spend at least a solid half-day here painting and wandering before moving on to nearby Rousillon. Of course, travel itself should be half the fun, and sight-seeing and the enjoyment of our companions always are high on our list of things to do. What the French call joie de vivre should be part of any painting trip, as our car-mates amply demonstrated here.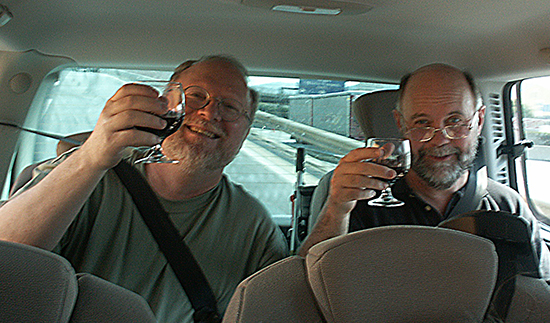 Salute!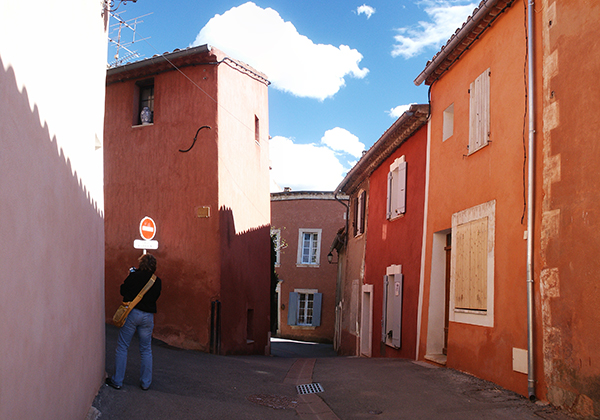 Roussillon

Just 7 km (4 miles) to the southeast of Gordes lies the charming village of Roussillon. Known for its ochre mines, the entire village is painted with the colors obtained from the mines. When we think of ochre as a color, we usually think of yellowish or brownish colors - earth tones. Roussillon, however, is colored in bright and happy shades of salmon, red, red oranges and yellows that glow brilliantly in the sun. If you are adventurous, raw, powdered pigment can be purchased in the village and you can mix your own paints from it. However, shopping is not the main interest we enjoy in Roussillon.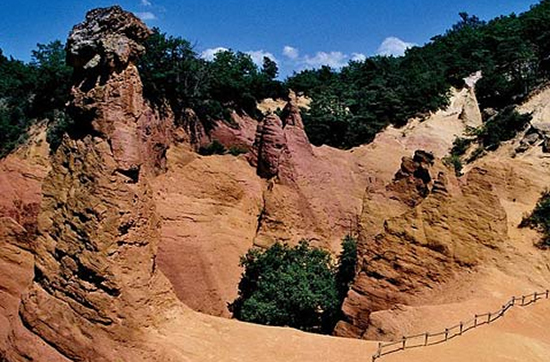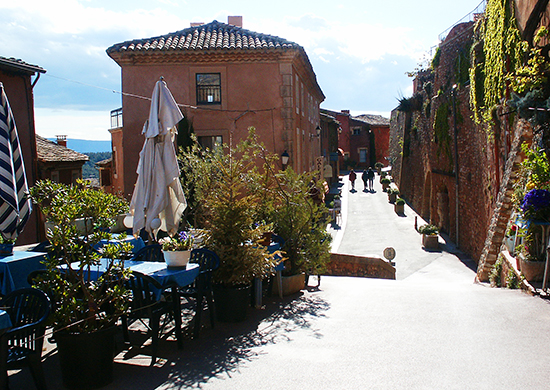 Ochre Mines, Roussillon Wandering

Because we usually arrive there in the afternoon, we like to spend time searching for our painting subjects in anticipation of the increasingly wonderful afternoon light. As you can imagine from these photos, sunset is amazing as the buildings amplify the last colors of the day. There is also the attraction of the old ochre mines themselves to see and paint. They look like a miniature Bryce canyon and to wander amongst the "hoodoos" of standing pigment is to be in another world, especially at the end of day.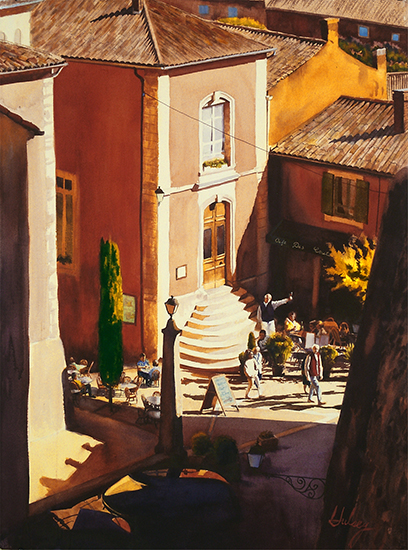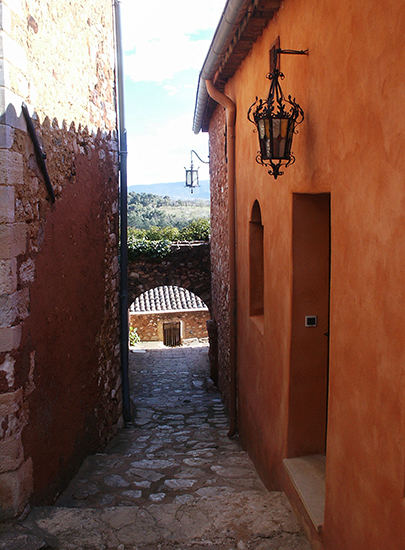 A Votre Sante Watercolor John Hulsey Alley View

To see a Step-by-Step demonstration of A Votre Sante, click here.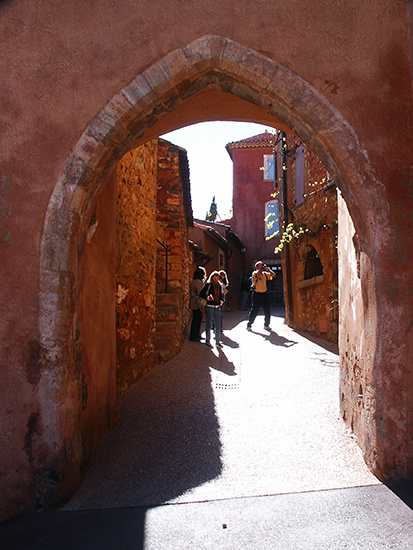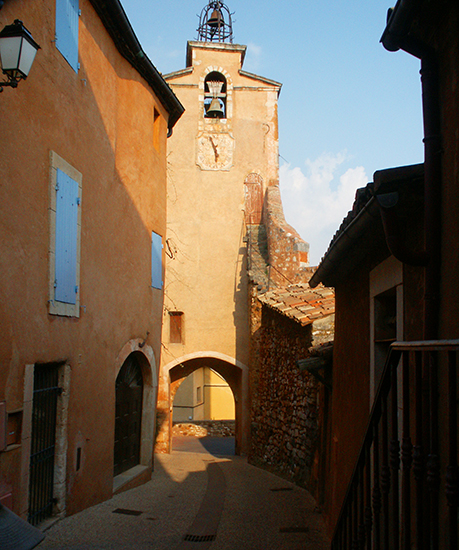 Dance of Light A Street in Roussillon

The winding streets, alleys and hidden squares of the village are fascinating to discover as well. The architecture is typically 300 years old and retains the original look and charm of buildings constructed from thick masonry capped with red tile roofs. Notice the ironwork bell tower, or campanile, on the top of the churches. Campaniles were developed because the fierce winter winds known as mistrals blew off any other types of structure! Follow the winding streets up to the top of the town and you will be rewarded by a peek inside the church of Saint-Michel with its marvelous spare interior and atmospheric light. Walk a little further, and you will find an interesting ceramic map of the panoramic view. Look to the west and you can see Gordes perched on its hilltop. We love painting here and always plan to stay for dinner before heading back to Aix.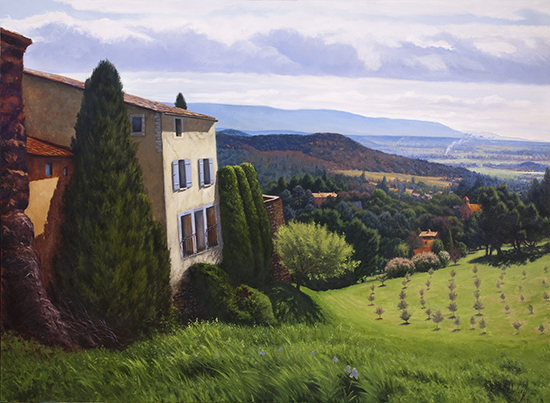 Early Spring, Roussillon 54 x 72 inches Oil John Hulsey

But wait, there's more! Look for Part III of our Artist's Tour in Provence when we take you on an adventure to van Gogh's Arles, the Papal town of Avignon, a winery in Chateauneuf-du-Pape, Les Baux, and fortified Carcassonne. You won't want to miss this.

If you are traveling to France to paint, you may be interested in our French Language Phrases for Artists!