Phil Starke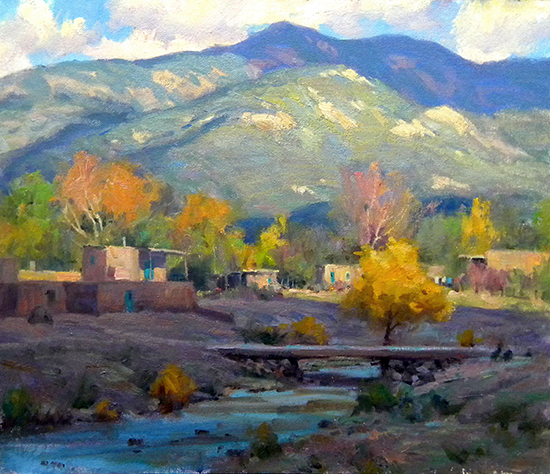 Rio Pueblo Taos Oil 12 x 14"
P

hil Starke maintains his home and studio in Tucson, Arizona when he is not on the road painting or leading workshops. In addition, he offers a teaching website and blog. He
credits his first artistic influence to a great uncle named Terry Brooks, a commercial artist in St.Louis. Brooks had taken life drawing from Oscar Berninghaus (well known
not only for his paintings but for co-founding the Taos Society of Artists in 1915).
He was full of information about the Taos and other American artists.
Starke knew he would be an artist at about age 13. Because his father was in the army, the family moved to Germany for several years when Phil was growing up. He was exposed to the great museums of Italy and Germany. Their works inspired him and piqued his interest in drawing and sculpture.
On returning to the United States, he attended the Art Institute of Chicago and the American Academy of Art in Chicago, where he studied under Bill Parks. He credits the American Academy of Art for giving him the tools and teaching him the skills he needed to become a painter.
After college, he began selling and showing in small gallery/frame shops and worked at other jobs to earn a living for several years before becoming a full-time artist.
Today he continues to study and find inspiration from the works of artists such as George Innes, Afred Sisely and John F. Carlson. The Taos painters and the California impressionists from the early 20th century are of particular interest to him, including Ernest Blumenshein, E. M. Hennings, Hanson Puthuff and Edgar Payne. Of his contemporaries today, he keeps up with the work of Len Chmiel, Clyde Aspevig and Bill Anton among others.
To read the entire interview with Phil Starke and to see more of his beautiful paintings, become a Member of The Artist's Road by clicking here. Already a Member? Click here to go to the the in-depth interview.

All artwork copyright
Phil Starke