Artist Profile

John MacDonald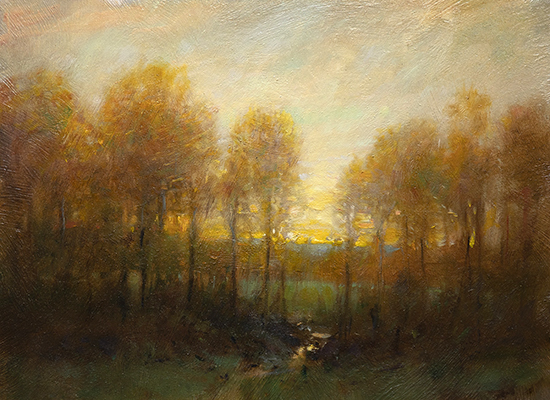 Berkshire October 12 x 16" Oil


"Ultimately, I wish to leave some mystery

in a painting, something unresolved

that allows a viewer to enter the world

of the painting and make his or her

own discoveries within it."


John MacDonald shared with us thoughts on his lifetime of creativity—the stunning sunsets of the open vistas of Indiana which inspired him growing up, his twenty years of illustration work in New York, and, now, his return to full time fine art landscape painting. MacDonald's work is in both private and museum collections across the United States. He has been featured in multiple national arts publications and now shares his skills and inspiration with students, teaching workshops throughout the year.




Was art (or were other creative pursuits) a part of your childhood?

I was lucky in that artists were in both my parents' families. Although primarily a businessman, my father was very creative and had terrific design and drawing skills. Both he and my mother were supportive of my interest in art. I grew up in the Midwest, in the flat farmlands between Indianapolis and Chicago. Being so flat, the northern Indiana landscape was quiet and simple, but it afforded spectacular skies. It was there I fell in love with light.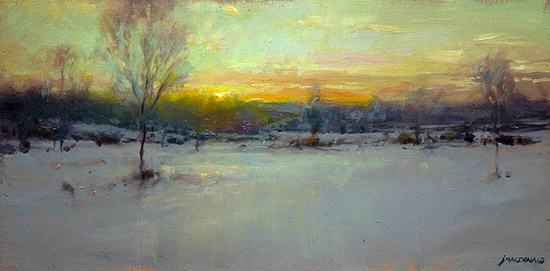 Early Dusk 8 x 16" Oil
To view John MacDonald's interview
and to see more of his work, become a member of
The Artist's Road today by clicking here.

Already a Member?
Lucky you! You can go immediately to the full article here.

Visit John MacDonald's website here:
http://jmacdonald.com
All artwork copyright John MacDonald