Finding Gold Along the Rio Grande
Finding Gold Along the Rio Grande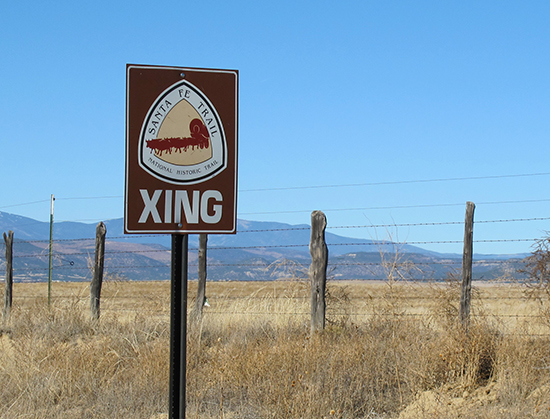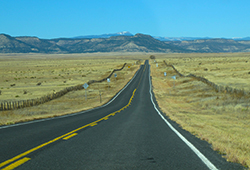 Santa Fe Trail Marker Along the Santa Fe Trail
P

erhaps there is no more entertaining spectacle in the mountains of northern New Mexico than that put on by the aspen trees as they paint the slopes with brilliant swaths of yellow against the deep evergreens. But we were looking for something different. We have discovered the fall colors of the massive old cottonwoods which line the Rio Grande river between Santa Fe and Taos to be a much more sublime show, and one which has always provided strong subject matter for our plein air paintings over the course of many years. Every year these old Rio Grande cottonwoods light up like golden lanterns along the river and any other streambed or ravine providing precious water. The window of time available to catch this event is narrow - just a couple of weeks each fall, before the solid freezes of the cold mountain nights turn their bright Indian Yellow leaves to dull brown. It helps to have some "local intelligence" in the neighborhood to correspond with, but despite that, we were leaving late in the season. We hoped that the fates would smile on us and provide the inspiration we were seeking. Either way, we knew we would find something special to paint there. The warm tones of the rock and clay of the southwestern landscape are exciting to eyes that have been painting the summer greens of wetter climates. This called for a change of colors on the palette: burnt siennas, umbers, ochers, and a whole chromatic range of reds, from alizarin all the way to pink. We also add some cobalt turquoise to help with painting the ubiquitous sages and chamisas that provide the shrubby background for most of the landscape there. Last but not least, we remembered to pack our fleece, warm hats and fingerless gloves for those long hours of standing in one chilly spot while painting.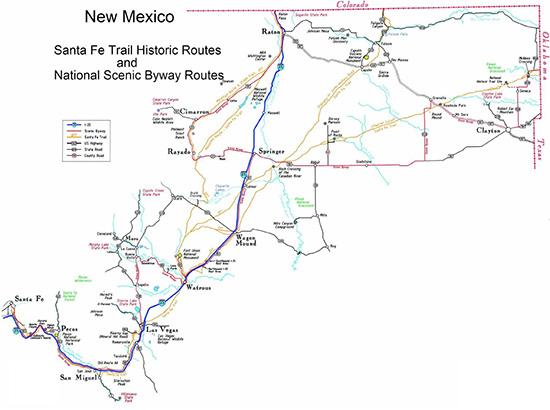 Map of the Santa Fe Trail
Our route followed the Santa Fe Trail for most of the way, finally veering off to catch Route 64 which would take us past Philmont and up into the mountains through the Cimarron Canyon and then on to Taos. This is a favorite route of ours, and the Canyon, which is part of the 33,116 Colin Neblett Wildlife Area, has many campgrounds and scenic views to paint. We pulled off midway through the canyon at a favorite spot to stretch and immediately decided that the light was so good that a painting was needed. The light would fade soon, obscured by the walls of the canyon, but at the moment it lit up the stream and foliage in a dramatic way. John worked quickly in watercolor due to the time constraints of the shifting light.
(See the video in Perspectives No. 3, Painting in the Land of Enchantment.)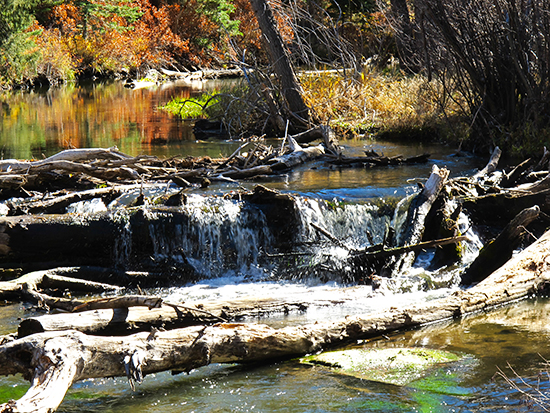 Cimmaron Canyon
Rio Grande Near Taos
That done, we moved on up the Canyon to Eagle's Nest lake and then to Taos. As we drove south on Route 68 we began to wind along the Rio Grande river, heading toward our next painting site. This is a favorite that we have visited many times and it never fails to delight. The river
provides a micro climate and a niche for moisture-loving plants, like the cottonwood, which thrive here despite the arid environment prevalent in the northern New Mexico desert. Wherever they can gain a foothold, these big trees prosper along the banks of the river, and they in turn provide habitat for birds, small animals and a whole little ecosystem which lives beneath their protective branches. When they put on their fall color, they are an impressive and exciting contrast to the low, scrubby vegetation all around them. We pulled in and quickly set to work in the late afternoon light. It was quiet at this time of year with only an occasional visitor stopping to look as John painted a plein air study in oil.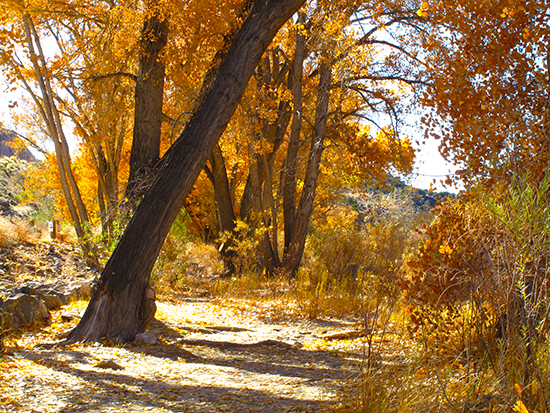 The Subject - Cottonwoods along the Rio Grande
After we returned to the studio it was time to assess the studies completed on our week-long trip, to determine if any of them had the potential to be enlarged into finished studio works. Sometimes a plein air painting is a winner alla prima, but more often, they need some additional work later, or even a redesign as a new piece. John felt that although the subject was still a strong candidate, the picture needed a redesign before it could be enlarged. It could improve things if the large foreground tree were pushed back in space and more of the background could be included, extending the rhythmic repetition of the trunks. This would require additional small studies and sketches in order to get it just right before he would invest the time developing the subject into a larger piece. (Check back with us on our "In the Studio Now" page for further developments.) Sometimes we get winners when we paint on location, sometimes we don't. But always, we find inspiration around the next bend, and that is what drives us to travel and paint. We also love to share our travel adventures and painting experiences with our community of artists and creative people through our articles like this, and our teaching workshops. We welcome your comments and stories of your painting travels as well.
For access to more in-depth articles as well as many other benefits, please become a Member of The Artist's Road by clicking here.
Become an Artist's Road Member Today!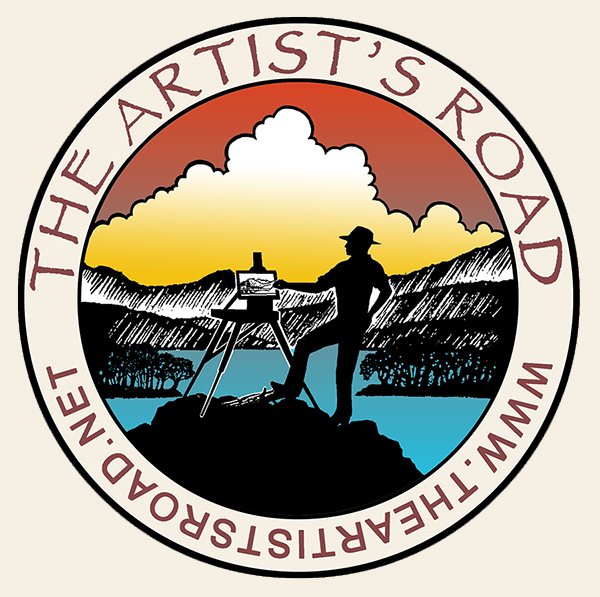 Click here to become a Member and enjoy access to all the in-depth painting and travel articles, videos and tutorials. Guaranteed!

Already a Member?
Log in here. To renew your membership, log in and follow the links.
Perspectives
Not ready to become a Member yet? Subscribe to our free email postcards, "Perspectives". Enter your email address here.
Member Content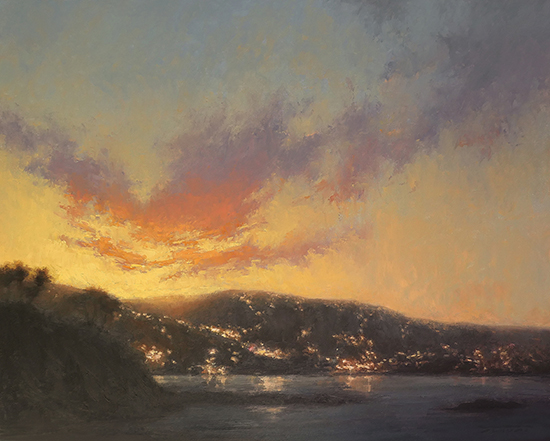 Voices of Experience:Jane Hunt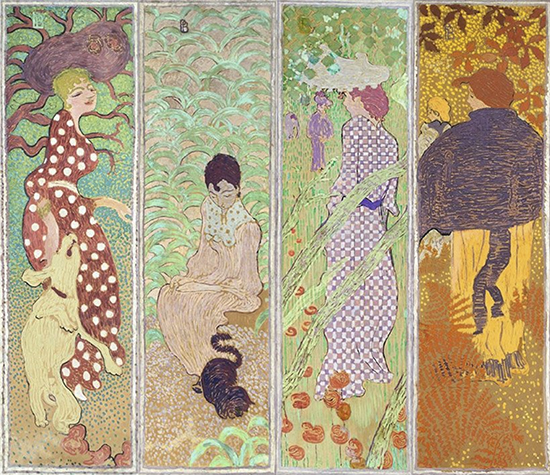 Pictures of the Floating World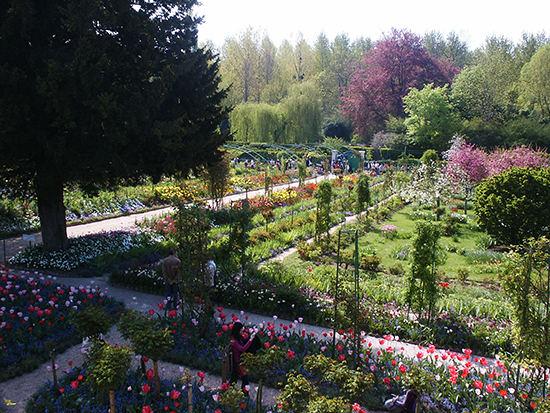 Inspiration in Monet's Gardens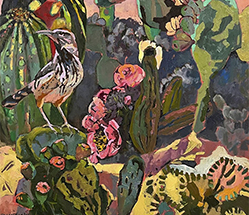 Using Oil Paper for Oil Paintings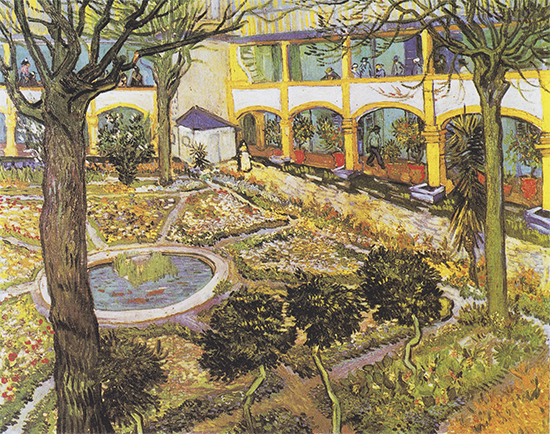 Paintings & Their Places
Van Gogh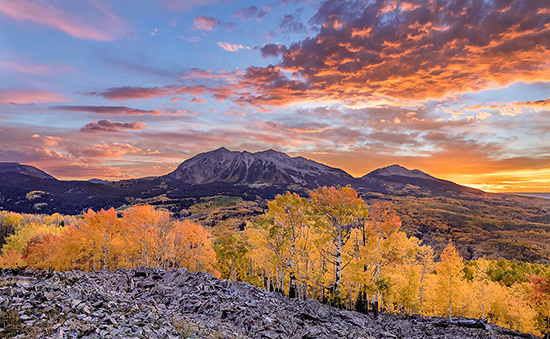 Essential Photo Tools for the Landscape Artist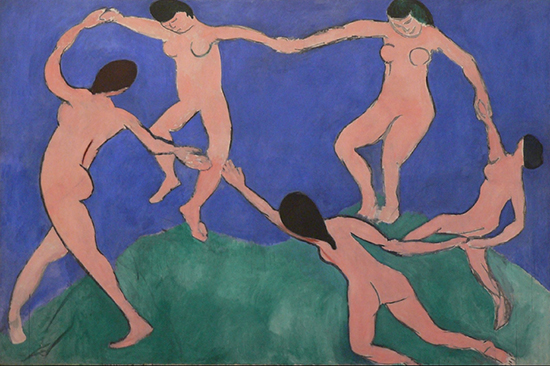 The Perspectives Archive

and MUCH MORE!
Free Content
The Artist's Road Store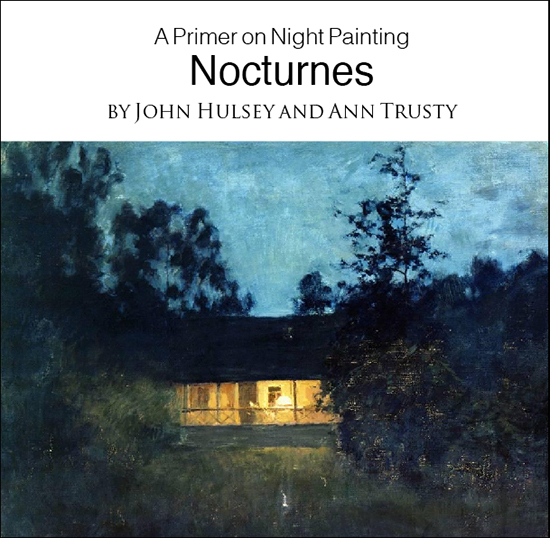 Nocturnes - A Primer on Night Painting
Filled with inspirational examples by the masters of nightime painting, this little book is sure to fire up your creative energies. Never tried painting at night? We show you how it's done with a step-by-step-oil demo and a tale of night painting in the wilds of Rocky Mountain National Park. The Primer on Night Painting - Nocturnes is a 7 x 7" PDF download with 40 pages of text and images. It includes a gallery of paintings by masters of the nocturne, information to inspire and encourage you in your plein air nocturne painting, an illustrated step-by-step demo and tips for working in pastel and oil. Also available in a softcover edition. Check out the tools and other products that we use in our own art and travels in The Artist's Road Store. We only offer things for sale that we enthusiastically believe in.
Save
Save
Save
Save
Save
Save
About Us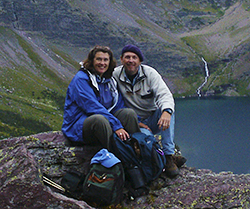 We are artists, authors and teachers with over 40 years of experience in painting the world's beautiful places. We created The Artist's Road in order to share our knowledge and experiences with you, and create a community of like-minded individuals. You can learn more about us and see our original paintings by clicking on the links below.
About Ann About John
Hulsey Trusty Studios