Don't Be Afraid of the Dark
A Primer on Night Painting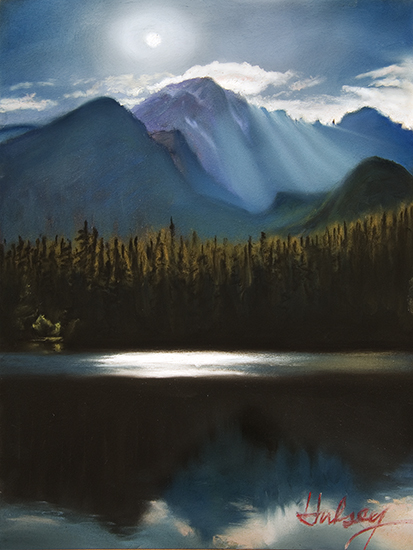 Midnight, Bear Lake Pastel John Hulsey
"I often think that the night is more alive and more richly colored than the day".
-Vincent Van Gogh
Strong moonlight adds an essential element to the night landscape - shadows. Without shadows, there is little depth or dimension. And the night landscape is an intriguing and wonderful subject, so painting under a cloudless sky with a full moon is a peak experience.

I have tried to paint at night with oils, but it is very difficult to mix the proper values as one looks back and forth from dimly-lit palette to the subject. Even under a bright full moon, where the eye can perceive a 5-step value range in the landscape, I have found it nearly impossible to select or mix oil colors on a palette without some supplemental lighting. So when the light of day is done and the moon begins to shine, pastels make night painting much more fun.

The trouble with most supplemental lighting is that it is too bright, and the light bouncing off our work causes our irises to react by narrowing slightly. This narrowing takes a moment, so when we look up from our lit-up work, we are temporarily blind as our irises struggle to open back up again to see the darker subject in the distance. All this back and forth adjustment of the eyes can even give one a pounding headache after awhile. I used to take a booklight and wrap the bulb with tissue until it was just barely bright enough to light my work without overpowering my vision, but that arrangement was cumbersome and not very adjustable.

Today, I wear a baseball-style cap which we call, The Artist's Road Night-Light Cap. It has three LEDs right in the edge of the brim. A single click of the hidden button in the brim lights two LEDs, which are bright enough for setting up gear, but don't cause the iris to react, so night vision is not altered. Another click adds the third LED for a bit more light. The LEDs in the brim produce a clean white light, which is the perfect amount of light to illuminate the palette and the work without causing troublesome shifts in night vision. If the light seems too bright, I simply take a step back from the easel and the intensity is reduced. When I look up at my landscape subject, the lights are not powerful enough to affect my view at all. This invention has made night painting so much more comfortable and efficient it has to be experienced to be fully appreciated.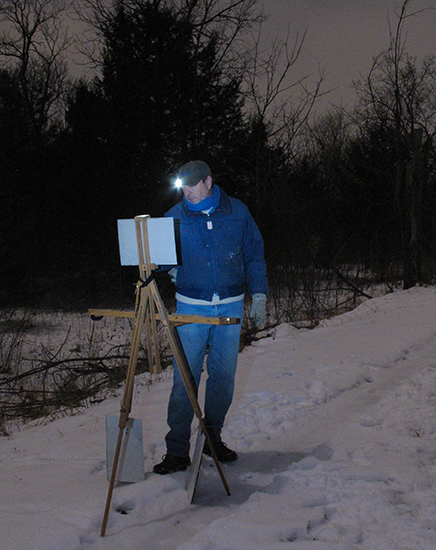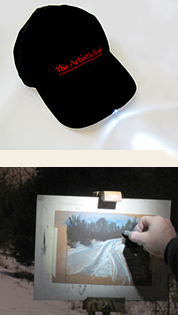 These pictures show my Dakota Pastels easel and portable pastel box set up in the snow, along with my night painting hat and a pastel in progress. Before I go outside at night, I pre-select a range of colors and values that I think I will use, and put them in a separate spot in my pastel box, so that I don't waste precious moonlight trying to pick them out of the entire set. If I am going to have a 5-value range to work from, then I will select 3 colors in each range -15 sticks in all. The art is in how to use those 15, not the quantity of colors available.
This is a free sample of a much larger, in-depth article available to our members. If you like what you find here, won't you consider supporting The Artist's Road educational mission through your membership today? We know you'll love it - Guaranteed.


Want to know more? Become a Member and read the complete article today.