Spotted Horses

Perspectives No. 414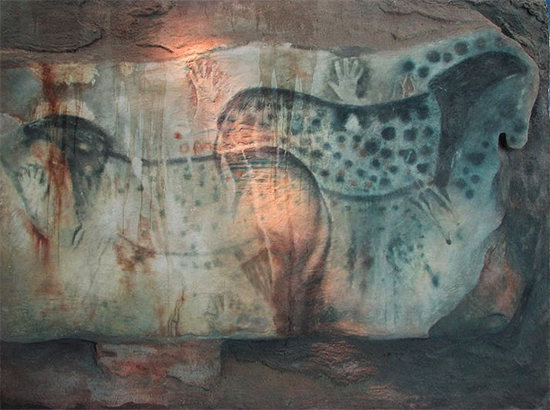 Spotted Horses Cave Paintings at Pech-Merle

During difficult times, it can be easy to question the role our art can play. Artists who are responding directly to current events may feel their sense of purpose more acutely than those of us who are trying to create a little beauty in the midst of tumultuous days. But beauty is our reminder of something greater than the turmoil which may surround us.

Artists, as perennial observers of the universe, have always sought to interpret their own times, difficult or otherwise, and use their talents to find meaning or reach for transcendent beauty. These efforts are their legacy to us all and can become gifts to future generations. We are reminded of the gifts left to us in the beautiful cave paintings at Pech-Merle in southwestern France.

The purpose of the roughly 25,000-year old cave paintings has been questioned for decades. What were the artists trying to convey? Were the horses in the paintings symbolic, perhaps representing mystical creatures? Or, were these primitive painters simply responding to the beauty of the animals they were observing?

Scientists were initially convinced that the horses had symbolic meaning rather than being representational. This was primarily because of the spotted horses depicted in the Pech-Merle caves. DNA from the bones and teeth of ancient horses had determined that they were either bay (brown with black mane and tail) or black and not spotted.

But DNA techniques have advanced in recent years and scientists have discovered the code for a spotted pattern in modern horses. They returned to the DNA samples they had worked with before and, for the first time, found the spotted sequence was indeed in the bones of ancient horses.

The controversial findings appear to confirm that the cave artists were keenly observing and recording what they observed. Michael Hofreiter, Professor for Evolutionary Biology and Ecology at the University of York, wrote that the importance to these prehistoric people to create art, at a time when life most certainly was more difficult than we face, "tells us a lot about ourselves as a species. Why they took the effort making these beautiful paintings will always remain a miracle to us."

We'll never know definitively why these paintings were created. We do know they were resource intensive for the community. But, does it matter—because, often, beauty may be enough.