Artist Profile

Patrick Saunders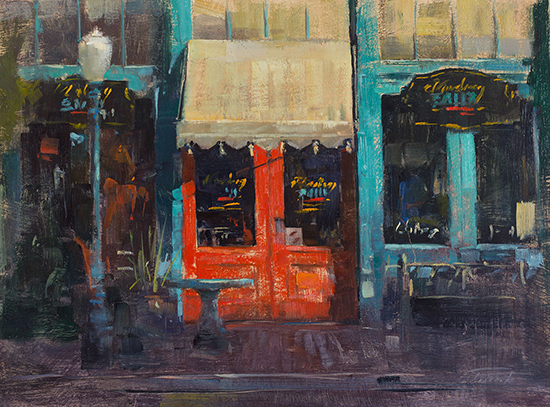 Mustang Sally's 16 x 20" Oil on Panel

"I would say that I am unique in the same way

as every other painter. The more I work,

the more confidence I have and the more that confidence

comes through in my paintings. I take in everything I can,

and paint the best I know how. Confidence is style."

Patrick Saunders has created what may be the ultimate plein air artist's lifestyle. Leaving behind the notion of a traditional home and studio, Saunders and his wife, photographer Kimberly Saunders, have embraced the mobile life, traveling across the United States in their 16' Airstream Bambi trailer. This untethered freedom has allowed him to participate in plein air painting events from coast to coast as well as to teach workshops wherever interest develops. Saunders has won awards for his paintings in many nationally recognized plein air competitions and is a Signature Member of the Laguna Plein Air Painters Association and the Oil Painters of America. We asked him to tell us about how he made the decision to take his life onto the road.

It was all my wife Kimberly's idea. After living in the Midwest and on both coasts, we were unsure of where we wanted to settle down. We had been on the home ownership/home improvement track, and wanted more free time to create. For a while, we considered buying a tiny house and trying out some different areas of the country, and that slowly evolved into the idea of an Airstream. When I started painting en plein air, an outdoor, mobile life made more sense than ever.

Our only expectation was the promise of new experiences. I can't say that anything has turned out as expected, but it has been a series of adventures. In the two years since we started, we've been from coast to coast and border to border, stayed in some of the most beautiful places in North America, met a series of wonderful and outrageous characters, outrun hailstorms, and crossed paths with bears. Best of all, it's been an endless summer, as we've chased 70 degrees.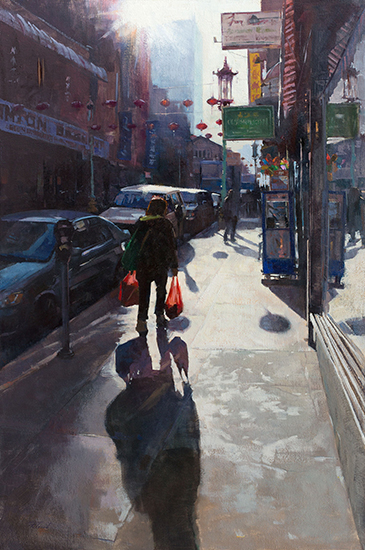 Back from the Bazaar 24 x 36" Oil on Canvas
Read more about Parick Saunder's paintings in our in-depth interview.
To read it and see more of his paintings, become a member of
The Artist's Road today by clicking here.

Already a Member?
Lucky You! You can go immediately to the Voices of Experience interview here.

To see more of Patrick Saunder's work, go to:
http://www.patricksaunders.com
Save
Save
Save