Painting Winter


Exploiting the Winter Landscape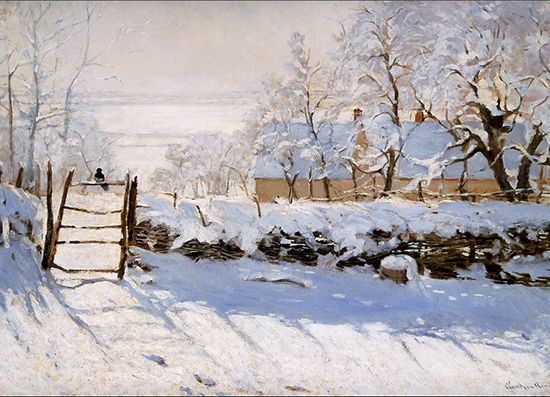 The Magpie Oil Claude Monet
W

inter is a great time to paint outdoors in most places in this country, but one has to be an outdoors person to appreciate this fact. Proper clothing is a must, but perhaps more important is the proper attitude toward the season. Embrace the winter as a bug-free opportunity to explore color and light, and consider these advantages.
On clear winter days, the light can be clean and strong, unaffected by the warm weather humidity that dissipates the luminance of the light in the summer. Because the sun is lower in the South, this produces interesting angular shadows all day long, even at midday, and good shadows are an indispensable ingredient for interesting paintings.

Far from being depressing, cloudy-bright days are perfect for painting when a steady, even light source is useful, and makes our job much easier than chasing the light on a sunny day.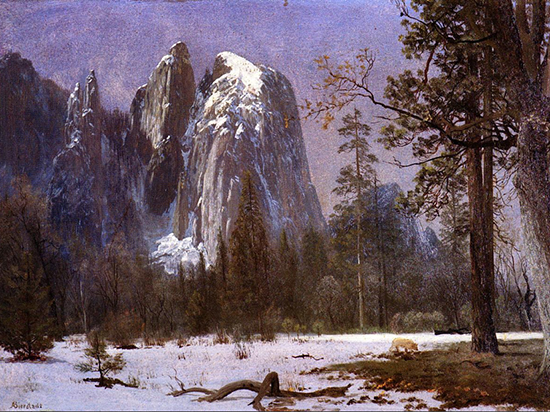 Cathedral Rocks Yosemite Winter Winter in Yosemite Valley
Oils by Albert Bierstadt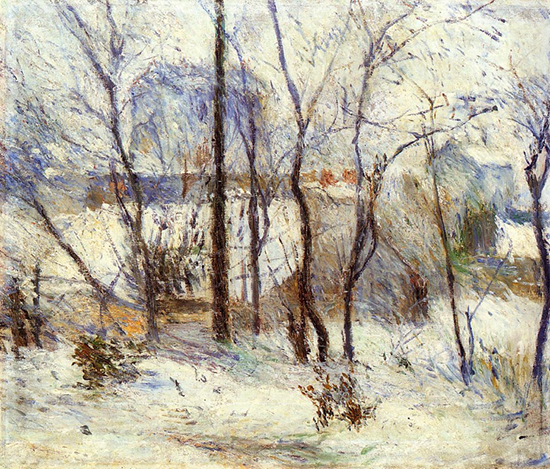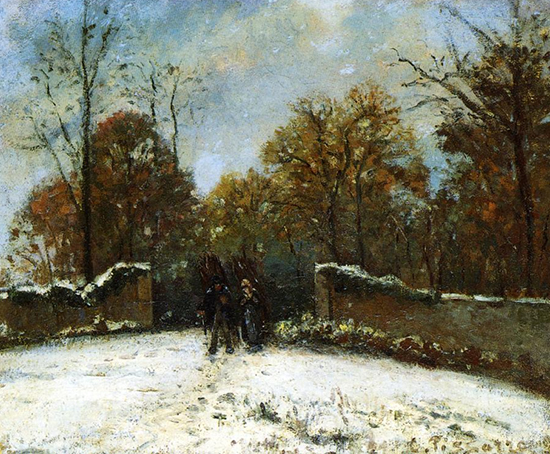 Winter Garden Under Snow Gaugin Entering the Forest of Marly Pissarro
Winter's Visual Charms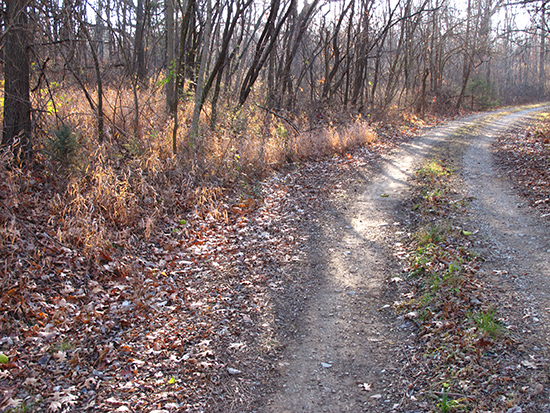 This is the scene as I found it—lots of potential yet to be realized.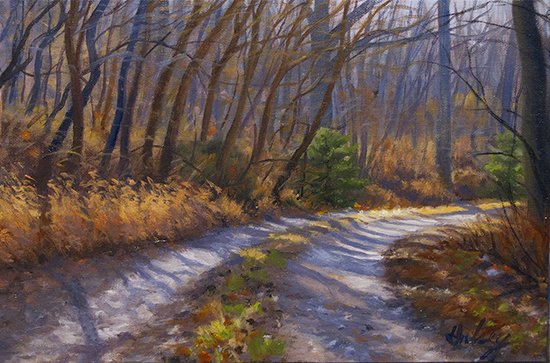 This is how I envisioned the scene in my painting.
Sea Oats I 9 x 12" Oil
Winter does not easily offer up her charms. We must work at it to discover what is fine about this landscape. Attitude is everything, and a vigilant eye can discover beauty where it hides in the most common of hours. Because the colors of winter are subtle and sublime, it can take some practice to educate the eye to their attractions. Here in the Midwest, the natural landscape is filled with a large variety of grasses, woody shrubs and saplings which all seem to cloak themselves in beautiful winter finery of golds and ambers, russets, reds and violets. As always, it is for the artist to find these lovely color relationships and heighten them into art.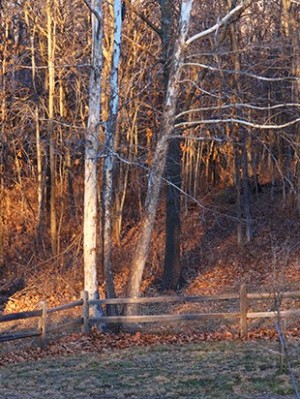 While summer foliage can close us in and create a wall of green that feels oppressive at times, winter opens up those formerly shrouded views through the woods and fields, revealing new compositional possibilities. The interesting and often beautiful structures of the landscape are laid bare for the artist to reexamine. Bright sycamore and birch trunks stand out against their grayer cousins in beautiful relief, while the architecture of formerly hidden fence lines and hedge rows adds helpful sight-lines to our compositions.
Snow on the ground creates beautiful shadows as well as unique reflected lights in the shadow areas not present in any other season. The novice thinks of snow as only white, but the experienced winter painter knows better. Look at all the color in Monet's Magpie painting above. He had learned to see the various subtle warm and cool tones in the snow and bring them out to wonderful effect. Learn to paint the many colors of snow and you will heighten your sensitivity to all colors everywhere in the landscape. We painted for ten years in the snowy Hudson Valley of New York, and grew to love the cheerful brightness and crisp days spent painting out in the sun.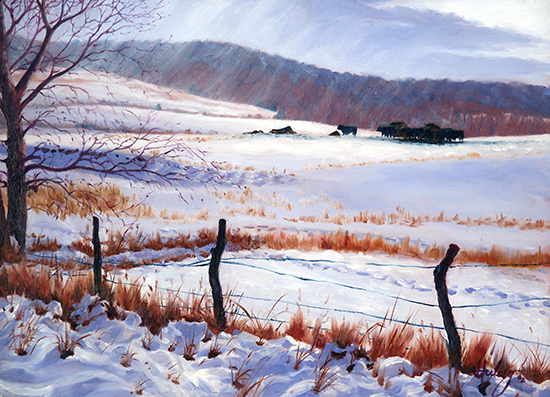 Snow Coming 9 x 12" Oil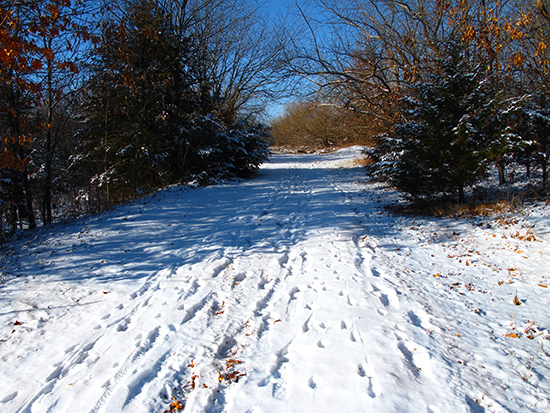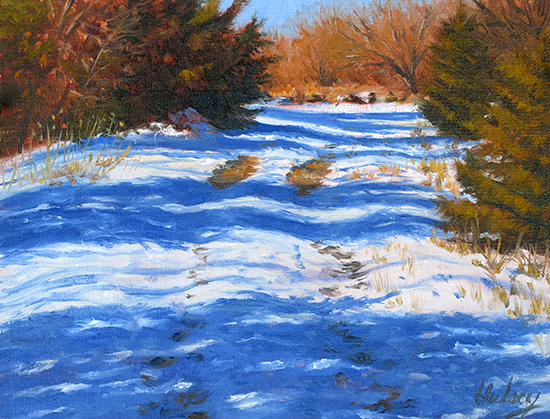 A possible painting subject Winter Solstice 9 x 12" Oil



There is a calming quiet to a snowy landscape that seems to promote inspiration and a feeling of well-being. When the temperatures get too low for fluid oil work, we switch over to pastels and never miss a beat. As long as one can find a bit of shelter, snowstorms are also a great opportunity to capture the moment and practice working with a limited, muted palette.

Revisit the Subject!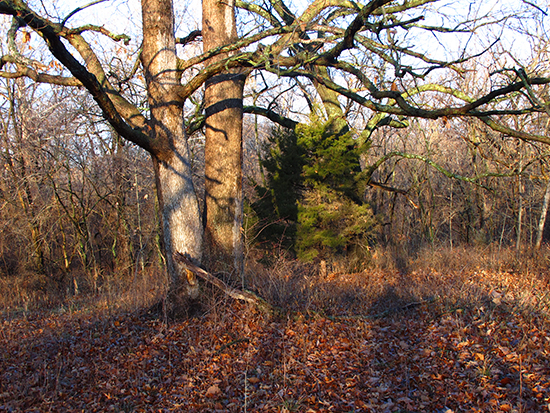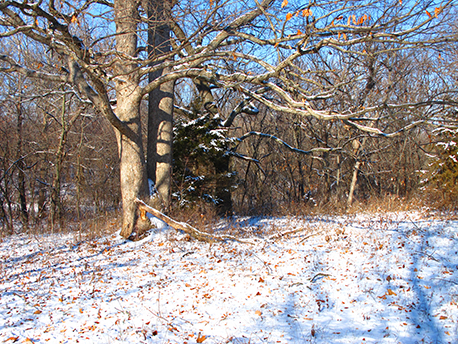 These two photos of the same double oak trees were taken just days apart in December. Notice how different the same subject can appear! It is a good practice to revisit favorite spots frequently for a fresh look at an old favorite. Just because we painted it once doesn't mean that we have taken advantage of all the possibilities that any subject offers. Even a rather mundane pair of trees can be brought to life by the searching eyes and inspired hands of the artist.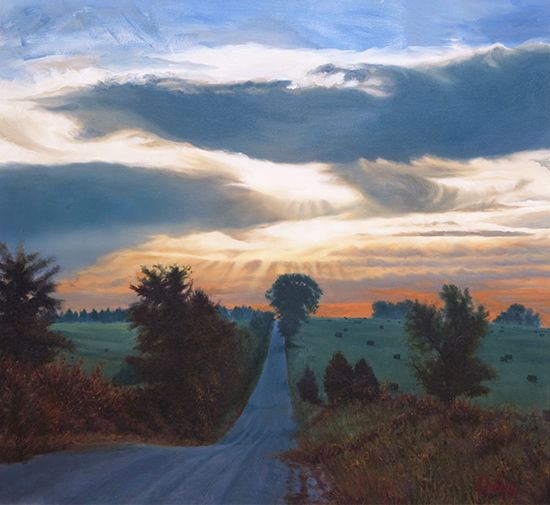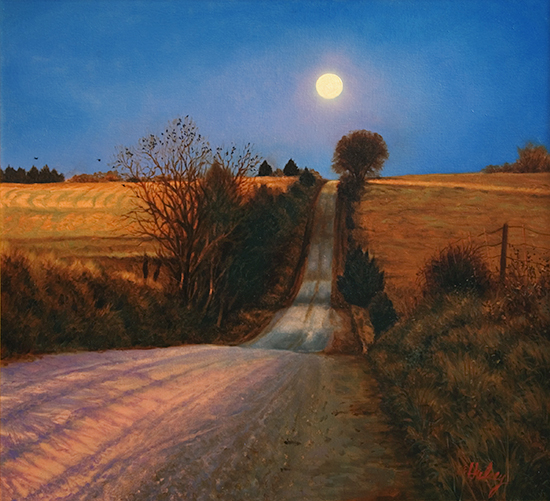 Dawn Road Moonrise Road

The two paintings above are good examples of the benefits of revisiting a good location often. The light at different times of day can radically affect the subject, of course, but different seasons can offer pictorial opportunities and surprises unimagined. The country road featured in the oils above is a favorite and we visit it often. Dawn Road is a late-summer morning subject with dramatic light which threw the landscape into temporary shadow. Moonrise Road is a winter vision, in which the last light of the setting sun is just grazing the landscape as the moon rises. By making frequent trips to check on my subject throughout the year and making note of potential moments to revisit, I was able to be in place painting on the day of the full moonrise—the only time during the year when the rising full moon lined up with the road, and when there would still be enough daylight to grace the scene.

A Word About Staying Warm...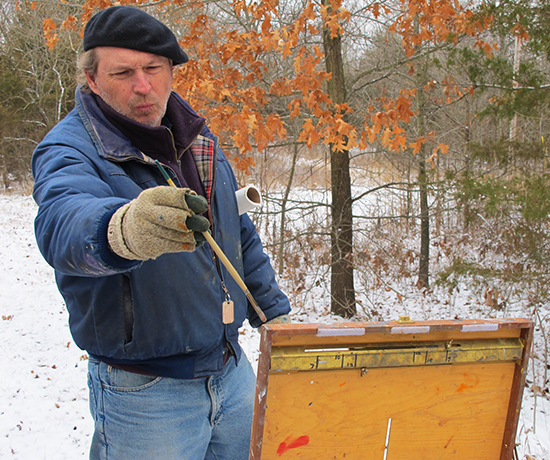 This is my typical insulated gear for winter painting. Rather than making an artistic statement, I wear a beret for its exceptional warmth and wind resistance. I wear four layers on top: mock turtle, chamois shirt, polar fleece pullover, and insulated jacket Ann made for me 25 years ago. It's still the warmest jacket I've ever found. I have a thermometer attached to the zipper to tell me when the temperatures are getting too low to paint.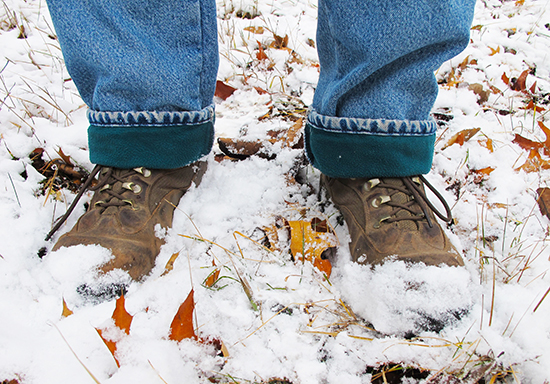 I don't like to be cold, so I wear the warmest gear I can find. Years ago I discovered these lined jeans made by L.L.Bean, and my life outdoors became much more pleasant. Originally offered in flannel lining, they began making these polar fleece models as soon as that material was invented. I have been comfortable in these at temperatures as low as 0 degrees, and they last for years.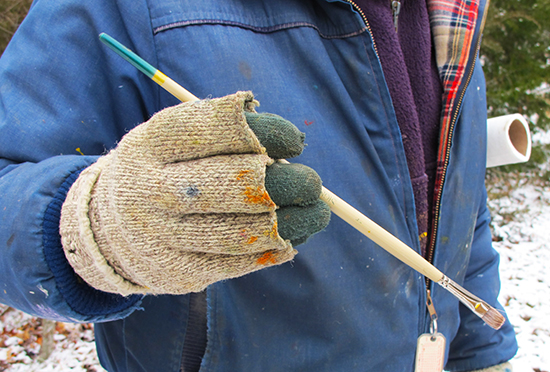 Along with a good pair of waterproof insulated boots, hand protection is very important. I have several types for different weather. Often a pair of fleece gloves does the trick in mild weather. Once it gets down to freezing and below, I switch to this two-layer arrangement. The bottom layer is a polyester glove which affords me a good brush feel, followed by rag wool gloves on top for warmth and water protection.


Getting the Winter Blues


Winter snow scenes are the time when we can really exploit all the possibilities of the colorful blues in the landscape. Look for them especially in the shadows cast on the snow and then play them up to good effect. Notice how they vary from cool cobalt blues, to ceruleans which carry some green, to the warmish ultramarines and violets.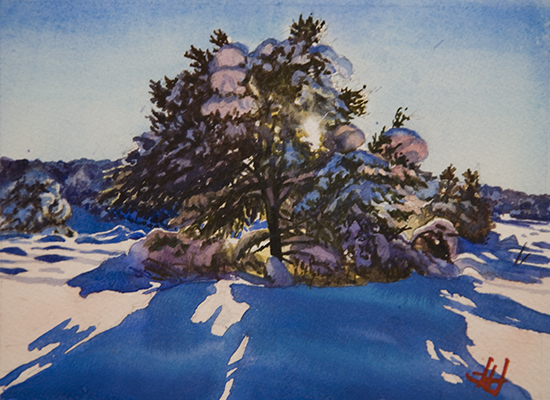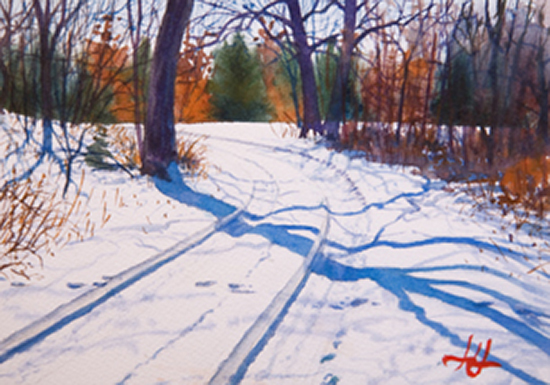 Inner Light 5 x 7" WC Snow Shadows 5 x 7" WC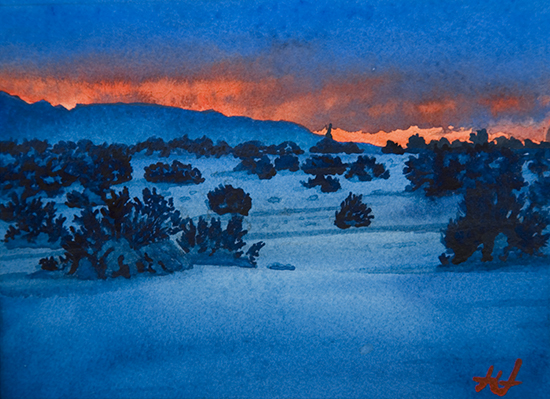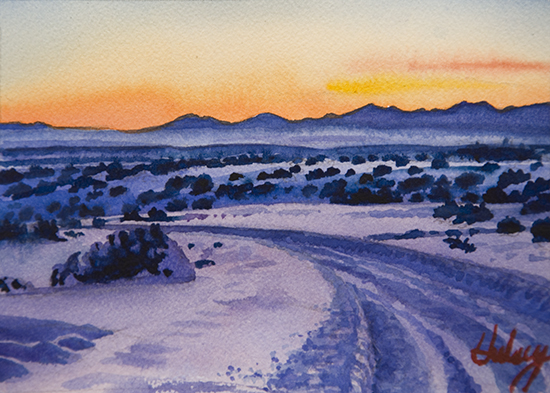 Fire and Ice 5 x 7" WC Big Snow, Santa Fe 5 x 7" WC

These four watercolors were painted outdoors on location. Temperatures were just warm enough to allow me to execute these small studies, which are complete enough to serve as enlargements later on in the studio. Three of these were painted in the same week after a very unusual 27-inch snowfall near Santa Fe, N.M. The combination of heavy snow and bright New Mexico sunlight was an irresistible combination, and well worth the frozen fingers. I have painted this same scene for many years, but never like this before. It pays to be prepared for anything when we travel to paint.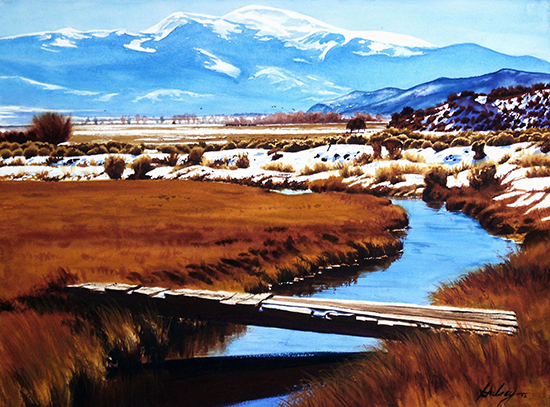 Acequia Madre 20 x 30" WC

This is another serendipitous composition in northern New Mexico. Ann and I were driving down a little highway toward Santa Fe and saw this beautiful scene just off the road. We stopped and made some small color studies in our sketchbooks and took some photos. Later I was able to enlarge one sketch into this studio piece. It is always a good practice to keep a vigilant eye when traveling and to remain willing to stop whenever inspiration strikes.

We hope that these words and pictures will encourage you to try some winter painting excursions. We know you will find inspiration in it as we have done for many years.