Painting in the Garden of Eden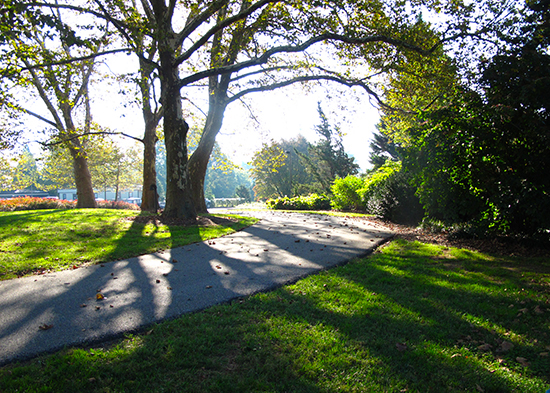 A Walk in Eden
There is a spectacular garden in Pennsylvania which should be on everyone's life-list to visit, and if possible, to paint. This garden is so vast, varied and delightful that it cannot be appreciated all at once. Visitors to Longwood Gardens in Kennett Square, Pennsylvania, are always awe-struck by the magnificent trees, plants, textures, compositions, colors and design of these historic and world-renowned gardens built by Pierre DuPont. We have been visiting Longwood for over twenty years and still find surprises every time. As we have matured, so have the gardens and our appreciation for them has grown even deeper. Big gardens like this are developed to be for pleasure and education, and they are often designed, as Longwood was, along the European ideas of an earthly paradise. Spend some time in Longwood, and you will agree with us that they have more than succeeded.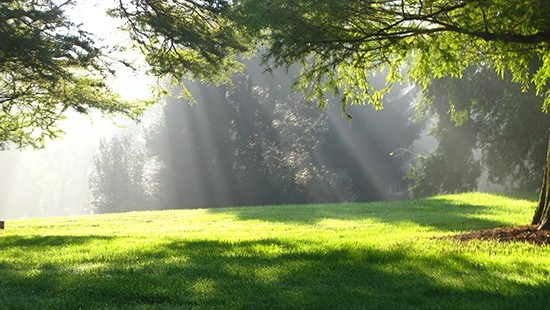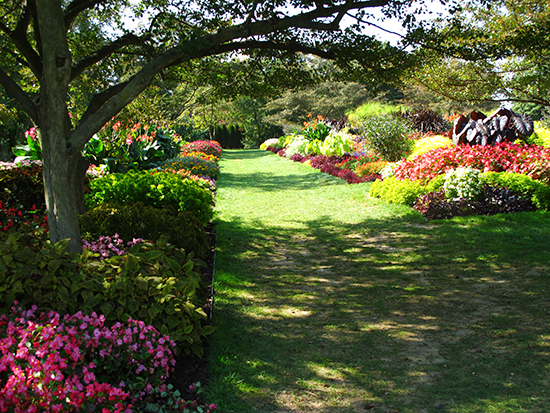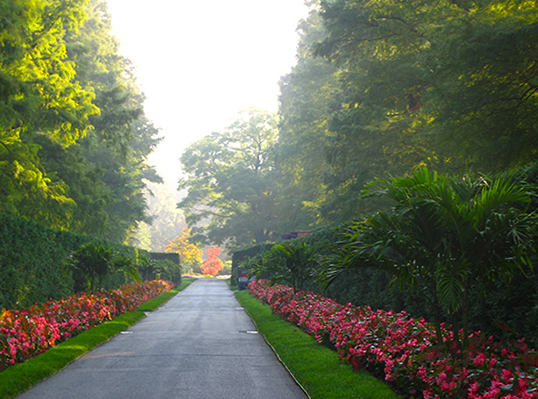 In October of 2013 we were privileged to be the teachers for a pilot educational program at Longwood Gardens. For the first time, a painting class would be allowed to move out of their classrooms and into paradise itself. There were concerns about the clutter of easels and students blocking paths and uncertainty about how disruptive our workshop activities might be to the normal goings-on in the Garden. We convinced the education department that not only would there be no disruptive effects, but the presence of artists painting in the garden would be an attractive asset to the garden experience for visitors. And so it was.

History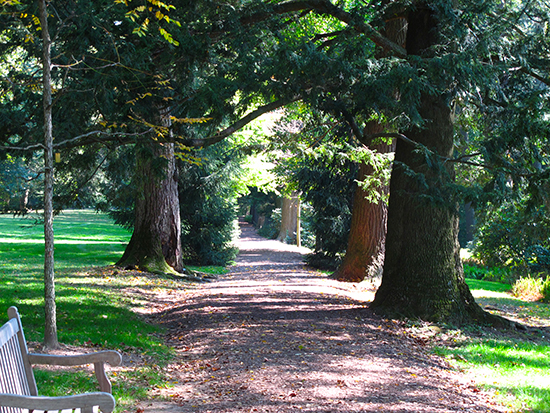 Longwood Gardens began as an arboretum planted by Quaker farmers Joshua and Samuel Pierce. By 1850, the site was known as one of the finest collections of trees in the nation, and one of the first public parks.

Its aesthetic qualities were as important as its botanical significance.The farm was bought in 1906 by Mr. DuPont initially to preserve those magnificent trees, but it wasn't long before a powerful idea took hold of him. He resolved to build a vast horticultural masterpiece which would serve as the pleasure garden for his family and many guests. First and foremost, he loved the trees, and in his instructions to the farm manager he wrote, "No tree, dead or alive, is to be removed or trimmed, no matter whether located on the farm or in the woods, unless by special permission of the owner."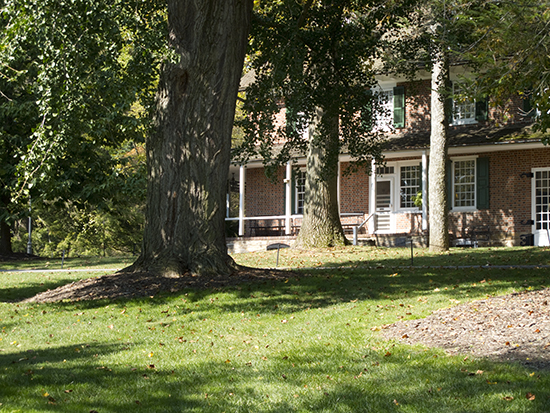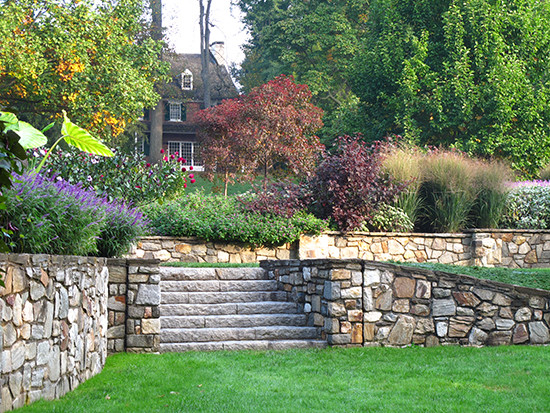 DuPont had a love of spectacle and theater that may have been sparked by his visits to the monumental world's fairs of the late 19th century. He especially loved the workings of the new technologies at the expositions - electric pumps, lights and fountains choreographed to show off the architectural displays. Drawing on his experiences managing construction for the DuPont firm, he was soon building gardens and greenhouses to raise the flowers to fill them. He even drew the first plans for Longwood, the Flower Garden Walk.

Above Right: The Dupont Residence

Longwood Today

During Pierre DuPont's lifetime, he built many of the wonderful amenities we enjoy today: the massive glass-enclosed Conservatory, the 600 foot-long Spring Garden, the Rose Garden, the Theater Garden with its 750 illuminated jets of water, the Italian Water Garden and Water Stair, the Fountain Garden, and more. His inspiration for the evolving design of the garden and the plants came from his travels to visit the finest gardens in the world on the 30-plus major trips he made during his lifetime. Everything he built surpassed the European examples in size and splendor, and by 1930, the 1,050 acre garden, its features and buildings were essentially complete. Perhaps the best way to briefly show you Longwood is to take a walk. We start at the west entrance and make our way gradually to the east. Keep in mind, though, that we are leaving out many acres of gardens, parks, arboreta and other features which would just take up too much space here.

The Main Fountain Garden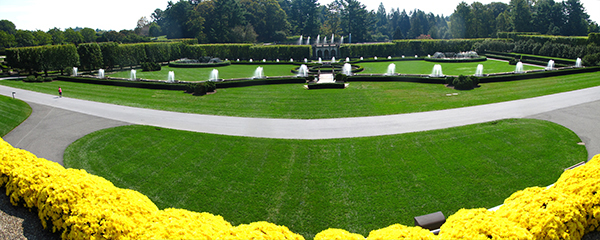 The Main Fountain Garden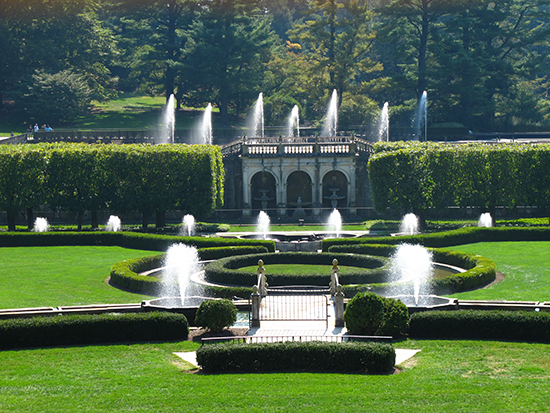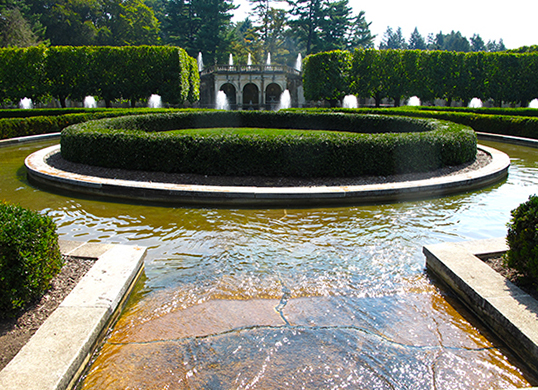 In the Main Fountain Garden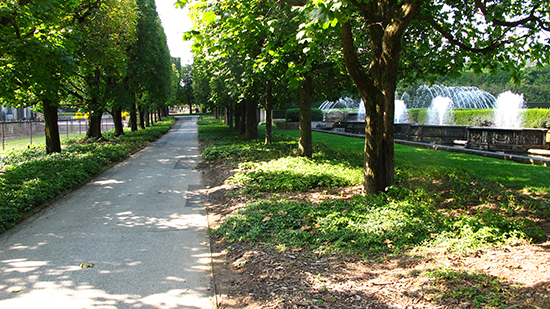 The largest garden feature, next to the Conservatory, is the Main Fountain Garden. This grand park-like area was first planted in 1921 with Norway Maple allees and Boxwood hedges, and then expanded in 1928 to become the impressive water garden it is today. There are 380 fountainheads, scuppers and spouts in the pools and basins, and the fountain pumps can propel water as high as 130 feet! Hand-carved Italian limestone flowers, fruit and water creatures contribute Old World magical details everywhere you look. There is also a 50 foot waterfall and pond connected to the recirculating water system which holds 675,000 gallons of water. There are many painting subjects here alone and the light plays in these spaces very differently from one end of the day to the other.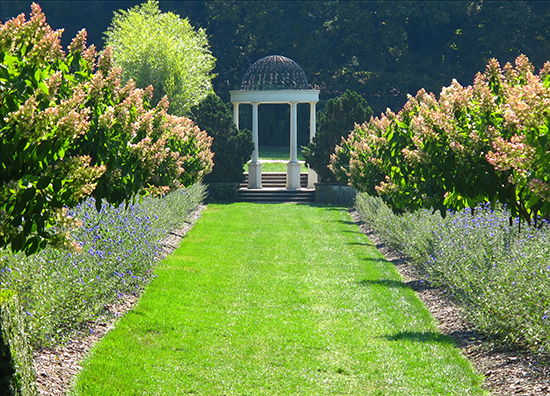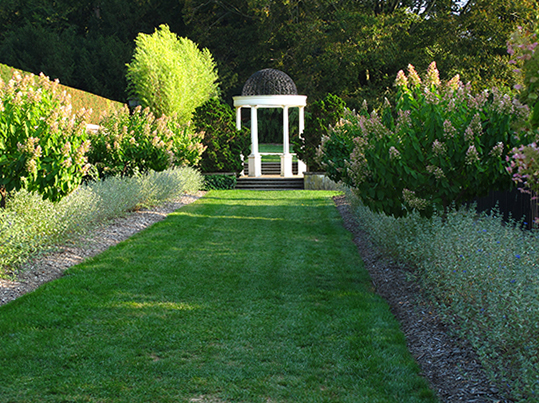 Morning and Afternoon Light in the Caryopterist Allee

The Conservatory

The first conservatory DuPont built was enclosed within his residence and whetted his appetite for interior garden spaces (left).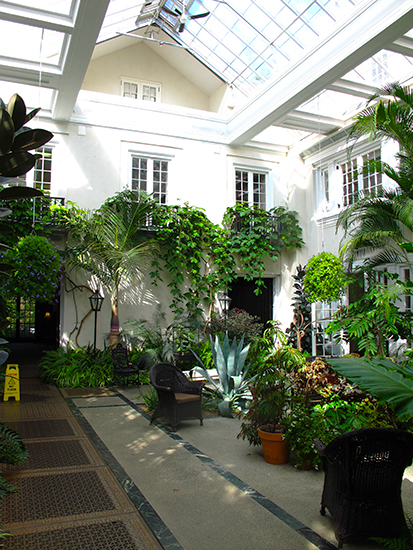 He went on to build the much larger Conservatory (From Longwood publications): "Constructed from 1919 to 1921, our Conservatory is one of the world's great greenhouse structures - with more than 4 acres of lush gardens under glass." The Conservatory is as magnificent inside as it is without and we never missed an opportunity to walk all the way through it as we moved through the gardens each day. It is an amazing garden world unto itself and must be experienced to be fully appreciated. As if having flowing streams, waterfalls, palm trees and every kind of imaginable plant growing from the walls and hanging in baskets from the 25-foot tall colonnade were not impressive enough, DuPont thought that the place needed music as well. In 1921, he had installed a 3,650-pipe Aeolian organ and in 1923 a walnut paneled Music Room,which opens onto the main axis of the Conservatory. A huge Azalea house followed in 1928 and a year later a magnificent 103-foot long by 35-foot wide ballroom with a pink etched -glass ceiling, crystal chandeliers and walnut parquet floors. The original organ was then replaced with a specially commissioned 10,010-pipe Aeolian instrument. Displays are constantly changing in the Conservatory all year long, but winter really brings it into its own as the landscape outside fades and temperatures drop. The Conservancy is a warm, colorful and scent-filled environment decorated and planted for the season.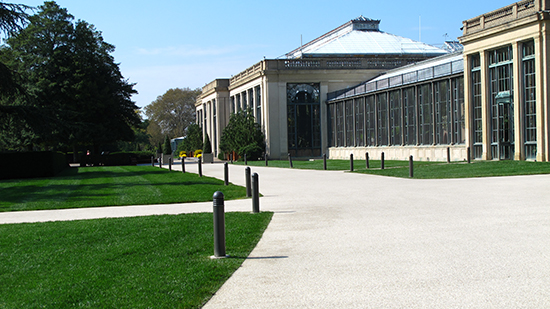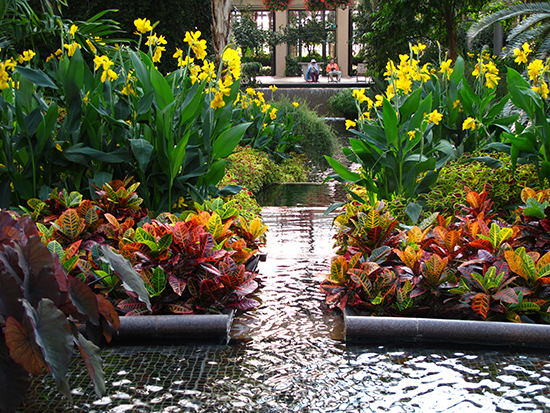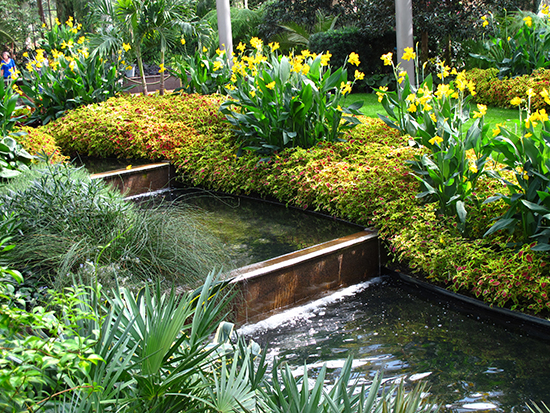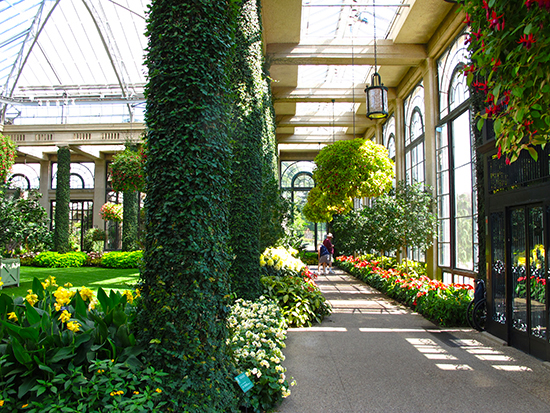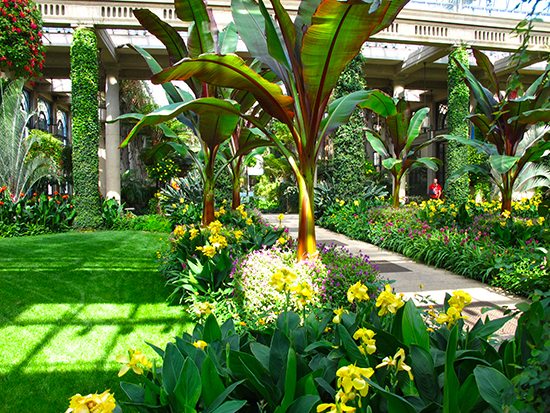 Inside the massive structure there is a delightful Children's Garden filled with sculptural water fountains, a Camellia House, Palm House, silver-planted Desert House, Acacia Walk, Mediterranean Garden, Orchid House, Banana House, Tropical House, Bonsai Display, Estate Fruit House, Rose House and Cascade Garden at the far west end. There is something for everyone here and it is hard to pick a favorite. We especially enjoyed the outdoor water displays of tropical waterlilies, open only early June through mid-October.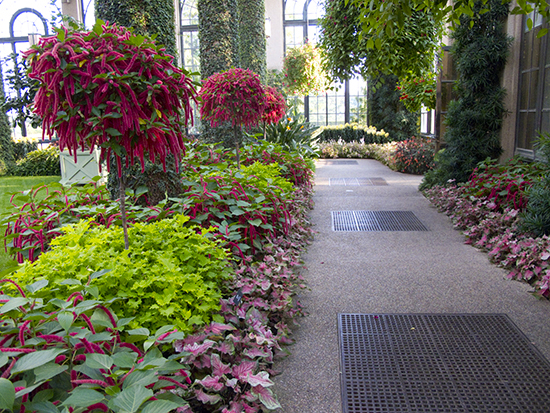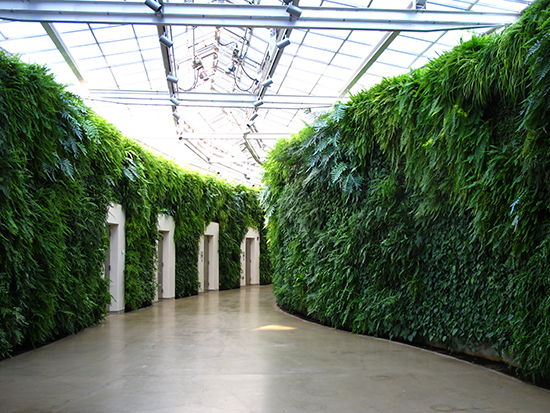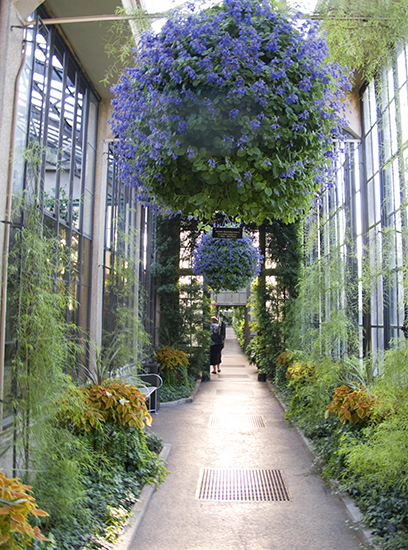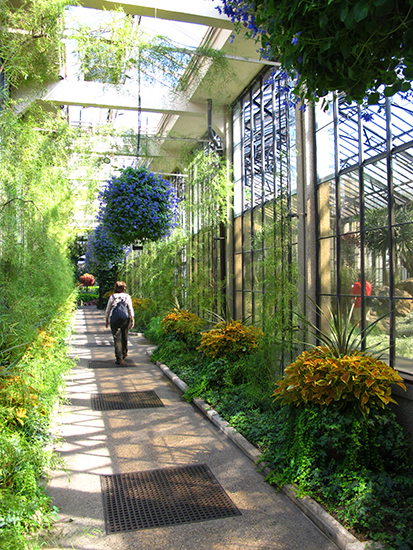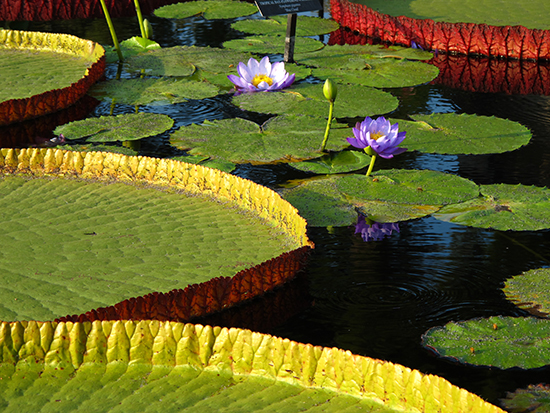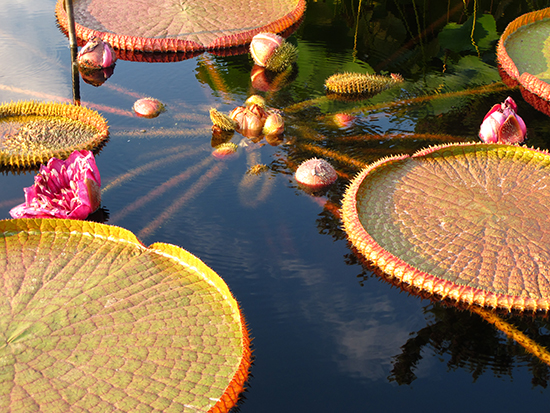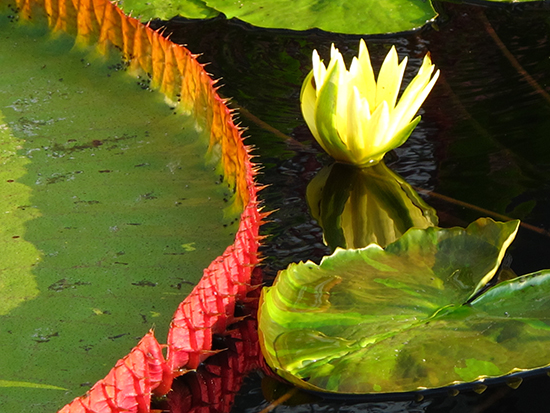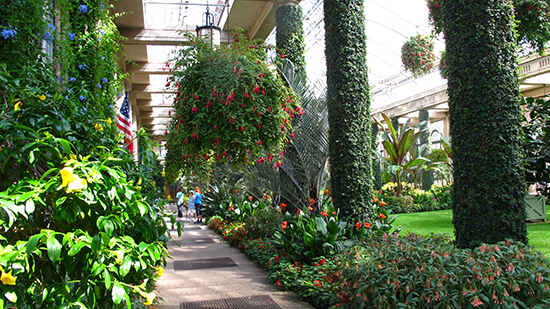 And finally we arrive at the far west end of the Conservatory where we can walk through the misty Cascade Garden, filled with the sounds of falling water, mist and rain forest plants. A spa-like experience in the heart of winter!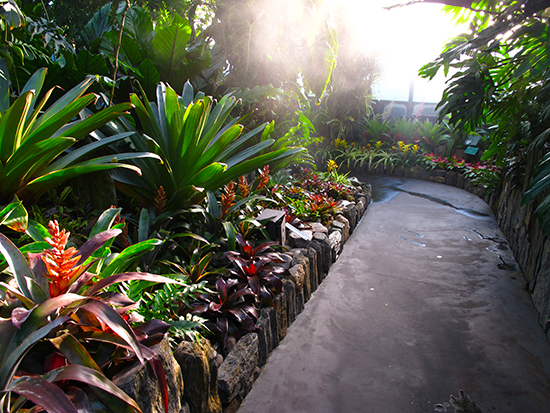 Moving south from the conservatory, we pass by the large Topiary Garden to admire the huge Boxwood sculptures. There is a lot of Alice-in-Wonderland-flavored whimsy in the delightful geometric and animal shapes there and it is fun to wander around and through these fantastic growing structures.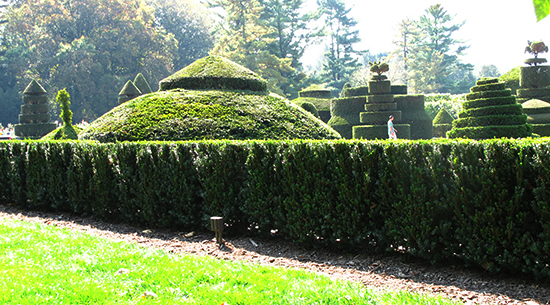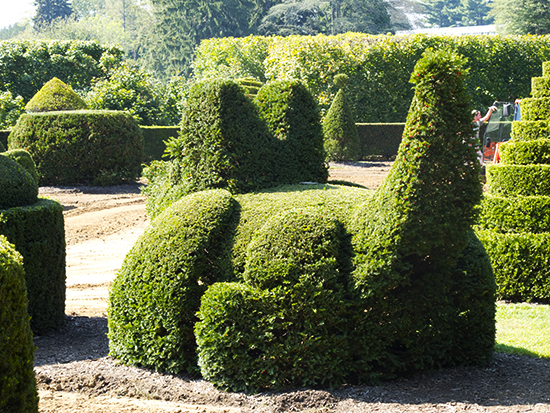 Turning east, we walk across a large flat lawn bordered to the north by huge Copper Beeches fondly referred to as "Les Grandes Dames". Next, we pass through the Theater Garden with its stage, piped music and 750 dancing water jets. We exit the Theater Garden to the east down the stairs to wander along the Flower Garden Walk.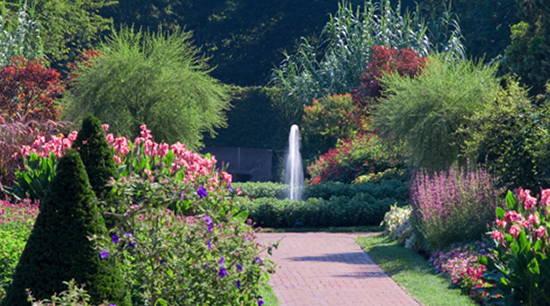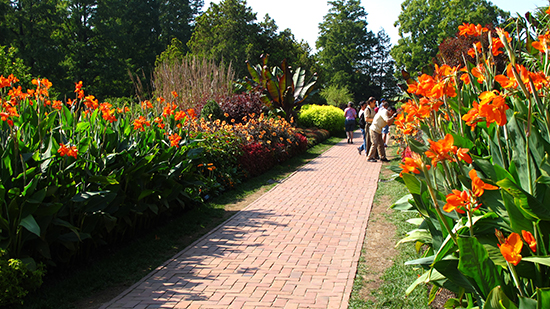 The Flower Garden Walk, Spring and Fall

This walk is filled with annuals and perennials and is stunning to look at in the warm afternoon sun. John decided to set up and paint a little study in his sketchbook while he had good morning light. He always carries an 11 x 14 inch spiral-bound Montval watercolor sketchbook made by Canson wherever he travels. Its hard covers protect the heavy paper inside, so he can shove it in his pack with no worries. While he normally prefers to work on cold-press Arches paper, Canson only offers this book in hot press. Working on a smooth hot press sheet like this requires a slightly different technique, which one has to get used to. Washes won't stay wet very long, and any marks made on the dry paper really stand out, like calligraphy. On the other hand, since the paper is less absorbent, color washes stay vibrant and saturated. Everything is give and take.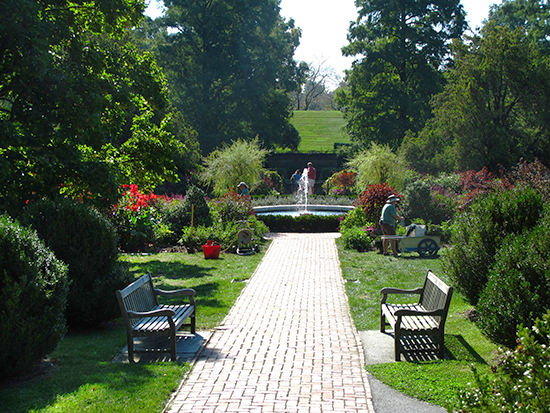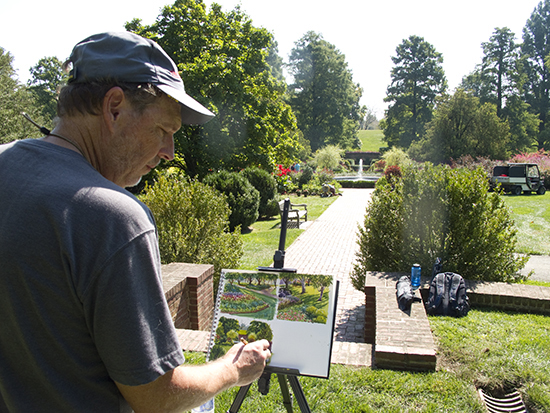 The View Working in the Canson Sketchbook



The Finished Watercolor Study

After John finished the little study, we continued our walk toward the blue circular fountain. Just the other side of it is a staircase which leads down to the Peony and Wisteria Gardens. We spent some time there under the wisteria arbor resting our feet before we turned left and headed toward the Italian Water Garden.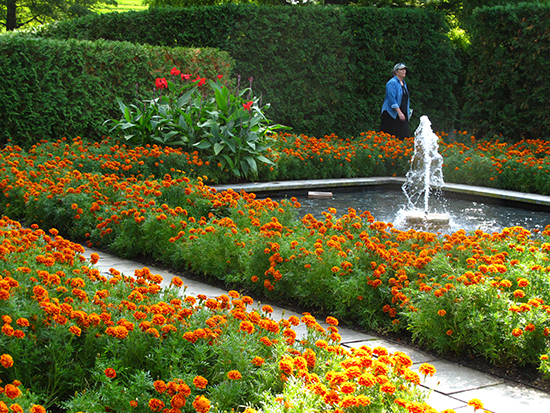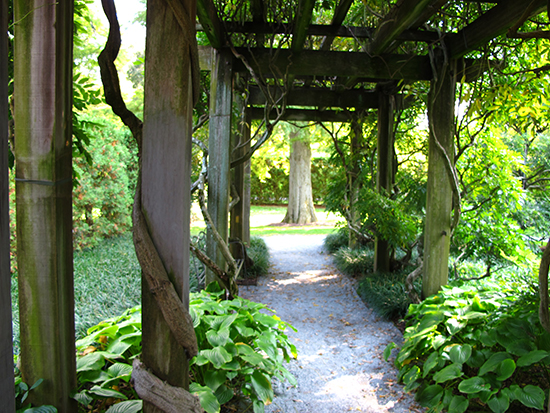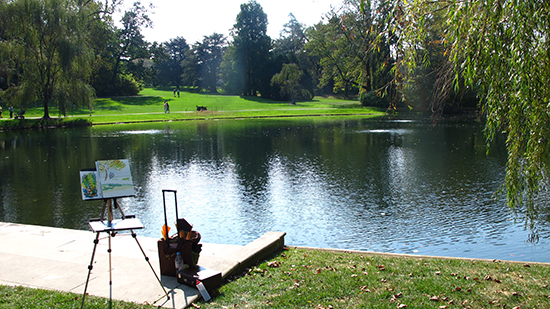 The Large Lake Above the Italian Water Garden

Along the way we pass a small lake on the right and come upon some interesting tree houses. To our left is the large lake at the end of which is a wide paved landing. There are steps down to the lake on the left. On the right and below is the sunken Italian Water Garden.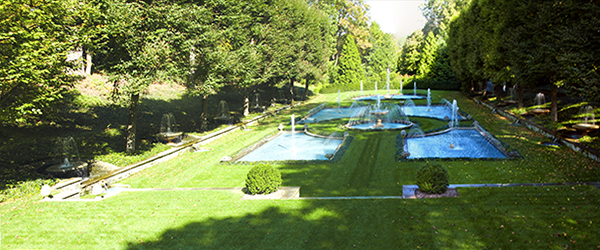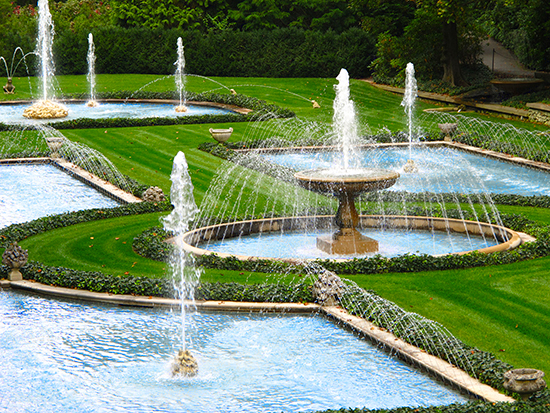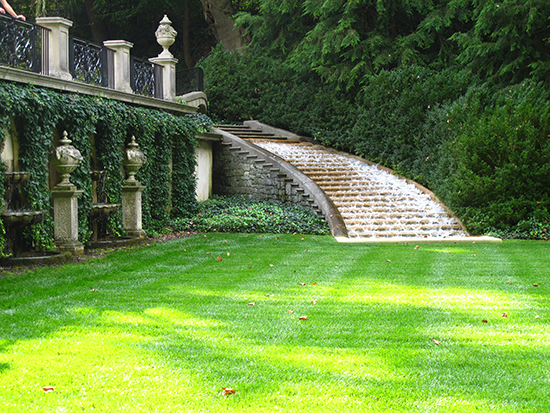 This water garden was inspired by Mr. DuPont's travels to Italy. Over the course of numerous trips, he made a point to visit and study the most renowned Italian water gardens, notably Villa Gamberaia, near Florence. Not content to merely duplicate them, he went all out and designed a larger, more elaborate garden for himself, with 600 jets of recirculating water. The water display changes constantly as some jets stop and others come on in an interesting and soothing water dance. As we descended the stairs on the east, we saw that the tall retaining wall to our left which holds back the lake is covered in ivy and decorated with dripping sculptures, large urns and basins. Ahead is the wonderful cascading Water Stair full of movement, sound and light. Unfortunately, the access to the garden was closed off, so we could not walk among the fountains or do any painting there.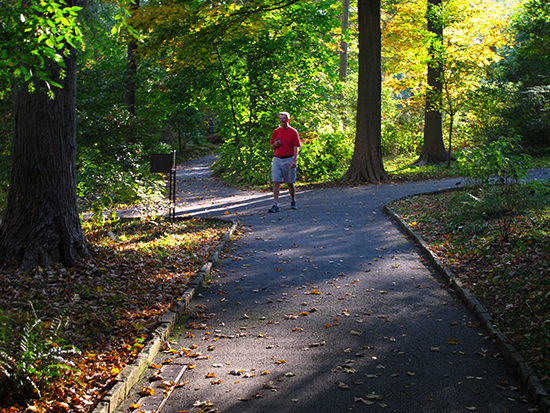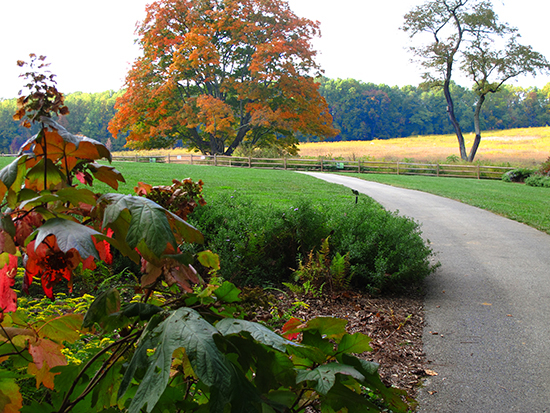 Along the Woods Path Near the Wildflower Meadow

As one walks west, away from the Italian Water Garden, there is a choice of routes to be made. One route skirts the large lake and eventually brings one through a large double-arched hedge and into the Flower Garden Walk again.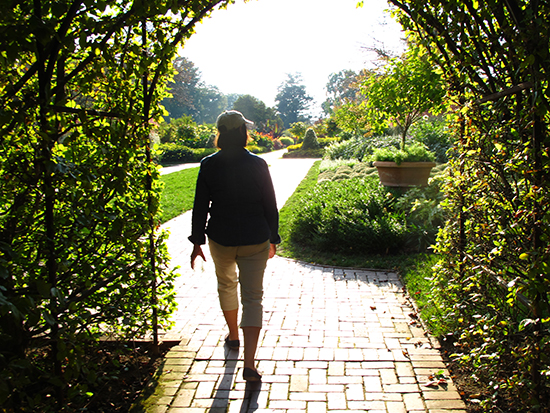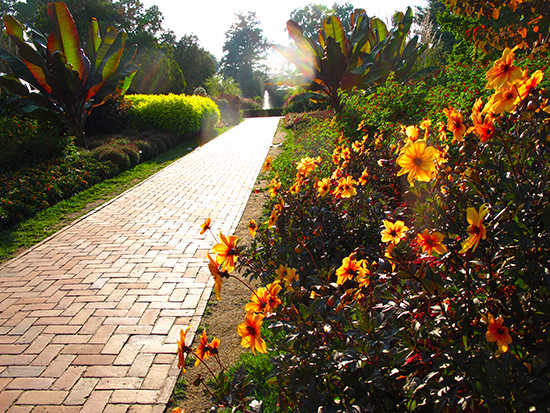 Or, one can turn right, and parallel the Italian Water Garden, past a little hidden rustic cascade and basin, to a set of broad stairs. At the top of the stairs we can bear right again and find ourselves out of the woods and heading toward a valley and hillside, covered in native grasses and wildflowers. There is a path at the bottom and a little boardwalk over a stream. One can cross the stream and take a long stroll among the chest-high plants along a wide mowed path. The scenery is sublime and reminiscent of what this landscape must have looked like when DuPont originally purchased it at the turn of the last century. Below are two watercolors John painted in the meadow.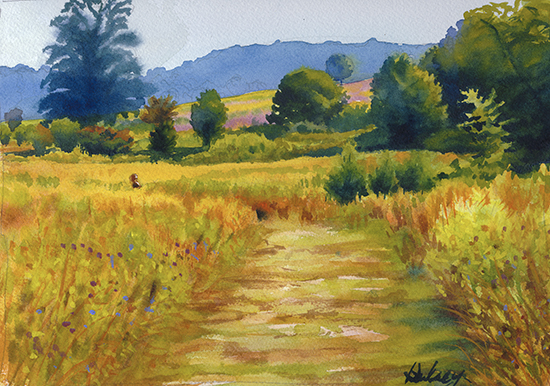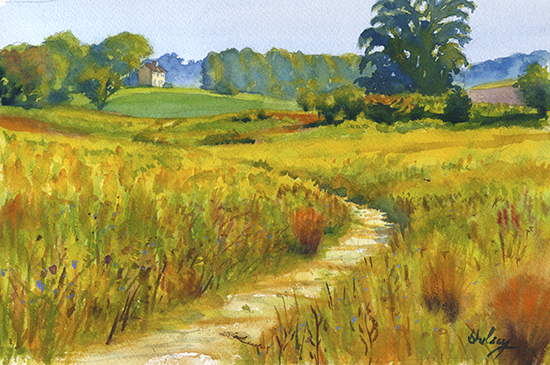 Longwood Meadow I Longwood Meadow II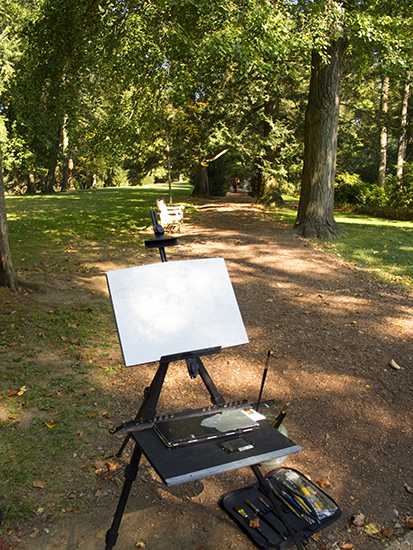 After the meadow, we returned to the paved path and walked back toward the original DuPont residence and Pierce's Park with its 30-foot fountain jet, and head back through the immense trees which line the path. The slanting light of late afternoon is really something special and the urge to set up again and paint is strong. John decided to paint the trees and the path in the waning afternoon light, reminding himself to squint as he drew his composition on the Arches paper so that the details would resolve themselves into large masses. After all, the interest was in the light, not the details. Shown here is his ultra-light kit which he uses when he is doing a lot of walking and not demonstrating for students. Notice how the shadows changed from start to finish below.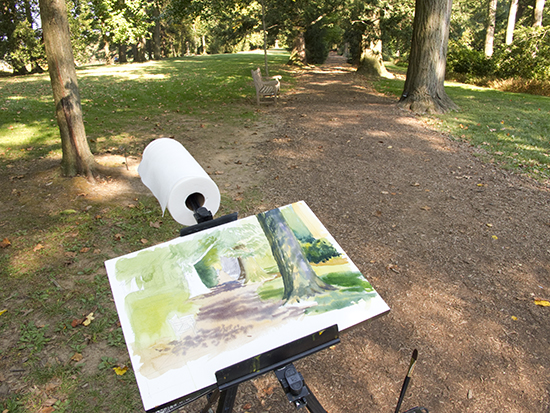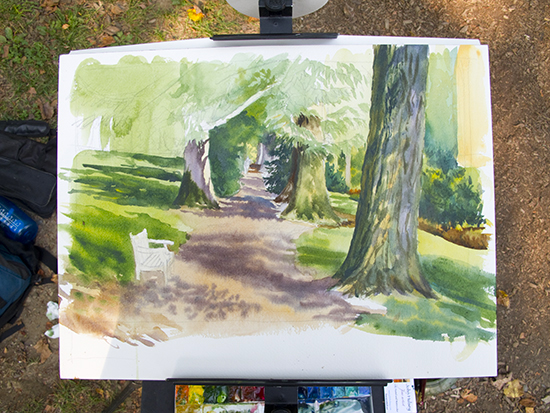 Getting the Main Masses In Shadows and Light First!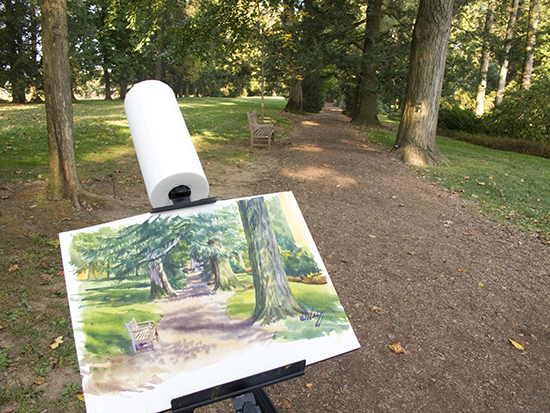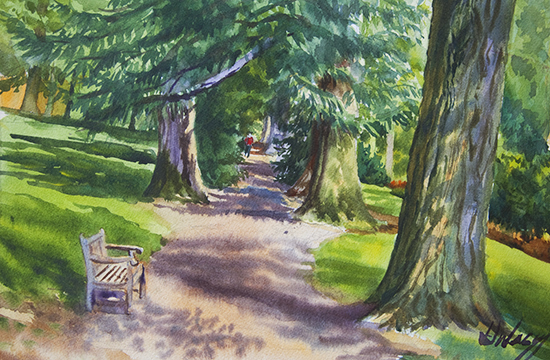 Working Fast as the Light Changes Pierce's Park Walk, John Hulsey

With the good painting light going fast, it was time to head back west toward the Conservatory and the parking lot beyond. So absorbed and fascinated by this wonderful place, the day had flashed by. The next day would be the start of our intensive three-day watercolor plein air workshop and so our time to simply wander and paint was coming to a close. Whether wandering around on our own or teaching a class, there is no place we'd rather be than this slice of heaven on earth.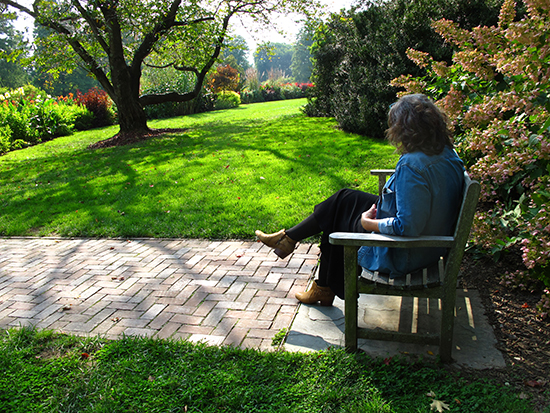 Ann Admires the View near the Flower Garden Walk
Botanical gardens have varying policies regarding artists painting in the gardens. Here are some of the guidelines from gardens we have visited and/or contacted. Be sure to contact the garden before your painting trip for updates on rules and policies.



Longwood Gardens, Kennett Square, Pennsylvania



"It is not necessary to inform Longwood of your plans in advance; simply purchase your admission ticket upon arrival and proceed to the Information Desk in the Visitor Center where you will fill out a permission form and receive a tripod or easel tag. Photography, painting or drawing sessions must not interfere with the enjoyment of other guests or create any safety concerns. Hand-held easels (without legs) for drawing or painting are also permitted any time. Portable chairs and equipment carts are not permitted. Photography, painting or drawing sessions must not interfere with the enjoyment of other guests. Monopod/ tripod/easel use by amateur photographers and artists is permitted in the Conservatory and the Peirce-du Pont House from 9:00 am–12:00 pm daily. Monopod, tripod, and easel use is not permitted in the Indoor Children's Garden at any time. Tripods, monopods, and easels are not permitted in the Gardens during Fireworks shows and during the Christmas display. They are permitted all other days at the discretion of Longwood."



Monet's Gardens at Giverney



"Artists are allowed to paint in the gardens only after 6 pm against 7.5 Euros from Monday till Friday. Please confirm your dates."



Missouri Botanical Garden, St. Louis, Missouri



"Light collapsible chairs or stools (no lawn chairs) are permitted for artists at work. Please position chairs in a grassy area or large paved area so walkways remain clear. Do not enter planted or mulched beds. Watercolor artists, please dispose of waste water carefully in sinks; do not dispose on walkways, benches rocks, plants or garden areas, as they can become discolored. Tripod and monopod use is not permitted inside any buildings or conservatories (including, but not limited to, the Ridgway Visitor Center, Tower Grove House, Climatron®, Shoenberg Temperate House and Linnean House); tripods, monopods and hand-held reflectors only are allowed for outdoor use, permitting they are not blocking access for other visitors."



Powell Gardens, Kingsville, Missouri (Kansas City)



There are no special rules for artists other than following the general etiquette and rules for all visitors.



Atlanta Botanical Gardens



There are no special rules for artists other than not blocking pathways or impeding visitors.



Chanticleer (Philadelphia)



The gardens are closed in winter. During the regular season, "painting is allowed on Wednesdays, Thursdays and Fridays during open hours. Please leave the garden and rest rooms as you found them and respect the wishes of the gardeners and other guests. Set up on lawns or terraces and allow adequate space for movement around you. Please stay with your equipment and use care in cleaning your equipment. Please take out what you bring in."



Desert Botanical Garden, Phoenix, Arizona



Artists are allowed but asked to not block pathways or impede visitors. During crowded exhibitions, artists are asked to not bring easels or equipment.



Butchart Gardens

(Victoria, BC)

Artists sketching discretely are allowed. No easels or other equipment are allowed.



Boscobel, Garrison, New York



Artists are welcomed to the grounds for painting and sketching, at no admission fee only on the second Tuesday of each month. Boscobel is closed to the general public on Tuesdays.