Nocturne Notes

Jim McVicker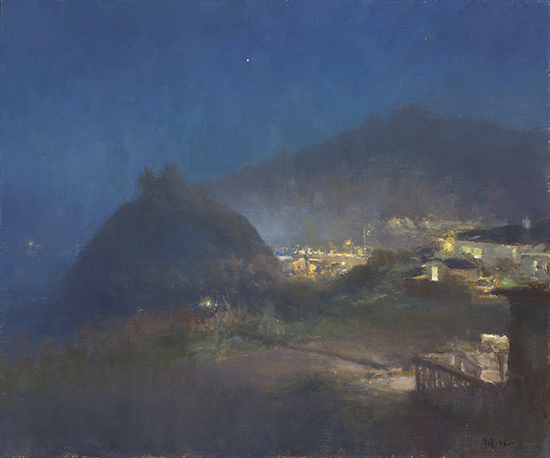 Trinidad Nocturne 20 x 24" Oil © Jim McVicker
In our fascination with how the eye sees and then translates the world around us to our brains, we have found it particularly interesting to study how the eye sees at night. Search for the words "Nocturnes" and "Vision" in the search bar to read many interesting articles about the science of seeing at night and the art of painting at night, or, download our book, Nocturnes - A Primer on Night Painting. We've asked some of our favorite artists to show us examples of their nocturne work and to tell us a little bit about their processes in this series of Nocturne Notes.

We have previously featured Jim McVicker's work in our interview—Voice of Experience - Jim McVicker. You can also see more of his work at Jim McVicker Fine Art. He sent to us these examples of nocturnes he painted in Trinidad, CA and wrote to us:

"We spent nine days renting a home in Trinidad that sat above Trinidad harbor with the most fantastic views to the east, south and west. I never left the deck and painted several works of the views. I rarely paint a nocturne, but with the deck view and the beauty of the night I set up for a couple nights. I used the soft porch light as my light source for working, not ideal, but it worked. I love painting bright sunlight so I really had to pay attention to the quiet light of night, The lights in and around the buildings and on the water were the points I paid attention to and helped me design and create movement. Both paintings needed attention back home in my studio where I spent time finishing the painting. In the studio I could see more clearly what I felt the painting needed to harmonize the color and values."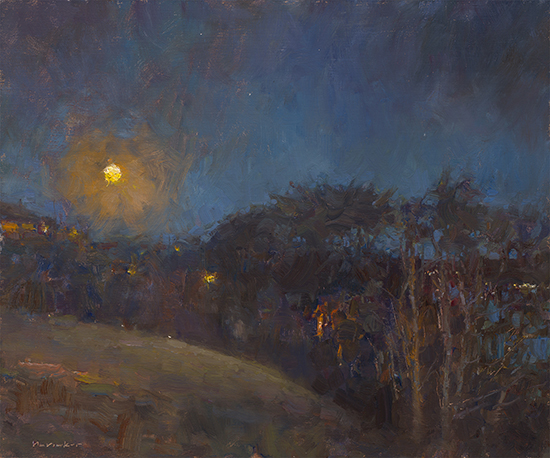 Trinidad Nocturne 2 20 x 24" Oil © Jim McVicker