Nocturne Notes
Dan Mondloch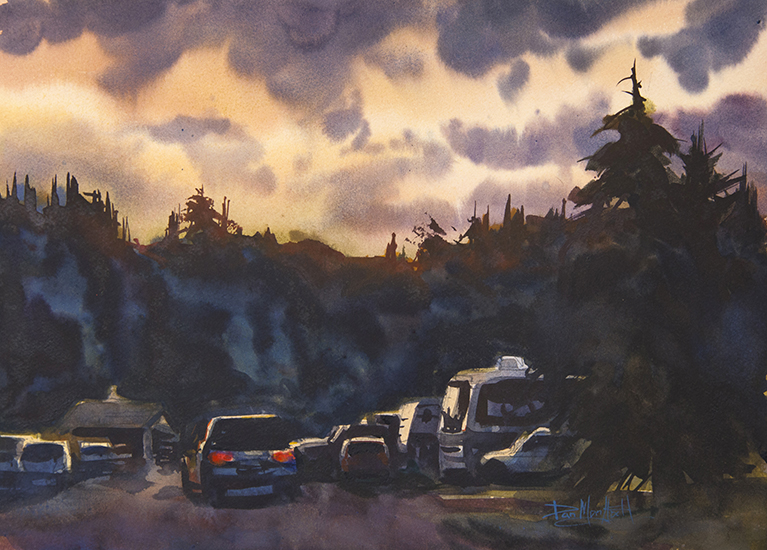 Campfire Time 11 x 15" Watercolor © Don Mondloch

In a 2016 interview with The Artist's Road, Dan Mondloch wrote, "When painting plein air, a lot of times I like to bite off way more than I can chew in terms of a subject. That can get me in trouble and I will often fall flat on my face, but I like the intensity and exhilaration of trying! That element of risk is one of the things I love about plein air—stretching yourself to capture that emotional experience as well as the visual one!" Add the quickly changing light of dusk or a moonlit night into a plein air painting experience and that stretch is increased!

We've asked some of our favorite artists to show us examples of their night time paintings and to tell us a little bit about their processes in this series of Nocturne Notes. Mondloch shared with us this plein air watercolor nocturne, Garage in Moon Light, in four steps:

"I use a light, mid, dark sequence of painting. When painting a nocturne I still start with the lightest values and try to work from an actual light source, identifying it as either warm or cool, and working outward from that. In a nocturne most of the painting is usually a mid value or darker, making it hard to see pencil lines, so placing these specific light source colors in first gives me a guide to follow later on. The sky and ground planes often become a mid value and are painted in next, isolating the light value shapes. Finally the darks and details are added to help define and separate objects and finish off the scene."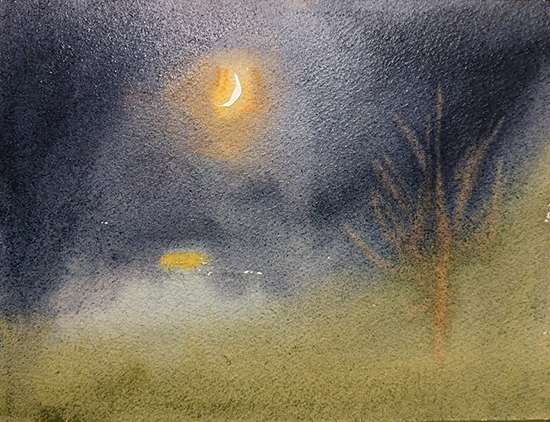 Garage and Moon Light Step One 8 x 10" Plein Air Watercolor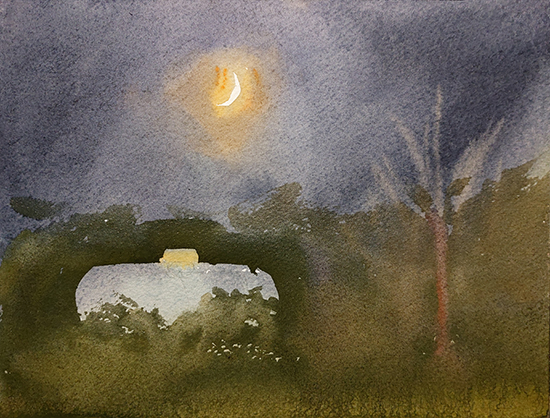 Garage and Moon Light Step Two 8 x 10" Plein Air Watercolor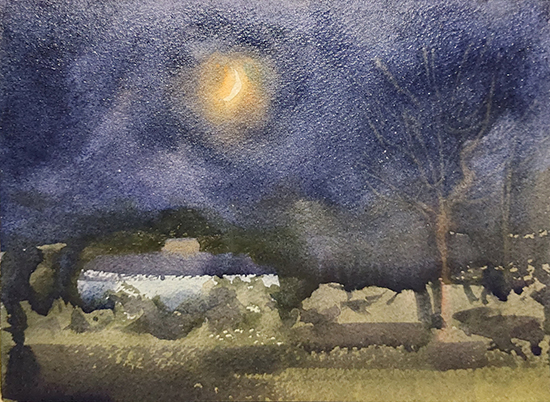 Garage and Moon Light Step Three 8 x 10" Plein Air Watercolor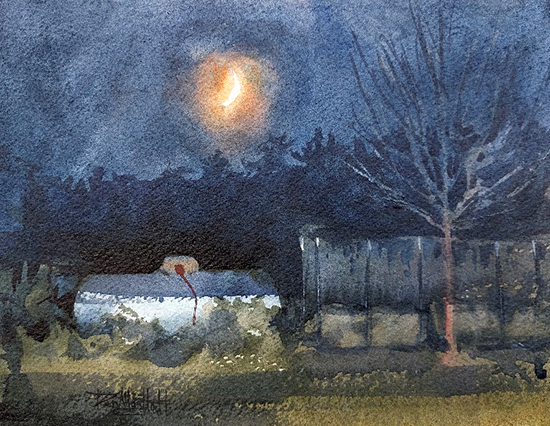 Garage and Moon Light 8 x 10" Watercolor © Dan Mondloch

In our fascination with how the eye sees and then translates the world around us to our brains, we have found it particularly interesting to study how the eye sees at night. Search for the words "Nocturnes" and "Vision" in the search bar to read many interesting articles about the science of seeing at night and the art of painting at night, or, download our book, Nocturnes - A Primer on Night Painting.

To see more of Dan Mondloch's work, go to: Dan Mondloch Fine Art Paintings.