Nature's Magic Act

Perspectives No. 445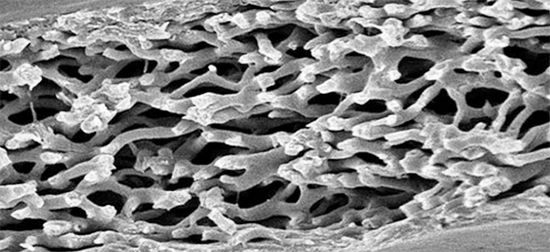 Cyphochilus Beetle Scales, magnified (Cambridge University)

Mixing all our paint colors together—subtractive mixing—we can get very close to black (or a very muddy version of black), but mixing all the colors of light in the color spectrum creates white—additive color mixing.

The Cyphochilus beetle is one of the whitest insects in the world, with an exoskeleton covered in unusually bright white scales. It is thought to have evolved this camouflage in order to be less visible in the white fungus of the sugar cane plants it inhabits in southeast Asia.

There is no pigment in its scales, though. The Cyphochilus carapace, which is a fraction of the thickness of a very thin sheet of paper, is actually transparent. It has provided scientists with fascinating information that is used in understanding how to create whiter whites in manufacturing processes for paints and coatings.

Part of the the mystery of the Cyphochilus's coloration is how its scales can be so white and yet so very thin, completely covering the black beetle body underneath them. The key is in the chaos of the tiny filaments that comprise the scales. The very thin and very disordered structure of the filaments scatters light so efficiently that it creates opacity in the scales. They are able to deflect all colors with equal power. The average 30% of empty space between filaments also seems to be ideal for scattering efficiency. It the particles are more ordered in size, shape and placement, scattering of light is less efficient and colors are created. This is similar to the extraordinary blue of the feathers of the diminutive Indigo Bunting. They, too, are structured of materials that refract, or bend sunlight, but in such a way that only the bright blue light spectrum is reflected back to our eyes.

The Cyphochilus beetle has managed to scatter all the light, a rarity in nature.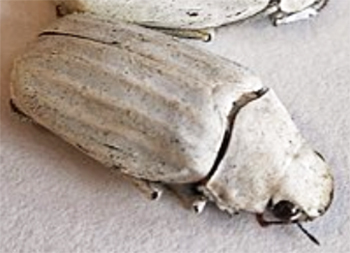 Cyphochilus Beetle (Wikipedia CC Olimpia1lli)