The Confidant of Nature
Perspectives from The Artist's Road



"The artist is the confidant of nature,

flowers carry on dialogues with him

through the graceful bending of their stems

and the harmoniously tinted nuances of their blossoms.

Every flower has a cordial word

which nature directs towards him."

- Auguste Rodin
D

uring difficult moments, our minds turn to flowers and our gardens for mental respite. They seem to be the antidote to many of our worries. This week and next, we return (in spirit) to two of our favorites, in France, starting with the unique sculptural gardens of
Marqueyssac in Dordogne.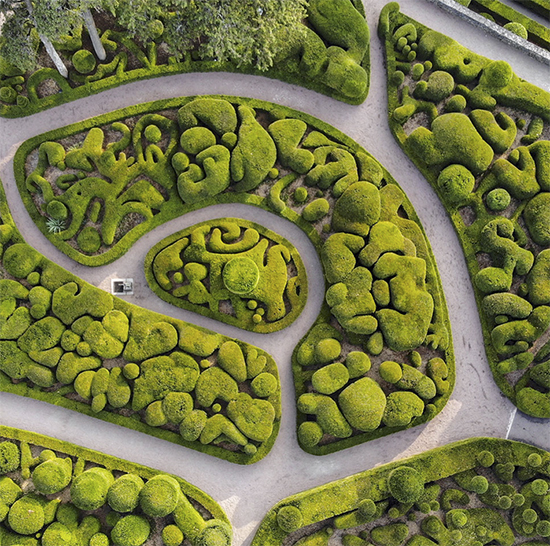 Aerial Image Courtesy the Gardens of Marqueyssac

Les Jardins Suspendus de Marqueyssac have been awarded three stars in the Michelin Guide Vert and have become the most visited gardens in the southwest of France. The gardens are
almost exclusively created of boxwood—150,000 boxwood clipped into elaborate swirling designs sitting on sheer cliffs high above the Dordogne Valley and River. The palette is predominantly green and the artistry is created from the organic, undulating forms. The boxwood gardens were designed by Julien de Cervel in the 1860s and restored and reopened to the public in 1997 by current owner Kleber Rossillon.
Rookeries, waterfalls and belvederes are happened upon while walking the paths through the gardens. The panoramic views from this cliffside park are breathtaking. The dry soil of the southern slope of the gardens supports trees from the Meditteranean climate, including the evergreen Holm Oak. De Cervel planted many ornamental species trees and included cypress and umbrella pines from Italy along with a carpet of the tiny Naples cyclamen, giving the gardens an Italian flavor. For the artist, the shapes and contours of the gardens are an exquisite exercise in tones and values, light and shadow. The expansive views from the perched gardens are a landscape artist's dream!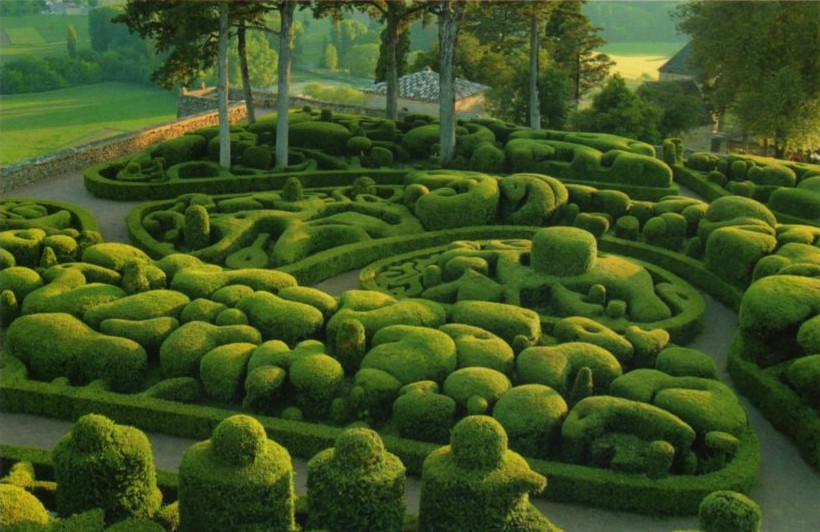 Les Jardins Suspendus de Marqueyssac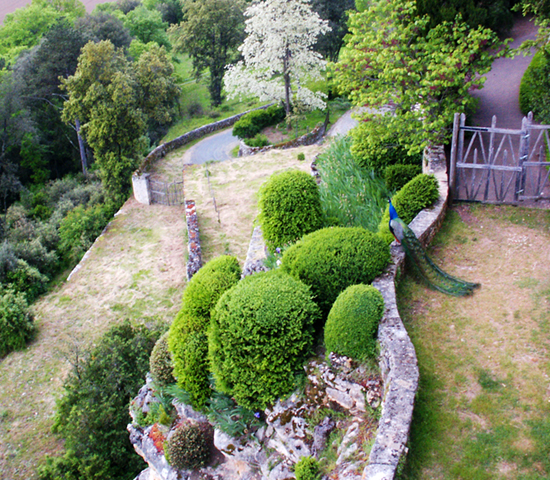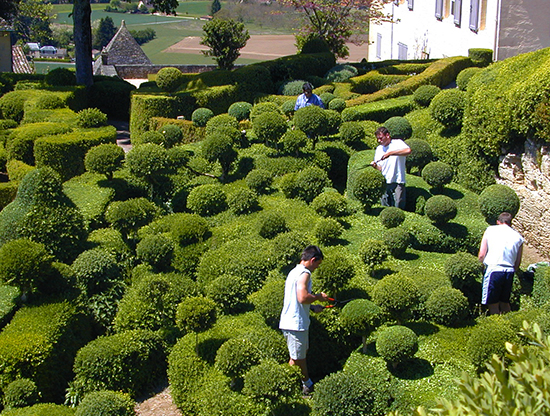 Peacock Surveys the Cliffside Garden The Annual Clipping of the Boxwoods


Save
Save