Voices of Experience
Matthew Richter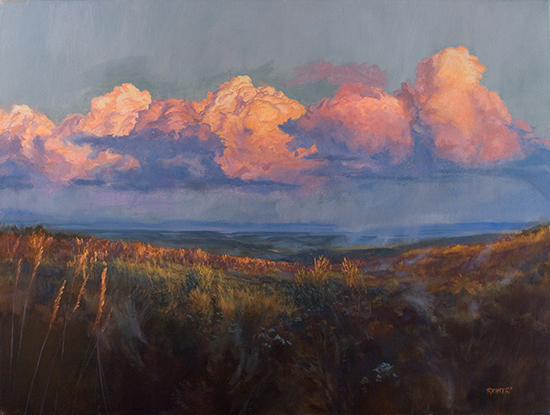 Evening Descends on the Tallgrass 36 x 48" Oil
M

atthew Richter has immersed himself in the flora and fauna of the Midwest prairie landscape. Although he has traveled and painted across the United States and in Europe, his focus returns to the beauties of the plains. He has studied the native plants and grasses of the Flint Hills of Kansas and the migrating birds of the Cheyenne Bottoms. He painted, by invitation, the reintroduction of bison to the National Tallgrass Prairie Preserve. His work is inspired by the effects of wind and water on the native flowers and grasses. Richter has exhibited his work both regionally and nationally and has won numerous awards. His home and studio are in McPherson, Kansas.


Sawtooth Sunflowers, Cottonwood River 22 x 28" Oil

We asked him about the early influences one his art, his education and when he really knew he was an artist.

I am not sure when the decision to become an artist came upon me. Perhaps I never felt I would do anything else. I grew up being able to try projects and make things so I just never found another way of thinking or doing business which compelled me to do otherwise. My first formal art class was at age six. My mother regularly took me to the children's classes at Washburn University (Topeka, Kansas) throughout my youth. I didn't study art in high school but started right in my freshman year of college at Washburn with Professor Ed Navone. He was a good teacher and the best I ran across for guidance in the basic skills. After a year I moved to Lawrence, Kansas and studied in the art department at Kansas University where I finished with a painting degree in 1979. I studied with Robert Sudlow for most of my painting work and enjoyed his encouragement in starting paintings out of doors.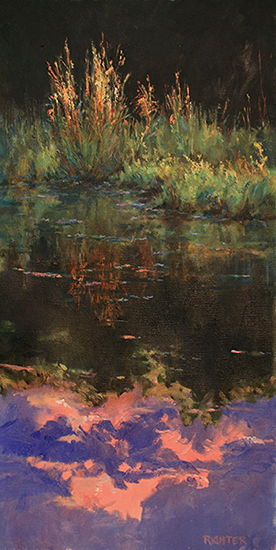 High Water, Tall Bluestem
20 x 10"
Oil

My mother, Marilyn Miller Richter, was an artist. She showed her paintings, pastels and ceramic work regionally in the Midwest from 1963 until her death in 1984. She was represented by several commercial galleries and constantly participated in juried shows. I used to help her dig clay in Shawnee County and I helped with her art booth at outdoor art shows from as early as I can remember. I constantly had access to clay, drawing and painting materials. I made jewelry in silver and was encouraged to build what I wanted with the tools in her studio and wood shop. My sisters and I made papier mâché marionettes and performed shows with them. There was constant encouragement to be creative in multiple mediums and art forms. My mother returned to college to finish her undergraduate degree in art when I was eight to ten years old. She used to take me into the art rooms where I met students, smelled the oil paint, turpentine and the clay and the kiln firings. Seeing her joy and growth as a human being was very influential in my understanding of creative explorations in life.


What other artists' work do you look at regularly - historical and/or contemporary?

I look constantly at a large number of artists, too numerous to mention. The internet is a wonderful tool for looking at the narrative content of images. Historically I've spent a large amount of time making and looking at abstract art, but the imagery of representational landscape have been my main interest over the last ten years. I find myself returning frequently to the work of Bill Anton and Richard Schmid. I enjoy the California Impressionists who have been around for one hundred years and wish they had been part of my art history education. There is some wonderful color work coming from the Chinese immigrants working in the Russian schools of painting. Just too many artists to list.

If you could spend a week painting and visiting with one artist from history, who would you choose?

I think Richard Schmid would make a good week for me. I would also enjoy a painting and pack trip in the Wind River Range with Clyde Aspevig.

What is it about a landscape that sparks your creative juices?

The contemplative moment when all the pressures of civilized life fall away and I am absorbed by a place or a mood where I am aware of the essence of and significance of being alive in a deeply moving way.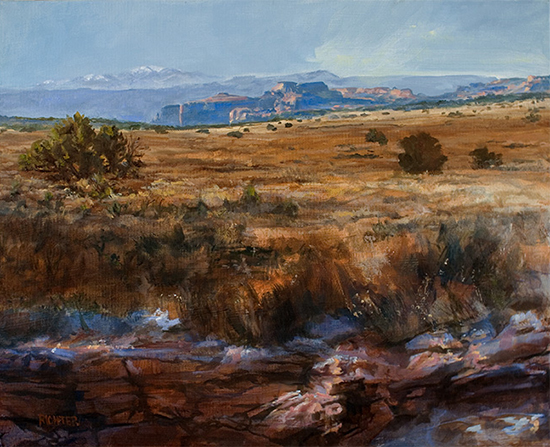 High Desert Grasslands 16 x 20" Oil

Have you had the opportunity to travel? What places are your favorites and which have given you the most inspiration for your art?

I've taken extended painting trips in the last ten years to Arches, and Canyonlands National Parks in Utah. I've painted in the Northern Colorado inter-mountain areas including Rocky Mountain National Park and in the Southern Colorado Trinchera regions. I've painted throughout Arizona's lower and upper deserts including the Grand Canyon and Lake Powell. I've taken multiple camping trips and canoeing trips in the Wyoming mountain regions, Yellowstone and the Tetons. I lived for two summers in the Adirondack Mountains of upstate New York painting the area.

I know and love the prairie. I live in the best of all places. I've traveled, photographed, camped and painted in some very engaging places in the United States. My preference is for wilderness and places which show the least manipulation by the human species. The primary place of wilderness is in the sky and cloudscapes. Most of my painting time has been in Kansas, Eastern and Central regions with a current emphasis on wildflowers.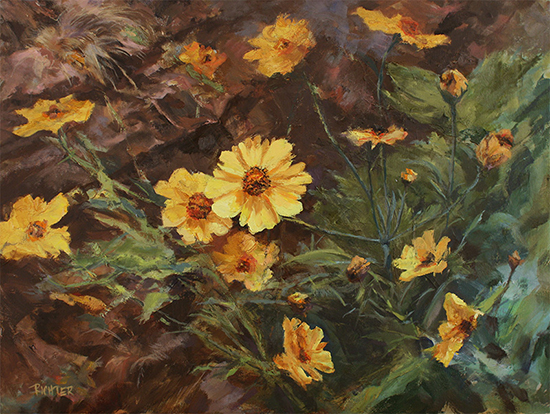 Coreopsis and Dakota Sandstone 18 x 24" Oil

How do you get to know a landscape in order to paint it?

My preferred painting approach is to camp, if possible, for several days in an area to get a solid feel for it. I consider my work on site to be for reference in color, composition and a way to observe and understand a specific place. Occasionally I try to finish a painting on site or place enough ideas in the rough that I can finish in the studio. Most of my painting time is in the studio.

What colors do you typically keep in your palette?

Ultramarine blue, pthalo blue, burnt umber, paynes gray, cadmiums of yellow light, yellow and orange; alizarin crimson, transparent red oxide, pthalo green. I have occasional use of terra rosa, sap green and chrome oxide green. I constantly struggle to push my representational work into a higher color key.

Can you describe your process or your style, what it is that makes your paintings unique?

The aspect of letting paint marks resonate with my inner thoughts and by this suggest the next appropriate step is something I still do based on the methods I developed when making abstract art. Often this results in a painting which does not resemble the initial idea which started the piece. This can be a time consuming and emotionally expensive method of creating a painting but I think it takes my work closer to the essence of who I am, what I have that is uniquely mine to contribute. I do not think this is entirely unique because all artists engage this suggestive approach to one degree or another but my better work has used this approach more consistently.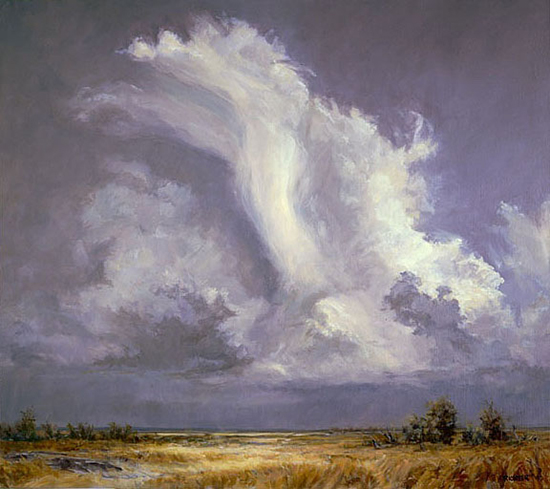 Late Summer, High Plains 32 x 36" Oil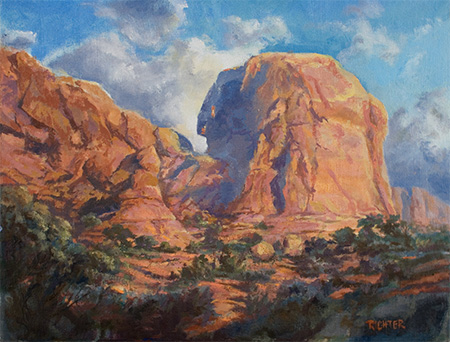 Shadows on the Dome 12 x 16" Oil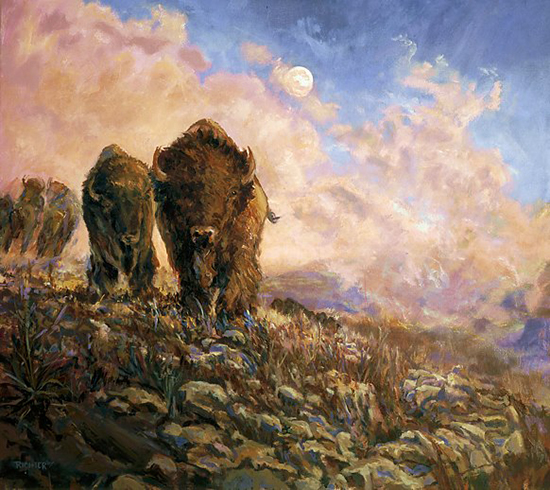 We Live Here, Flint Hills 32 x 36" Oil


What do you think is the single most important lesson or tip you have learned about painting in your career?

Be true to your inner voice but practice and study enough to have interests and be interesting.

What words of encouragement or piece of advice would you give a beginning artist?

Do not be strongly critical of yourself. Be open to engaging the surprises that your hands and your mind produce.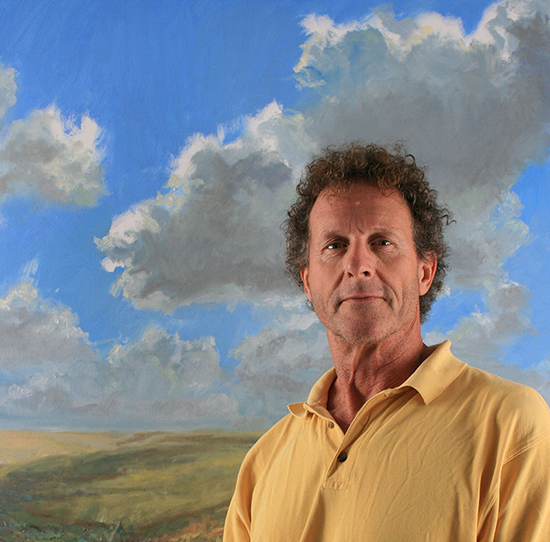 Visit Matthew Richter's website to see more of his paintings.

All artwork copyright Matthew Richter