Matisse's Beautiful Obsession
Perspectives from The Artist's Road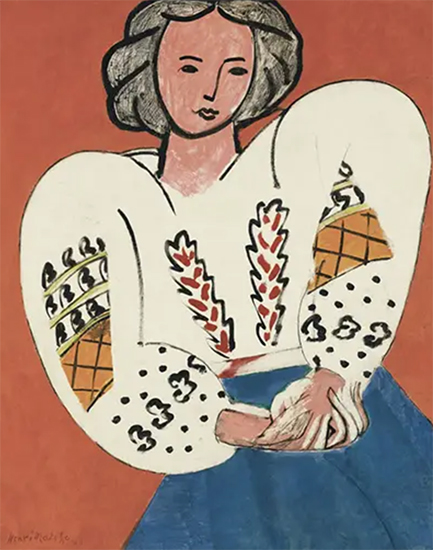 La Blouse Roumaine 1940 Henri Matisse
Many years ago, Ann and I studied artists' films and animation on our own to learn more about those subjects. We were able to borrow a film projector from our local library in Garrison, New York, and began working our way through the New York state library system's vast collections.

At that moment, we had no television set. We would order four or five films at a time to watch on our living room wall. The most memorable film was an old black and white documentary about Matisse, probably shot in 1940 when Matisse was working at his studio in Nice. This is the famous studio where he created all those red interiors. At one point in the film, there was a step-by-step set of still images of the evolution of his painting, The Romanian Blouse. It was a revelation to me. Matisse was an avid draftsman and loved to draw constantly, so I assumed that he generally worked out his painting compositions pretty thoroughly on paper first. But, in this painting, he jumped right in, painting the model from life searching for the "right" arrangement of arm positions and decoration design, and making big changes to those elements in each iteration. Over and over again he repainted—fifteen times in all, so that his changes not only fit the shape of the canvas in a way which pleased him, but also made a graphic of the decorations on the sleeves of the blouse.

"I have my conception in my head, and I want to realize it. I can, very often, redesign it…but I know where I want to end up.The photographs of my work in progress allow me to know if the last design is more conforming than the previous ones, if I have moved forward or backward".

That experience opened our eyes to an artistic process which was never taught in our art school education, but made total sense as soon as we saw Matisse do it. Matisse knew that ideas are fragile things of the spirit which come to us sometimes in fragmentary wisps. Those fragments must be nurtured, even obsessed about, until they can take their place in the physical world. He not only valued his ideas, but also understood that profound achievements in art often, maybe always, must be worked for. His great brilliance sprung from his belief in his own ideas and his joy in the process of discovery—of making the art—no matter how long it took to get there.The finished product was merely evidence of that process.

It is a lesson that neither Ann nor I have ever forgotten. When a picture isn't quite working, we think of Matisse and try other solutions. If the idea which inspired us was good at the start, then it is up to us to do whatever it takes to give it life at the finish, no matter how much reworking may be required.