Matisse's Artistic Courage
Perspectives from The Artist's Road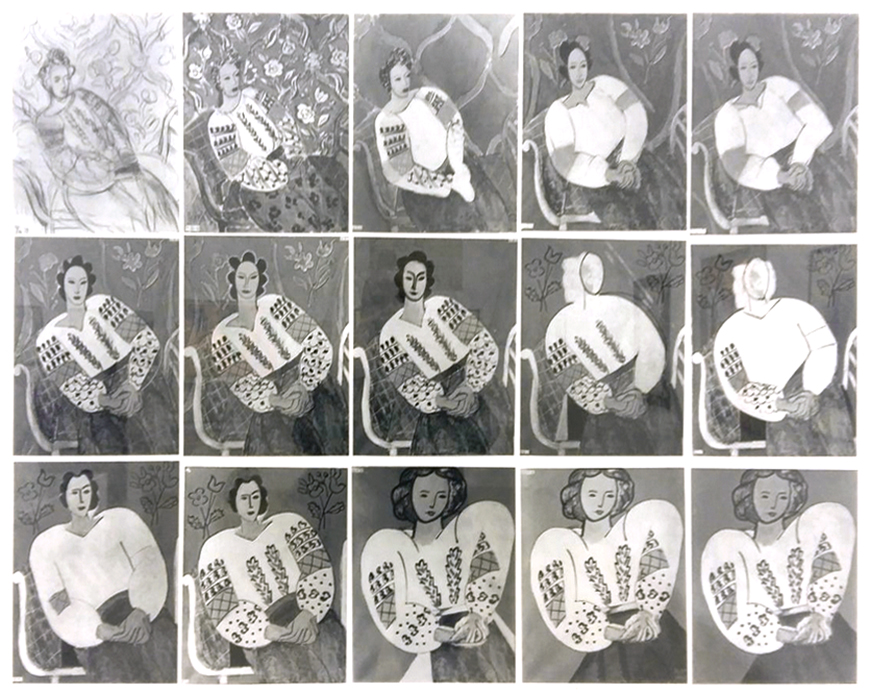 In our blog about the working methods of Henri Matisse as he painted The Romanian Blouse in 1940, we described his willingness to revise and redesign the same subject over and over until it reached what was, for him, a kind of perfection. He unfailingly believed in his vision and possessed a rare kind of genius. He knew to follow his own star in all things artistic. Many European artists of the day were inspired by, or directly lifted ideas from him, most notably, his friend Pablo Picasso.

We received so many requests to see the other iterations of La Blouse Roumaine, or The Romanian Blouse, that we are showing them here. These were documented by Matisse in photographs as he worked so that he could refer to them for comparison to the ongoing revisions. Over the course of six months, his development of this composition generated at least fifteen versions! In our opinions, any one of those versions was a beautiful work. Matisse displayed the finished painting along with photographs of the successive stages in 1945 at the Gallerie Maeght. Here are Matisse's comments:

"My line drawing is the direct and purest translation of my emotion. The simplification of the medium allows this. However, these drawings are more complete than they may appear to some who might regard them as a kind of sketch. They are light generators; viewed in reduced daylight or indirect lighting, they contain, in addition to the flavour and sensitivity of the line, the light and value differences corresponding to the colour in an obvious way. . . . As soon as my emotional stroke has shaped the light of my white sheet, without removing its quality of tenderizing whiteness, I can no longer add anything to it, nor take anything away. The page is written; no correction is possible."

La Blouse Roumaine was one of a pair of paintings of a model in a Romainian blouse painted one after the other in April and October of 1940. The second painting, La Rêve, or, The Dream, was also documented as he worked. That too, had at least fifteen versions, and in each, Matisse's goal was the same: to simplify color and form, reducing unneeded details to the minimum needed to fulfill his vision. In so doing, he was creating a new, more modern form of art which had never existed in painting before. It is hard to imagine the boldness and fearlessness it took to make such a radical change in image-making. From this distance, he made it look easy, even natural. But to the art collecting public of 1940, this was a huge break with the past and therefore had little or no foundation for understanding or even appreciating what he had done. He had stuck his artistic neck out to create the future of art, and we all owe a debt of gratitude to Henri Matisse for his courage and vision.