Lust for Art

Perspectives No. 395


The Adoration of the Mystic Lamb, or Ghent Altarpiece by Jan and Hubert van Eyck
The Adoration of the Mystic Lamb, or Ghent Altarpiece, holds the title for being the subject of the most crimes of any artwork in history. In its nearly 600-year existence, it has been stolen repeatedly and nearly destroyed by fires more than once. The 12-paneled altarpiece was created by Jan van Eyck with help from his brother, Hubert, and revealed to the public for the first time in 1432. It weighed almost two tons and measured approximately 14.5 feet by 11.5 feet. It was unlike any artwork ever seen with brilliant color and great artistic detail portraying biblical events and figures, from Adam and Eve, the Archangel Gabriel, the Annunciation, to the symbolic sacrifice of Christ (the sacred lamb). It became the object of pilgrimage to the Cathedral of Saint Bavo in the city of Ghent, Belgium. It is considered, to this day, one of the most important artworks in history.

More than once it has been dismantled and hidden for safekeeping. Calvinists seeking control over Ghent attempted to pilfer it in 1566, but it had been safely sequestered in pieces in a bell tower. Napoleon's troops, after conquering Ghent in 1794, sent the four center panels to Paris for the new Louvre Museum. (After Napoleon was defeated, Louis XVII returned the work to Ghent in thanks for earlier taking him in.) While the local bishop was out of town, the remaining wing panels were sold by the vicar. They passed through the hands of a Brussels art dealer, to a British collector and on to the King of Prussia. Ultimately those panels were returned as a condition of the Treaty of Versailles.

During World War I, the art was moved to different locations by a cathedral canon, keeping it out of the hands of the occupying Germans, but during Word War II, while en route to the Vatican for safekeeping, it was seized by the Nazis. It was eventually recovered from a salt mine by the Monuments Men and the Austrian Resistance. Hitler had reportedly wanted it as the centerpiece for his unrealized Fuhrermuseum, in his hometown of Linz, Austria.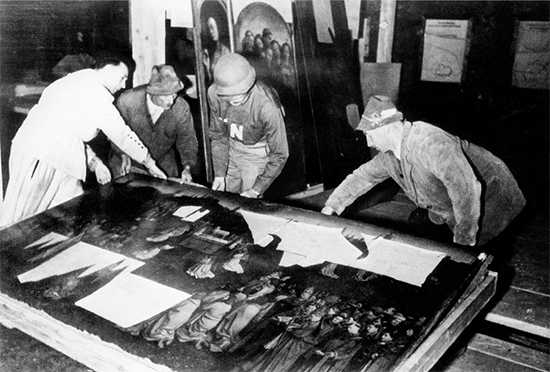 Altaussee, Austria - The Central Panel of the Ghent Altarpiece
Other panels of the altarpiece are visible in the background.
Note the tissue that has been applied to the painted surface to secure loose or flaking paint.
National Archives and Records Administration

Today the Ghent Altarpiece is mostly on display again in Ghent. One panel (the lower left) stolen in 1934, has never been recovered, although the investigation into its robbery remains an active case in the Ghent police department. Additional art detectives have spent decades probing the theft, including one sent by Joseph Goebbels hunting the missing panel for a gift to Hitler. The cathedral itself has been searched six times and its floor x-rayed to 32 feet deep. The original framework holding the panel has not been a part of the altarpiece since the Calvinist riots, but is presumed to have been ornately carved.

(For more information on the Ghent Altarpiece see Noah Charney's book: Stealing the Mystic Lamb
.)