Understanding Light in the Landscape

Part III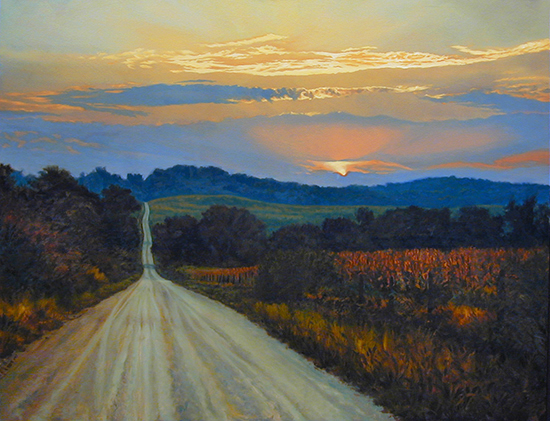 Evening Road Oil John Hulsey
Gamut Mapping: Mastering the Art of a Selective Palette

In part two, we introduced you to the concepts of color gamuts and gamut mapping. Gamut mapping is a tool for preselecting a limited palette of colors from which to create an entire painting, and was invented by James Gurney. James is an artist, illustrator and creator of the world-famous Dinotopia series of books, as well as Color and Light: A Guide for the Realist Painter
. He invented the gamut mask tool as a convenient and reliable way to create believable color-specific moods in his illustrations, without having real world references to call upon in his fantasy paintings. We immediately saw how useful this tool could be for both the landscape painter who must deal with unpredictable lighting in nature, and the studio artist who is wanting to have complete control over mood in their painting.

This is a powerful tool that gives us two distinct advantages: (1) It enables us to correctly see and duplicate the natural hues, values and chroma presented to us, and (2) It enables us to be free of existing conditions, thus allowing us to expand our imaginations and make better artistic use of any painting site or atmospheric conditions. We believe that this tool can eliminate much of the frustrating trial-and-error approach for the student who is trying to understand color.

But, we must stress that it is just a tool, like our brushes and view finders. Spontaneity, inspiration and imagination are still and always will be, the pillars of what we all do.
We showed how a gamut mask can be used with a standard RYB color wheel, but there is another color wheel of which every artist should be aware. It is called a YURMBY wheel, an acronym for YRMBCG, or yellow, red, magenta, blue, cyan and green. As you will discover, the Yurmby wheel represents a more accurate distribution of all the colors necessary to create any other color. The standard RYB color wheel, while unquestionably useful, does not quite give us all that we need.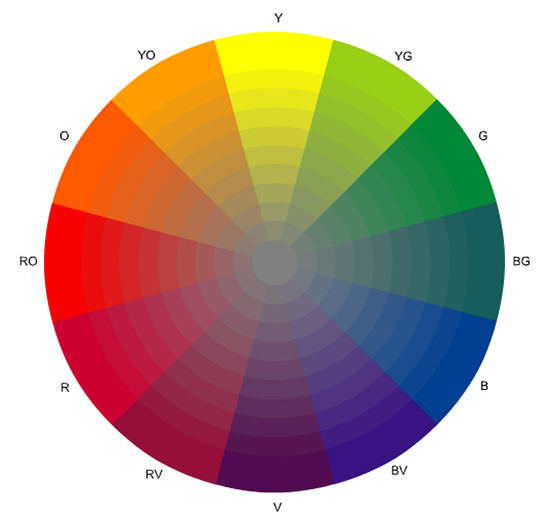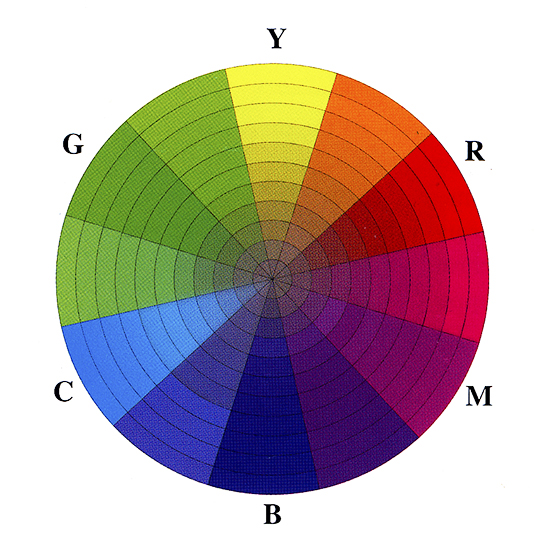 RYB Color Wheel YURMBY Color Wheel
A pair of convenient on-line digital gamut mapping tools were created by Richard Robinson and can be accessed at his website. Richard's color wheels can also be printed off and laminated for permanent use.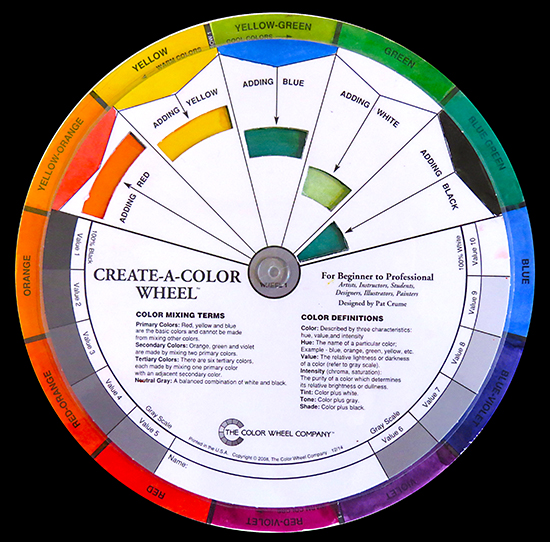 John's Hand-Painted Create-a-Color Wheel (watercolor)

There is no better or more enjoyable way to explore all the surprising colors which can be made from the color wheel than by painting your own. If you really want to learn about mixing colors, then the Create-a-Color Wheel is the answer. We enjoyed painting ours so much that we carry the paintable versions in our store alongside the regular printed ones. When you are done, you can laminate the wheel and it will serve as your personal color reference for many years.

Sorting it Out

Colors and the Color Wheel
Red, Yellow and Blue have long been considered by artists as the primary colors out of which every other color can be made. The standard theory of color mixing is that it should be possible to mix every other color from the three so-called primaries, Red, Yellow and Blue. R + Y = Orange, Y + B = Green, R + B = Violet. These mixes are called secondary colors, and they are traditionally placed in between their primaries on the wheel. Any color which occupies a position directly across the wheel from another is called a complement. The standard color complements of the RYB color wheel are: red/green, yellow/violet, blue/orange. When complements are mixed together in equal amounts, they are supposed to result in a neutral gray - that is, a color in which neither complement is visible. Both wheels illustrated above try to represent how color chroma approaches neutral gray at the center of the wheels, but in actual practice mixing the complements together, the colors which result at each step are somewhat different. Only by mixing each step ourselves can we be sure of the color combinations which are possible. In reality, no color is more primary than any other, and this fact alone should make us question the traditional RYB concept of the color wheel arrangement.

If we try to pick paint colors to match those on the standard RYB wheel, we might choose cadmium red, cadmium yellow and either ultramarine or cobalt blue. While this combination can produce a vivid range of oranges, the violets are quite dull and miss the mark. We are then forced to expand our ideas about the colors which are missing from the standard wheel. What is needed are some additional colors - magenta and cyan, which will result in vivid violets. But there is far more to color than any color wheel can characterize.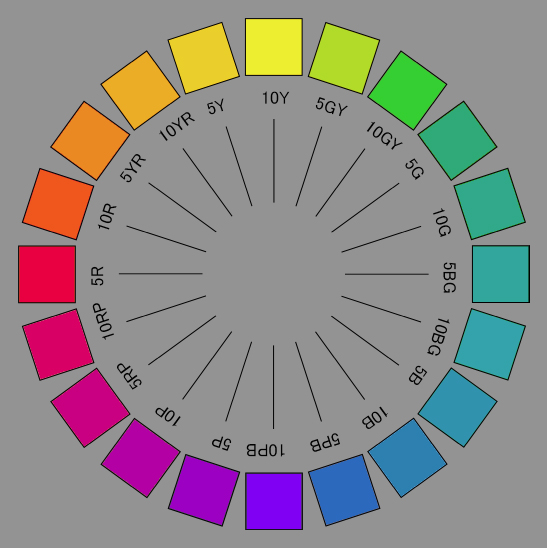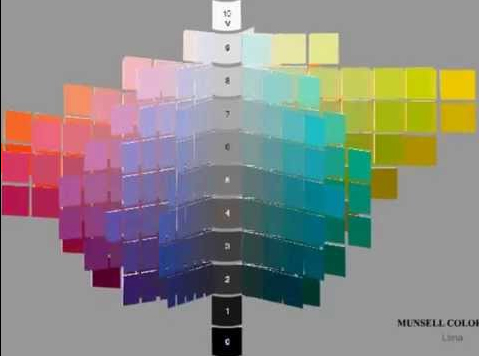 Munsell Color Wheel Three-Dimensional Munsell Color Tree

Value and Chroma
Value is simply the relative lightness or darkness of a color as compared to a standard 10 step value scale, where pure white is at one end and each step toward pure black is one step darker or grayer. Chroma is the perceived strength of a color as it reflects from a surface compared to white, and is an important characteristic of pigment. (Do not confuse chroma with saturation, which is the color purity of light, and is a common adjustment in Photoshop). The value of peak chroma varies from color to color. Some colors reach their highest chroma in very light values—others can be further down the value scale.

About a century ago, Alfred Munsell developed an improved color system based on ten evenly spaced spectral hues: yellow, green-yellow, green, blue-green, blue, purple-blue, purple, red-purple, red and yellow-red. He also developed a three-dimensional numerical classification system which more accurately places each color on a scale which represents its hue, value and chroma. Value is on the vertical, chroma on the horizontal. The three-dimensional color tree is the standard tool for describing color in his system. In this way, each color's position (hue) and character (value and chroma) can be described visibly, notationally and precisely. This was a huge leap forward not only in understanding color, but also in creating a universal color system which can be taught and utilized in art as well as industry.

In the world of printing and photography, the three colors which mix the greatest number of vivid (high-chroma) colors are Cyan, Magenta and Yellow. With the addition of Black, every color in nearly every chromatic variation can be rendered. This system is known by the acronym CMYK, K being the notation for Black. If we translate Munsell's colors into the nomenclature of printing and photography, Blue-Green is Cyan and Purple is Magenta. Now we are beginning to arrive at a color system which can be used across media. Let's take it further.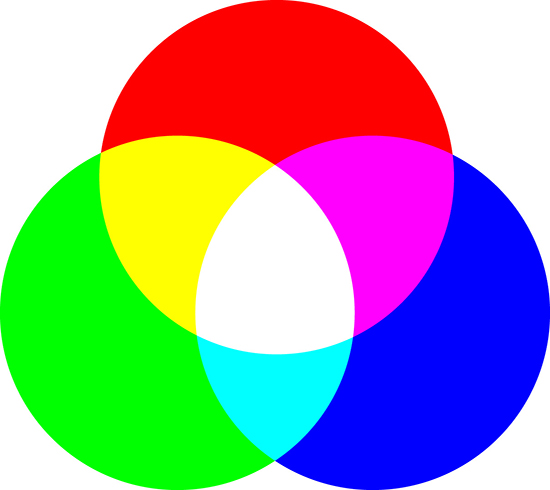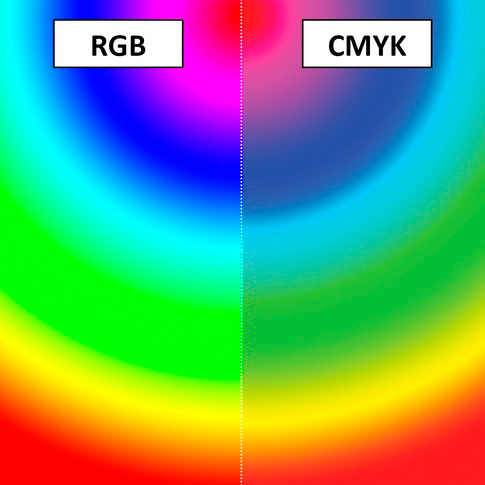 If you look at the YURMBY wheel, you will note that halfway between Cyan, Magenta and Yellow are the colors Blue, Green and Red. Those three are the primaries of light (mixing them together produces pure white light). Computers use light to present information on the interface, therefore the standard color gamut for computer systems is RGB, not RYB. CMY are considered the secondaries. Mixing light is called an additive process, since each color mix brings us closer to pure white light. Paint mixing is considered a subtractive process, since every color added to white or to each other results in a lower chroma, lower value mix, compared to white.
Today, many painters are also working on computers to color correct their photos or modify reference materials and increasingly, create original art on screen. Switching mentally from a pigment-based color reference (RYB) to a light-based color system (RGB) takes some practice, but the YURMBY wheel is there to help. If you think of the wheel as having six equal primaries instead of three: Yellow, Red, Magenta, Blue, Cyan and Green, the process of mixing colors either in paint or light becomes much more understandable, universal and systematic. However, working in light on a computer for output to a printer requires some caution. As you can see above, the CMYK printing gamut can never match the luminance and perceived chroma of the light-based RGB gamut. Fortunately, Photoshop and other graphics programs have gamut preview features so that one can adjust colors before printing, but there will always be some losses.

Gamut Mapping

"The entire group of possible colors for a given painting is called the gamut. It's shown as a polygon superimposed over the color wheel. Good color comes not just from what you include in a composition, but from what you leave out of it". James Gurney

Now that we understand the must-know basics of color, we can think about how we want to use it in our paintings. This is where the idea of creating a particular gamut of colors and mixing those in a limited palette becomes really powerful. Once we grasp this idea fully, we are then no longer tied to or limited by the light or atmospheric conditions we find in the landscape. No longer is a gray, dismal day a problem, for we can imagine and create a sunny day or even a moonlit night if we so choose!

Creating Mood with a Gamut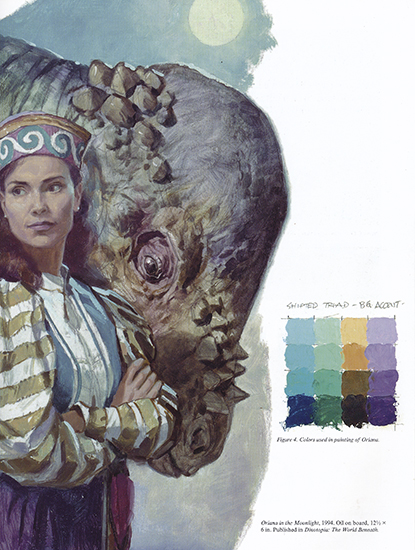 The illustration at left is by James Gurney. This painting, Oriana in the Moonlight is from Dinotopia, The World Beneath, and employs a carefully selected color gamut:
"I wanted the colors to suggest a cool, magical ambience, so I used an atmospheric triad shifted toward blue green.With the colors in this gamut, it's impossible to mix any intense warms, even if you wanted to. But as your eyes adjust to the color mood, it feels complete", says James.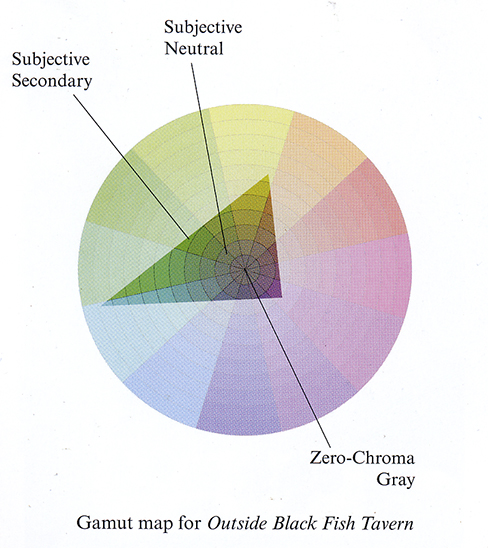 Above is another example of a color gamut used by James to create a nocturnal moonlit mood in the same Dinotopia book. Outside Black Fish Tavern even employs a glowing lantern as a secondary light scheme - very difficult to make convincing, as James has done so well here!

Trying a Mask on for Size
We designed this simple demonstration to show you how this works: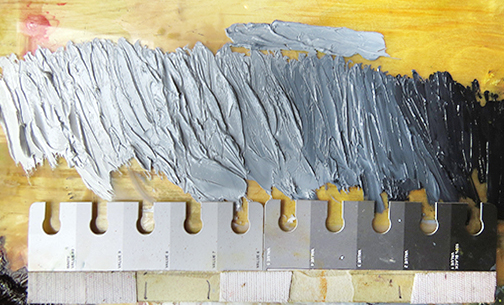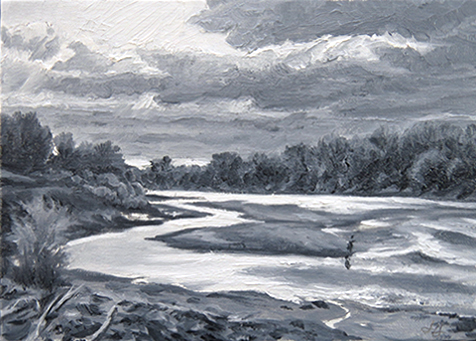 To begin, I readjusted a black and white reference photo in Photoshop to serve as the subject for my explorations of color gamut mapping. I wanted a subject which could either forebode a storm coming, or a storm clearing. Then I mixed a black and white color string in oil from titanium white and ivory black, being sure to create all 10 values as indicated on my value scale. Premixing a color string this way saves time later and allows me to complete the painting without stopping to remix colors. Next, I essentially duplicated the range of values and shapes present in the reference photo on a 5 x 7 inch canvas panel and in the process became completely familiar with my subject, and what kind of color moods I might be able to create.

It is well established that colors can create different moods - bright and happy from yellows; agitation, power or anger from reds; calmness and serenity from blues; and so on. In advertising, in particular, there are color gamuts used to stimulate particular feelings about a product. If one wants to create a particular mood in a painting then, carefully selecting a color gamut for that mood is not only possible, but is also a powerful tool in the hands of an artist.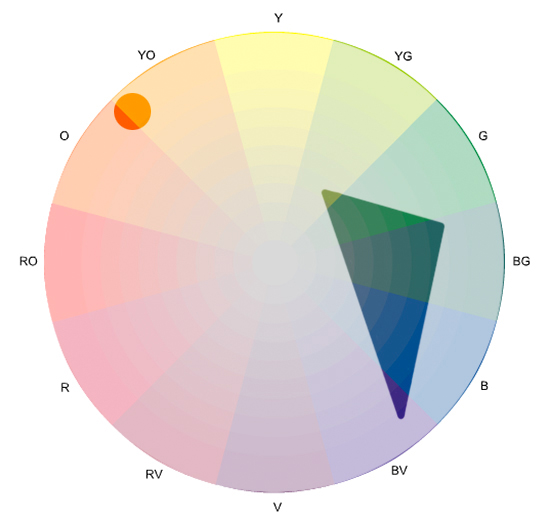 A gamut mask is simply a window cut out of paper placed over the wheel. The exact shape of the cut-out window is determined by either the predominant mass-tones in the subject, or an artificial set of mass tones which can be selected to create a specific mood. The window masks out all colors except those that are within range of the previously identified mass tones, called subjective primaries. The beauty of this system is that the painter need only mix the color strings which are visible in the window to ensure a harmonious result in the final painting. Those color strings are premixed before ever touching brush to canvas, so all the work of mixing is done right up front. No other colors are added later. That means the bulk of our time can be spent enjoying painting, not mixing!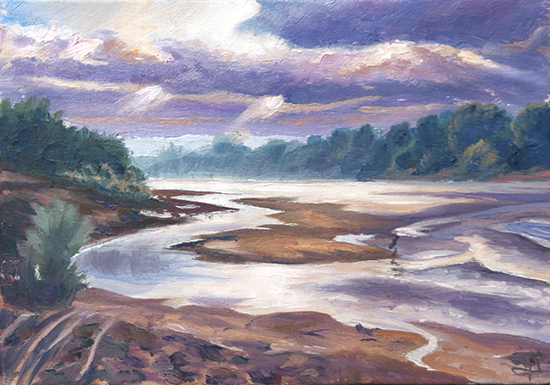 Red-Violet River Study 5 x 7" Oil

Demonstration No. 1
In my first demonstration, I decided to create a cool-toned gamut with warm notes which would simulate an imagined landscape with rain moving in. I first taped a piece of translucent paper over my YURMBY wheel and defined which colors would serve as my new subjective primaries - RV, BG and Cyan. These are at the pointed ends of the triangle.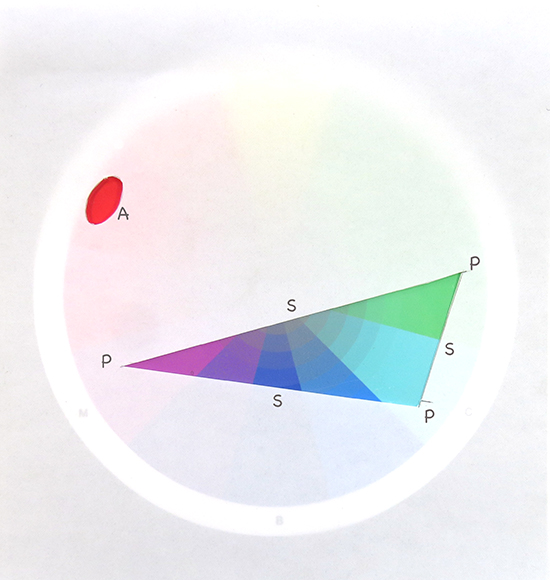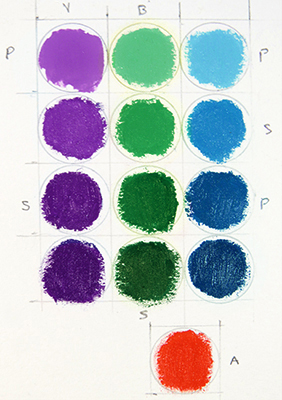 My subjective secondaries are points halfway between the primaries, and I also included an accent color of pure red. I connected the primaries which resulted in the narrow triangular shape as shown. These would be my only colors in the painting.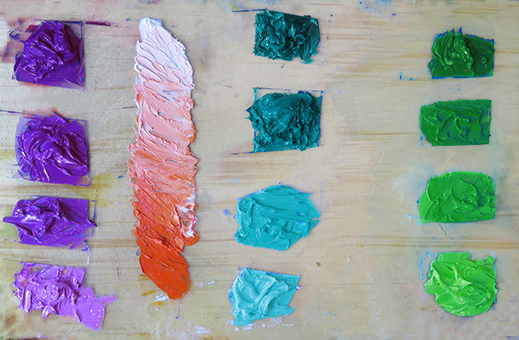 RV, Cyan and Blue Green Color Mixes on Palette

Next, I mixed a color string from my subjective primaries, using the secondaries to deepen the colors, and white to lighten them. I made sure to mix at least my four main mass-tones in sufficient quantities to complete the painting. Any intermediate tones or color mixes would be created as needed for the smaller spots of color.
For a color gamut to be successful, it is important to paint only with the colors within the boundaries of your window—all other colors should be put away. Since all secondaries and grays are mixed from this limited gamut, all the colors in your painting will be automatically harmonized. That fact alone is worth it.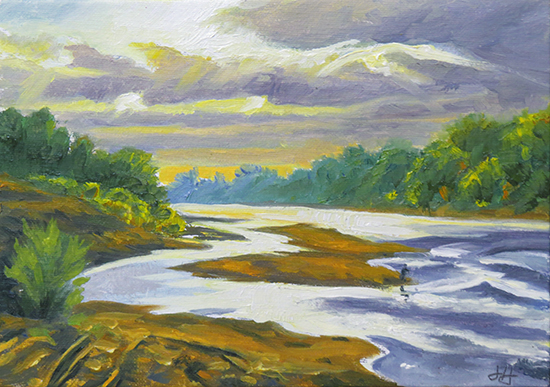 Orange and Yellow-Green River Study 5 x 7" Oil

Demonstration #2
To change things up, I decided to try an orange, yellow-green and blue-green, with a bit of deep yellow as an accent gamut. I wanted to create a landscape that was sunnier and brighter, and this gamut allowed me to really build a sense of depth in the receding blues of the river shoreline. To keep within the sunny theme, I used yellows and violet-looking grays in the clouds, rather than a blue-gray. The key to creating a believable scene is to mix colorful grays rather than use the primaries. Those are best reserved for tiny touches. All color perception in art depends on the relationship of one color to the nearest adjacent color. The violet effect in my clouds is largely due to the complementary use of yellows and to a lesser degree, the blue-greens below them. It is amazing the colors which can be created from a limited palette!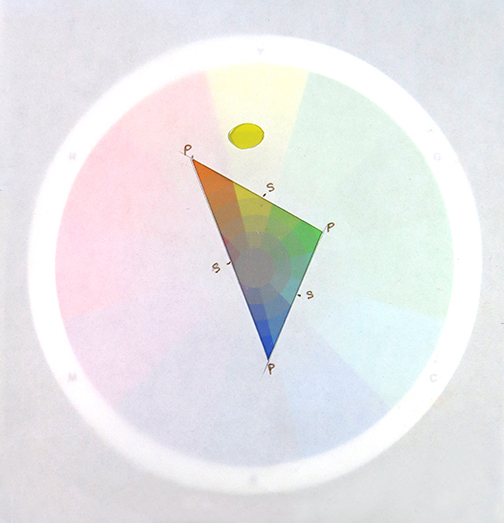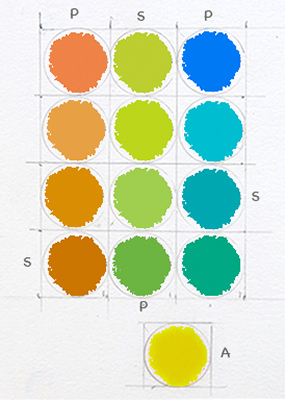 If you look closely at my triangular window, you can see the interesting colorful grays available near the center of the wheel. And keep in mind that one can draw a gamut window in any shape or size - squares, narrow rectangles, stars, etc., not just a triangle. Triadic color schemes are just very simple and easy to use. One need not include the center of the wheel, even. The possibilities are endless and fun to try.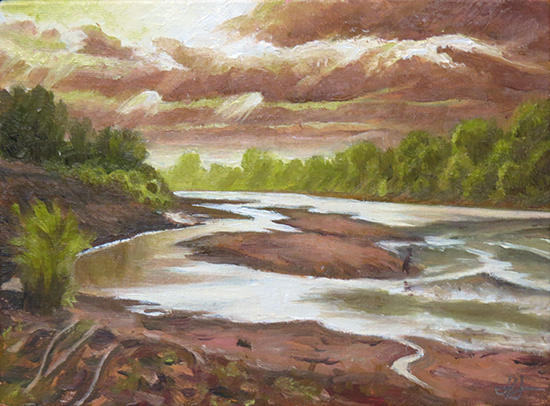 Rose and Yellow-Green River Study 5 x 7" Oil

Demonstration #3
In this third experiment, I decided to explore a two-color gamut, rose and yellow-green. No other colors would be allowed. This is an example of the digital version of the gamut mask, of which I took a screen shot. In the color string, you can see that to create middle tones and deeper values, I mixed a set of grays from the two primaries which would serve as my secondaries. Black is included as an accent and to achieve the three deepest tones.
My clouds became a very interesting warm, dull reddish violet because of the influence of the yellow green in my mix.The sky is a light yellow-green. By comparison, the greens of the landscape seem, in relation, to be much more natural looking and plausible. This is a very moody look, perhaps a summer day with a feeling of foreboding, as we can have before a big storm arrives. What would this subject be like if we reversed the colors in sky and trees?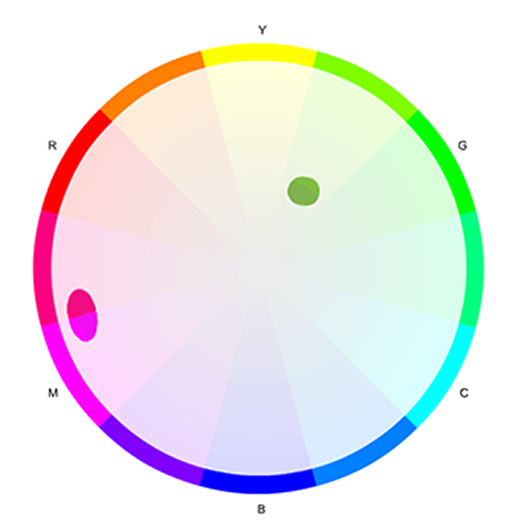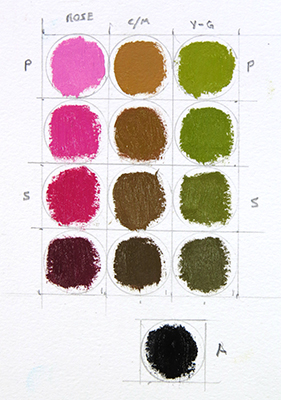 We encourage you to experiment with with color gamuts in your studio before attempting to use them outside. Once you are comfortable with the concept, try it outdoors! We did.

Out Here in the Field...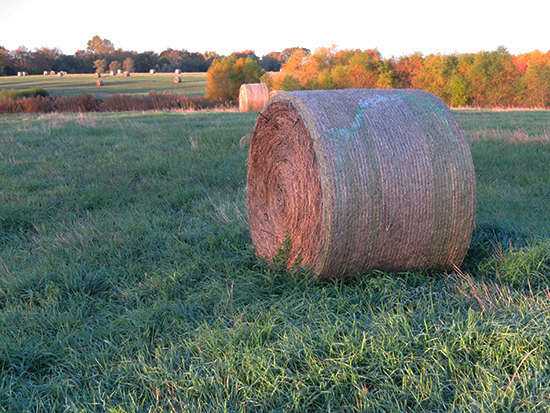 Moving outdoors, we have found that establishing a color gamut to describe the current lighting conditions and define our limited palette can be a very useful and efficient way to proceed. If you have already adopted color string premixing, this will be a natural extension of that practice. Preparing a limited palette color string in advance can help to prevent us from arbitrarily adding more colors as we paint, and thus getting lost.
In these examples, I chose to paint some hay bales in a field nearby, in both evening and morning light. In successive days I worked first in oil, then in watercolor to speed things up.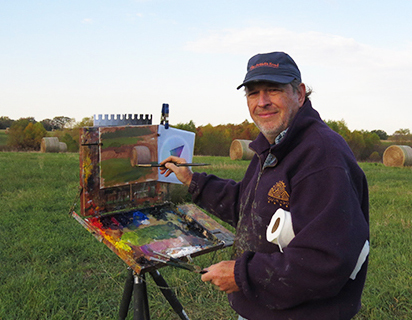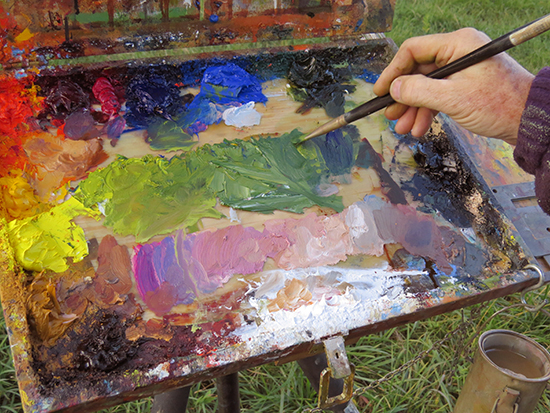 I am working on location out of an Open Box M oil pochade box. You can see my gamut mask clipped on to the side of my easel for reference and a sight-through gray scale and value finder attached at the top. Using this type of value scale really speeds up the work by allowing me to look through a ten step value scale to compare the landscape beyond. Finding the correct value is simple this way.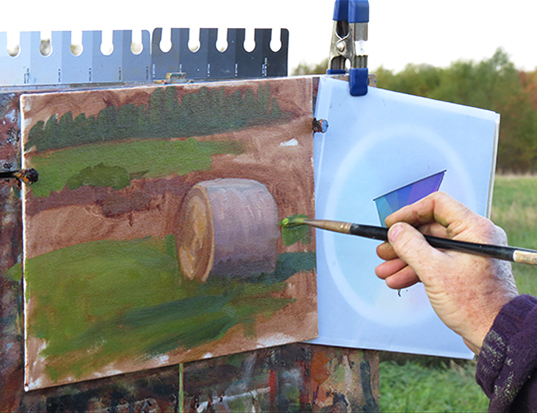 Above, I am mixing my color strings from the gamut mask selection. If I am in a hurry, I sometimes just mix a continuous string from one subjective primary to the next. Of course, when painting the fleeting effects of sunrise or sunset, one has to work far faster than any other moment, and the goal is to simply capture the effect of the light, not the details. It is a great exercise for working decisively and the color gamut/color string process is very helpful.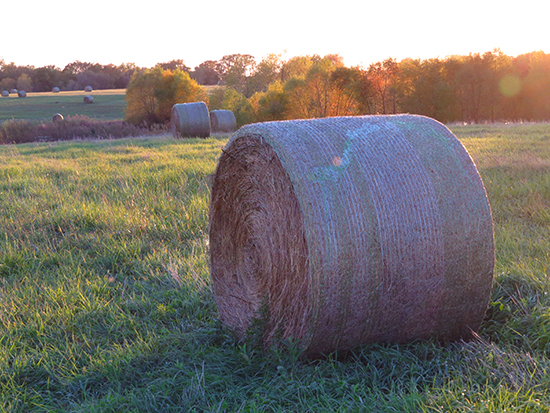 Photo of Hay Bales in Evening

That evening I returned to capture the scene in the early evening light. In some respects, one has more time with evening subjects because they continue to improve and get more interesting until the sun sets.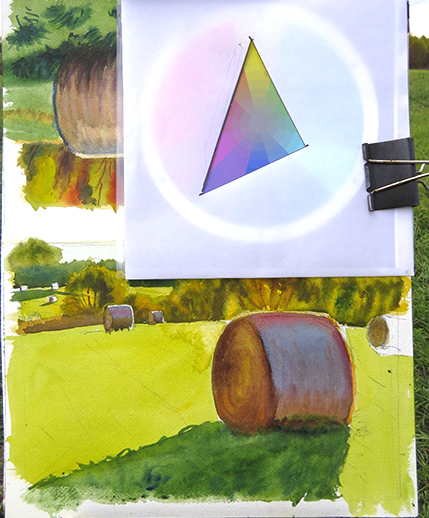 This is my evening color gamut mixed out as two color strings in my watercolor palette. Because of the wide range of color and value in my subject, I chose a centrally-drawn triadic scheme, with peak chroma in the yellow, red violet and cyan (blue green). Even though this is a big selection, notice how much of the wheel I am not using!
As I often do in watercolor, I started by painting the lightest elements first, the sky, and followed that with the background.I worked very quickly, pausing only to allow a wash to dry enough so that the next layer could go on. Here you can see my initial washes on the hay bales - blues and grayed-down red-violets made from complements. Watercolorists have an additional burden that opaque medium painters do not: to lighten the value of colors, water is added in a very specific amount to the initial color mixes. This water thins them down and makes them more transparent and lighter. This involves educated guesswork based on experience—lots of it. And often, even with experience, one can't tell exactly if it is right, because the colors dry lighter than when they are wet. So, essentially, to get it right, it must be painted wrong. As if outdoor painting wasn't hard enough! Any technique which will help with this process is very welcome, and gamut masking has proven repeatedly to be a winner.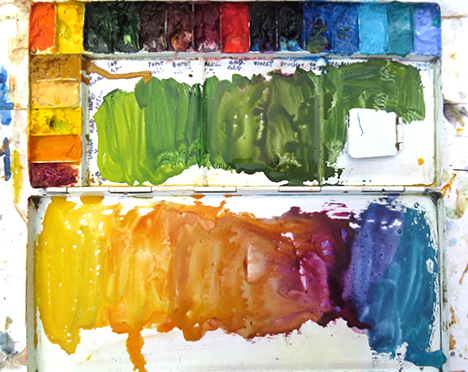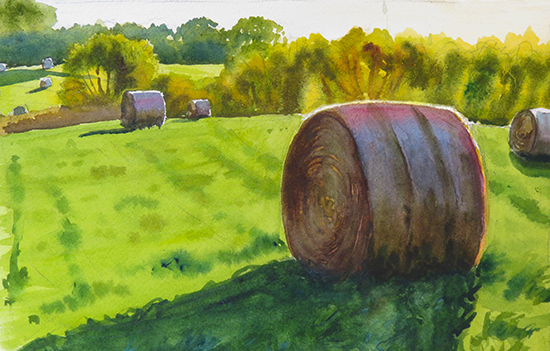 Color String Mix Hay Bales in Evening Watercolor

We hope you will find the powerful gamut mask tool to be a useful, if not essential tool in your creative work. Tell us about your experiments and experiences making and using gamut masks and we will share them with everyone.

Click here to read Understanding Light in the Landscape - The Carlson Theory of Angles,
and Understanding Light in the Landscape II.

Our thanks to James Gurney for allowing us to use images from his books. For more information and research, see James Gurney's remarkable book: Color and Light: A Guide for the Realist Painter.

Another valuable reference for color study is Michael Wilcox's Advances in Colour Harmony and Contrast for the Artist
.